From The Pointy End: Garuda Indonesia Business Class Review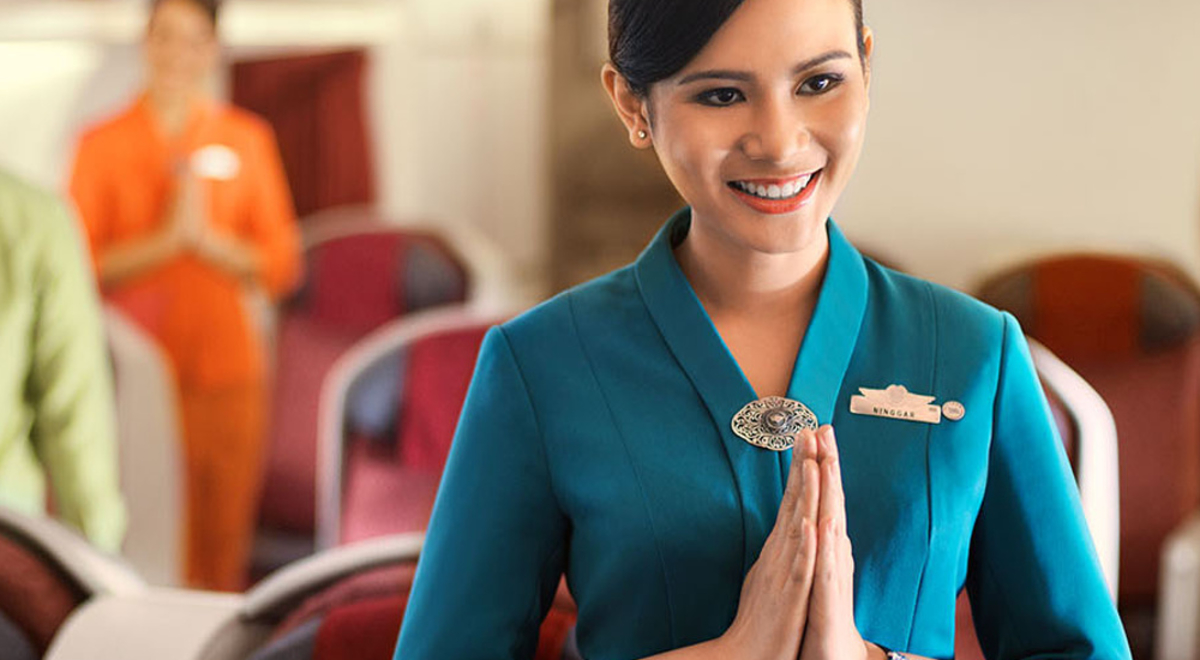 Words by Nick Walton
You might not be familiar with Indonesia's national carrier, but Garuda Indonesia is Asian aviation's little success story. Once a failing airline with a poor safety record, Garuda has evolved into a multi-award winning success story – including gaining Skytrax's coveted five stars – with world class service and a rapidly modernised fleet.
With myriad domestic destinations from its base in Jakarta (and hubs in Bali and Makassar), bolstered by an ever-increasing regional and long-haul network, the airline's cabin crew are regularly ranked among the best in the world – no small feat in a region of the world that's home to many of the world's top ten carriers.
Route: Hong Kong to Jakarta
Aircraft: Airbus A330-200
Class: Business
Seat Number: 7K (window)
Duration: 4 hours, 50 minutes
Baggage Allowance: 40kg
Check-in
I checked-in online and checked my luggage at the Hong Kong Station of the city's Airport Express service. Garuda Indonesia is one of a clutch of airlines that allow for check-in at Hong Kong Station up to 24 hours before your flight, freeing travellers of the burden of their check-in luggage well before their departure. Check-in staff verified that my New Zealand passport allowed for visa free arrival (implemented in 2015) and I was quickly on my way, taking the 23 minute train journey to the airport's terminal 1, boarding pass in hand.
Lines for security were longer than usual at Hong Kong International, with many Mainland Chinese passengers passing through the airport. Luckily, as a Hong Kong permanent resident, immigration was a matter of seconds, with a simple thumb scan. From immigration it's a short walk to the recently opened SkyTeam Lounge.
Lounge
SkyTeam, of which Garuda Indonesia is a member, recently opened its new flagship lounge at Hong Kong International Airport, serving first and business class passengers and Elite Plus members flying on all 12 member airlines.
The 1,000sqm lounge, located beneath Gate 16, can seat up to 230 passengers and offers a range of amenities, including a yoga room, a noodle bar, work stations, charging points, complimentary Wi-Fi access, shower facilities and a hot and cold buffet, wreathed by more than 50 different plant species. I snacked from the buffet, which included sandwiches, steamed dim sum and cooked-to-order noodles, and poured myself a glass of New Zealand white wine in the modern, minimalist bar space before taking an arm chair in a quiet corner.
The exclusive lounge is located at Terminal 1 and is open daily between 5:30am and 1:00pm.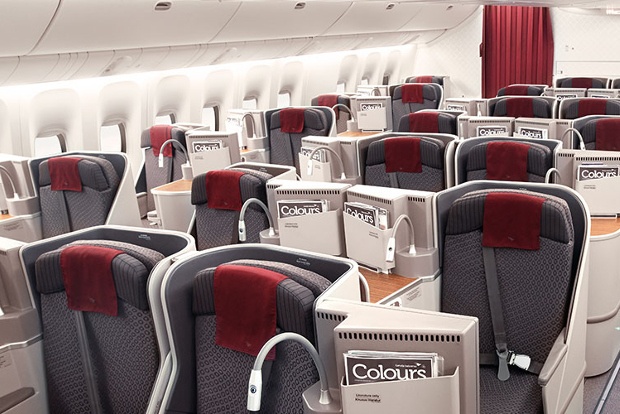 Seat
Although Garuda Indonesia is currently rolling out a new 'Diamond' Business Class seat in its 'Executive' Class cabins on its few A330-300 and 777 aircraft, the majority of the 222-passenger A330 fleet still operate with the last generation business class seat. This simplistic yet elegant set up includes 36 angle-flat seats across two cabins in a staggered 2-2-2 configuration, each with a width of 20.8-inches and a pitch of 74-inches.
While not every passenger has direct aisle access with this older, more conventional design, seats are spaced well apart, allowing for easy access from the aisle to window seats and vice versa.
Between each burgundy-hued seat is a wide armrest that doubles as a cocktail table. Large personal monitors are built into the seatback in front (or fold out of the seat for bulkhead passengers) and the angle of the seat is controlled with a small control pad on the centre arm rest behind the cocktail tray. A tray table slides and lifts vertically from the centre armrest.
A 180-degree lie-flat seat, Garuda's business class seat is very comfortable and wide and perfectly suited for flights of all lengths. There is an AC outlet built into the seat shell at shoulder height, as well as a personal reading light. There is also an easily accessible controller under the centre arm rest for controlling the seat's entertainment system.
The ambiance of the cabin was calming, with approximately 25 passengers across the two cabins. Economy Class passengers entered through a door aft of the business class cabins, allowing plenty of room for crew to offer glasses of champagne and juice, magazines, newspapers and hot towels. Crew also handed out L'Occitane amenity kits containing socks, eyeshades, toothbrush/toothpaste, a comb, cologne and lip balm – a nice touch on a relatively short daytime flight.
---
Looking for more Business Class reviews?
From The Pointy End: Cathay Pacific Business Class Review
From The Pointy End: Etihad Business Class Review
---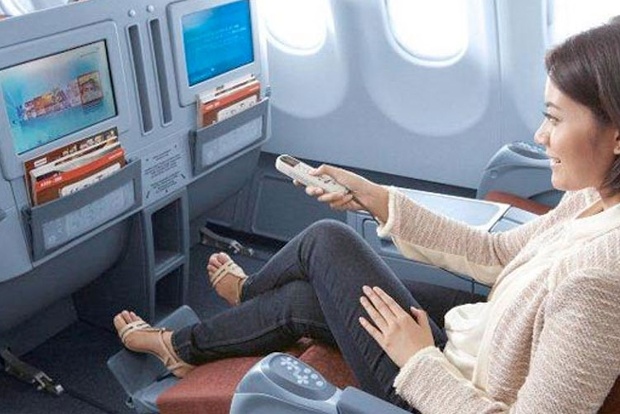 Entertainment
While the in-flight entertainment perfectly adequate for a medium-haul flight, I always bring my own noise cancelling headphones and tablet. The in-flight system can sometimes be temperamental.
There is always an adequate selection of English language movies (including new releases) and television programs, and the large seatback monitors do not pick up much glare from open window shades, ensuring a pleasant viewing experience. If you choose to watch your own tablet, the cocktail tray on the centre armrest allows for more space on your tray, although the A330-200 doesn't allow passengers to connect their own devices to the personal monitors.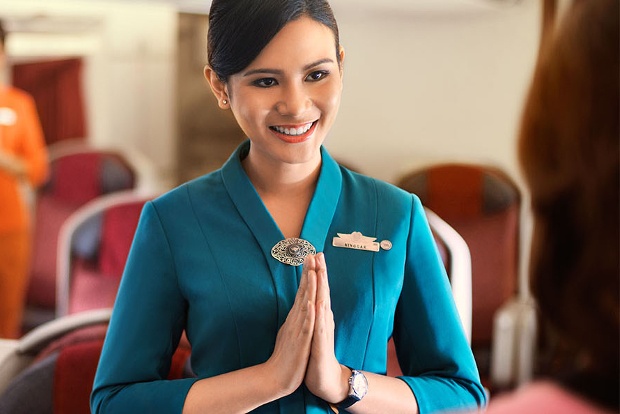 Service
Garuda Indonesia has worked hard to offer service standards in-flight comparable to any other carrier in the region. Its efforts were rewarded in 2015 with the Skytrax Best Airline Cabin Staff award.
A young and enthusiastic yet elegant crew of four, immaculately presented in their traditional, vibrant Kebaya sarongs (created by Indonesian designer Josephine Werratie Komara) greeted business class guests at the aircraft door and guided them to their seats, helping store jackets and carryon luggage. Chilled glasses of Billecart-Salmon Brut Rosé and vibrantly pink guava juice were offered, along with menus for the flight ahead and piping hot towels. The crew were quick to top up glasses before pull back, making the most of a half full cabin to offer great levels of service.
The five hour daytime flight is a popular route for business travellers and the crew responded with a quick, efficient meal service, including a pre-meal drink served after reaching cruise altitude, and a selection of wines selected to compliment a three course meal. Throughout the flight, crew were attentive and charming, offering personalized service with ever-present smiles.
Food and Beverage
Dining is another key aspect in the airline's resurrection and meals are both refreshing and authentic.
Our lunch included a delicate amuse bouche of small, open-faced sandwiches and cold smoked duck breast with hoisin sauce and pineapple salsa, followed by a choice of grilled lamb cutlet with gruyere soufflé and ratatouille; pan-fried snapper with Indonesian gulai sauce and spicy eggplant; or stir-fried chicken with hot bean sauce and egg fried rice. 
The chicken was wonderful comfort food, especially when matched with a glass of the delectable D'Arenburg The Stump Jump Riesling. Lunch was served in a 'business class-lite' style, with the salad, cheese and crackers, and dessert already served on the tray, and the main served hot when ready. The meal was perfectly proportioned, elegantly presented and efficiently cleared away.
Last Word
Passengers who might be hesitant to travel with Garuda will find a thoroughly professional and market-leading carrier that's dominating the short and medium-haul market in the region.
While its business class isn't as cutting edge as the product offered by the likes of Cathay or Singapore Airlines, authentic hospitality, attentive crew and great dining, as well as a great value for money proposition, will ensure Garuda's reputation will continue to evolve, and in doing so, convert ever more premium travellers.
Images courtesy of garuda-indonesia.com
---
Flight Centre acknowledges the Traditional Custodians of Country throughout Australia.