Business Travel Tips: Qantas Business Class Flight Review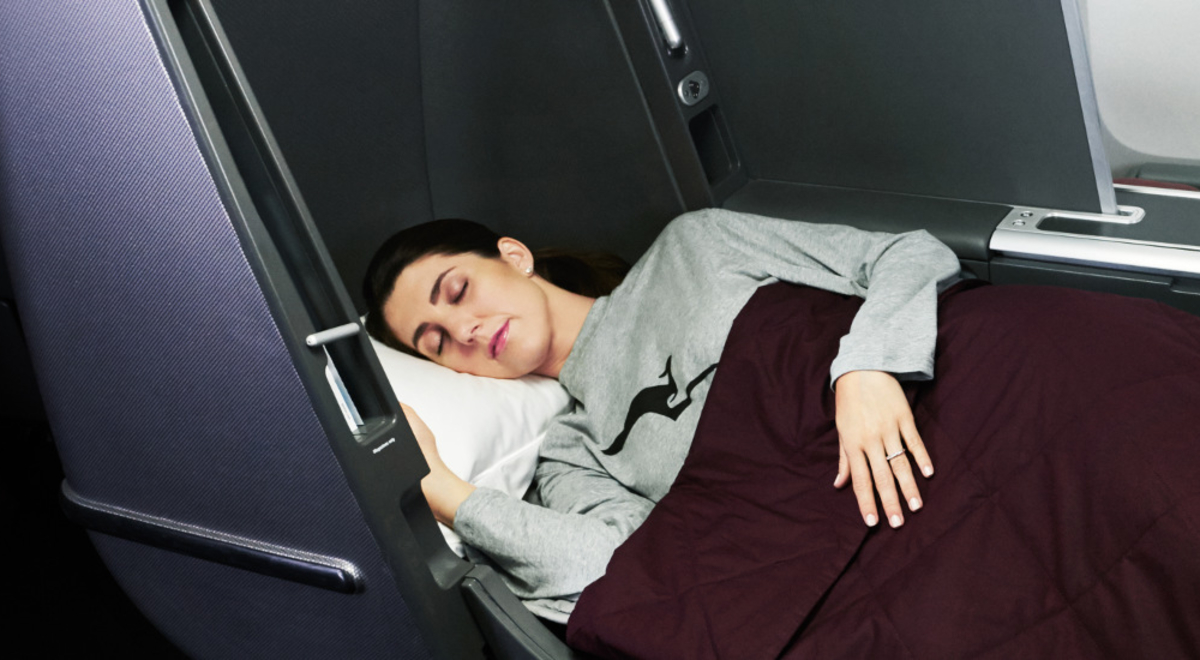 Words by Helen Hayes
The flight to Los Angeles was an opportunity to relax, catch up on movies and think about the six ski resorts we were going to visit. It was also a chance to see the much-improved Tom Bradley Terminal – a far cry from the dull, nothing-to-do offering that was there previously. We have avoided LAX on recent trips, favouring the Dallas flight instead, but our itinerary favoured entering via Los Angeles International Airport – where the big jet engines most definitely do roar.
With the lyrics of that song by Susan Raye ringing in our ears, fingers were crossed that we would have a pain-free pathway through Customs and Immigration.
Quick Overview
Route: Sydney to Los Angeles
Aircraft: Airbus A380-800
Class: Business
Seat Number: 15B
Duration: 13 hours, 55 minutes
Baggage Allowance: 3 pieces up to 32kg per bag (Qantas Club, Silver and Gold Frequent Flyers)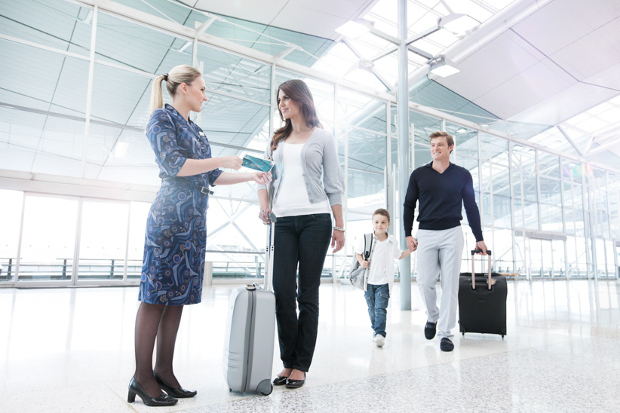 Check-In
We purchased Premium Economy tickets but our points upgrade came through the day before our flight, leading to shrieks of joy and a fist pump or two. If we had purchased Business Class flights, we would have been able to enjoy the Qantas Chauffeur Drive transfer, but our son dutifully dropped us off instead. We had a very short wait at the Business Check-In before a smiling Qantas staffer dealt with weighing our luggage – complete with two sets of skis and boots – and checking it all through, before handing over our boarding passes and an express pass for immigration.
After dropping off the skis at oversized baggage, we ventured into immigration expecting a wait to see a Border Force officer, but instead the area was full of shiny new automated SmartGates that use face recognition technology to hurry up the process. On a sidenote, if you don't have an e-passport or you have children under 120cm, you can't use SmartGate.
Security was not a problem either, with short queues and no issues, leaving us free to stroll around to check out the new section of the terminal. Or to go to the lounge … the lounge won.

 
IMAGE COURTESY OF HELEN HAYES
Lounge
The Qantas Business Class lounge airside on level three is available for those flying first or business class on Qantas, Qantas Club members and those with Gold frequent flyer status and above.
The area is massive, but doesn't feel cavernous with clever sectioning offering many different spaces for relaxing, working or enjoying a meal before the flight. Most importantly, there is a barista cheerfully making everybody's favourite brew, right next to a fridge containing good old fashioned gelato with a decent selection of flavours.
You can choose to sit at a long diner-style table for a delicious meal from the Neil Perry Rockpool-inspired menu, or select enticing morsels and return to your comfortable seats, along with a beverage ranging from fine red and white wines to beers and soft drinks.
Showers are available and for families, the Family Zone ensures kids are kept entertained.
---
Why Business Class is worth it. The Best Perks Of Business Class
Find out what to expect from your Business Class seat. Angled or Lie-Flat? Business Class Seats Explained
---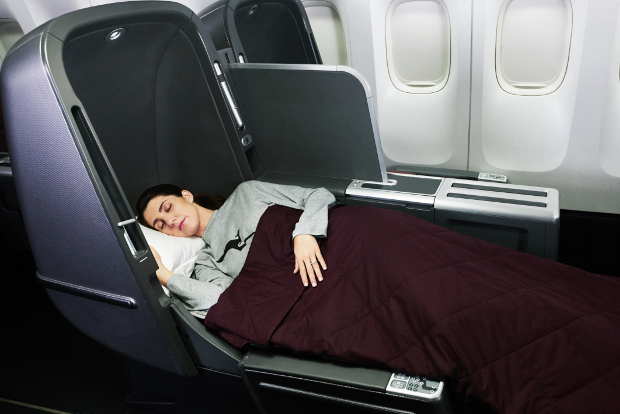 Seat
The Qantas Business Class seats are in a 2-2-2 configuration, and after boarding our upper deck, we had plenty of time to stow away bags – either in the locker or in the side compartment. We filled out our breakfast order card so we weren't disturbed before we needed to be, slid water bottles, shoes and books into the various hidey holes (without blocking traffic in the aisle) and settled in like Ma and Pa Kettle.
These second generation SkyBed cocoon seats, designed by Marc Newson, are comfortable from go to whoa. Once airborne and with the seatbelt sign off, I reclined the seat, raised and extended the footrest to a comfy position and started the massage feature – selecting the firmest pressure. The movie screen is easily accessed as is the remote, and the headphones plug in just to the side, next to the pull out reading light. There is a privacy screen if one of one of us wants to sleep, which is dropped down at the touch of a button.
We slid the mattress over the top of the seat, changed into the popular Qantas PJs handed out with a smile, unwraped the smart duvet and when the time came for a sleep, a simple touch of the lie flat button flattens out the seat to a two-metre long, fully flat bed.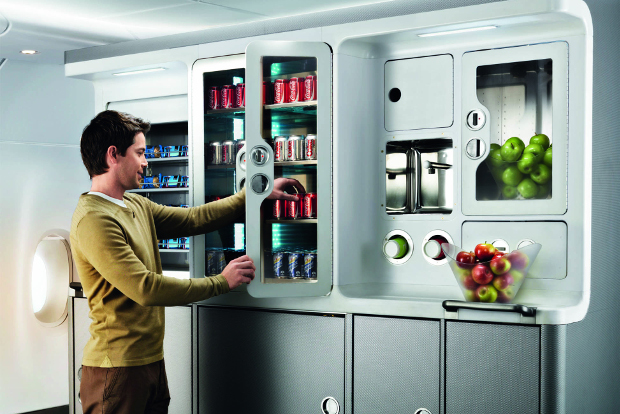 Entertainment
Not being a good sleeper on planes, I usually watch plenty of movies and there were plenty of new releases I hadn't seen. There are over 1,500 entertainment options, with over 100 movies, 500 TV shows from different genres, 800 music options, 18 radio channels and the latest news with daily Sky News coverage. There is also a dedicated Kids Zone, games and flight tracker. On my flight I finally got to see Star Wars The Force Awakens, watched Suffragette, loved Brooklyn, Spooks: The Greater Good, Secret in their Eyes and all three episodes of Modern Family.
I could use the remote or the touch screen, and had no problems at all navigating through the various channels.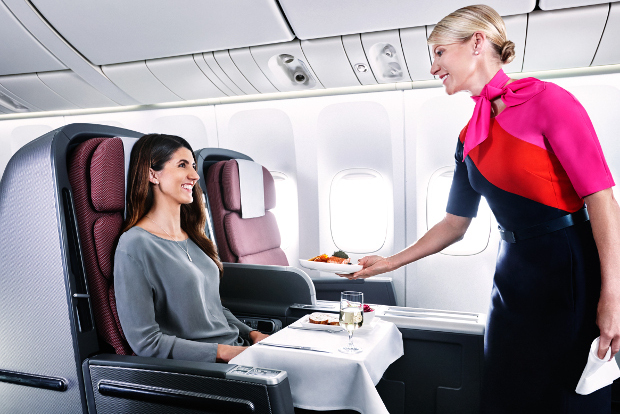 Service
I could not fault the happy and welcoming crew. We were offered orange juice, champagne or water when we sat down, and it was no trouble to put on the mattress for everyone who wanted assistance. We had a choice of sizes in the famous Peter Morrisey-designed PJs, received a Kate Spade (Jack Spade for men) amenities bag with ASPAR Australian-made spa products and decent-sized bottles of water were handed out ensuring we wouldn't go thirsty.
Prior to the meal our trays were beautifully set with white linen, and afterwards, were cleared up in pretty quick time. Prior to going to sleep, we were offered a T2 wellbeing tea, which apparently helps you drift off to sleep. Either way, it was lovely.
Service also carries on throughout the hours of darkness, when most are sleeping but others are roaming. The great thing about the A380 is the separate business lounge up front. It has refreshments, snacks, a long lounge and a 58cm LCD screen that you can use to watch a video or show a presentation to work colleagues. I snuck up there for a while and a cheery attendant made me a cup of tea and brought some cookies.
Breakfast was served around two and a half hours out and was handled with aplomb.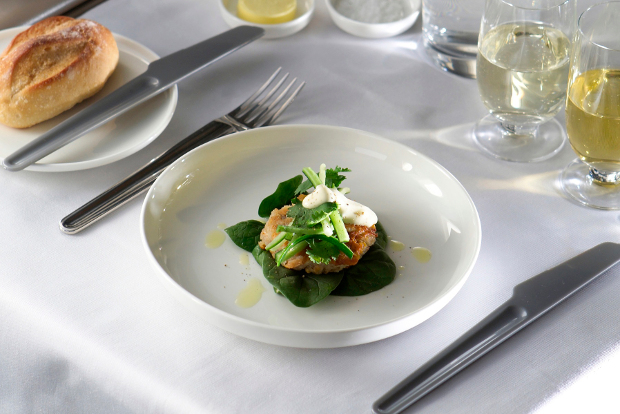 Food And Beverage
Although you can pre-order your meal using the Select on Q menu on the Qantas website, I didn't do it as we had fingers and legs crossed that the points upgrade would come through.  The Select on Q function also allows you to choose to dine in the lounge rather than on board to maximise sleep, with the cabin crew making your bed up directly after take-off.
Passengers can choose a three-course meal or something lighter, and can also enjoy refreshments such as their signature Chicken Schnitzel or Swiss Cheese Toasted Sandwich any time during the flight. For lighter snacks, you can graze from the galley or from the business lounge, with apples, chocolates, cookies and chips being some of the options. The same goes for drinks.
I opted for the Roast Beetroot Salad with Goats Curd, Rocket, Peas, Toasted Almonds and Balsamic Vinaigrette and the chicken, leek and chestnut pot pie. For dessert, it was a toss-up between the Seasonal Cheese Selection served with Accompaniments and the Nice Cream Vanilla and Caramel Ice Cream with Almond Praline. The ice cream won. It was all very tasty and the chicken pie was exceptional. The drink selection was broad with champagne, wine, spirts and beer, with a cognac or liqueur to follow if you wish.
Last Word
From the first smile as we boarded the upper deck to the last thank you and goodbye as we exited the aircraft in Los Angeles, the flight was faultless. It was smooth, which meant no PA interruptions to interfere with the movie watching. In fact the PA was used sparingly – there is nothing worse than being on a flight with the PA blaring every few minutes.
The SkyBed ensures comfort all the way whether you are sleeping or not, and the mood lighting, comfy doona, eye mask and pillow certainly assist sleep. The flight attendants ensured we had more than enough water, were attentive and helpful, and the food was certainly a cut above the normal in-flight offerings.
As for the highlight, it's a tie between the chicken pot pie and the movie Brooklyn, which had me reaching for a tissue in the dark.
Visit your local Flight Centre First & Business store or call our luxury Travel Experts on 1300 038 785 for more advice and the latest fares on Qantas Business Class.
*The writer paid for her own ticket and used her own points to upgrade.
---
---
Flight Centre acknowledges the Traditional Custodians of Country throughout Australia.