Leave Approved: Top 20 Family Holidays In Europe This Summer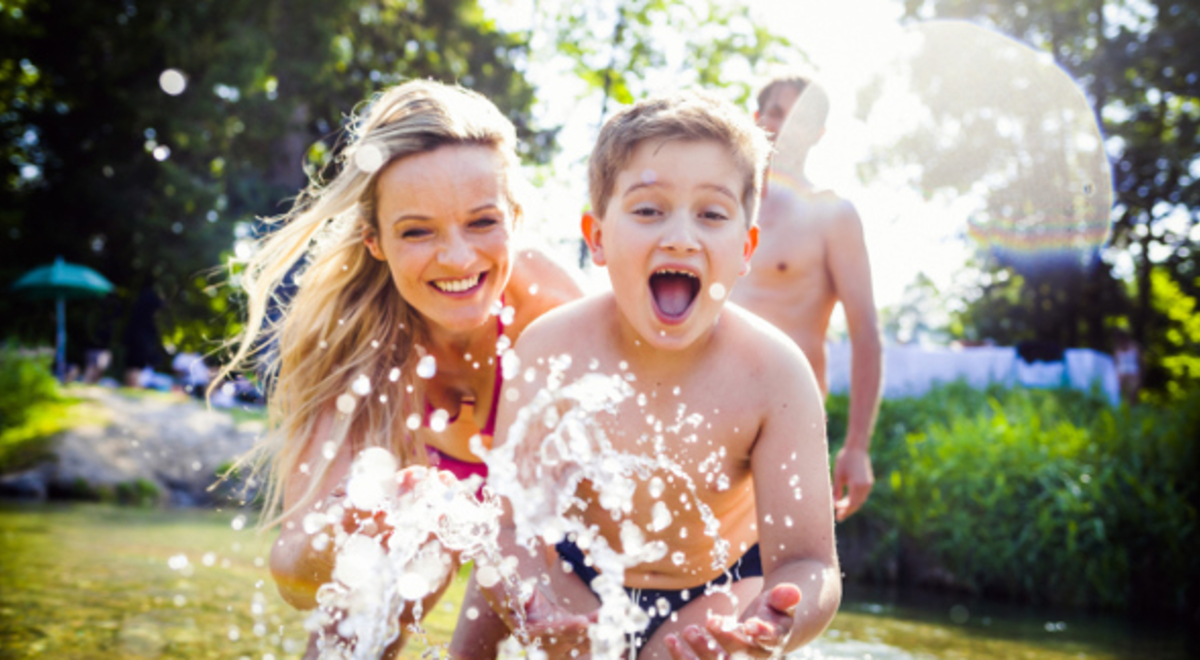 ---
---
We may be in the thralls of one of Australia's hottest summers (we just sweated our way through the hottest Australia Day in 14 years), but winter is fast approaching. If you're not a fan of shivering through cloudy days, perhaps a European escape is in order. In fact, why not take the entire family?
There are 20 European holiday spots practically waiting to defrost your bones with kids' activities, relaxation and plenty of sun.
1. Umbria, Italy
In eight hectares of Umbrian countryside, Pian di Cascina is a 17th Century farmhouse converted into seven flats, five of them big enough for families. Each has its own outside space, so you have privacy but can join in the communal fun and games when you wish.
Little ones will love the splash pool, sand pit, play equipment, mini football, hammocks, bikes and ride-on toys. There's also table tennis, boules, badminton, mini golf, croquet and a larger pool with uninterrupted views to the Abruzzo mountains.
Twice a week, owners Paul and Isabel invite guests to the on-site restaurant for home-grown, home-cooked dishes and you can sign up for cookery or pasta-making courses, too. Assisi and Perugia are near enough for day trips.
2. Sicily, Italy
Set against the backdrop of Mount Etna, Princely Houses Farm comprises a main house and five cottages sleeping four to eight in a garden of citrus, olive and palm trees.
Each house has its own covered terrace and garden, and shares a large sun terrace with two large pools and a small play area. A 15-minute drive takes you to chic Taormina, famous for its Greek theatre and its cable car to the beach. A 30-minute drive away is Parco Avventura Etna, a woodland adventure playground.
3. Sardinia, Italy
Your little cherubs will be feeding piglets in the morning and building sandcastles in the afternoon at Monte Sixeri Farm in north-west Sardinia. The 60-hectare estate offers a taste of farm life but is just 10 minutes by car from some of the island's best beaches.
At Monte Sixeri, five farm buildings have been converted into spacious, rustic apartments, with washing machines and outside terraces. The complex also has a restaurant, playground and pool. Staff will happily take volunteers to feed the pigs, semi-wild boar, sheep, lambs, goats and hens, and meet Ugo, Gigliola, Marta and Agostina, the farm's donkeys.
The on-site restaurant, Le Pinette, serves typical Sardinian dishes using produce from the farm, and does great pizzas in a wood-fired oven.
4. Central Brittany, France
Budding adventurers can join a weekly expedition into the woods to make dens and learn about flowers, mini-beasts and more at Lenvos Gites in Brittany. That's if you can drag them away from the swings, slides, forts, climbing wall and two fenced pools – one deep enough for diving.
Each of the four cottages around a courtyard has its own fenced garden. There's also a boules court, a sports field and two fishing lakes. It's a 45-minute drive to the sandy beaches of the Morbihan coast, and nearby Lac de Guerledan has several manmade beaches where little ones can swim (although during summer 2015 it's being emptied for repairs to the dam).
5. East Brittany, France
The Auberge des Voyajoueurs, 29 kilometres from Rennes, gives guests the chance to play games from all corners of the globe – indoors, outdoors, table-top, large-scale, old favourites and some you will have never seen before.
It's a modern, eco-friendly hotel with 10 rooms, some interconnecting, some large enough for a family of four or five. A network of paths take you across the surrounding countryside and into the Broceliande forest that's full of legends about King Arthur and Merlin.
6. Charente-Maritime, France
A weekly pizza night is a nice way for families to get to know each other at Sunflower Gites, whose Yorkshire-born owners, Trevor and Gail, cook the pizzas in a traditional wood-fired oven. Apart from that, guests are left to their own devices but the kids will soon become friends thanks to the playground, two pools, outdoor table tennis and big lawn for football and cricket.
In a converted cottage and barn, the gites sleep between four and six and have their own terrace and barbecue area. A 20-minute drive takes you to the popular seaside resort of Saint-Georges-de-Didonne, just one of the vast sandy beaches along this Atlantic coast. A short drive in the other direction is Cognac, for museums, churches and tasting tours.
7. Lot, France
Near Cahors in south-west France, Pagel Gites goes the extra mile for families. It has three sites, all with large fenced gardens, heated pools, sand pits, trampolines, ride-on toys and climbing frames.
The largest, Pagel, has seven child-friendly gites, each with two or three bedrooms, and two canvas lodges, all sharing a meadow maze, play barn and pirate ship. Two smaller sites have two gites each, one with a huge Old MacDonald's play barn with driving track. Each gite comes with toys, books and dressing-up clothes.
Your little treasures will even find a welcome gift on their pillow. Although you're three hours from the seaside, there are plenty of child-friendly lake and riverside beaches within a short drive.
8. Mallorca, Spain
Laze in a hammock while your children join a game of hide and seek among the orange and fig trees at Finca Sa Rota d'en Palerm. The owners, Carlos and Marie-Isabella, have opened their 28-hectare farm to agrotourism and love to introduce guests to their homemade fig jams and breads.
Their grandchildren visit often, so there's a whole cupboard packed with toys, books and games, and another full of buckets, spades and parasols for the beach. There's a good-sized pool, but you're not far from some of the island's best beaches – Es Trenc is 40 minutes' drive.
Just down the road is Sineu, home to Mallorca's oldest market – and donkey rides. There are three doubles in the main house, and six flats with private terraces.
9. Menorca, Spain
Donkeys and sheep roam free at Matxani Gran, a 10-hectare rural B&B in south-east Menorca. Little ones might even spot tortoises in the grounds of the converted 18th Century farmhouse.
Its 10 bedrooms have wooden beams, sandstone walls and rustic furniture, but also free Wi-Fi and satellite TVs. Guests share a lounge with library, honesty bar, pool table, barbecue area and well-stocked kitchen.
Dotted among the sofas and rocking chairs are old farm wagons and other reminders of farming days gone by. It's a 10-minute drive to pretty Cala Canutells with a sheltered sandy beach great for snorkelling.
10. Lanzarote, Spain
Children can help collect eggs, pick vegetables and care for Mollie the donkey at 12-hectare eco-friendly Lanzarote Retreats near Arrieta on the north coast. Little ones can also make friends in the mini-adventure playground, with pirate boat, climbing frame and sunken trampoline, or splash around on inflatable toys in the solar-heated pool.
Run by the largest eco energy system on the island, the resort has five yurts plus villas, casitas and converted barns. Of the 15 units, all but two are family-friendly. None has Wi-Fi (deliberately) but it is available in the shared areas.
It's only 300 metres to a sandy cove, but the track to the beach isn't very buggy-friendly.
Why France is perfect for the kids. Kid-Friendly France
Travelling with children made easy. Travelling With Kids Part 1: Getting Ready To Go!
11. Andalucia, Spain
Youngsters probably won't appreciate the mountain and lake views when they're messing about on the mini golf course, trampoline or swings, but grown-ups certainly will, as they sip sangria on the vine-covered terrace of their villa.
Casitas del Lago, overlooking Vinuela lake, has 10 villas laid out for maximum privacy, with enclosed terraces. White gravel paths lead through gardens to a large pool – also enclosed, with a shallow end for little ones – and there's an indoor games room with table tennis and table football.
An on-site restaurant is popular with locals, too, and there are cafes and tapas bars in the village, a short walk away. The laid-back beach resort of Torre del Mar is 25 minutes away by car.
12. Alicante, Spain
Kids will love the novelty of sleeping in a traditional wooden Gypsy wagon, African safari lodge or Balinese rice hut at Casa del Mundo, a laid-back, slightly eccentric resort a 30-minute drive from Alicante.
Dutch owners Jos and Beppie have created a little exotic world with their mishmash of accommodation among olive groves.
Families can make friends over a game of basketball or boules, on the pool terrace, in front of the fire in the library, or over tapas at the friendly on-site restaurant. Every Wednesday in season, guests are invited to dine with other families, and locals, at a long table on the terrace. For some quiet time, take one of the hiking trails and explore the surrounding hills.
13. Costa Blanca, Spain
New parents will be in safe hands at Caserío del Mirador, tucked away in the mountains but half an hour's drive from the beaches of the Costa Blanca. With three children of their own, Johnny and Sarah Robinson have thought of everything, from a kids' welcome tea on the first day to "toddler tubs", for little ones who want to splash around but not in the pool.
Three one-bedroom flats are perfect for families with babies, and there are two larger two-beds for those with older children. All have nightlights, monitors, baby bath, toys and other essentials.
There's also a sandpit, ride-on tractors, Lego, table tennis, swing, see-saw, slide and trampoline, plus four-legged attractions in the shape of rabbits, goats, ponies and pot-bellied pigs Beryl and Cheryl.
Ask to borrow an off-road buggy to explore the countryside or hop in the car to the beaches of Oliva, Denia and Javea.
14. Eastern Algarve, Portugal
On a hilltop with panoramic views towards the sea, the four self-catering cottages at Quintassential seem a world away from the buzzy resorts of the Algarve, but are only a 20-minute drive from Faro.
The pretty gardens are fenced and gated, so kids are free to run about on the lawns, play on the slides, see-saw, swings, trampoline and table tennis, and make friends with lovable dogs Alfie, Max and Indie, and pigs Pinky and Buster.
There are three restaurants within walking distance and all offer discounts to Quintassential guests. There's a pool on site and the beaches of Vilamoura, Vale do Lobo, and Quarteira are less than a 20-minute drive away.
15. Western Algarve, Portugal
You'll soon fall into a gentle routine at The Quinta, a bohemian eco-retreat on a hilltop in the south-west Algarve, but only a kilometre or so from the white sandy beach of Meia Praia. Working towards being completely self-sufficient, your laid-back Dutch hosts Theo and Inge and their sons have an enviably simple lifestyle that you and the children can sample – collecting eggs, picking organic fruit and veg, caring for the horse, and soaking up the beauty of the countryside.
The 18th Century farm has been lovingly converted into two houses and three guest rooms and suites, sleeping a total of 18 guests. A large, communal pool has a shallow corner for young children and hammocks for lazy afternoons.
A traditional bread oven in the centre of the garden is sometimes lit for informal pizza nights.
16. Serra de Estrela National Park, Northern Portugal
Children and pets are warmly welcomed at Vinha da Manta, a four-hectare eco-friendly retreat comprising eight canvas 'lodges' with kitchens and outdoor bathrooms for showering under the stars.
A two-hour drive from Porto, it's on the edge of the national park, whose name means Valley of the Stars, and the Dutch owners are happy to take families out hiking or riding their six horses.
Each lodge has a terrace with views across the valley, and guests can mingle around the natural pool or chill out on hammocks by the bar/restaurant. On cooler nights, families gather in the guest lounge for board games by the fire.
17. Antalya, Turkey
As locations go, it's hard to beat Azur Hotel Cıralı for a family holiday. After a two-minute walk down a well-signed path, you and the kids will be splashing around on Cıralı beach, a part-sand, part-pebble stretch that leads to the ancient site of Olympos.
The hotel has an on-site restaurant (fussy eaters catered for), large and small pools, and a sun terrace surrounded by palm trees and gardens. The 20 wooden cabins and eight stone bungalows are basic but functional.
Although a bit dated, the two-bed bungalows are best for families, with secluded rear terraces looking on to the gardens and playground. Breakfast is delicious and staff are super-friendly.
18. Montenegro
Near the border with Croatia, in the wooded hills behind the coastal town of Herceg Novi, this tiny village was rescued from ruin in 2006 and is now a gated and secluded family-friendly retreat.
Five well-equipped Stone Cottages – four contemporary and one more rustic – have terraces with stunning views across the wooded valley towards the sea.
Kids will love making friends and having freedom and space to run around, while parents can relax by the infinity pool, helping themselves to tea and coffee, or enjoy the Jacuzzi, sauna and steam room. The whole family can take hikes in the surrounding national parks, stroll around the old town of Herceg Novi, or visit Dubrovnik, just 40 minutes' drive away.
19. Sveti Klement, Croatia
On car-free Sveti Klement island, a 10-minute boat ride from Hvar, this colourful hideaway was bought in 1906 by a green-fingered Croatian-Italian professor, who built Palmizana and began planting the lush and exotic gardens.
Now run by his grandchildren, and great-grandchildren, the resort has 16 cheerful rooms, bungalows and villas – most of them named after their colours. The family also runs two restaurants, where chef Dagmar grills seafood on a huge outside grill while diners (island guests and visitors from passing yachts) admire the sea views.
There's no pool, but who cares when there are two shallow pebbly beaches right on the doorstep. Children will love the rocky coves, and terrorising the peacocks and tortoises that roam the gardens.
20. Crete, Greece
Charismatic Alma makes families feel right at home at Lemon Tree Villas on Crete's Akrotiri peninsula. Within walking distance of blue flag Agios Anophris beach, the complex, often known simply as 'Alma's', has eight bright and modern villas, each with a little private pool, garden and patio.
When you want to socialise, venture to the large communal pool, sun terrace and bar. It's here that Alma might, should the mood take her, bring you a drink on the house, invite you and other guests to join a family dinner, or offer you seasonal organic veg from her well-stocked patch. There's a small gym and sauna, too.
This article originally appeared on guardian.co.uk
This article was written by Beverley Fearis from The Guardian and was legally licensed through the NewsCred publisher network.
---
Flight Centre acknowledges the Traditional Custodians of Country throughout Australia.