Kids Club: The Top 5 South Pacific Islands For Families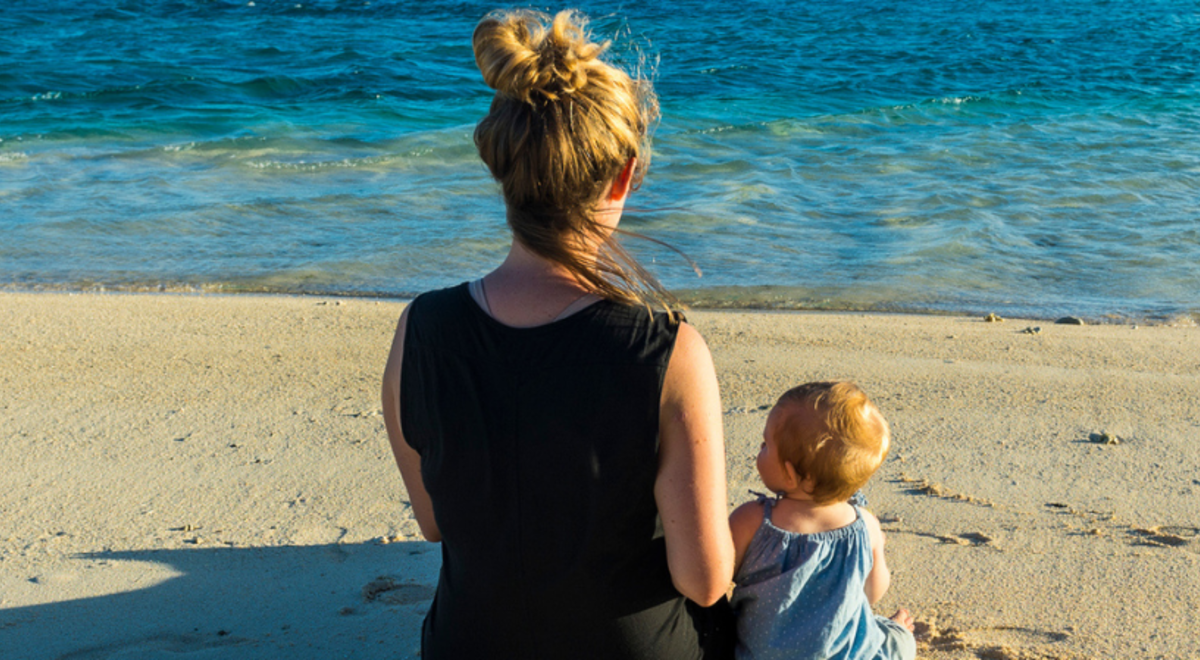 ---
---
The five best Pacific Island destinations to take the kids on a family holiday are: 
Rarotonga, Cook Islands 
Viti Levu, Fiji 
Espiritu Santo, Vanuatu 
La Grande Terre, New Caledonia 
Tahiti, French Polynesia 
Don't feel daunted. Travelling overseas with kids is a lot easier and more rewarding than the many Dinky couples who eye you warily at departure gates would have you believe. 
But, fair call, holidaying with our little wonders is a balancing act. First, there's their tick list: somewhere beachy, with heaps of fun water sports stuff to do, but with plenty of wifi too, please and thanks. Then there's ours: somewhere that's safe for travellers and devoid of large crowds a small person could easily get lost in, somewhere with calm and shallow waters with lots of inexpensive activities and perhaps a kids club so we can relax (a little). 
That settles it! There's no collection of destinations that unites the needs of kids with our needs when travelling with kids better than the many islands and islets dotted around our South Pacific doorstep. The Pacific Islands are warm, mesmerising and have a way of imploring both young and old to explore, become immersed in local cultures and visit again and again. The islands are also famously friendly, with people that adore kids and always have the needs of little visitors in mind. 
So let's take a closer look. 
1. Rarotonga
The island of Rarotonga, the largest of the Cook Islands 15 islands, is ringed by a reef which makes it an ideal destination to experience first-ever snorkelling adventures. Even  those with the shortest legs and minimal swimming experience can explore the magical underwater world of the island's calm and clear lagoon to say hello to colourful butterflyfish, parrotfish, Piccassofish and maybe even an octopus or turtle (if you're lucky). Key tip: pack reef shoes for yourself and the kids as the island's coral sands, while bright and beautiful, can be a little coarse on soft feet.
No Cook Islands holiday would be complete without a Saturday morning outing to Rarotonga's Punanga Nui Markets in Avarua.  This is the best place to sample the island's delicious local fruits (fresh papaya and tuava are cherished favourites), quench little thirsts with drinking coconuts, shop for clothes and souvenirs and generally get an authentic Polynesian cultural experience. 
While accommodation on the island is reasonably priced for families – and offers plenty of choice from resorts, hotels, motels and holiday homes – non-local food products from stores and supermarkets is pricey compared to somewhere like Fiji. The good news is that, with the exceptions of fresh fruit, vegetables and honey, Cook Islands customs allows you to bring your own packed food such as bread, cereal, and fresh dairy products. 
With over 300 designated wifi hotspots and full mobile coverage throughout the island, staying connected while in Rarotonga is a breeze. Though, while you're out having the most excellent island adventures with the kids, you could be forgiven for forgetting the rest of the world exists. 
2. Viti Levu, Fiji
Fiji's main island is home to the fabulous Coral Coast, famed for water sports and its family-friendly (and wifi enabled) island resorts.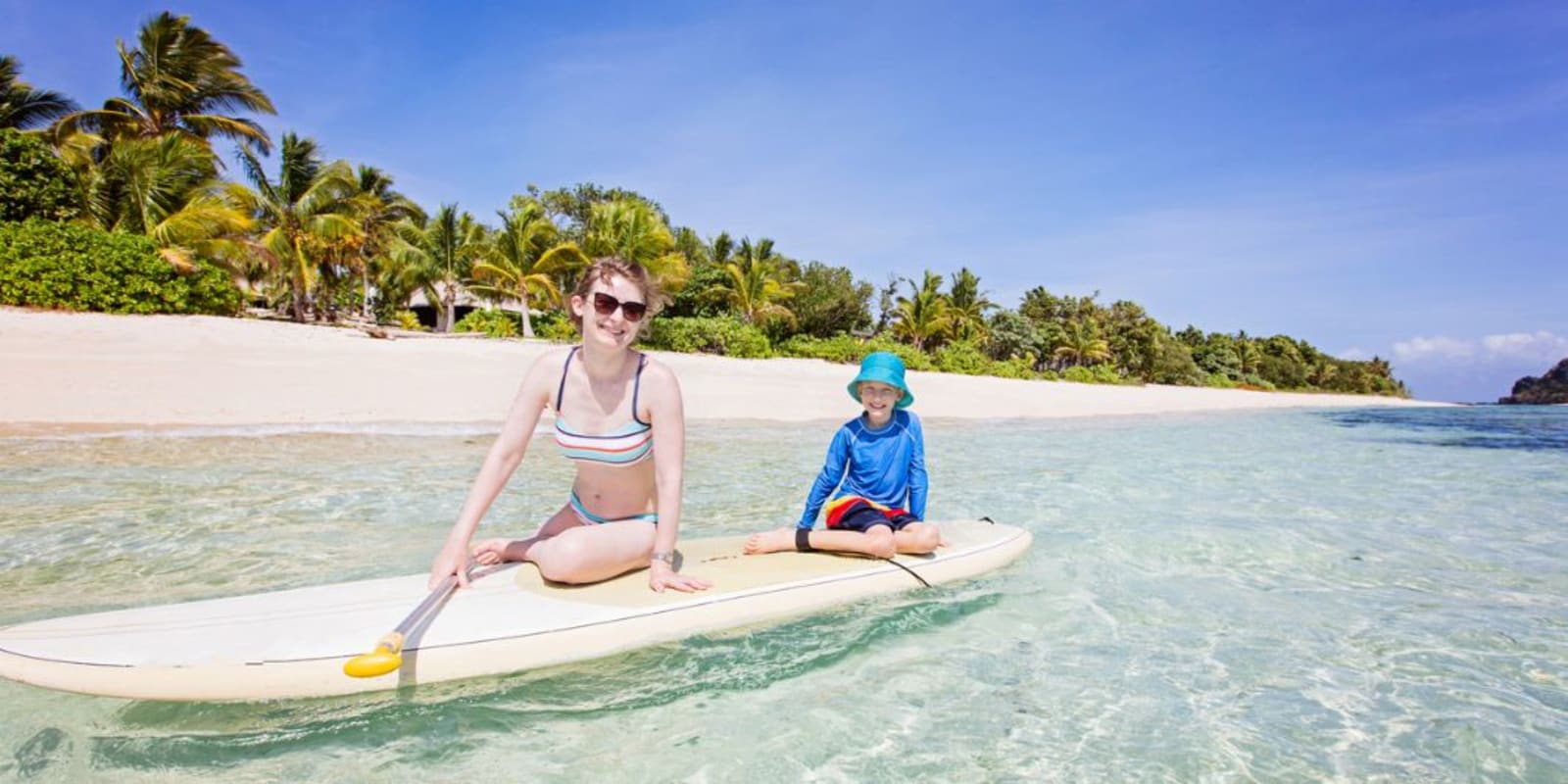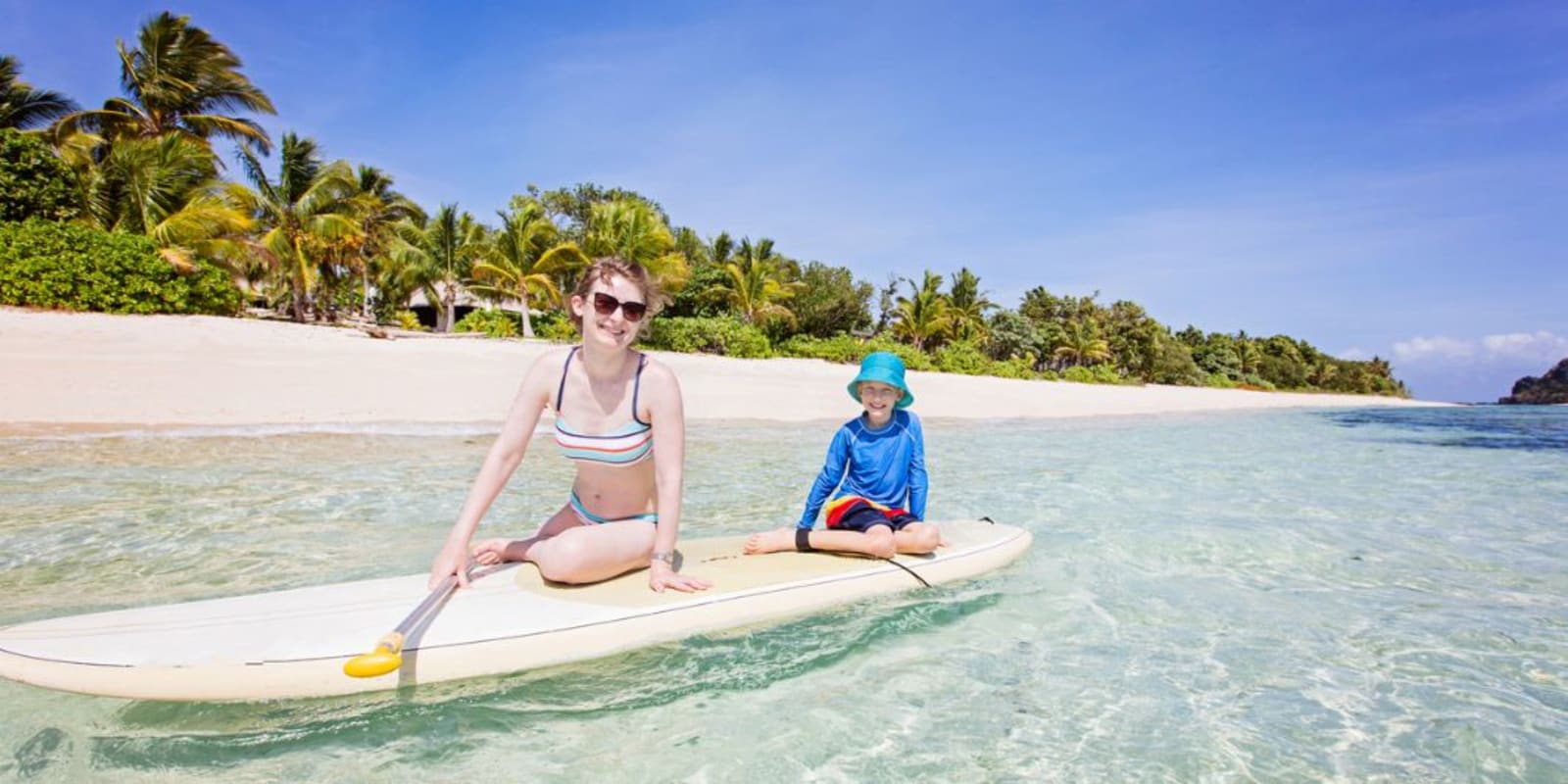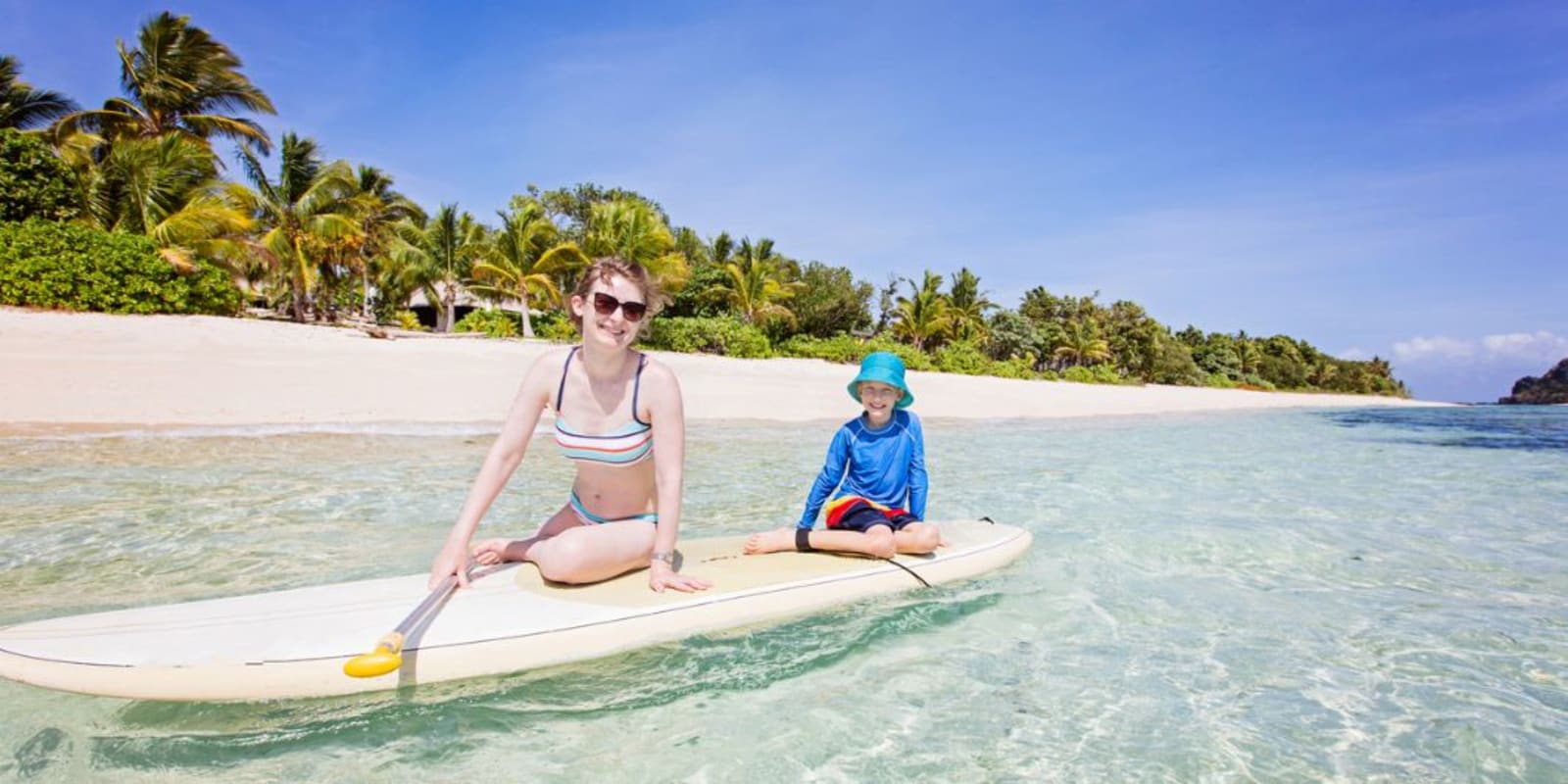 Surf lessons, diving, snorkelling and paddling will keep the island adventures flowing for older members of your tribe. For the younger ones, the resorts' popular kids clubs provide fun activities based on Fijian culture and the islands' unique sea-life, providing them with friends, fun and discovery they'll never forget. Learning a traditional meke dance and crab races are just the beginning.
The resorts generally offer non-motorised water sports gear like kayaks, stand-up paddleboards, snorkels and masks free of charge, which adds to the effortlessness of keeping them all entertained in and around some of the most stunning beaches in the South Pacific. 
Should you hear any noises about needing a "break from the beach" (it can happen), you can catch a regular jet-boat river safari up the Sigatoka River to catch a rare glimpse of the island's lush jungle interior. Though be mindful to keep your crew lathered in insect repellent as Viti Levu's inland waterways are the domain of mosquitoes. For an intrepid hike into the hinterland, taking the 3.3km round trip to the island's 20-metre tall Savu Na Mate Laya waterfall is well worth the trek.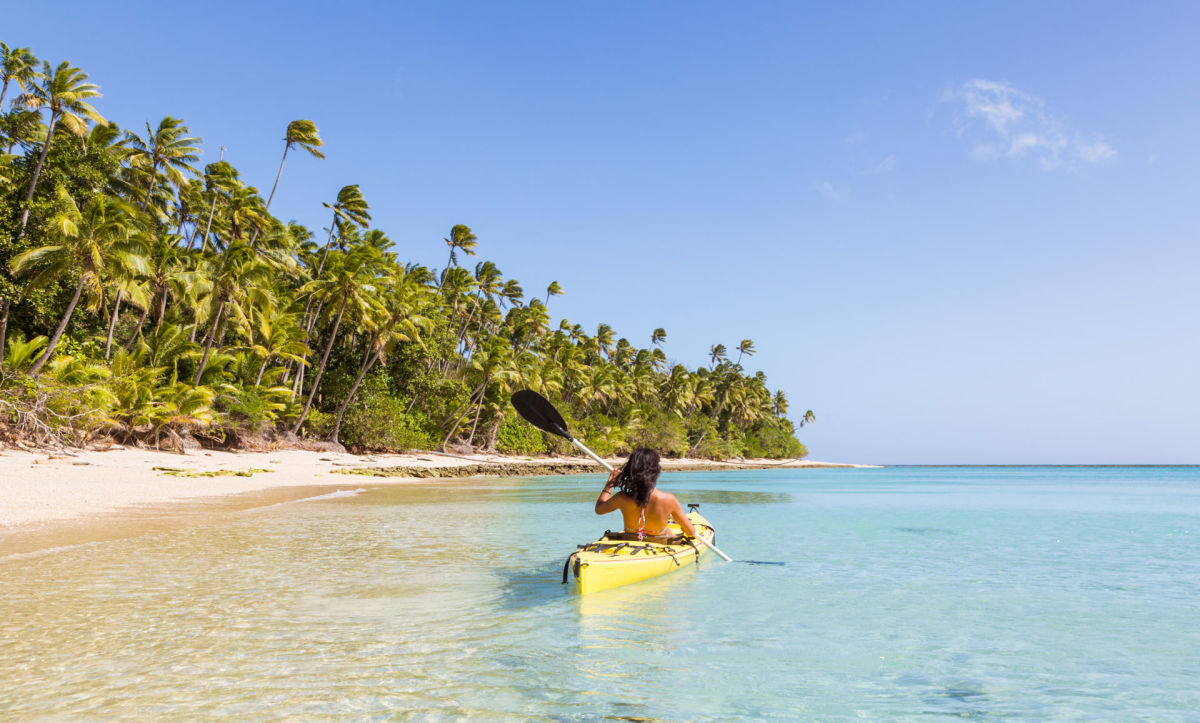 Expert tip
Get used to saying Bula! It means life, but is commonly used as a greeting. Fijians are some of the friendliest people and they love welcoming visitors to their homeland. Bula vinaka! (wishing you happiness and good health)
3. Espiritu Santo, Vanuatu
Although it doesn't have all the drama of the active volcanoes of neighbouring islands, Espiritu Santo boasts some of Vanuatu's most spectacular beaches as well as being home to more of the archipelago's famed blue holes than any other island. These serene "oases of azure" amid the green jungle are large pools formed by spring waters rich in minerals filling limestone caverns – and make for unrivalled swimming experiences for young and old. Many of the blue swimming holes have jumping platforms and swing ropes to dial up the fun. Locals will charge a small fee for their use, but kids are usually free.
The ni-Vanuatu people are hugely friendly and nurturing children is a pivotal part of their culture. Toddlers' erratic behaviour is easily tolerated a whole lot more than it is in western societies, and kids of all ages are welcome wherever you go. No one in Vanuatu bats an eyelid if you order one meal between you and your small entourage.
Accommodation and food on Espiritu Santo is more than reasonably priced, as it is throughout Vanuatu. Although you may be tempted to tip a taxi driver here, or a cafe there, with everything seeming so cheap, ni-Vanuatu consider it rude and a little confusing to be offered tips. They much prefer to be up-front when charges are required. So rather than being surprised with being charged to visit a beach or swimming hole, gladly accept the openness and honesty of the exchange. 
4. La Grande Terre, New Caledonia
It's amazing to think that our nearest South Pacific neighbour is a part of France – and just a convenient two-and-a-half-hour flight from Sydney, which makes it a perfect overseas getaway for those with kids who don't travel well.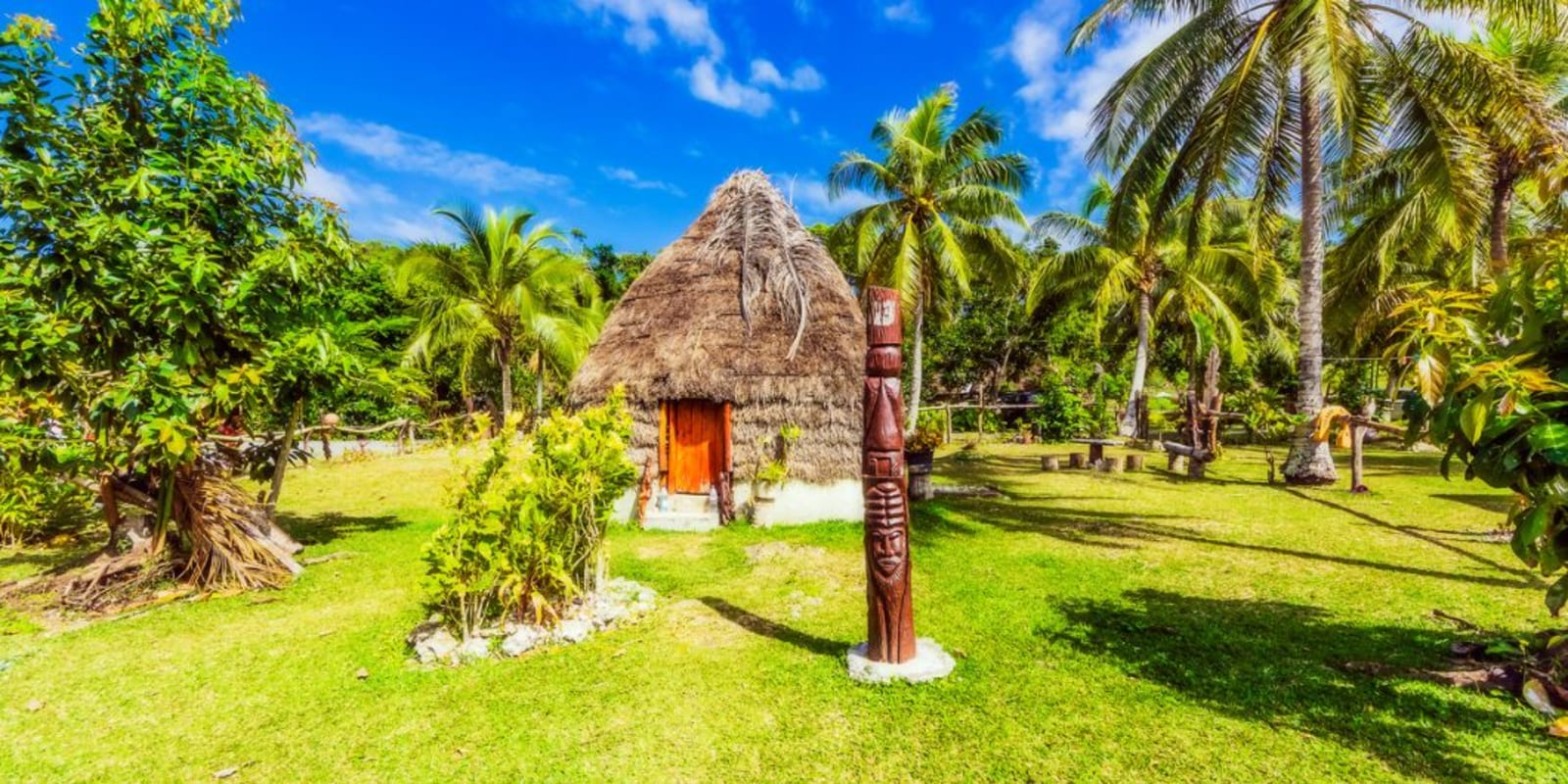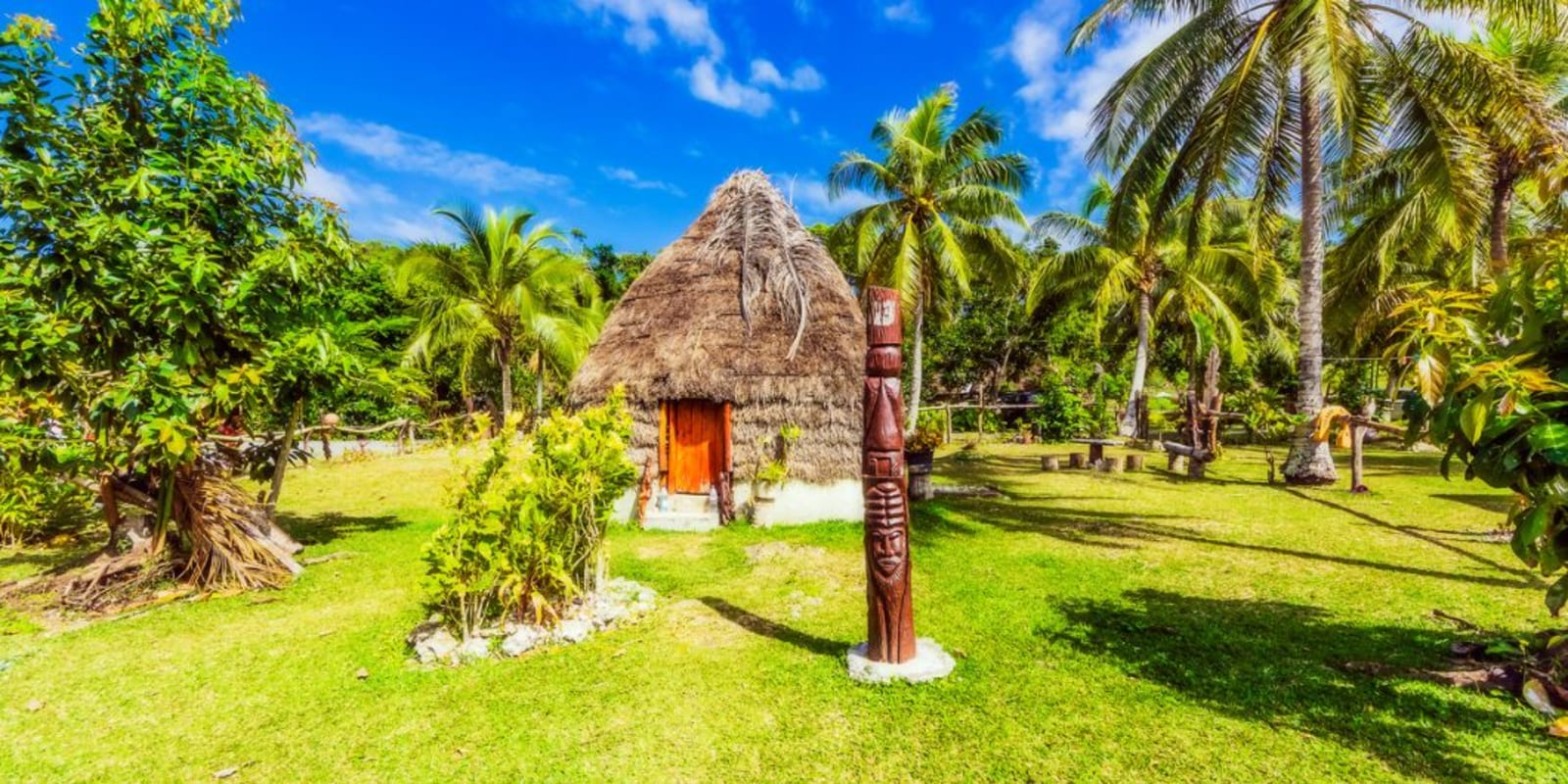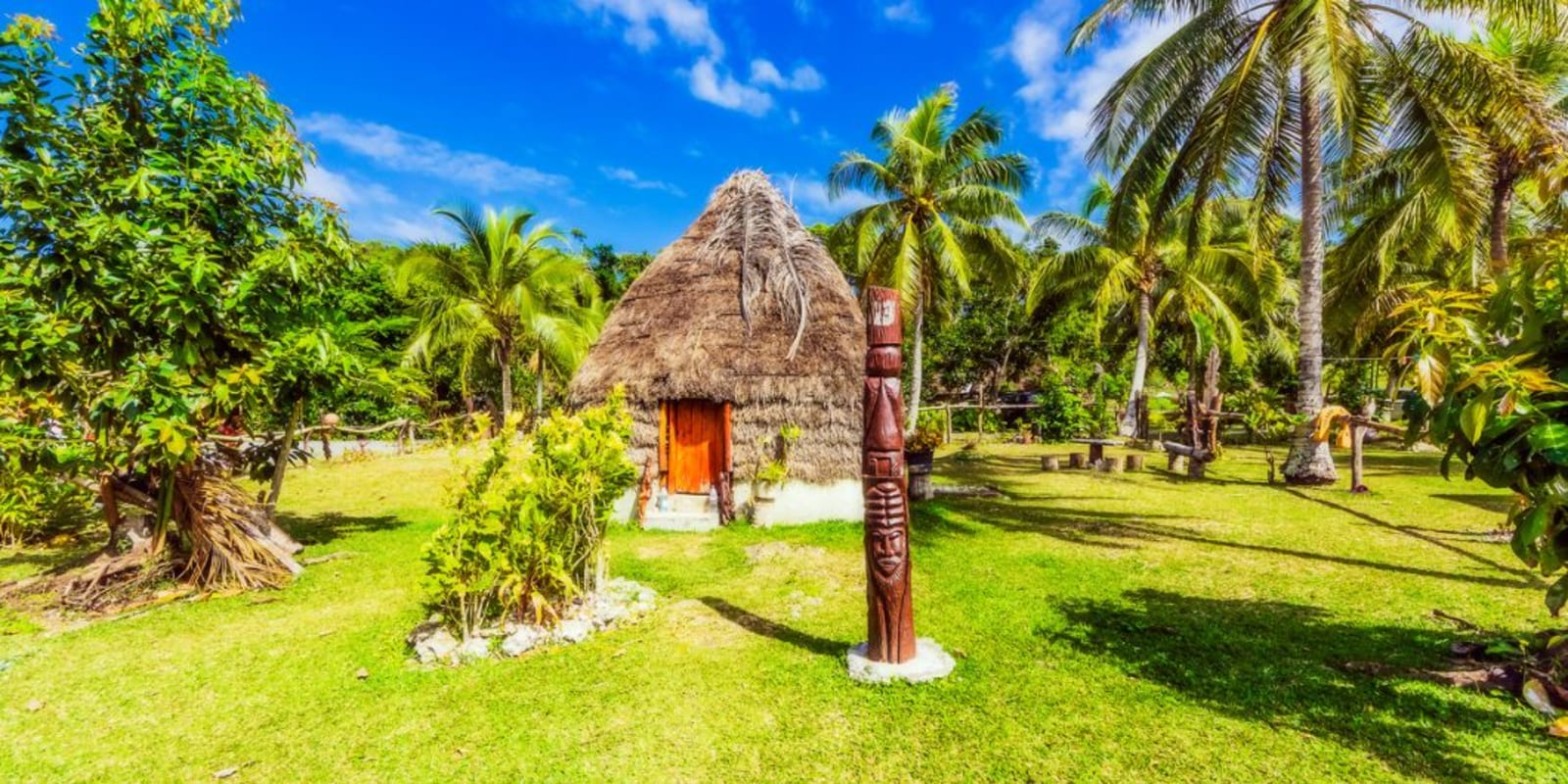 New Caledonia's main island, La Grande Terre, is an intriguing blend of French and indigenous Kanak cultures. And because New Caledonia isn't exactly chockers with resorts and kids clubs like other South Pacific destinations, this is a good excuse to treat your kids to immersive and authentic cultural experiences.  
Many of Le Grande Terre's remote indigenous Kanak villages have recently opened their doors to tourists, offering affordable but unforgettable stays. Kanak families are very warm, generous and eager to share their culture and can introduce you and your family to traditional activities. These may include fishing, plaiting pandanus leaves into baskets and mats, preparing bougna (a delicious Kanak dish) and visiting yam plantations. It's customary to introduce yourself to the village with a small offering of money or local produce to create a bond of mutual respect. This is a great quality to introduce to kids before they become teenagers.
5. Tahiti, French Polynesia
Tahiti, the largest of the 118 islands of French Polynesia (sometimes known as the Society Islands), is about as beautiful as the South Pacific gets. If you haven't visited Tahiti before, you and the kids are in for a visual treat. The full combination of gin-clear lagoons, powdery beaches and stark volcanic outcrops dressed in lush rainforest give it the South Pacific eye-candy award. The island is actually two islands joined by a small isthmus. The larger portion, Tahiti Nui, is home to the capital Papeete and its younger sibling, Tahiti Iti, is not to be out-done for its famously massive surf breaks.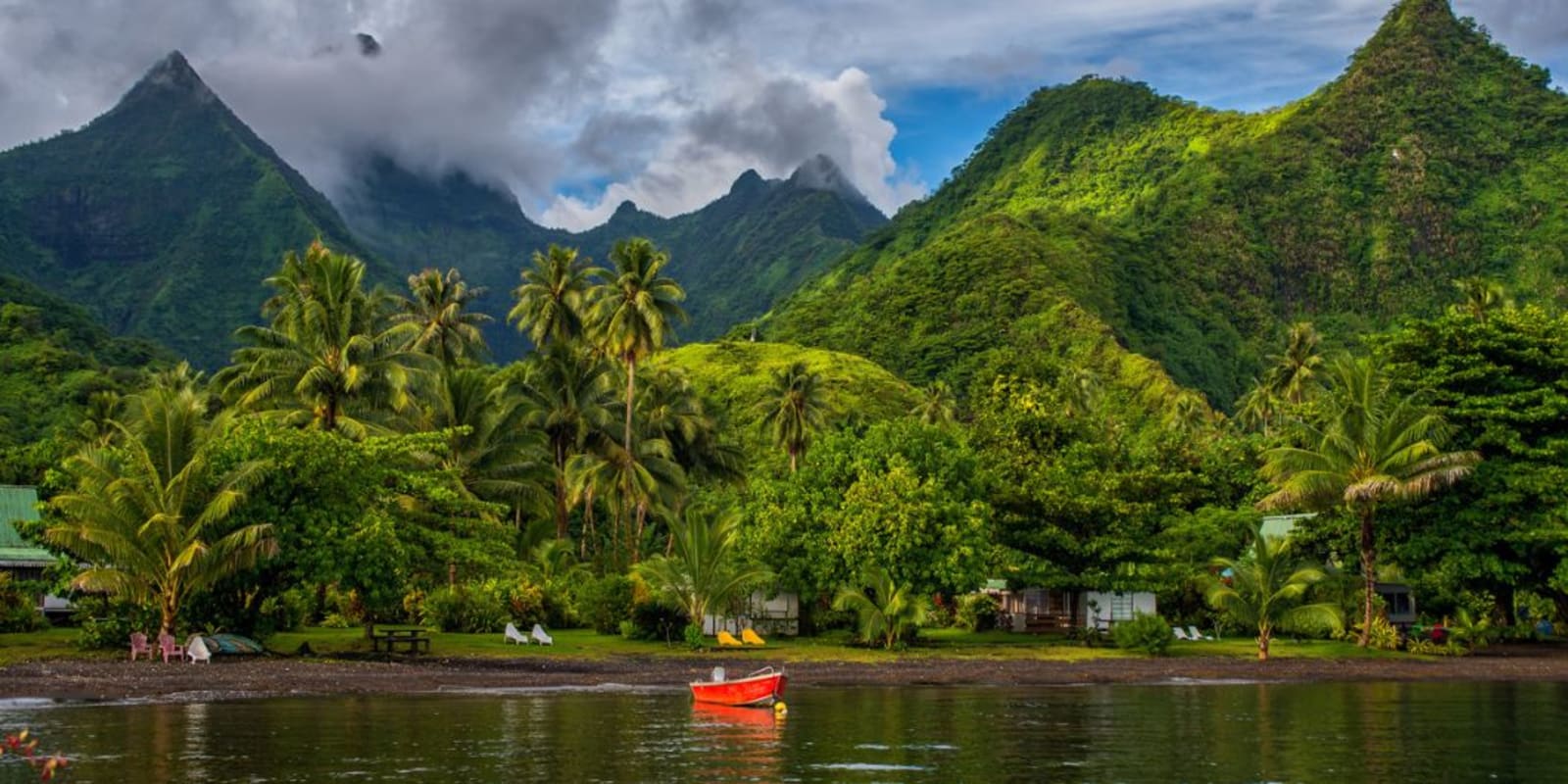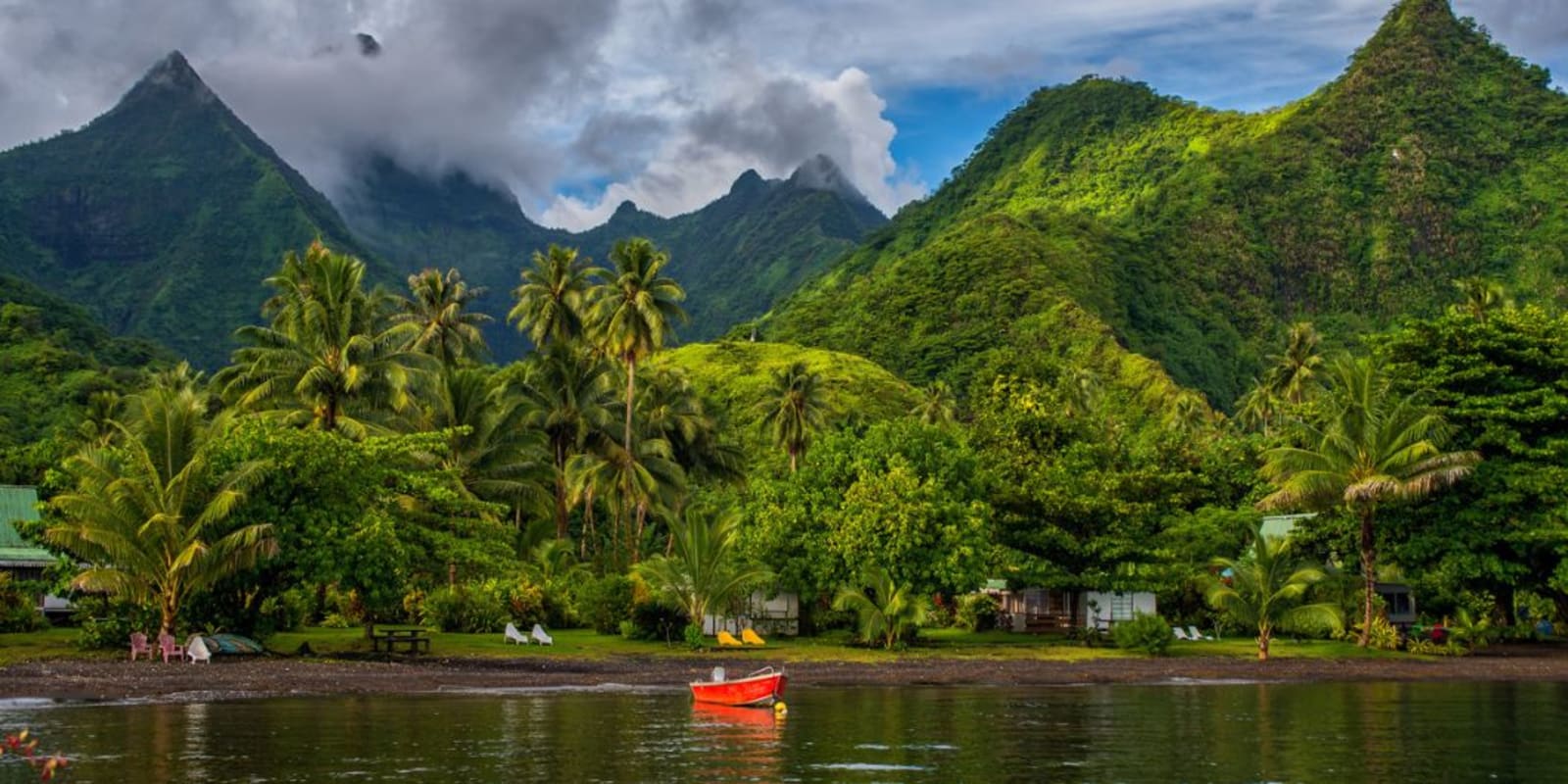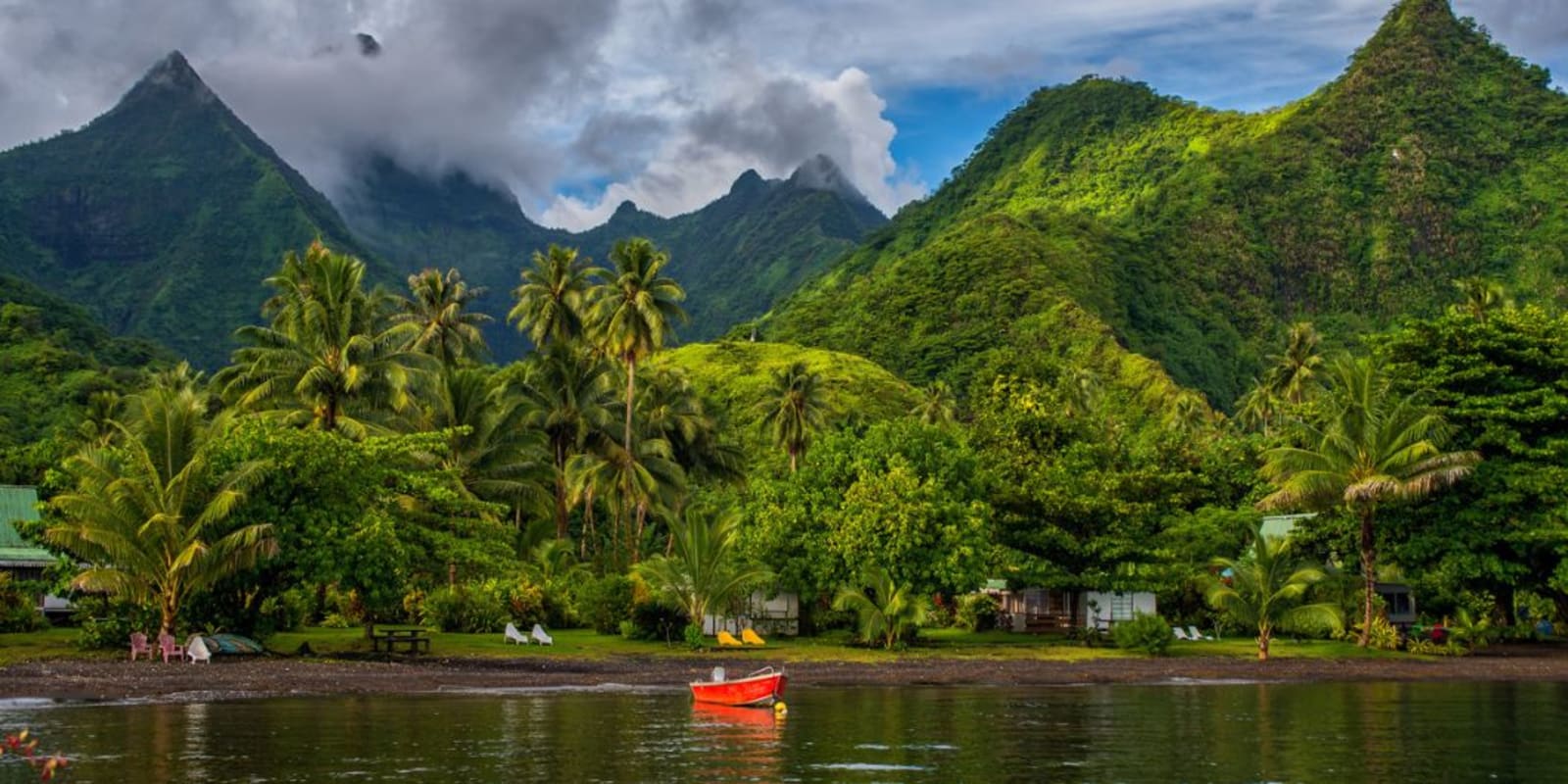 Opportunities to swim, snorkel, kayak and paddleboard are handy no matter where you choose to stay. But for a special activity, try booking a va'a lesson. A va'a is an outrigger canoe and a proud Tahitian tradition. To successfully crew a va'a, everyone onboard must work together to get anywhere – the perfect, and potentially hilarious, family team building challenge. 
The other main French Polynesian island of Bora Bora might be famous for its overwater bungalows, and although they offer a highly snap-worthy stay, they're perhaps not the best place to bring pre-school water magnets. 
It depends on what you are looking for! All five are stunning islands, all with lagoons, safe beaches, tropical climates and amazing cultures to become immersed in. So what's the best South Pacific Islands to holiday with the kids? Vanuatu definitely has off-the-beaten track appeal, Fiji for resorts and kids clubs, Rarotonga for its ultra-laid-back vibe, New Caledonia is so nicely close, and Tahiti dazzles with its island paradise vistas. 
---
Flight Centre acknowledges the Traditional Custodians of Country throughout Australia.