The Sunshine State: Queensland's Ultimate Travel Bucket List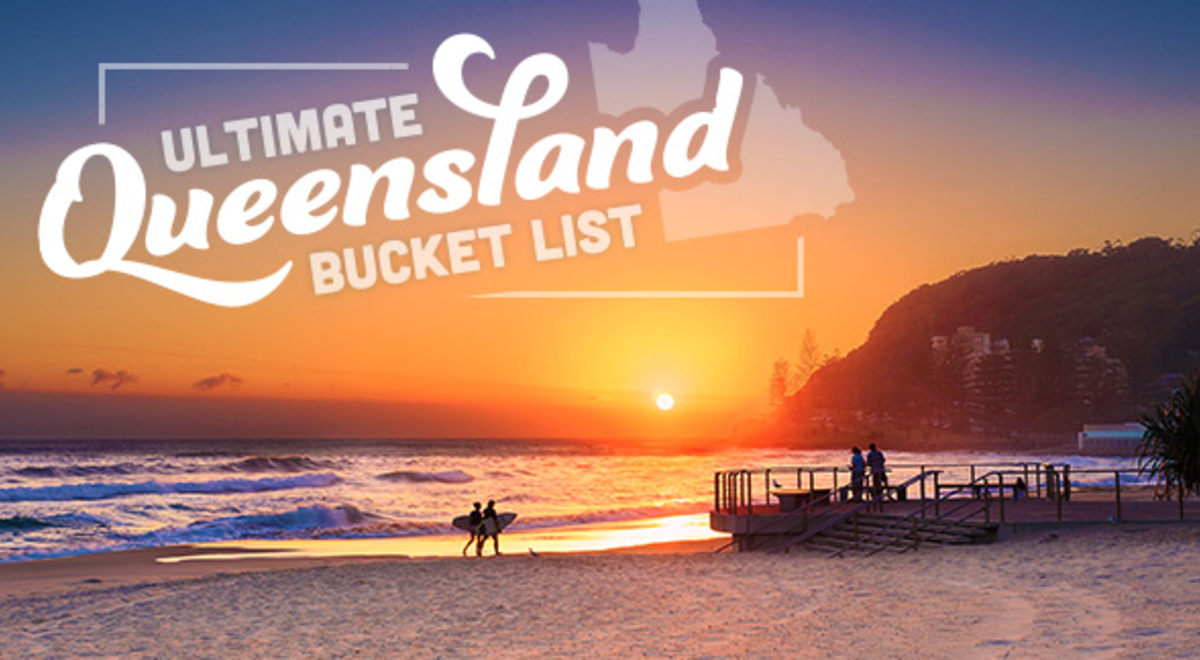 The New Year is just around the corner and those pesky resolutions are demanding to be locked in. Will you be hitting the gym and embracing a paleolithic lifestyle? Maybe you're planning to cut back the buzz and donate your weekly coffee funds to a greater cause?
Or perhaps you've decided to squeeze more out of your down time and add a few more notches to the ol' travel belt. If a sun-soaked holiday sounds far more achievable than foregoing wheat, sugar, caffeine and a social life, we hear you.
With the help of our Facebook community, we've created the ultimate Queensland bucket list - 17 experiences every person should embrace, whether you're a local or an inter-state interloper. How many of these experiences have you ticked off, and how many are on your radar for 2015?
1. Feel the world's purest sand between your toes
When it came to anything involving sun and sand, Mission Beach and Whitehaven Beach were clear favourites for our Facebook friends. While Mission Beach in the North undoubtedly appeals, Whitehaven Beach on Whitsunday Island boasts pure, white silica sand that has to be felt at least once in your lifetime.
2. Spot Orion's Belt in the night sky
You'd be hard pressed to find a Queenslander who didn't grow up with summer camping trips on their holiday calendars and it seems Fraser Island is the pick of the bunch. Double points if you cook a traditional campfire damper, smother it with melted butter and golden syrup, and brew a pot of billy tea!
3. Test your core strength and catch a wave off the coast
The surfies among our Facebook community agreed: Coolangatta is a primo place to hang ten. Rainbow Bay and Snapper Rocks came in at the top of the list. Given Queensland has nearly 7,000 kilometres of coastline, there's no shortage of places to test your sea legs in the surf!
4. Wander through ancient rainforests
Where in the world can you visit two Heritage-listed sites side-by-side? The Great Barrier Reef and the Daintree Rainforest, of course! The Daintree is the oldest surviving rainforest in the world, so there's arguably no better place to step back in time and see Mother Nature at her best.
5. Explore a new underwater world
Whether you dive, snorkel or swim, you told us getting up close with the Great Barrier Reef is a major must-do on your bucket lists. Take your pick of some 3,000 unique reef systems, coral cays and tropical islands fringing Queensland's coast, and dive on in!
6. Wake up early and see the sunrise
If you're not a morning person, the idea of getting up to watch the sunrise requires some serious convincing. Once you watch the sky break over Port Douglas, however, you'll be glad you shrugged off the sheets and started the day at dawn. Popular opinion ranks the Far North as the best spot to catch a Queensland sunrise.
7. Watch some whales or, better yet, swim with them!
It's no surprise Hervey Bay and Fraser Island were ranked as the best spots to spy wildlife in Queensland. During whale season (July to November), the waters off the Fraser Coast teem with migrating Humpbacks. You can watch from afar, or make a splash and swim with the gentle giants.
8. Make a playlist, pack a picnic and take a road trip
Queensland is an impressively sized state that lends itself perfectly to road tripping. Turns out our Facebook community love hitting the highway in Far North Queensland, cruising from Cairns to Port Douglas, The Daintree, Cooktown and Cape Tribulation. Buckle up!
9. Push your comfort zone and rise to new heights
Those with an adventurous streak out there say they like to get your hearts pumping by skydiving over Airlie Beach or walking among the treetops on the Gold Coast Hinterland. Comfort zone shattering activities also include sand boarding on Tangalooma or Fraser Island. Are you game?
10. Switch off and sail away to island paradise
When it comes to island getaways, there are none better than Hamilton Island (if we're to trust your expert advice, that is). Hamilton Island is the most populated of the Whitsunday Islands, much loved for its luxury resorts, sailing opportunities and sleek beaches. Easy choice, really.
11. Make some memories with the family
Family holidays don't come much better than in Queensland. Sunshine, beaches, theme parks, comfortable cities, charming country towns - what more could you want? The Gold Coast theme parks are clearly a favourite for family fun. Try Sea World and Dreamworld for the little 'uns; Movie World and Wet'n'Wild for big kids.
12. Stand tall underneath a waterfall
Speaking of wet and wild, the Far North ranks once again for your favourite waterfall vistas. The Barron Falls on the Atherton Tablelands are quite a sight to behold in the wet season. For falls you can swim below, look no further than Millaa Millaa Falls, also located in the Cairns highlands.
13. Chow down on some freshly caught crustaceans
By now you've dived the deep blue, hit the highway and braved the theme parks - you must have worked up quite an appetite! For seafood fans, there are few better places to get your fix than Queensland. Salt Seafood Bar & Grill in Airlie Beach is a crowd favourite for a seafood smorgasbord. Bon appetit!
14. Take your four-legged friend for a walk on the beach
Sometimes a family trip to the beach isn't quite the same if furry family members have to stay behind. Luckily, there are plenty of beaches in Queensland for a dog's day out. Currumbin at the Gold Coast was listed as your favourite spot for seaside strolls with your four-legged friends.
15. Put your photography skills to the test
Most of us can rightly claim to be amateur photographers these days, thanks to our uber handy SmartPhones. If you want to take your shots to the next level, however, set up the tripod on the surrounding cliffs and capture the Story Bridge in Brisbane, especially during Riverfire.
16. Live it up in luxury at a world-class resort
It turns out plenty of you choose to unwind in style on Hamilton Island. There are a handful of top-notch resorts on Hamilton Island to take your fancy, from the exquisite qualia (pictured above), to the sand-skirted Beach Club and the Reef View Hotel - a particular favourite among our Facebook community.
17. Lace up your boots and take a hike
You voted the Great Walk on Fraser Island as the number one hike in Queensland. This isn't a stroll for the faint-hearted - it traces the island over some 90 kilometres. There are a few shorter trails if you can't manage the full trek, which will take you through forests and along windswept coastlines.
---
Flight Centre acknowledges the Traditional Custodians of Country throughout Australia.