Explore more holiday deals
From low-key bungalows to luxury 5-star resorts
Right at the heart of the Great Barrier Reef, Hamilton Island is a great base for exploring what lies beneath the high seas. The reef-enclosed island offers spectacular snorkelling above vibrant coral, as well as the opportunity to hand-feed some of the local fish. If you feel like going further afield, snorkel and dive tours are in abundance on the island, giving you the chance to head to the outer reef in search of Nemo and all his friends. Chartered fishing trips are also available, as is every watersport from sailing to skiing.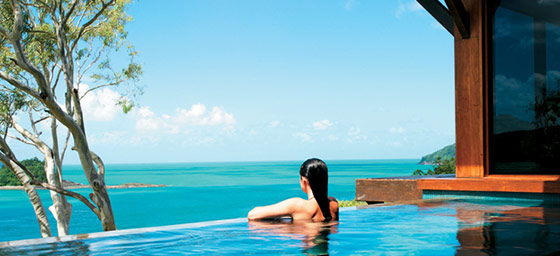 Discover Qualia – Australia's world-class luxury resort on Hamilton Island
For those more interested in what lies above, Hamilton Island is also home to a challenging Par 71 golf course that offers some fantastic views across the island and ocean. Beachfront yoga is offered, as are leisurely walks up the hills to view some stunning vistas, and there's no shortage of beaches to laze on. To get you into the island vibe, take advantage of the full service day spa offering body wraps, massages, facials and exfoliation treatments. Whether you're there for a weekend or a week, Hamilton Island's laidback luxury leaves many unwilling to leave.
Explore the magnificent underwater world of the Great Barrier Reef