Canada: Why Mammoth Lakes Is A Winner In Winter & Summer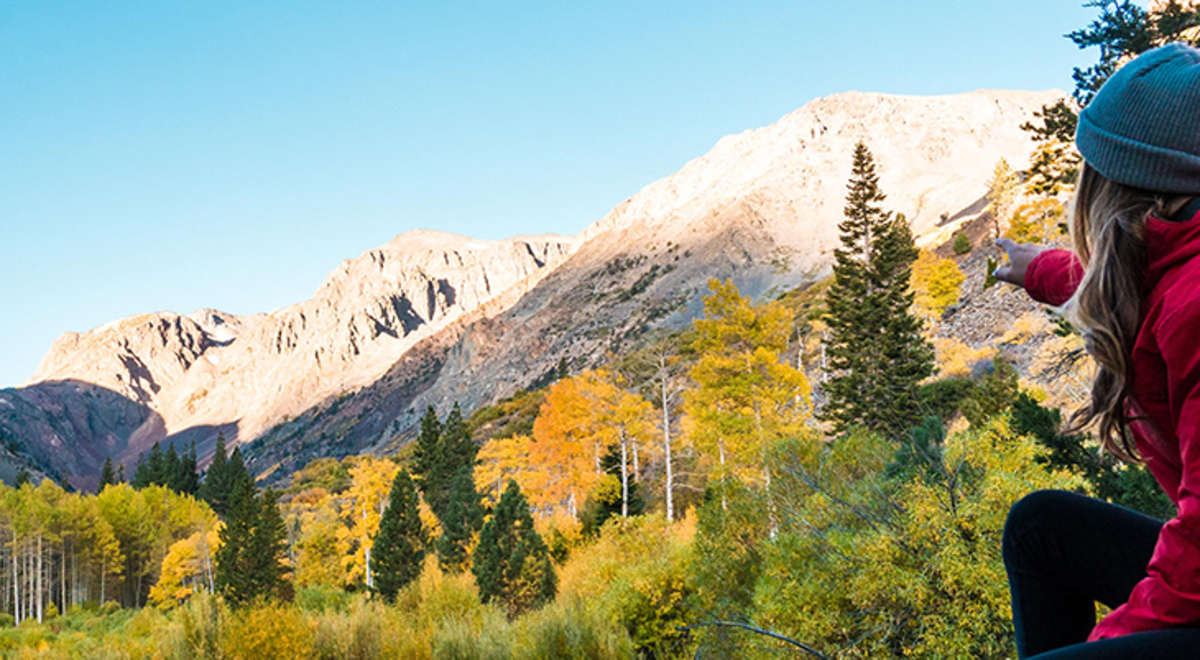 ---
---
Mammoth Lakes may be a lesser-known California holiday option for Aussies – compared to the popular gateway cities of Los Angeles and San Francisco where most direct flights from the east coast touch down – but this SoCal hotspot with 300 days of annual sunshine makes a great year-round destination.
Situated five hours by road from Los Angeles, San Francisco and Las Vegas, Mammoth Lakes is the ideal addition to a two-destination vacation when you can pair top city sights with all the outdoorsy activities of a mountain resort in the Eastern Sierras.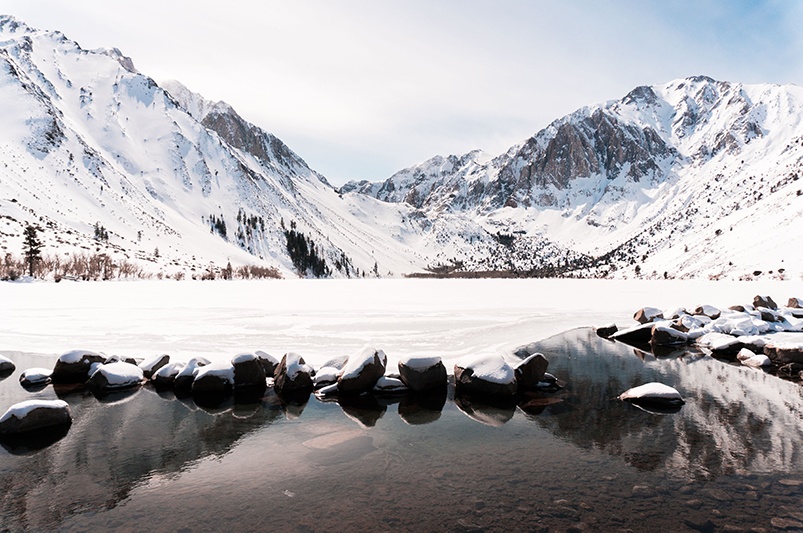 The pristine beauty of a bluebird day. (Image: Josh Wray/Mammoth Lakes Tourism)
The town of Mammoth Lakes is surrounded by mountains – to the west, the ski resort of Mammoth Mountain and to the east, Sherwin Range. Right in town, Mammoth Mountain is California's premier ski resort and also home to a world-class bike park and mountain biking (MTB) trails in the summertime.  
Use Mammoth Lakes as a base to explore the Sierra Nevada Mountains as well as Yosemite National Park – just 45 minutes' drive (or 51km) north from downtown Mammoth Lakes.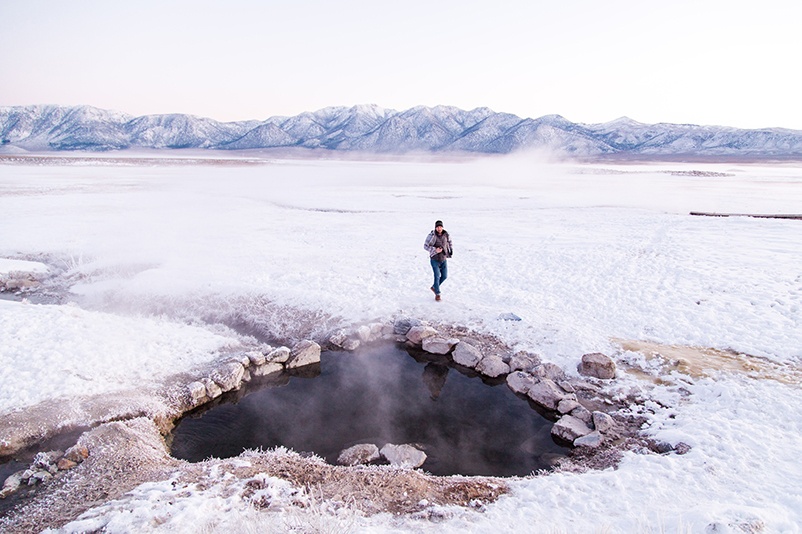 A winter sunrise over Wild Willy's heart-shaped natural hot springs near Mammoth Lakes – perfect for a post-ski soak! (Image: Josh Wray/Mammoth Lakes Tourism)
During his recent visit to Australia, we chatted to Mammoth Lakes Tourism director of sales and international marketing Michael Vanderhurst to get the lowdown on the insider tips of when to go and what to do in Mammoth Lakes in winter and summer.
Use Mammoth Lakes as your base
The salinity of the saltwater Mono Lake is three times that of the ocean! (Image: Josh Wray/Mammoth Lakes Tourism)
Michael says to stay in Mammoth Lakes for three to four nights in summer, using the town as a base to check out the hot springs, national and state parks (Mono Lake is a million-year-old saltwater lake with three times the salinity of the ocean that's located in the Sierra Nevada desert) and adrenaline-fuelled activities. For a ski holiday in winter, a stay of five to seven nights will give you optimal powder time in Mammoth Mountain.
Get winter chills (in a good way)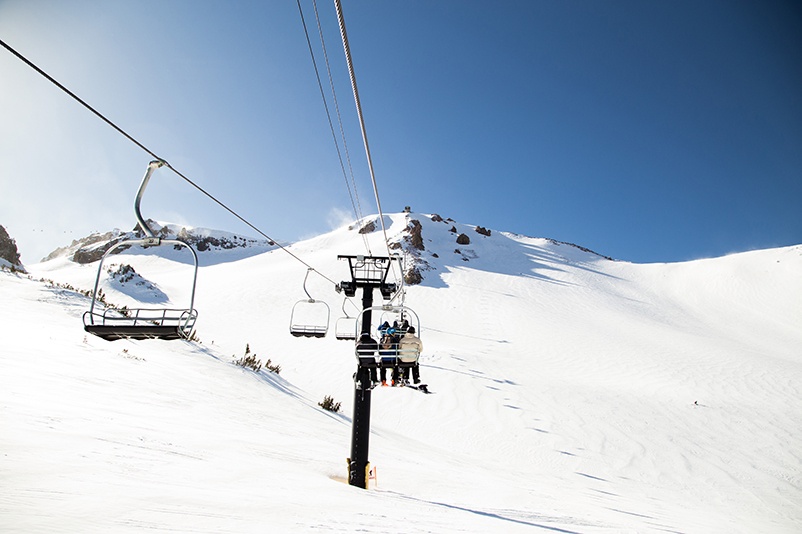 A pristine powder day at Mammoth Mountain, Southern California's best-known ski resort. (Image: Josh Wray/Mammoth Lakes Tourism)
Mammoth Mountain is the highest chairlift-accessible resort in California and is geared for skiers and snowboarders of all abilities. At 3,369m high, Mammoth has three lodges, 150 named trails, 11 terrain parks and 1,416ha of skiable terrain (designated 25 per cent beginners, 40 per cent intermediate, 20 per cent advanced and 15 per cent expert). There's also outdoor ice skating at the Mammoth Lakes ice rink and cross-country skiing in the Mammoth Lakes basin. And natural hot springs. Ski seasons extends to mid-June, FYI.
Get your heart racing in the summertime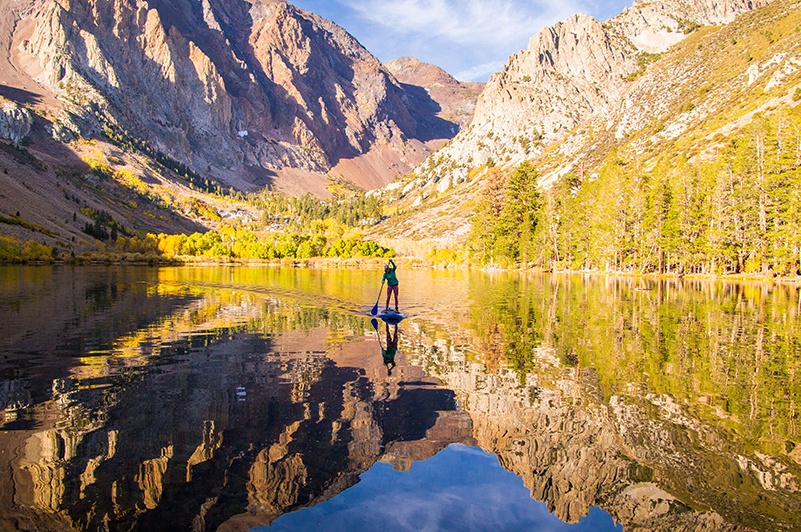 SUP boarding on Parker Lake in the Eastern Sierras is popular from autumn through summer. (Image: Josh Wray/Mammoth Lakes Tourism)
There's a huge variety of high-adrenaline activities in the summer: zip-lining at the Mammoth Mega Zip at around 96km/h down Mammoth Mountain, horseback riding in the Sierra backcountry, mountain biking (there's heaps of top MTB events to check out too), stand-up paddleboarding (Horseshoe Lake is a fave) and challenging hikes that link to the Pacific Coast Trail (as featured in the book and film, Wild). You can also take the Panorama Gondola to the summit in summer.
There's daily (summer) transportation to Yosemite National Park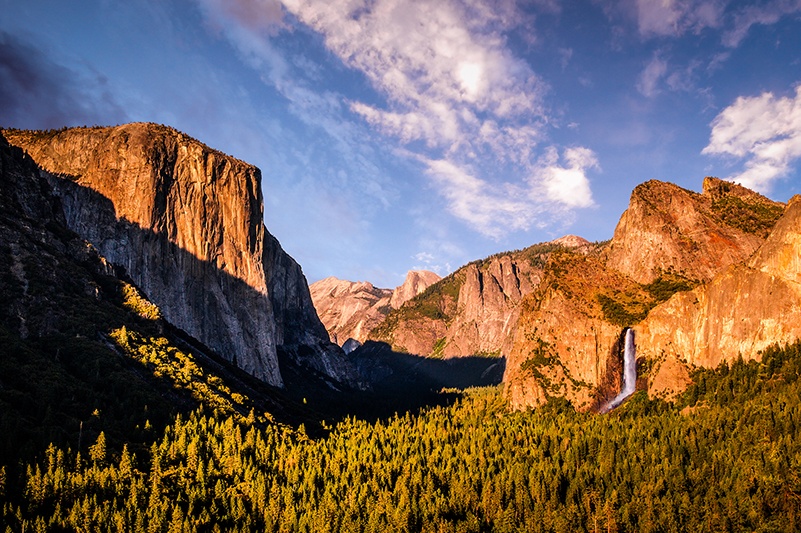 El Capitan and Half Dome are simply stunning during the springtime at Yosemite National Park. (Image: Getty Images)
YARTS is a public transportation coach service that runs directly from Mammoth Lakes to the East Entrance of Yosemite National Park in summer. Take the Mammoth Lakes-Highway 120/395 bus route for a day trip to hike, sightsee (there's a free shuttle to Yosemite Valley and the rock formations of El Capitan and Half Dome), take scenic pics and then return back to Mammoth Lakes by bus in the late afternoon.
TIP: Buy your YARTS tickets online – it includes the entrance fee to Yosemite National Park.
There's a legit ghost town nearby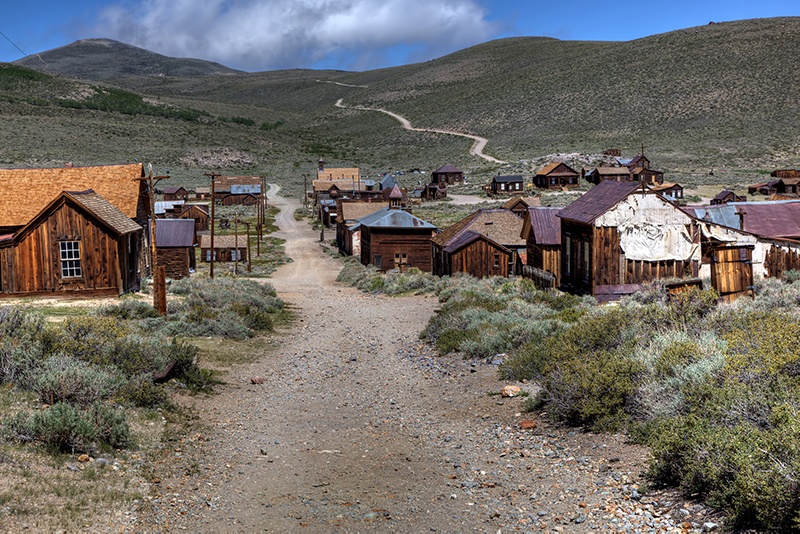 Bodie is an abandoned 19th-century ghost town in Mono County, California – a great day trip from Mammoth Lakes. (Image: Getty Images)
Not just for show, Michael says the former gold-mining town of Bodie in Mono County is the real deal where every corner you walk around might yield something creepy or eerie to see. "Bodie is the 'official' ghost town of California. There's no actors out there doing re-enactments, nobody selling you keychains, there's no ice-cream parlours. It was a city of 10,000 people in the 1880s during the Wild West that was built on the gold-mining industry. In about 1910 they stopped mining gold and all 10,000 people moved away but left the entire city of about 200 buildings, which still stands to this day and you can go inside the old saloons, the old churches, the old schoolhouses and see how people lived in the Wild West. It's really cool."
Plus heaps of Instagrammable hidden gems and not-so-secret spots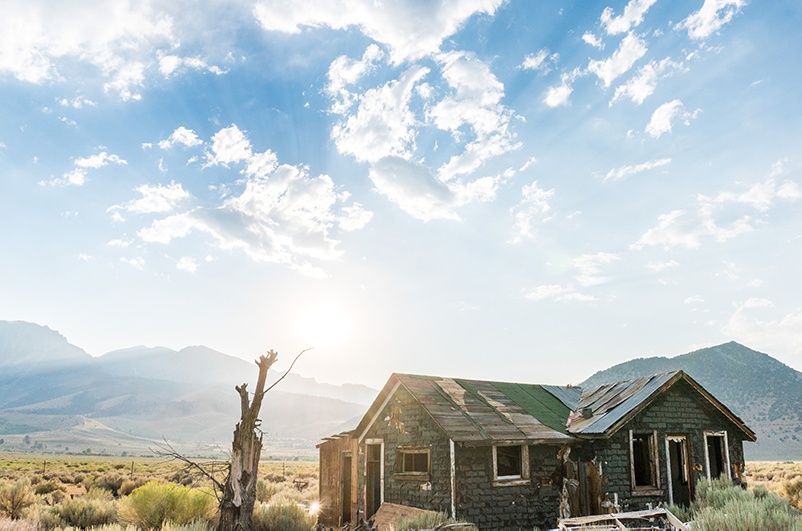 There's plenty of hidden gems, like this abandoned house, scattered around the Eastern Sierra in summer that make the perfect photo op. (Image: Josh Wray/Mammoth Lakes Tourism)
Michael's Insta-worthy spots include the top of Mammoth Mountain (take a scenic gondola ride up) where you can see directly down into Yosemite National Park and snapping a pic at Bodie. With seven interconnected lakes that make up Mammoth Lakes Basin (Twin Lakes, Lake Mary, Lake Mamie, Lake George, Horseshoe Lake), finding a hidden waterfall all to yourself, seeing a bear walk by on the shores of a lake, or spying a nesting pair of bald eagles are just some of the ways you can experience the local wildlife and scope the scenic landscapes without another soul around to photobomb your photo op.
It's a resort town, but the look is very, very casual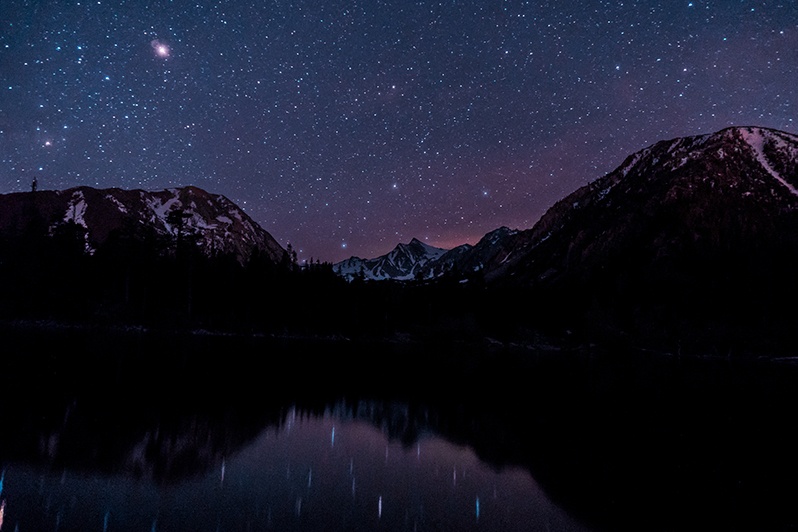 Look up at the starry spring sky at Sherwin Lakes, one of the small lakes near Mammoth Lakes. (Image: Josh Wray/Mammoth Lakes Tourism)
Leave your posh coats at home, folks, Mammoth Lakes is ultra cas(ual). Michael says the laidback California lifestyle has a lot of similarities with the relaxed Aussie lifestyle: "It's all about having a great day of activity and ending the day with a really nice meal, maybe a great glass of wine, or a glass of craft beer."
Remember, Mammoth Lakes is a high-altitude mountain town, so even in summer it's a good idea to bring a lightweight puffy jacket or jumper for night-time.
And the best season to visit is…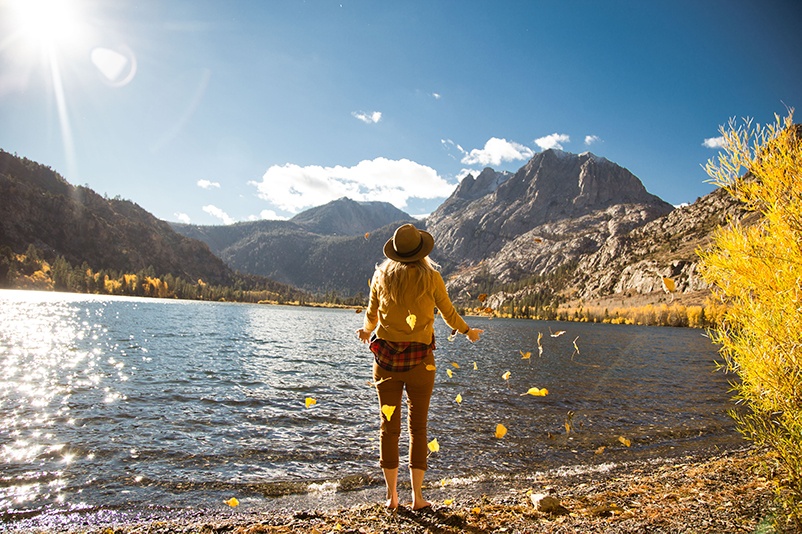 Autumn is a magical time to visit Silver Lake in the Eastern Sierra to witness the golden hues of the aspen trees. (Image: Josh Wray/Mammoth Lakes Tourism)
If you're not there for the snow or the peak summer season, Michael says fall is the locals' fave time of year. "The local secret is going to be the autumn – September especially. We're one of the few parts of California that actually has a change of colour with the trees and the leaves and for us it's mainly aspen trees so it's a lot of golds, a lot of yellows."
Feature image: Josh Wray/Mammoth Lakes Tourism
---
Ready to visit California? Check out our California holidays on sale now!
---
---
Flight Centre acknowledges the Traditional Custodians of Country throughout Australia.