Cruises from Perth
Perth is the gateway to cruising the waters of Asia, Africa and Europe. Cruises from Perth generally depart from Fremantle, an historic destination situated just outside the Western Australian capital. Departing from Fremantle and heading out into the sunset of the Indian Ocean is a spectacular experience.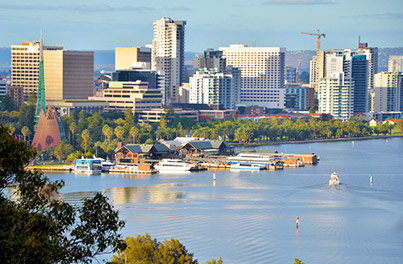 Popular Destinations from Perth
Perth is a perfect city to commence an exploration of Asia, further to Europe and the Mediterranean or Africa and the Middle East.
Perth Cruising Seasons
Perth is a year round departure point for cruising.
Cruise Ships Departing Perth
Perth Port
Fremantle
Cruise ships for Perth dock at Fremantle Ports, located approximately 14 kilometres south-west of Perth.
Approximate travel times and costs
By car/taxi
30 minutes from Hay Street, Perth CBD (taxi $40–50)
45 minutes from Perth Airport (taxi $50–70)
By train
28 minutes from Perth Station to Fremantle Station
Port Facilities
Parking
There is no public parking available at the Port; the parking area in front the Passenger Terminal Building is designed for set down and pick-up only. There is a short term car park at Victoria Quay and long-term parking at the Queensgate Car Park.
Shops and restaurants
Fremantle Port is located moments from the heart of Fremantle. While facilities are limited at the port itself, there are many shops, restaurants and cafes situated in Fremantle.
Location of Passenger Port
View Larger Map
Cruises Departing from Perth
OCEANIA
CRUISE LINE
P&O Australia
OCEANIA
CRUISE LINE
P&O Australia
OCEANIA-ASIA
CRUISE LINE
P&O Australia
INDIAN OCEAN
CRUISE LINE
P&O Australia
OCEANIA
CRUISE LINE
P&O Australia
OCEANIA-ASIA
CRUISE LINE
P&O Australia
INDIAN OCEAN
CRUISE LINE
Princess Cruises
INDIAN OCEAN
CRUISE LINE
Princess Cruises
INDIAN OCEAN
CRUISE LINE
Princess Cruises
OCEANIA
CRUISE LINE
Celebrity Cruises