New Zealand On Sale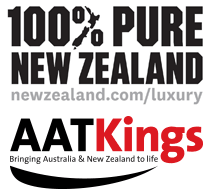 From the North Island to the South Island, New Zealand wows with its jaw-dropping scenery, cosmopolitan cities, glorious natural wonders and heart-pounding adventure.
Appreciate Wellington's roaring cafe culture, explore the street art and sights in Christchurch, sail the glistening waters of Milford Sound or revel in the thrills of New Zealand's adventure capital, Queenstown. Explore even more with AAT Kings, which has a range of specialist tours that showcase the breathtaking beauty of our neighbouring nation.
Snow-capped mountains, sparkling blue oceans and bustling modern cities
Even a glimpse of the landscapes here reveal why a holiday in New Zealand is a must for lovers of the outdoors. If you don't really get 'outdoorsy' yourself, the fresh produce and New Zealand wine tempt many a palate if you somehow manage not to fall in love with the scenery.
View of Auckland
With only 4 million people countrywide, it's fabulously uncrowded. From tip to tail there are 14 national parks; several international-standard ski fields and more adrenalin than you'll know what to do with at the South Island's adventure hub, Queenstown. The hospitality throughout is warm and there's accommodation to suit all budgets from shoestring to show-me-the-way-to-the-5-star-lodge-with-a-helipad. In short, New Zealand is small but has a lot of heart. Come and see why it might steal yours.
Milford Sound