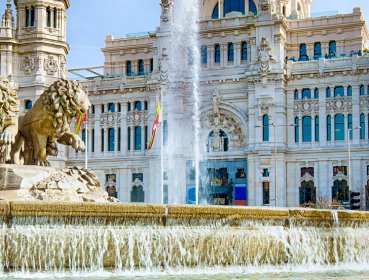 Whether it's browsing through the selection of gourmet tapas at Mercado de San Miguel or gazing in awe at the masterpieces within the Museo Nacional del Prado, there's so much to love about a trip to Madrid. Food will a big highlight of your holiday, and you be quickly swept up into Spain's obsession with delicious food and late-night socialising. Madrid is a walkable city, and your days can be filled with exploring beautiful parks, medieval mansions, exquisite royal palaces and a multitude of other uniquely Madrileno attractions.If you're planning a visit, explore our Madrid travel guide and find out how to make the most of your time in Spain's beguiling capital. We've collected the best tips from our travel experts, and have top suggestions for things to do, the best time to travel, where to stay in Madrid, getting around and more.
Madrid quick facts
Beverages
Bottle of Coke/Pepsi (330ml)
AUD $3.70
Currency
Euro
AUD $1.00 = EUR €0.61
Eating out
Restaurant meal (casual dining)
AUD $21.23
Electricity
Plug type: C
2 pins • 230V
Where to stay in Madrid?
Being the sprawling metropolis that it is, deciding where to stay in Madrid can be a daunting task. Each of Madrid's beautiful barrios (neighbourhoods) has something to offer the discerning traveller. From unbridled luxury to homespun authenticity, let your imagination run wild with the nearly endless possibilities available to you. Each street and building holds a piece of Madrid's rich history within its facade. Whether your decision is based on affordability, accessibility or comfort, you'll find exactly what you're looking for in Madrid.
If tapas, beer and mojitos sound like your thing, La Latina is the right neighbourhood for you. Bustling terrace bars and restaurants are Madrid tradition, and in La Latina tradition is paramount. Home to the legendary Casa Lucio, enjoy sumptuous local cuisine approved by Spanish royalty, American presidents and Hollywood A-listers. La Latina is your quintessential nightlife neighbourhood.
---
Salamanca is a place of true beauty. Grand stone buildings, centuries old, line the streets. The architecture and design of the Renaissance is apparent everywhere you look. The stunning Plaza Mayor is a particular highlight of this area. The neighbourhood is also a vital part of Madrid's student culture. After dark, Salamanca comes alive with fun, frivolity and excitement.
---
Barrio de las Letras is Madrid's spiritual home of culture and art. Many of Spain's greatest names in literature have lived along the streets of las Letras; the pavement stones of many pedestrian walkways are emblazoned with famous quotes from their hallowed and heralded works. Three of Madrid's greatest galleries and museums can also be found here, known locally as the Art Triangle.
---
Right in the city centre, the Gran Via is a truly fascinating and thriving part of town to explore. As Madrid's answer to Broadway, this is the place to be if you want to catch a world-class performance. Musicals, ballet, comedy and flamenco are all playing at any one time somewhere in the Gran Via district.
---
The quaint but lively neighbourhoods of Chueca and Malasana are the places to be if you're after a bit of fun when the sun goes down. Plaza de Chueca is at the centre of barrio activity. Charming cafes and restaurants make for lovely spots to stop and enjoy the sun with a coffee in hand, while at night the bustling bars and clubs are the home of Madrid's LGBTI+ scene.
---
Things to do in Madrid
There are myriad things to do in Madrid – the city is overflowing with food and drink, shopping, art, and culture. Dine on authentic Spanish tapas in a centuries-old restaurant. Enjoy days of retail bliss in some of Europe's finest luxury shopping destinations, and fall in love with Madrid's leading art galleries. There's something to see around every corner in Spain's stunning capital.
Santiago Bernabeu is the home stadium of Real Madrid. Certainly one of the world's most famous soccer (or should we say football) teams needs no introduction. With a capacity of 81,044, the giant stadium is one of the most prestigious venues of its kind in the world. If you're lucky enough to catch a game, you're sure to be just as entertained by the devoted fans as you are by the game!
---
The World Heritage-listed El Escorial is a historical residence of the King of Spain. Since construction was completed in 1584, the massive building has also functioned as a monastery, basilica, royal palace, pantheon, library, museum, university, and hospital. The impressive and unapologetically palatial structure and its formal gardens are well worth a day trip from Madrid to visit a gem of Spain's golden era.
---
Plaza de Toros de Las Ventas
Plaza de Toros de Las Ventas is the quintessential Spanish bullring. From March through to October, the beautifully designed stone arena plays host to one of Spain's most famous sporting and entertainment events. But never fear – if bull fighting isn't your thing, the venue is also often converted into a world-class concert venue and theatre.
---
Built in the 16th century, the Neoclassical facade of the Museo del Prado is almost as breathtaking as what lies inside. Home to the Spanish Royal collection, hundreds of years of monarchy are on display in all their unashamed grandeur. A contemporary addition to the structure, Rafael Moneo's cube-shaped edifice, hosts an impressive collection of modern art.
---
The collection of art assembled in the Museo Thyssen-Bornemisza is considered by many to be one of the greatest in the world. Consisting of 775 works, the former private collection of the late Baron Hans Heinrich Thyssen-Bornemisza covers works from the old masters all the way to the surrealist era of the 1960s.
---
Basilica de San Francisco El Grande
This exquisite Roman Catholic basilica is so much more than a monument of sacred worship. Completed in 1784, the church and its six smaller chapels form one of the largest of its kind in Christian architecture. The huge domed roof and Renaissance art make the church a pilgrimage for believers and art-lovers alike.
---
Palacio Real (Royal Palace of Madrid)
Formerly the residence of the Spanish Royal Family, the Palacio Real is a truly magnificent monument to monarchy. Nowadays the splendid Berniniesque palacio plays host to state ceremonies and guided tours. Exquisite art, sculptures, and historical artefacts grace every available space. The chance to walk the halls of royalty is one not to be missed.
---
Originally constructed along the banks of the Nile in the early 2nd century BC, the Templo de Debod is a dedication to the goddess of health, marriage and wisdom, Isis. The ancient Egyptian temple was donated to the Parque del Oeste in 1968. Dismantled and rebuilt not far from the Royal Palace, the temple constitutes one of the few works of ancient Egyptian architecture that can be seen outside of Africa.
---
Estacion de Chamberi, the long-lost ghost station of Madrid's metro system, is a trip back in time. Now a museum celebrating a bygone era, stepping into the formerly abandoned underground station is like stepping into 1919. Advertisements, ticket booths, and other century-old memorabilia are all on display beneath Madrid's city streets. Forgotten for over 40 years, Estacion de Chamberi is a delightful slice of Madrid's rich history.
---
Centro de Arte Reina Sofia
Occupying an imposing space close to the city centre, the Museo Nacional Centro de Arte Reina Sofia is a sprawling ode to Spain's 20th century masters. Over 30,000 square metres of space is occupied by sensational works from internationally renowned painters, sculptors, filmmakers, and writers. The gallery's crown jewel is undeniably Pablo Picasso's iconic and impassioned Guernica. A visit here is sure to leave you suitably awe-struck.
---
A night at the opera has never been quite so wonderful. This 19th century opera house plays host to an average of seventeen opera titles a year, featuring some of the finest performers of the genre. If opera isn't exactly your thing, then guided tours will happily take you through the spectacular building.
---
This little-known museum is home to an extraordinarily eclectic collection. Collected over 70 years by the museum's namesake, Jose Lazaro Galdiano, the 15,000 paintings, sculptures and the like cover 24 centuries of Spanish art and history. If you have time, the regal gardens that surround the four-storey mansion are also worth a gander.
---
Madrid travel tips
When travelling to Europe always make sure you leave plenty of time to plan ahead – the Madrid travel tips below will help you get the maximum amount of enjoyment out of your travels. In the current climate, travelling conditions to any European nation may change at any time. Always make sure you're keeping well-informed with regards to any local developments. With so much to see in the stunning capital, you will also want to make sure to make a decent itinerary. Also, ensure that you bring along a healthy appetite – Madrid cuisine is as good as it gets!
Spain is part of the Schengen Convention, which allows Australian tourists planning to stay for less than 90 days to enter the country without applying for a visa. This convention also allows you to move freely between other compliant Schengen nations such as France and Italy. If you decide to extend your stay past 90 days, you will need to contact an embassy or consulate to negotiate these terms.
---
Madrid cuisine is renowned for its heavy use of red meats, poultry, seafood, starchy vegetables, and pastries. As an amalgamation of many regional Spanish recipes and migrant cuisine, the food in Madrid is unpredictable but delicious. As a contemporary metropolis, a wide variety of gluten-free and vegan dining options are increasingly available.
---
Spain Electrical Plugs and Voltage
If you're taking Australian appliances with you on your travels, you will require an adapter. Spanish electrical plugs are type F, the same you'll need in the rest of Europe. They use a standard voltage of 230V and a standard frequency of 50Hz. Australian type I plugs will not fit Spanish sockets. Make sure to purchase the appropriate adapter prior to departing on your travels.
---
The major international airport servicing Madrid is the Adolfo Suarez Madrid-Barajas Airport (MAD). As one of the largest airports in Europe, Madrid-Barajas sees an estimated 50.4 million passengers use its facilities every year. The airport is named for the heralded former Prime Minister, who helped to restore democracy to Spain in 1975. The Madrid Metro network connects the airport with central Madrid, and is clean, fast and easy to use.
---
The currency in Spain is the euro (€). The official currency of the 'eurozone', which consists of 19 member states of the European Union, is the second-most traded currency in the world. Any cash amounts under €10,000 don't need to be claimed when travelling between countries. Fun fact: The name 'euro' was officially adopted in Madrid on December 16, 1995.
---
It's certainly not a requirement to tip in Madrid, or indeed Spain in general. Much like the rest of Europe, if you feel the need to tip for excellent service, then by all means you absolutely can. Remember, most workers in the hospitality industry are paid a salary and do not rely on tips to compensate for any lost wages.
---
The official language of Madrid is Spanish. As a result of Madrid's large tourist culture, English is a widely understood language, however before departing on your travels, it might be a good idea to brush up on some key phrases and greetings. Other varieties of Spanish also sometimes spoken in Madrid include Catalan, Galician, and Basque, however Spanish is the most common.
---
Madrid food and drink
Dining on Madrid food and drink is an experience you'll never forget. The city's cuisine is truly a reflection of its vibrant and varied culture. For hundreds of years, travellers and migrants have made Madrid home, each bringing with them new flavours and exciting homeland recipes. Each restaurant, market, and delicatessen boasts these delicious influences.There's no typical Madrid culinary experience, which makes your days of dining out all the more exciting! The meats are to die for – chorizo and jamon (ham) are served in abundance. Meanwhile, seafood, fresh bread, olives and churros will certainly have you going back for more.
Whether you're dining upmarket in a Michelin-starred restaurant or enjoying the local flavours in a bustling marketplace, Madrid's restaurant precincts are as exciting and vibrant as the food itself. Establishments in Salamanca, Las Salesas and Barrio de las Letras have fed generations of Madrid's citizens, delighting with local ingredients and traditional menus. From tapas to devilishly delicious sweets, you won't be in danger of going hungry.
---
Where to find a good coffee?
After a long day touring the city, unwind in one of Madrid's lovely cafes. The smell of freshly roasted coffee mixed with stunning views of Madrid are truly intoxicating. Specialty roasters and traditional coffeehouses are everywhere. Lounge in the sun with a delicious latte, or try something a bit out of the ordinary in a fresh and fashionable neighbourhood cafe.
---
Bright, beautiful, and alive! Soak in the local atmosphere with a glass of locally made vino in hand. Madrid's bars and nightlife are simply teeming with culture. Flamenco dancing and live music explode in the most stunning settings, from the unpretentious vibe of Malasana to the tapas hotspot of La Latina. When the sun goes down Madrid's bars, cafes, and terraces completely transform – until the wee hours of the morning.
---
What are the best food markets?
Lose yourself to the flavours and sights of Madrid's sumptuous food markets. A large variety of tasty goodies, fresh produce, and local wines are all on offer across the city. If you're looking to combine a bit of retail therapy and food, the Mercado de San Anton and Mercado de San Miguel are your must-visit destinations.
---
Where to shop in Madrid?
A Madrid shopping trip is an exercise in restraint! With so much on offer, from international fashion houses to locally owned boutiques, it can prove difficult to keep your credit card in your wallet. Almost everything is at your fingertips.Clothes, shoes, souvenirs, and of course wine for all styles, tastes and prices are plentiful and easily accessible. Charming avenues, bustling main streets and city squares are full of surprises. Luckily for those in the mood to shop at any time, shops are usually open until 10pm – perfect for a little bit of after-dinner retail therapy.
One of the most upscale neighbourhoods in the city centre, Salamanca is the spot to discover sophisticated restaurants, fashionable bars, and luxury retailers. The main avenues are filled with designer label stores and high-end fashion international retailers. Surrounding streets and laneways are the best place to shop boutique. The garments and goods found here are often exclusive to Madrid.
---
Chueca and Malasana are Madrid's famous LGBTI+ districts. Here you can get up close and personal with the authentic Madrid nightlife and shop 'til you drop all in the one spot! Easily two of the most fashionable barrios (neighbourhoods) in the city, come here for fun, food and boutique market shopping anytime you please.
---
Madrid's most famous and central city square, Puerta del Sol, is a historical landmark and shopping adventure all rolled into one. Formerly the site of the city gates, the square is also home to many vibrant cafes, restaurants, bars, and shops. Several streets that lead off the square are full of excellent stores selling all manner of fashion, souvenirs, and accessories.
---
One of Madrid's main avenues, Gran Via is often compared to New York City's Times Square. The mismatch of stunning architecture and grand theatres and cinemas make this Madrid's major entertainment precinct. World-renowned retailers also call the avenue home, making the pedestrian-friendly street very popular with tourists. Gran Via is also famous for its dazzling (and rather expensive) jewellery shops.
---
If flea markets are more your thing, El Rastro is your ideal shopping locale. Vintage clothing, antiques, leather goods, and flowers are all in plentiful supply. El Rastro is a popular haunt for locals as well as travellers, so get ready for the authentic Madrileno market experience. Live music, street performers and of course delicious market food are all good reasons to pay El Rastro a visit.
---
When is the best time to travel to Madrid?
The best time to travel to Madrid is truly a subjective matter – and it's not just the weather in Madrid you need to consider. With so many festivals and events filling up the calendar year-round, no matter when you decide to visit you are certainly guaranteed to experience a European metropolis brimming with fun, food, entertainment, and culture. To paraphrase Ernest Hemingway: to go to bed in Madrid seems a little strange. No matter what season or hour of the day, Madrid is made to be enjoyed. Also, as one of Europe's sunniest cities, making the most of the public squares and gardens should be no problem!
What is Summer like in Madrid?
Summer in Madrid is a toasty affair. Running from June through August, the days are hot and sunny and the evenings are warm. Daytime temperatures average 31°C, with peaks in July of anywhere up to 40°C. August in Madrid also marks a period where many locals take their summer holidays and escape to the coast. Find a nice cool bar and escape the steamy streets! Appropriate clothing: Light clothing and breathable shoes. Don't forget: Book accommodation with air-conditioning.
---
What is Winter like in Madrid?
Rug up! Winter is the coldest time of year in Madrid. With temperatures sitting around 10°C for most of the season and night-time lows of 4°C, staying warm is a priority from December through February. The winter scenery, however, is truly stunning. With the chance of snow towards the end of December, the air is crisp and the excuse to grab a hot churro is warranted. Appropriate clothing: A warm winter coat, scarf and beanie. Don't forget: To try Cocido Madrileno, a traditional winter pork stew.
---
What is Autumn like in Madrid?
Autumn in Madrid is best described as mild. The summer heat continues through until October, when it tends to turn cold. With temperatures ranging between 25 and 27°C as the months progress, autumn is also a time when you may experience some of Madrid's rare rainfall. Appropriate clothing: Light clothes with a light jumper. Don't forget: A raincoat, just in case!
---
What is Spring like in Madrid?
Spring is the perfect balance of Madrid's climate of two extremes. Running from March through April, the spring months are spectacularly welcoming. With the average temperature topping a pleasant 21°C, the sun is out and the weather is perfect for alfresco wining and dining. Spring is also a popular time for tourists, so make sure to take that into consideration when planning your itinerary. Appropriate clothing: Suitable clothing for cool nights and warm days. Don't forget: Your sunglasses.
---
How to get around Madrid
Despite covering approximately 604 square kilometres, getting around Madrid is easy. Transport options are greatly accessible, excellently affordable, and your choices are almost endless. Whether exploring the city on foot, by taxi, bus, train or bike, Madrid is very travel-friendly. Public transport runs frequently and the timetables thankfully extend from the early morning to late evening. No matter where you find yourself, there will no doubt be something worth your while to explore!
If you need to get somewhere in a hurry, or just simply prefer comfort over bustling metro systems, take a taxi. Taxis in Madrid run at all hours and are clearly marked to avoid confusion or fraud. When the green light is on, that means you can safely hail for a taxi on the street. Taxi ranks can also be found at most major landmarks and tourist precincts.
---
If you're up for a bit of sightseeing but want to take it at your own pace, Madrid's cycle hire is an excellent and affordable option. A healthy and ecological alternative to exploring the city, the BiciMAD hire scheme boats 1,560 e-bikes for hire, 3,126 docks, and 123 docking stations. You can even download an app to find out how many bikes are available in your area.
---
The best access to Madrid's major attractions and landmarks is the city metro bus and rail system. The public transport system is safe, clean, quick and affordable with three tram lines, 13 metro lines and 107 bus routes servicing the entire city. Tourist passes are available for unlimited use during a desired period of up to seven days.
---
Madrid's relatively small city centre and myriad town squares, parks, gardens and walking tracks make it an easily accessible and pedestrian-friendly destination. With the city centre boasting so many stunning attractions, walking is often your best bet for discovering the authentic side to Madrid that the locals know and love. Walking tours are also available if you feel like learning a little something you wouldn't have otherwise known about the Spanish capital.
---
What are the best parks in Madrid?
With the sun shining for an average of 300 days a year, the city is best enjoyed in the great outdoors – particularly in Madrid's parks and squares. Communal squares and parklands are dotted all over the bustling metropolis, which is excellent if you want to enjoy a relaxing stroll, a bit of sightseeing, or a spot of alfresco wining and dining.Easily accessible and always a hive of activity, each stunning square and park is a delightful reprieve from the busy city surrounds. Historical and beautiful, enjoy Madrid culture at its most relaxed and carefree.
The gardens of Parque del Buen Retiro are as beautiful as they come. Perfectly landscaped lawns, elegant centuries-old buildings, marble monuments and lush greenery make the park an essential spot to explore. Hire a boat and row the serene waters of the artificial lake, then stroll through 4,000 roses in the stunning La Rosaleda Gardens.
---
Plaza de Santa Ana is brimming with energy and elegance. Once the spiritual home of Madrid's poets, writers and philosophers, the plaza is now the perfect spot to enjoy a drink and a bite to eat in the shade of a cafe umbrella. Statues of 17th century literary icons, Calderon de la Barca and Federico Garcia Lorca help to keep the spirit of centuries past alive.
---
Parque del Oeste is a place to escape the hustle and bustle of the city. Home to grand fountains, lush pine plantations, a scenic cable car, rose garden, and the ancient Egyptian Temple of Debod, this vital green space is a popular and beautiful spot on the Madrid landscape. Every May, the park plays host to the International Rose Villa New Madrid, a world-renowned rose competition.
---
The best of Madrid's culture comes alive in the impressive Plaza Mayor. Since its construction in 1619, the cobblestone square has bared witness to some of Madrid's most famous and infamous historical events. Nowadays, markets, dining, music and dance fill the expansive space. Charming laneways spread out from the square into the surrounding city streets, crammed with shops and boutiques galore.
---
Under the shadow of the Torre de Madrid (Madrid Tower) stands Miguel de Cervantes, often considered the greatest writer in the Spanish language. Author of the classic Don Quixote, the bronze statue is a site of pilgrimage for admirers of the 17th century novelist. For any history buffs, the Plaza de Espana is a must on your itinerary.
---
On the grounds of the Royal Palace, the Sabatini Gardens is an elegant Neoclassical park offering unparalleled tranquillity. The opulent gardens were opened to the public in 1978 and feature striking sculpture, mazes, and stunning views of the palace's north facade. In addition to the gardens, the outdoor Los Veranos de la Villa stage hosts some of the finest events on the entertainment calendar.
---
The current requirements for travelling to Madrid
Talk to a Madrid Travel Expert
Our dedicated team of experts know all the ins and outs of travel and love sharing their knowledge. If you're looking for help planning specific sections of your trip or full itinerary planning, our team is ready and waiting to help create your perfect holiday.
Enquire now