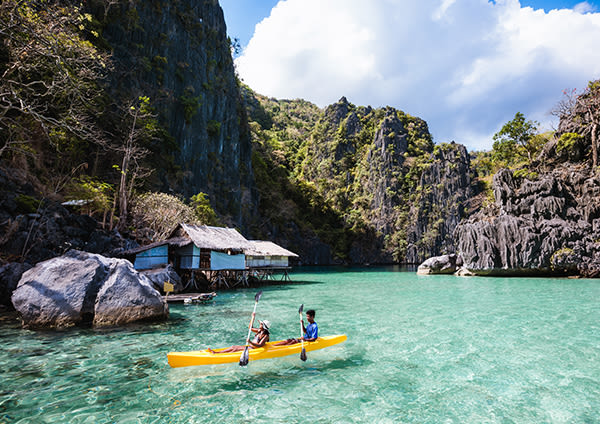 If your ideal holiday involves a little beach time, some sensational sightseeing with a dash of cosmopolitan city vibes thrown in, a Philippines holiday is for you. An archipelago in Southeast Asia, Philippines is actually comprised of more than 7000 islands! Sure, you could quit your day job and make it your life's mission to visit every single one, or you could let us do the legwork to uncover the best, most delicious and must-see sites to fill your Philippines holiday. Whether your ideal activity involves swimming with Thresher sharks on Malapascua Island, exploring the Chocolate Hills and the Banaue Rice Terraces, aka 'Stairs to Heaven', or diving the WWII shipwrecks that are scattered around Coron, Philippines delivers in spades.
Cebu is a popular spot for chasing waterfalls while those craving a city break should add Manila to the itinerary. Delightfully unexpected and full of flavour, culture-seekers will love Manila for its historic sites and the National Museum of Fine Arts. Visitors could spend days just wandering around San Rizal Park. At 58-hectares, there's plenty to see here including the life-sized statues depicting Dr. Jose Rizal's final moments before being executed by firing squad. Famous for beautiful beaches, captivating culture and old-world wonders, there's plenty to love about a Philippines holiday. Visit our team of Travel Experts today to start planning your greatest adventure yet.
Deals with your name on them...
Explore holidays by interest
Frequently asked questions
What to take on holiday to the Philippines?
Stay as cool as a cucumber in the hot and humid Philippines climate with lightweight and breathable clothing – think cotton and linen. Some quality insect repellent is worth its weight in gold if your visit coincides with the rainy season. If you're planning on island hopping, don't forget your swimsuit and a towel, sunscreen and a hat. A waterproof bag could also come in pretty handy if you're planning on hitting the waterfalls.
---
Where to go on holiday in Philippines?
With 7000 islands, the hardest part about any trip to the Philippines is deciding where to spend your time. Manila is widely regarded as the beating heart of the country, so it would be a travel crime not to spend a solid amount of time here. Other top contenders for your Philippines holiday are Cebu for its glorious beaches and incredible diving spots, Bohol for the Chocolate Hills and Boracay for the aptly named White Beach.
---
How do I go about cancelling my Philippines holiday package?
---
When is the best time to visit Philippines?
The answer unfortunately isn't as straight-forward as other destinations as it depends on where you plan to visit. The Philippines has four different climate zones, so best to do some more targeted research once you compile a rough itinerary. As a guide, the peak season kicks off in December and wraps up around May, leading into the rainy season (from June to November).
---
What is there to do in Philippines?
The beauty of the Philippines is that there's a holiday to suit every kind of traveller, from the city dwellers looking for fun and adventure in the concrete jungle through to adventure seekers who prefer to fill their days chasing waterfalls, rafting, exploring and basking in the sun. History buffs will love wandering around Manila's historic sites and foodies will be in a permanent food coma sampling the local cuisine.
---
How to find the best holiday package to Philippines?
Sign up to get the hottest deals sent straight to your phone & emails here. You can also check out our deals online, or speak to one of our Travel Experts.
---
...loading
Popular holiday destinations
---
Flight Centre acknowledges the Traditional Custodians of Country throughout Australia.