21 June 2019
See Kyoto transition from a bubbling daytime mecca of curious tourists huddling around doorways trying to catch glimpses of the elusive Geiko; to a magical labyrinth of glistening shrines and temples connected by smooth stone paths that wind and weave like a riverbed leading you to each new Kyoto discovery.
On our first trip to Japan, my mum and I decided to try out the Kyoto Lanes & Lanterns evening tour by Urban Adventures as recommended by a friend. It was by far the best activity we did in Kyoto and I would recommend -nay insist- to any friend visiting that they book it in before heading to Japan.
Here's a taste of how it went:
Geiko & Maiko Culture - Gion Corner
To avoid the light rain that had been encroaching all afternoon, we caught a taxi to meet our guide Yuta at Gion Corner which cost about AUD$10 for the 15-minute trip. Gion Corner was easy enough to find as it's just two blocks east of Shijo-Ohashi Bridge, outside the Gion Kobu Kaburenjo Theatre. The beating heart of Kyoto is undoubtedly the historically significant area of Gion and the perfect spot to begin our tour.
Yutah guided us down Gion's most famous street of Hanami-Koji or 'blossom viewing lane,' flanked by traditional tea houses known as 'Chaya'. Coming to an intersection, we were met by people meandering around a huge red-walled teahouse called, 'Ichiriki Chaya'. The 300-year-old teahouse is known as the most exclusive establishment in Gion. Inside is where wealthy businessmen and politicians are entertained by Geiko and Maiko on an invitation-only basis; or so we were told by Yuta, not that we could see inside. This meant there were plenty of curious tourists lingering to try and catch a glimpse of the elusive and painstakingly-adorned women.
We then wandered down a narrow hidden side lane where we learnt about the Geiko and the time they spend training as an apprentice or, Maiko. Yutah asked us to whisper to avoid disturbing the occupants of the wooden tea houses we passed closely by. He showed us how each entrance features the names of the girls in each tea house written above the doorway.
The role of the Geiko is to perform the Japanese art of song, dance, tea ceremonies, flower arrangement, playing the shamisen and even learning the Kyoto dialect. Many girls come from all over Japan to train in Kyoto from the ages of 14 to 17 and sounding the part is actually one of the requirements.
The difference between the Maiko and Geiko is easily discernible as Maiko wear plenty of colour and use their own hair with an elaborate flower comb, a long sash and large platforms. Geiko, on the other hand, wear wigs with simple decorative combs and wear smaller sandals and more refined and modest kimonos.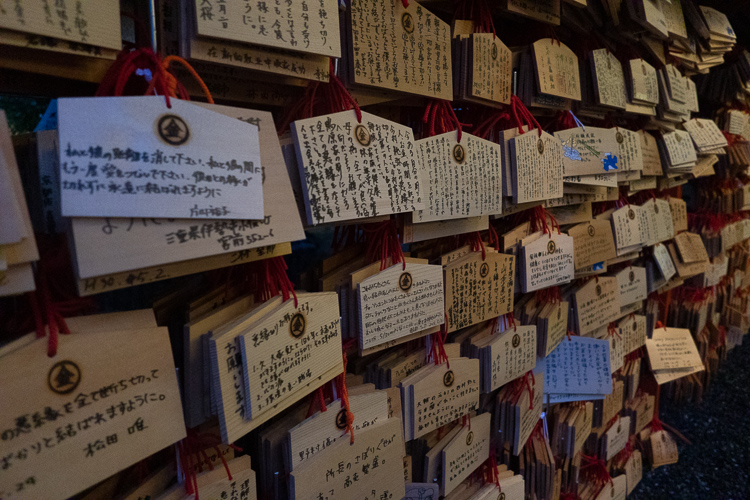 Is it a Shrine or Temple? - Higashiyama
After tiptoeing through the winding lanes we continued to peel away the layers of Higashiyama's backstreets. By then the sun had well and truly set and the red and yellow lanterns peppered along the path began to cast a warm cinematic glow. Slinking around yet another corner we could see a stone torii gate. It was the entrance to our next stop, the Yasui Konpira Gu Shrine.
The charming centuries-old shrine was something we would never have come across on our own and nothing like the larger busier shrines of Kyoto, such as Fushimi Inari Taisha. Yuta asked us if we had noticed that some places of worship are called shrines and some are temples, something I had noticed earlier in the trip and questioned. Fun fact: Shrines, it turned out, belong to the religion of Shintoism, and Temples to Buddhism.
In this shrine was a rock with a hole in the middle, which is said to help people break apart any bad connections in their life. This is done by first praying and then writing your wish on a special piece of paper. Finally, you have to crawl (yes crawl) through the stone and back again then stick your wish to it. Needless to say the rock actually looked more like a shaggy carpet with hundreds of paper wishes hanging off.
The rain started to pick up as we moved onto our next stop, one of Higashiyama's most recognisable landmarks, Yasaka Pagoda. We huddle beneath our clear umbrellas looking up at the tiered Buddhist pagoda, we were then the only people left on the street. Yuta revealed more about how Buddhism and Shintoism spread to Japan and how each of the five tiers represent earth, water, fire, wind and sky with the antenna on top being the connection to the universe.
Finding love at Yasaka Shrine
Our next stop was Yasaka Shrine. It was here that I somehow found myself under the earnest, Yoda-like, and careful instruction of Yuta (aka my newfound love-guru); circling a small shrine several times, washing my hands and mouth, bowing, clapping and ringing a bell with much gusto. This lengthy ritual was to bring me luck in finding love, because apparently being the only single girl under the age of 30, I was the most likely candidate to want to do so. This spectacle was of course carried out much to the amusement of my unsympathetic mother who I found out later, almost peed herself laughing while watching me from a distance. Thanks mum.
As we left Yasaka Shrine, we learnt that the lanterns and torii gates outside the shrines and temples of Japan are in fact donated by businesses for luck. I found it interesting to learn that the torii gates at Fushimi Inari are sponsored by businesses for about USD$2000 and the larger ones at shrine's facade are sponsored by companies like Toyota for about USD$10,000.
Finally it was time for dinner and a tour of Pontocho. But I think I've already given away enough of the tour to ensure you add this to your Kyoto bucket list. I wouldn't want to reveal everything we saw and ate on this experience because the element of surprise was an integral drawcard of the tour. However I will say, bring your appetite because you won't go hungry, and there's plenty more that we discovered in the centuries old entertainment district.
From the wooden walls of the tea houses and the lanterns of Yasaka Shrine to the bustle of the main street of Hanami-Koji, experiencing Kyoto by night is an essential part of visiting Japan's city of tradition. Walking through the old town's lantern-lit streets is a magical and transformative experience for any intrepid traveller and one I'd do over in a heartbeat.
---
---
Other Travel Articles You Might Like...