7 March 2014
Central to his performance as the lead character in the Australian Outback Spectacular is Graham Moore's relationship with his horse.
"I only ride one horse called Banjo. He's a 14 year old stock horse from Warwick. If I have a night off, he gets a night off. For my role I need a horse that's very quiet and he's now familiar with the show. Banjo knows me; we have a very close bond. I know if he's not feeling well and he knows if I'm not feeling quite right as well," said Graham
"My day starts at about 3.30 in the afternoon. We do a lot of rehearsing with the horses and we warm them up pre-show. Everyone has to look after their own horse. There are no stars in the show but the horses – even as the MC, Mr Johnston has to go out and wash his horse, saddle him up and off we go for the show."
This uniquely Australian production featuring daring acts of horsemanship has been a fixture on the Gold Coast since January 2006. The current presentation, Spirit of the Horse with a Tribute to Phar Lap is the third show to be produced in the specially designed world class arena.
"Many visitors to Australia don't get to see a lot of the country. But they do come to the Gold Coast, which is always going to be a number one tourist attraction. For those that can't get into the bush, they can come here and experience that. And we do our best to make it real. We put a bit of glitz and glam to it but we try to keep it as honest as possible," he said.
Graham, who was originally born in Adelaide, plays the character of Johnno Johnston. Not only does the role require Graham to sing and act, but he does it all from the back of a horse.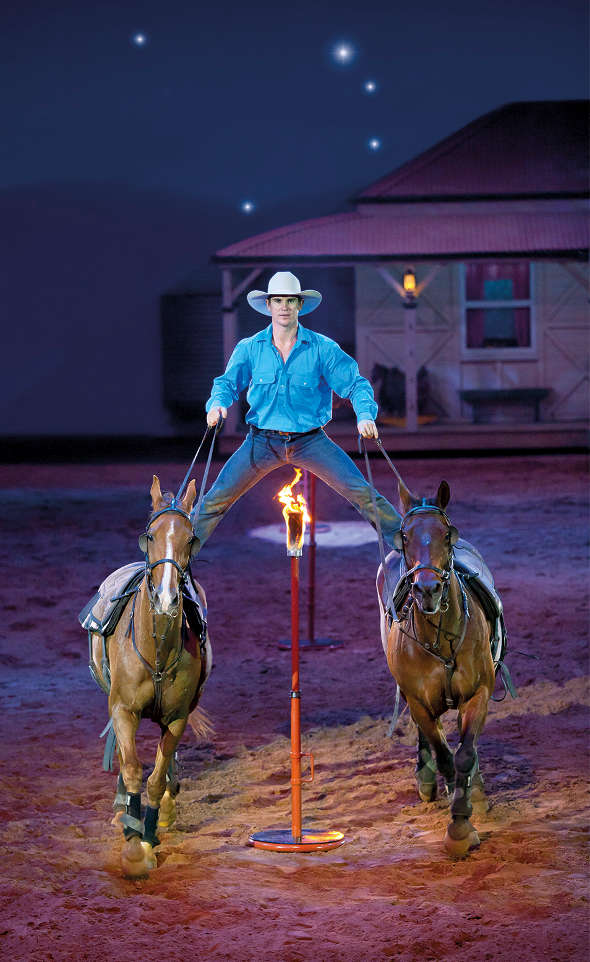 "My background is in theatre, cabaret and musicals. I had been around horses but I wasn't a rider. I was very fortunate to fluke my first audition. I seriously fluked it. They went, 'You look fairly comfortable on a horse.' The acting and singing carried me through and that was it," he said.
"I learnt everything on the job. In the beginning it was constant riding on a daily basis for a couple of hours a day. Now I'm extremely proficient on a horse. I could jump on any horse in a paddock. But in the early days it was a long process but I got there."
The previous two shows - the Tribute to the Lighthorse and the original Outback Spectacular – focused on two male leads Johnno and Bluey, who offers the comic relief. However for this incarnation, they share the spotlight for the first time with a female lead... Mrs Johnston.
"Mr Johnston didn't have a wife," said Graham.
"Well he did," interjects Deana Taylor who plays the role of Annie Johnston.
"We didn't know about her and now we do. We didn't know who she was," responds Graham.
"For me Mrs Johnston was always going to be the quintessential country woman who is in charge. Johnno might be all talk, do all the MCing and be out there on the horse but he knows who's the real boss - Mrs Johnston."
Like Graham, Deana has been working with Village Roadshow for many years and has been with the Outback Spectacular since the very beginning – but working in an administrative capacity.
"I was the personnel coordinator. For the first two shows I was just in the office and when this show came about, because I used to perform at Movie World ages ago, they said you're here, would you like to be part of it? I went, 'Great, get me back out there again.' During the day, I still do everybody's rosters and their pay and then I come out and sing at night," said Deana.
Graham was very familiar with Deana's on-stage talents.
"Deana was the office lady with hidden talents. I've worked with Deana for 25 years now. We did shows at the Gold Coast Arts Centre back in 1994. So we've known each other for a long time and all these people who only ever knew Deana as the office lady had no idea that she could sing and act. This little dynamo pocket rocket comes out and starts belting out a tune and everybody goes, 'What you can sing?'," he said.
Complimentary to the all-singing lead performers are a cast of stockmen and stockwomen who hail from the bush and a farming life. Deana tells Flight Centre that it was really important for the company when they were hiring riders to find talented individuals who were comfortable with trick riding. In essence this is the perfect blend – because the actors can share their knowledge of performance and the stockmen can share their understanding of horsemanship.
For holiday-makers on the Gold Coast, while the beaches and the theme parks are the obvious drawcards, Deana encourages visitors to also head inland.
"I like the Gold Coast hinterland. Mt Tamborine for me is fantastic. You have the bush walks and all the activities for the kids. There are also cute little cafes where you can have a nice Devonshire tea," she said.
Other Travel Articles You Might Like...