Soul To Seoul: 101 Cool Things to Discover In South Korea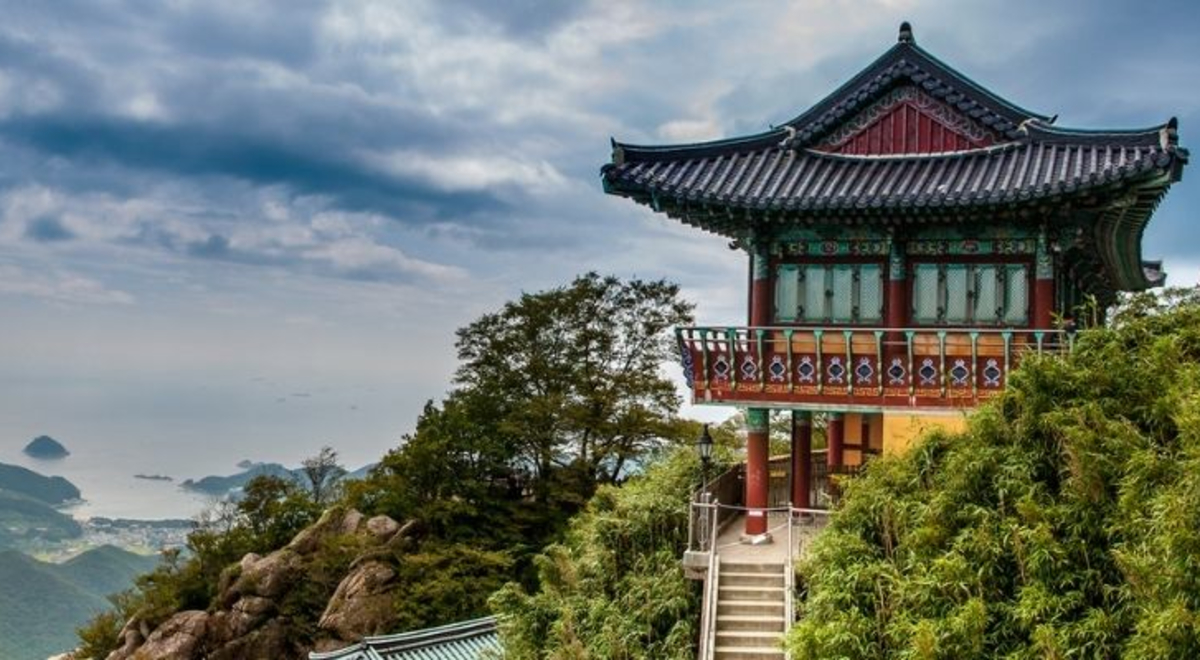 South Korea, a country rich with history and culture, has plenty to offer solo travellers, couples, or those venturing to Asia with families. Fill every day of your holiday with unique activities and food options you won't find anywhere else. Fill up your camera roll with memories of the stunning landscapes and cities. Entertain any age group with visits to theme parks, bars and spas.
From ancient temples and palaces to ultra-modern theme parks and pop-culture icons, a visit to South Korea provides you with surprises at every turn. Here are 101 ways to ignite your South Korea travel stories:  
Seoul
1. Seoul Grand Park
2. Witness Traditional Dances At Seoul Nori Madang   
If you want to watch various traditional Korean folk culture and plays, Seoul Nori Madang is the place for you. Every weekend up until October national and traditional groups perform a cultural dance as well as engaging audiences in folk games and activities. 
3. Hike To Namsan Seoul Tower   
4. Seoul Trickeye Museum    
5. Discover Quirky Seoul   
Festivals   
7. Make Your Own Kimchi At The Kimchi Festival   
The iconic Korean dish Kimchi, otherwise known as fermented cabbage, might not sound very appetising but don't judge it until you try it! Kimchi is enjoyed by so many that there's now a festival in its honour. Here you can eat, buy and learn to make all types of Kimchi. 
8. Mud Festival  
The Mud Festival attracts those wishing to unleash their inner kid, let loose, drink lots and get covered in therapeutic mud with a bunch of strangers (soon to be new friends). 
9.  Jinhae Cherry Blossom Festival 
Like their neighbouring country of Japan, spring brings a vibrant fresh coat of colour as the cherry blossom trees come to life. The Cherry Blossom Festival in Jinhae is a very special place to see this spectacular event in full swing, having the best trees in South Korea on display. 
10. Jindo Moses Miracle Festival   
Also known as the Sea Parting Festival, this event sees thousands flock to the small island of Jindo to witness a natural phenomenon of tidal harmonics draw the sea out to reveal a 2.9 km path of sand connecting Jindo to its neighbour Modo island. 
11. Jinju Lantern Festival   
Each October, the town of Jinju transforms as thousands of lanterns travel downriver to pay respect to the 70,000 men and women who died fighting the Japanese during the Imjin War. 
12. Korean Pop/K-Pop concert   
Insanely choreographed dance routines, screaming fans, and frustratingly catchy tunes — catching a K-pop concert makes for an unforgettable night out.  
Activities 
13. Hang Out In Dog, Cat, Sheep Or Even Raccoon Cafés 
These cafés are simply built on the premise that while you enjoy your coffee, animals run wild, play and cuddle up. You can't miss them. Cat and dog cafes are scatted all over South Korea, the rarer options are the sheep and raccoon cafés for that truly unique experience.
14. Visit A Korean Fortune Teller    
Get a glimpse into your future, find your perfect career, true love and path to fortune. Fortune cafes are popping up all over Seoul with tellers using Tarot cards to reveal the universe's plan for you. 
15. Go To The 1 am Markets  
Craving a late-night snack or just missing that final ingredient in your recipe? No need to worry or rush, the Dongdaemun street market stalls stay open well through the night to accommodate any late-night shoppers. 
16. Go To A Board Game Café    
There are many themed cafes in South Korea, one that never fails to entertain is the board game cafes. Play your favourite games with friends or locals while you sip on delicious coffee, keeping you laughing for hours. 
17. Win Or Lose At The Casino   
South Korea has many casinos and other ways to put a bet on and test your luck by gambling your way to some potential winnings.
18. Watch A 4D Movie   
When 3D cinematic immersion at the movies just isn't enough, 4DX has you covered with the ultimate 4D viewing experience. Feel the wind, rain, cold and heat on top of a 3D movie to completely dive into the story from the "comfort" of your seat.
19. Write On The Walls At Some Restaurants   
Some restaurants in Seoul have messages from past customers covering the walls with sticky notes. Write your own and stick it up wherever there's room. 
20. Dance Gangnam Style In Gangnam   
21. Practice Korean With The Taxi Driver    
Taxis are surprisingly cheap when travelling in groups and the drivers are very friendly. This makes them the perfect candidate to learn and practice your Korean with.
22. Embrace The Cute And Weird    
If there's one thing that Koreans love it's the cute and weird — evident in nearly every shop you enter. Don't shy away, embrace this quirky slice of South Korean culture and buy that Hello Kitty phone case!
23. Common Ground —  Coffee, Food, Shops   
24. Change Your Eye Colour  
A common beauty standard in South Korea is changing your eye colour. This can be done for as little as $20.
25. Bargain With Street Vendors   
There are street vendors around every corner in some parts of Seoul and one thing you must try when in South Korea is to haggle your way to a great bargain. 
26. Buy Couple Shirts   
Visiting South Korea with your significant other or friend? You can't go past getting a hilarious couple or matching shirts to have a memento of your deep burning love for one another.
27. Buy Gadgets At Yongsan Electronics Market   
While you're in South Korea, you should definately check out the Yongsan Electronics Market. If you know what you're doing and have good haggling skills you can pick up bargains on any sort of electronic toy you can think of in this complex of 20 buildings housing 5,000 stores.  They've got it all: phones, laptops, LCD screens, games, Hello Kitty lamps ... 
28. Feel Super Rich  
Ever turn $100 into 86,400 in five minutes? Prepare to fill your pockets with more zeros like never before. Thanks to the conversion rate, 1 AUD is equivalent to about 864 Korean won.
29. Visit Itaewon Station (Squid Game)    
Since the launch of the hit Netflix show Squid Game, the Korean train station Itaewon has been converted to match the theme of the show. Guards in red suits patrol the station where several of the show's sets have been installed. 
Culture and History 
30. Independence Hall Of Korea    
31. Goryeo Celadon Museum    
The beauty of Korea's traditional celadon ceramics is famous the world over. Although originally a Chinese tradition, the 30,000 Korean-made items displayed in this museum and dating from the Goryeo dynasty (9th and 10th centuries) provide insight into traditional Korean art and society. 
32. Hwaseong Fortress    
Hwaseong Fortress is a fortification surrounding the centre of Suwon, the provincial capital of Gyeonggi-do, in South Korea. It was built in 1790D by King Jeongjo of the Joseon dynasty to house and honour the remains of his father, Prince Sado.
33. Visit Yonggungsa Seaside Temple    
This spectacular temple sits on a rocky shore in northwest Busan. Overlooking waves crashing at its ornate walls, Yonggungsa Seaside Temple dates back to 1376 and owes its unique location to directions given to its Buddhist founder by a sea god in a dream.  
34. Bulguksa Temple    
This temple complex recently attracted around two million visitors a year who were drawn to its flawlessly restored architecture in a spectacular hillside setting lush with manicured stands of pine, plum, peach, pear, cherry, and cryptomeria trees.
35. War Memorial Of Korea & The National Museum Of Korea    
If you love history, be sure to check out the War Mermorial Of Korea and The National Museum Of Korea. With the largest collection of war memorabilia, artwork and retired military hardware (think old tanks and planes) in South Korea, the War Memorial Museum gives tribute to veterans of the Japanese and Korean wars. Some exhibition space is also dedicated to displaying weapons and armour dating back through the centuries.  
36. Take Photos In Traditional Korean Attire    
Wearing hanbok – traditional Korean clothing – for special occasions such as public holidays and weddings, has become popular in South Korea in recent years. So popular in fact, any day of the week you'll see locals and tourists alike decked in their finest (or hired) garb frequenting palaces and temples with photographers to get that period-perfect snap. With discounts and free entry to restaurants and palaces often offered to anyone wearing hanbok, what better incentive do you need?  
37. Bukchon Hanok Village   
Between Seoul's Gyeongbokgung Palace and Changdeokgung Palace (UNESCO World Heritage site) is a wonderful slice of traditional Korean cultural heritage, the Bukchon Hanok (traditional house) Village. You can wander through the narrow alleyways among the carefully crafted hanoks of this architecturally rich folk village for free. For a completely immersive experience, wear hanbok!
38. See A Pansori Performance    
Like opera but not really, pansori is the traditional Korean art of musical storytelling performed by a solo vocalist accompanied only by a drummer with a single drum. Austere as it is beautiful, South Korea designated pansori as a National Intangible Cultural Property in 1964. Even so, public performances dedicated solely to pansori are a rare gem.
39. Use Metal Chop Sticks    
 While wood or bamboo chopsticks are used extensively throughout south-east Asia, metal chopsticks are a distinctively Korean thing and are most often accompanied by a metal spoon. What are the benefits of metal chopsticks? Reasons anyone in the know will give you include; the ability to eat freshly grilled (read sizzling hot) food, cleanliness, and environmental friendliness on account of their unlimited re-usability. So don't leave Korea without buying yourself an authentic, stainless steel chopstick-and-spoon set.
40. Gyengbokgung Palace    
Seoul's Gyeongbokgung Palace was the largest of the Five Grand Palaces built by the Joseon dynasty. The stunning and ornate palace we see today is the result of restoration work that was carried out after it was systematically destroyed by Imperial Japan in the early 20th century. Take an hour, take a day –  the palace's pavilions, ponds and gardens are an endless treasure to explore.
41. Busan Gamcheon Culture Village    
Locals call it the " Machu Picchu of Busan", for the way it precariously clings to a hillside. But unlike the abandoned Inca ruin, Gamcheon Village is home to a thriving urban community whose homes, cafes and other amenities cloister among narrow steps and alleyways.  
Originally built as housing for the poor in the 1920s, Busan authorities eventually caught on to the idea of presenting it to tourists as an attraction and invited artisans to give it a makeover. The result is a colourful, vibrant and highly intriguing cultural hub for you to explore.  
42. Visit The Demilitarised Zone   
The heavily guarded line on the map that separates North and South Korea (who are still technically at war) is also a tourist attraction. A DMZ tour lets you set foot in the "Blue Room", the only place you can stand in both countries at the same time, and lets you explore the "Third Tunnel of Aggression" – originally dug by the North Korean Army as part of an unsuccessful invasion of the South.  
43. The 8 Gates of Seoul 
Did you know Seoul has city wall gates? Hundreds of years ago, there was 8 gates that gave access in and out of Seoul. Each night these gates would be closed to keep the city safe. These gates are steeped in history and are definitely worth having a look. 
44. Panmunjon (Truce Village) 
Pannumjom, also known as Truce Village is the only place where North and South Koreans can meet each other without the barrier between them. This is where the South and North Korea Summit and the Military Armistace Commission took place. Full of history, this is definitely a place to check out – but be sure to use a licensed tour operator as this is the only way to visit this location. 
Sports 
45. Play Yut Nori  
Yut Nori is a simple but tactical board game that you can buy from most Korean supermarkets which has been played in Korea for centuries.  
46. Watch A Local Soccer Game    
South Korea's K League season kicks off around May each year and matches are played in stadiums all over the country. Can't get to a game? You can catch highlights on the K-League' official YouTube channel.  
47. Watch Some Ssireum    
Traditional Korean wrestling dating back to the 4th century.   
48. Head Out To The Ball Game    
Landscape 
49. Visit Damyang Bamboo Forest    
Serene, green and beautiful, Damyang's 31-hectare Juknokwon Bamboo Forest is open all year round with eight main paths to let you explore. Be enlightened and enchanted.  
50. Hike Seoraksan National Park   
This national park is famed for its "Dinosaur Ridge" of jagged peaks and is home to two ambient Buddhist temples, Baekdamsa and Sinheungsa.  
51. Explore Ulleung-do    
The 3.5-hour ferry trip to Ulleungdo off the east coast of the Korean peninsula is well worth the effort. Remote with pristine waters, the island arguably has South Korea's best snorkelling, hiking, swimming and kayaking.
52. Relax On Sokcho Beach
While in South Korea, make sure you check out the stunning Sokcho Beach. With sweet blue water and palmed tree lined sandy beaches, this is the place to go to soak in the sun. What's even better? Sokcho beach is not far from Seorak Mountain - so it is the perfect place to cool off after a day of hiking. 
53. Visit Loveland    
These parklands are rated MA15+ as the theme of the park is based around all things *cough* adult.
54. Visit Insadong   
This inner-city neighbourhood of Seoul has a main street closed to traffic that buzzes with teahouses, cafes and street food. Old meets new Seoul at its finest.
55. Apsan Park    
This hilly wilderness at the south end of Daegu also has a handy gondola to one of its peaks with great views of the city.
56. Jeju Island    
Essentially a dormant volcano popping out of the sea off the southern coast of the Korean peninsula, Jeju is home to beach resorts, a forested national park and the renowned "haenyo" women who can dive to incredible depths around the island's many rocks to gather seafood. 
57. Jeju Olle Trail Routes    
The 200-km coastline of Jeju, South Korea's largest Island, has several beautiful trails you can walk. 
58. Manjanggul Cave    
Manjanggul cave is a lava tube that stretches 8.9km under the island of Jeju. The cave, in some areas, is 23 metres wide and 30 metres high, making in the eighth largest in the world.  
59. Udo    
This tiny island near Jeju Island has a population of under 1800 and is sometimes referred to as "Korea's Scotland" on account of its grass-rocky landscape. Udo has a couple of quiet beaches and spectacular sea caves in rocky areas of its coastline.
60. Seongsan IIchulbong    
This coastal mountain located on the island of Udo sits 100 metres above the sea and forms a grassy bowl. It also offers great views of the island.  
61. Songdo Central Park    
Modelled on New York's Central Park, Songdo Central Park in Seoul's satellite city of Incheon offers forest, open picnic areas, contemporary outdoor sculptures and strides a sea-water canals where water taxi's carry visitors from the CBD. 
62. Hallyeo Maritime National Park    
Hallyeo National Marine Park View Ropeway (essentially a gondola up a mountain) gives you some of the best views of the intricate peninsulas and tiny islands of South Korea's unique southern coastline.  
63. Haeundae Beach    
64. Nami Island    
Looking for the perfect photo opportunity? The picturesque Nami Island sits in the middle of the North Han River. Inland from Seoul, the island offers plenty of opportunities to frame snaps with different coloured cherry blossoms. 
65. Taejongdae Resort Park  
Sitting on an island at the edge of Busan, don't take the "resort" part of the name literally as there's nowhere here to stay. Instead, this seaside park offers walkways among the cliffs and, on clear days, views of a Japanese island.  
66. Visit the Boseong Green Tea Farm  
Located in the southwest of the Korean peninsula, these lush fields of green tea shrubs are grown on the terraces of a steep hill. It takes over an hour to hike around so be sure to reward yourself at the end with all sorts of green tea products, a glass of iced green tea and a serving of green tea ice cream.  
67. Explore Gyeongju, The Museum Without Walls    
68. Oedo    
69. Upo Marsh    
Relax 
70. Jeonju Hanok Village    
Cultural village with traditional Korean Hanok houses, plus calligraphy and sake museums.  
71. Cheonggyecheon Stream    
72. Browse Namdaemun And/Or Dongdaemun Market    
73. Cruise On The Han River    
The Han River is a major river in South Korea and a beautiful location for a sunset river cruise.  
74. Shopping At Honodae Walking Street     
Trendy shopping stalls compete with street vendors.  
75. Relax in A Jjimjilbang     
For ultimate relaxation visiting a Jimjilbang is the thing to do. Think of a massive room with hot tubs, saunas, showers, and massage tables.   
Food and Drink 
76. Drink Soju  
Soju? Ever heard of it? It's the most popular alcoholic drink in the world. The Korean beverage is clear and will knock your socks off with an alcohol percentage of 16-53%. Normally drunk in shots, mix it with beer and it's called "somaek". If you do decide to indulge in some Soju, be sure to drink responsibly and remember the drinking age is South Korea is 19. 
77. Eat BBQ Anywhere    
Traditional Korean BBQ is a must-do experience when in South Korea as it's both exciting and delicious. You get to order whatever meats, vegetables, and sides you want and cook them yourself on a grill built into your table.
78. Eat Lots Of Chicken  
79. Eat Bibimbap In Jeonju    
80. Eat Dak Galbi In Chuncheon    
Dak galbi is a popular chicken stir fry dish in Korean that is sure to impress your tastebuds.   
81. Eat Fresh Seafood At Jagalchi Fish Market    
Jagalchi is a world-famous market for fresh fish and seafood to take away or eat at informal stalls.  
82. Drink Beer At A Convenient Store (Marting)   
Knocking back a few beers after work in front of the local corner store is a common activity on any given night in South Korea. Most people say they prefer to drink at a club or bar as it's much cheaper.  
83. Eat Live Octopus     
84 Try Korean Ice Cream    
Available at any convenience store, Korean ice creams are unlike anything you've seen or tasted before.   
85. Shaved Ice  
The Korean snow cone "Bingsu" is shaved ice served in a huge bowl and topped with things like pumpkin, red beans, cheese, tomatoes, or peaches.  
86. Try Some Banana Milk    
Banana Milk was a ploy from the Korean government to get its citizens to drink more milk by flavouring it with what Korea traditionally considers a luxury item. The ploy worked and Banana Milk has been a fan favourite ever since. 
Family 
87. Caribbean Bay    
Caribbean Bay is the largest indoor/outdoor waterpark in the world and is also part of the Everland Amusement Park. Visit both if you can.   
88. Ocean Water  
The most popular water park in Korea, Ocean Water is part of the larger Vivaldi Resort and is the best way to cool off and enjoy the South Korean sun.  
89. Lotte World And Everland    
Lotte World and Everland are like the equivalent of Disneyland in Korea, both these theme parks will ensure you reach your maximum thrill level with the family in Seoul.   
90. Take The Hallyeosudo Cable Car    
The almost 2km cable car is the longest in South Korea. The 10-minute ride offers fantastic views of the breathtaking Hallyeohaesang National Park.  
91. Play-based Learning At Seoul Children's Museum  
The Seoul Children's Museum is a highly interactive based learning source for kids that features exhibitions on mainly science, culture and art.   
92. Seoul Animation Center 
Treat the kids to a unique experience and take them to the Seoul Animation Center. This clever cultural space includes interactive curiosities like digital drawing, stop motion animation creation as well as a comics library that carries titles in Korean and English.  
Tips 
93. Download KakaoMap   
94. Expect To Be Treated Poorly When Converting Your Money Into Korean Won    
When changing your local currency to Korean Won the vendors' are notorious for poor customer service. Try not to take it personally, or better still, exchange your money before arriving in Korea. 
95. Fast Internet     
South Korea has some of the fastest internet speeds in the world and it's very affordable in comparison to Australia.   
96. Communication     
Prepare yourself for a strong language barrier as not many people in South Korea speak English.   
97. Transportation     
There are a few ways to get around South Korea such as taxis, trains, buses, and Uber. Trains and buses can be confusing as most signs and maps are only in Korean. But they're also the cheapest option to get around. Uber is the most convenient but is considered a luxury ride with prices 10 times higher than any other option.  
If travelling in a small group, taxis are the best. They're everywhere and end up being only a few dollars per person.   
98. Manner Hands     
It's common courtesy to be respectful of the personal space for people you aren't that close with. Strangers that have just met in photos will even hover their hands over one another's shoulders to make it seem like they are embracing each other without actually touching.     
99. Don't Shake Hands With An Older Person Unless It's Been Invited   
It is part of Korean culture to never shake hands with an older person unless they invite you to do so or they reach out first. When doing so, make sure you use both your hands.   
100. The Younger Person In The Group Pours The Drinks For The Older Ones   
When eating or drinking with others it is well-mannered to pour the drinks for everyone you are with that is older than you.    
101. Find A Local Guide    
Organising a local guide for when you first arrive will relieve the stress until you're ready to fully embrace South Korean culture. A guide, or even some who has lived in South Korea, will be able to teach you all about the culture, translate, and show you how to get to many of the sites featured in this blog.  
---
Flight Centre acknowledges the Traditional Custodians of Country throughout Australia.