21 Long-Haul Family Travel Tips From Our Experts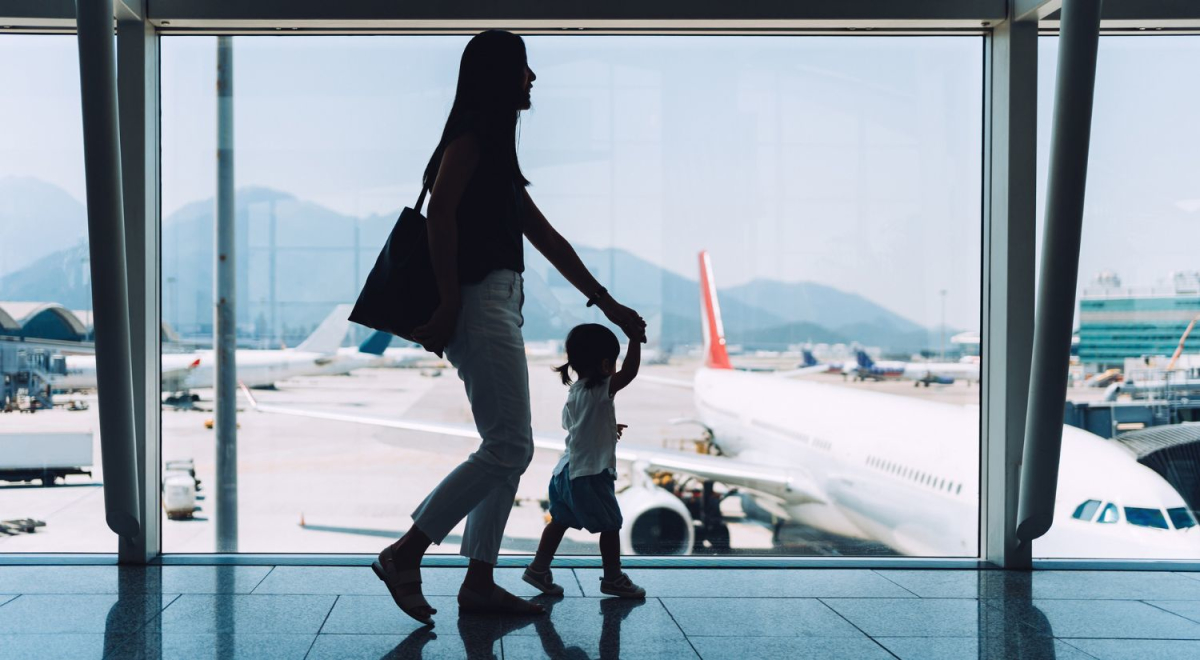 ---
---
They can be bearable but really, long-haul flights are no fun for anyone. Throw in kids and you have a potential hellscape stretching out in front of you. And yet, we do it time and time again, in the name of those sweet holiday feels.
Before the payoff though, you've got to survive the long flight. (Sorry, but true enjoyment is an unattainable pipe dream.) As with any trip, prep and planning is your best weapon in the battle for family travel survival.
So buckle up for take-off, because we've got the tips to get you to your destination in something that resembles comfort with your sanity (mostly) intact.
21 Tips for Long Haul Travel with Your Family
1. The family that plans together...
... has a great family holiday together!
Get kids (particularly teenagers) involved in trip planning from the get-go. Pick a destination with something for everyone and decide whether you want to break up the long haul flight with a fun stopover.
Don't stack itineraries; days filled with endless sights like museums and historical monuments will be a one-way ticket to meltdown town.
Scheduled rest time is non-negotiable and you'll make more good memories if you include kid-friendly fun in your itinerary.
2. Get everyone their own seat
That kids under two don't need a separate ticket to fly may feel like a loop-hole to good to miss but trust us when we say, it's worth the extra money.
Otherwise you better practise sitting with a toddler or baby squirming on your lap for 10+ hours.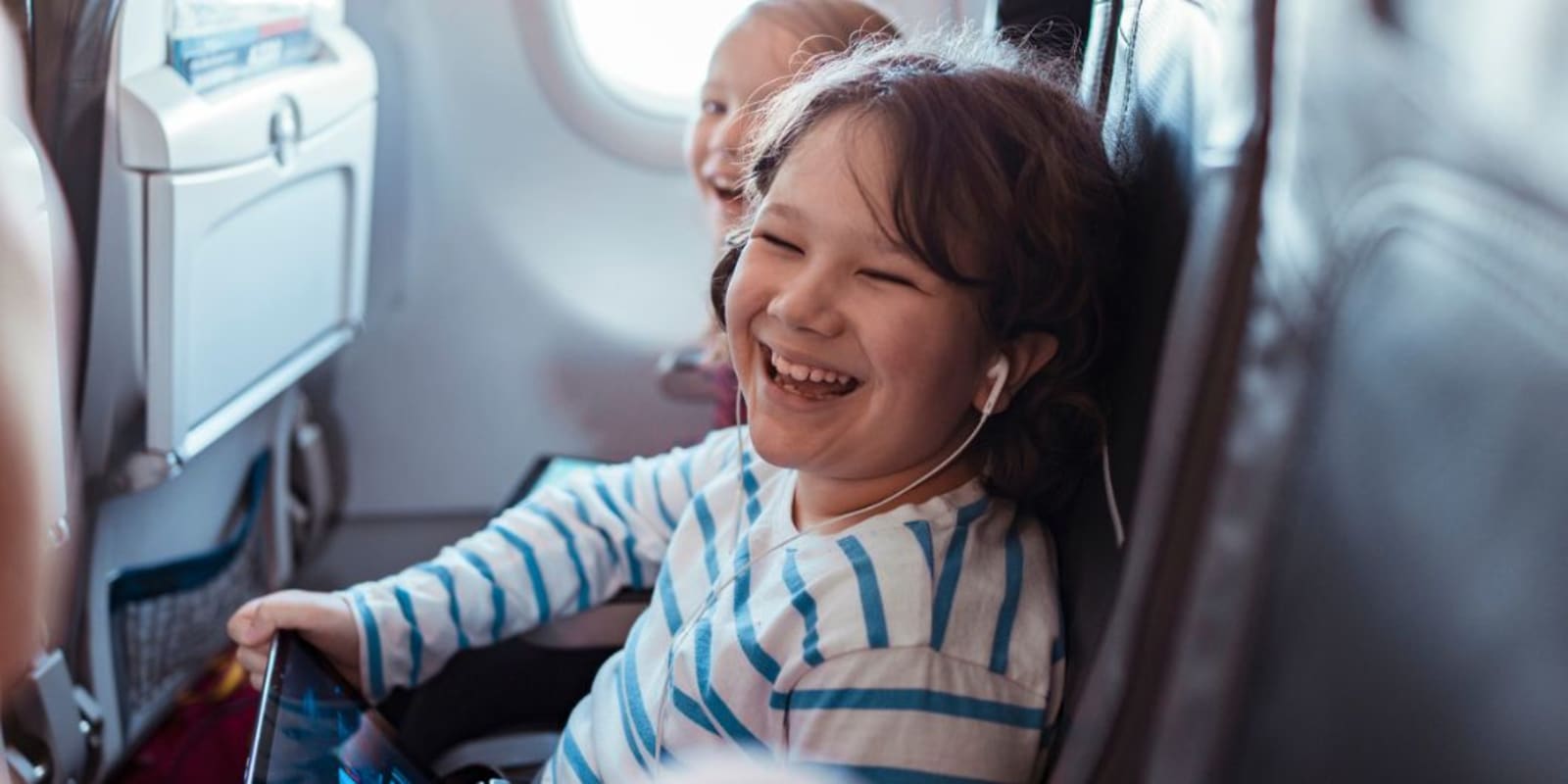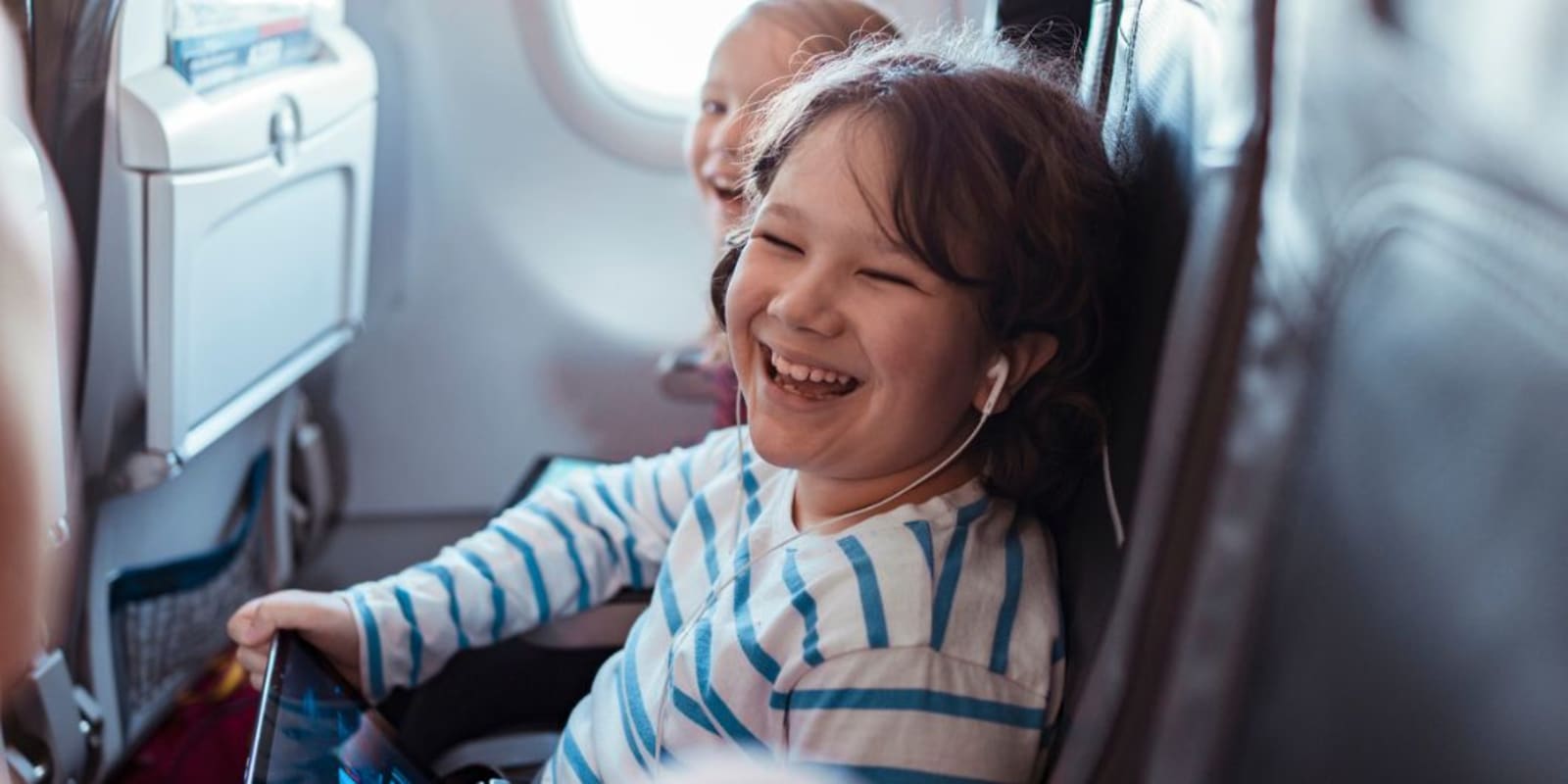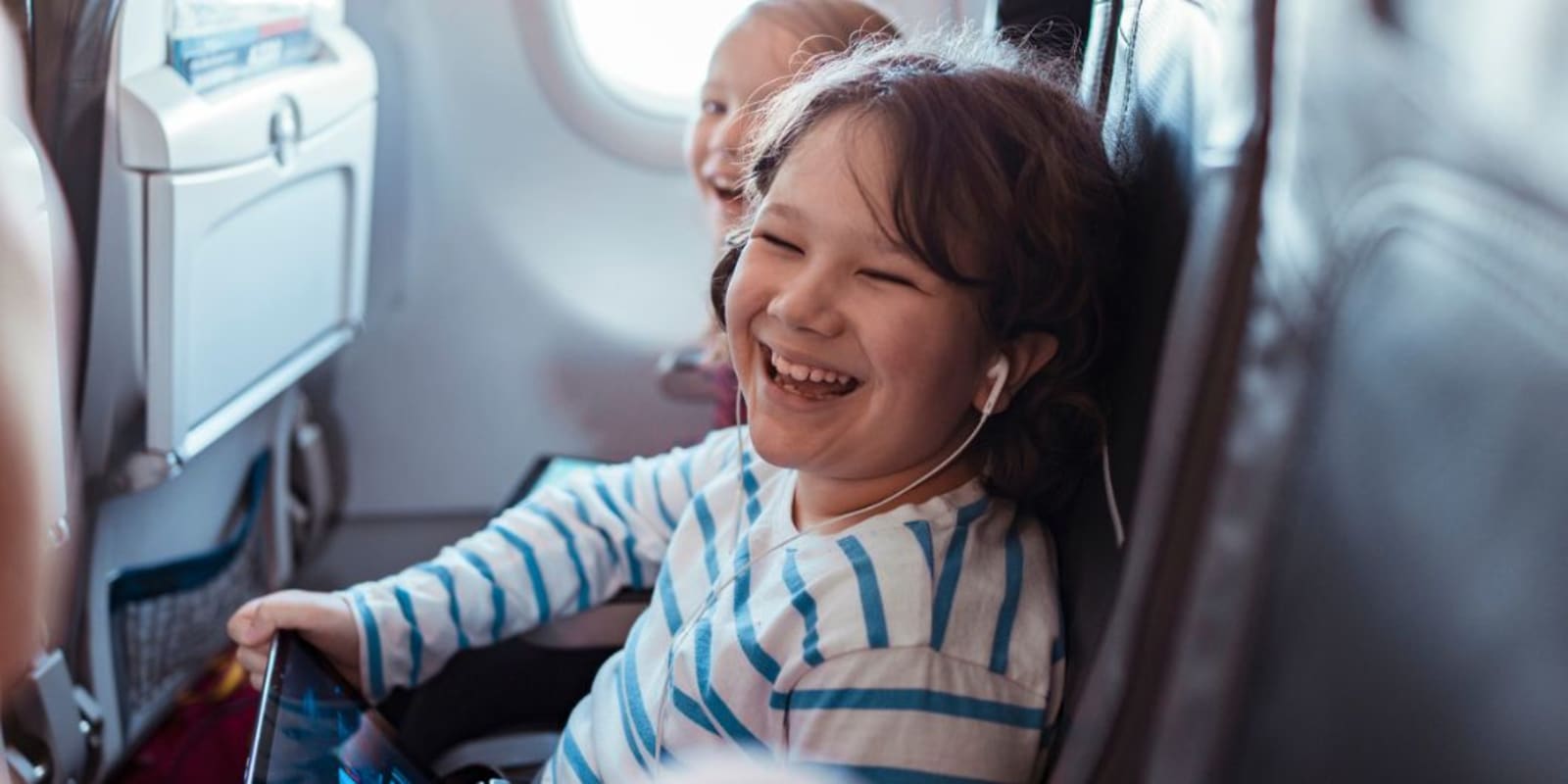 3. Pick a family-friendly airline or plane
Some airlines really go the extra mile to make a long-haul flight bearable. Flight entertainment selections, age-specific activity packs, kids' club, nanny services and cheerful, friendly flight attendants who are happy to hold a baby or get a couple of extra snacks.
Family-friendly airlines:
Emirates

Etihad

Air New Zealand

Qantas

Fiji Airways

Air Canada
It's also worth considering the plane and configuration you'll be travelling on. Newer models of planes like the Dreamliner and A380 are more modern, safer and have less cabin noise.
4. Choose airlines that allow kid's sleeping devices
For smaller children, legroom cushions like the Kooshy Kids Kushion will be well worth the weight. Make sure you check the airline's policy before departure as they all vary.
5. Carry on a car seat
To car seat or not to car seat – it's a question many travelling parents ask themselves. Comfort and safety are the main reasons for but it's not right for every situation.
You'll need to book a seat even regardless of age; if your seat model isn't approved for airplanes, you'll have to check it in any way; and toting it through airports and security lines can be stressful. On the upside though it will make things easier with taxis and rental cars.
Keep in mind that some carriers require pre-approval for carrying car seats on board so double check before you leave.
6. Stop air pressure ear pain
Nip painful ear popping in the bud by giving your baby a breastfeed or milk from a bottle. For older kids, chewing has the same effect as sucking so offer something chewy or healthy snacks to munch on during take-off and landing.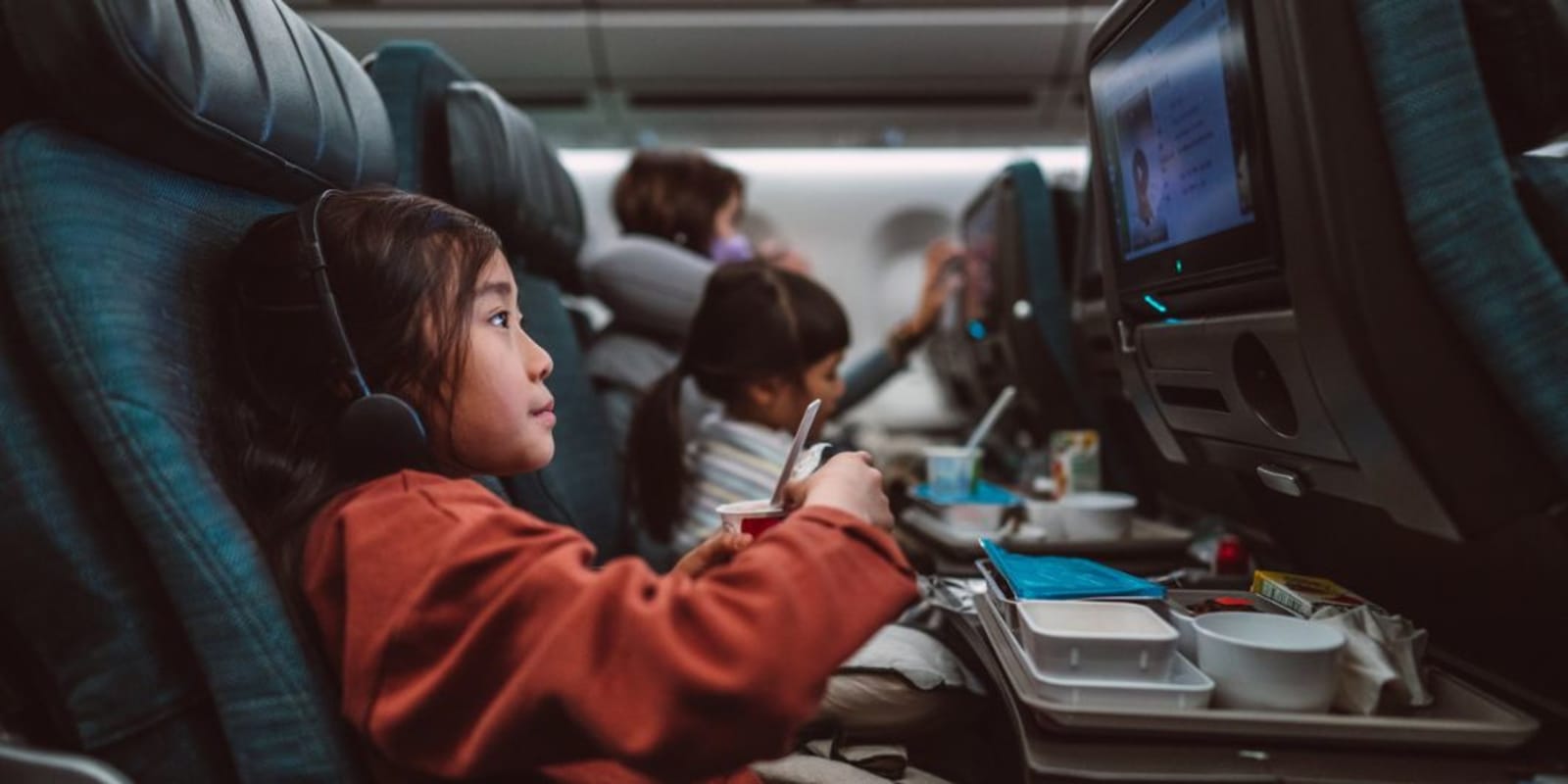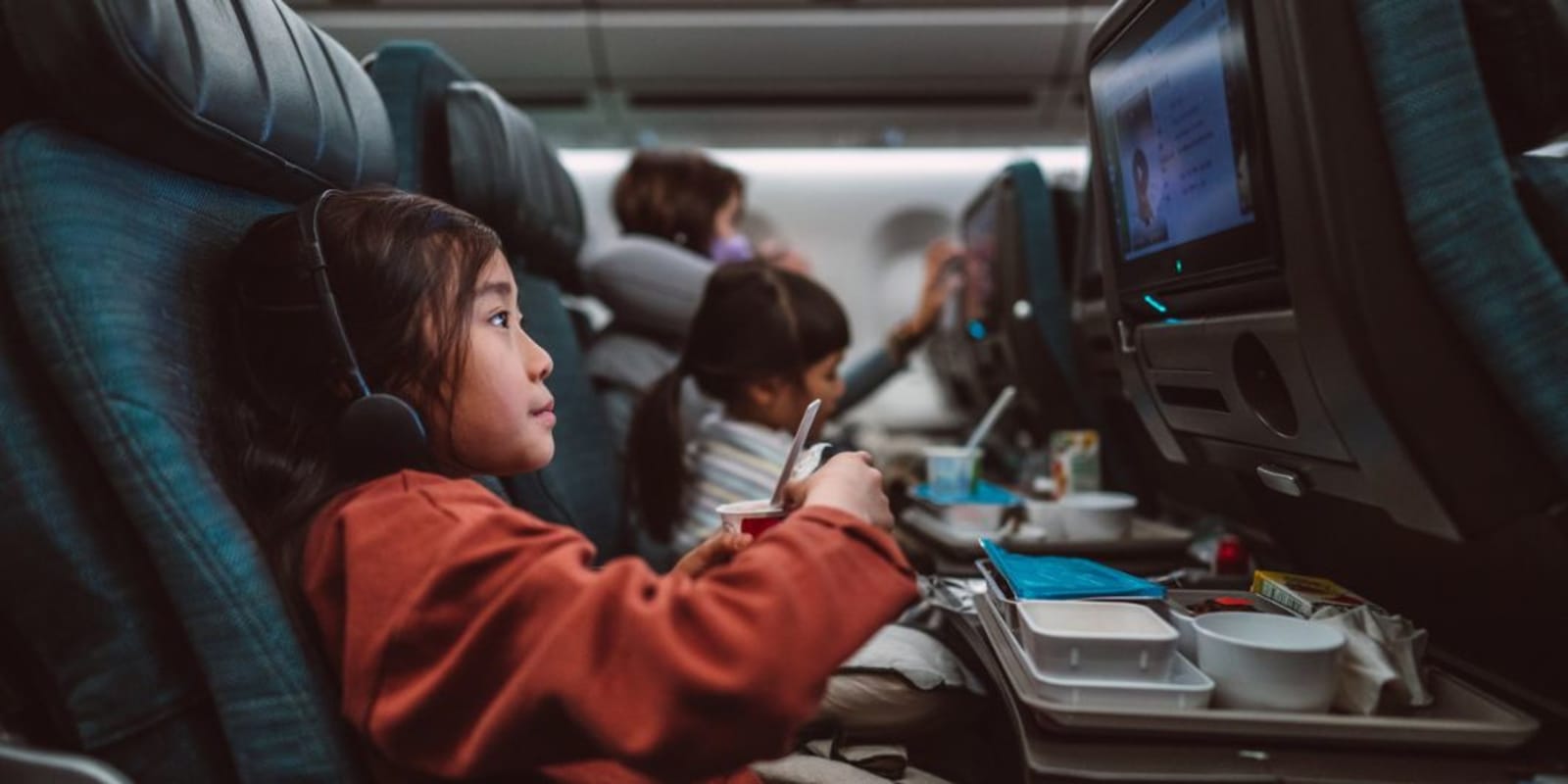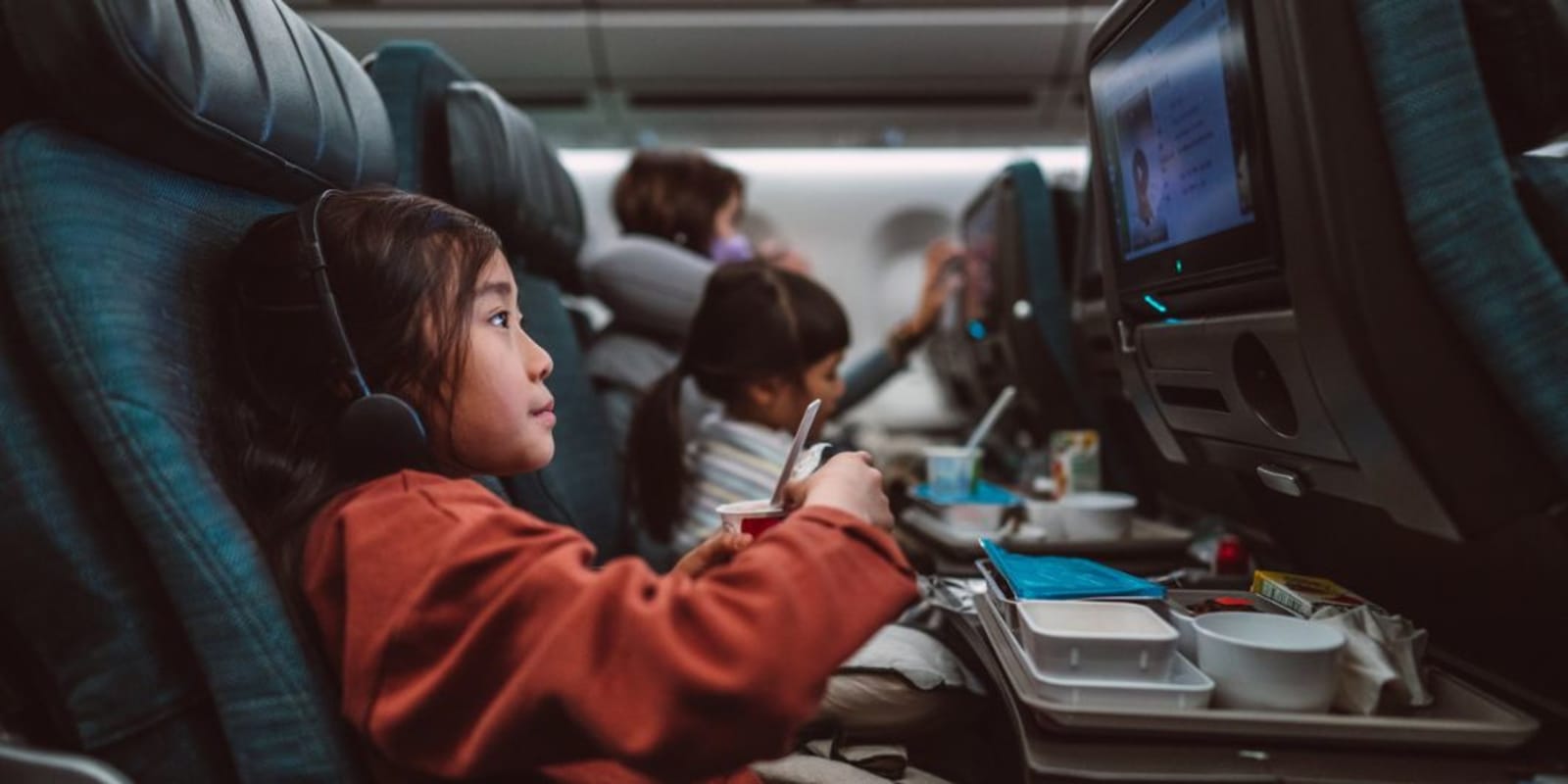 7. Remember the headphones
A pair of noise-cancelling and volume-limiting headphones (and socket adapter) are flying gold. BYO so you know they'll fit and will protect little ears. Noise-cancelling ones will block the big noises of flying for young kids with sensory issues.
Then you can just sit back and enjoy the peace and quiet without disruption to you and your fellow passengers.
8. Travel with a small pram
The only thing more daunting than long-haul travel with kids? Transiting with a squirmy toddler or juggling baby and luggage through a busy airport. Many carriers allow a compact pram in place of carry-on luggage so if you can forsake one adult's allowance, do it.
Or, why not fly with an airline that allows a pram to be gate-checked? Check before booking your tickets!
9. Compact travel games and activities
The best toys are often the simplest so you don't need to spend a fortune (or much space) to distract little fingers and active minds for flights and layovers.
Ideas for teenagers/tweens:
Uno

Go Fish or pack of cards

Rubik's Cubes

Etch a Sketch

mini, magnetised boardgames
Ideas for toddlers and smaller children:
High-quality sticker books (the stickers need to come off in case of creative application),

window stickers,

colouring books

a DIY busy board (featuring pipe cleaners and other sensory items)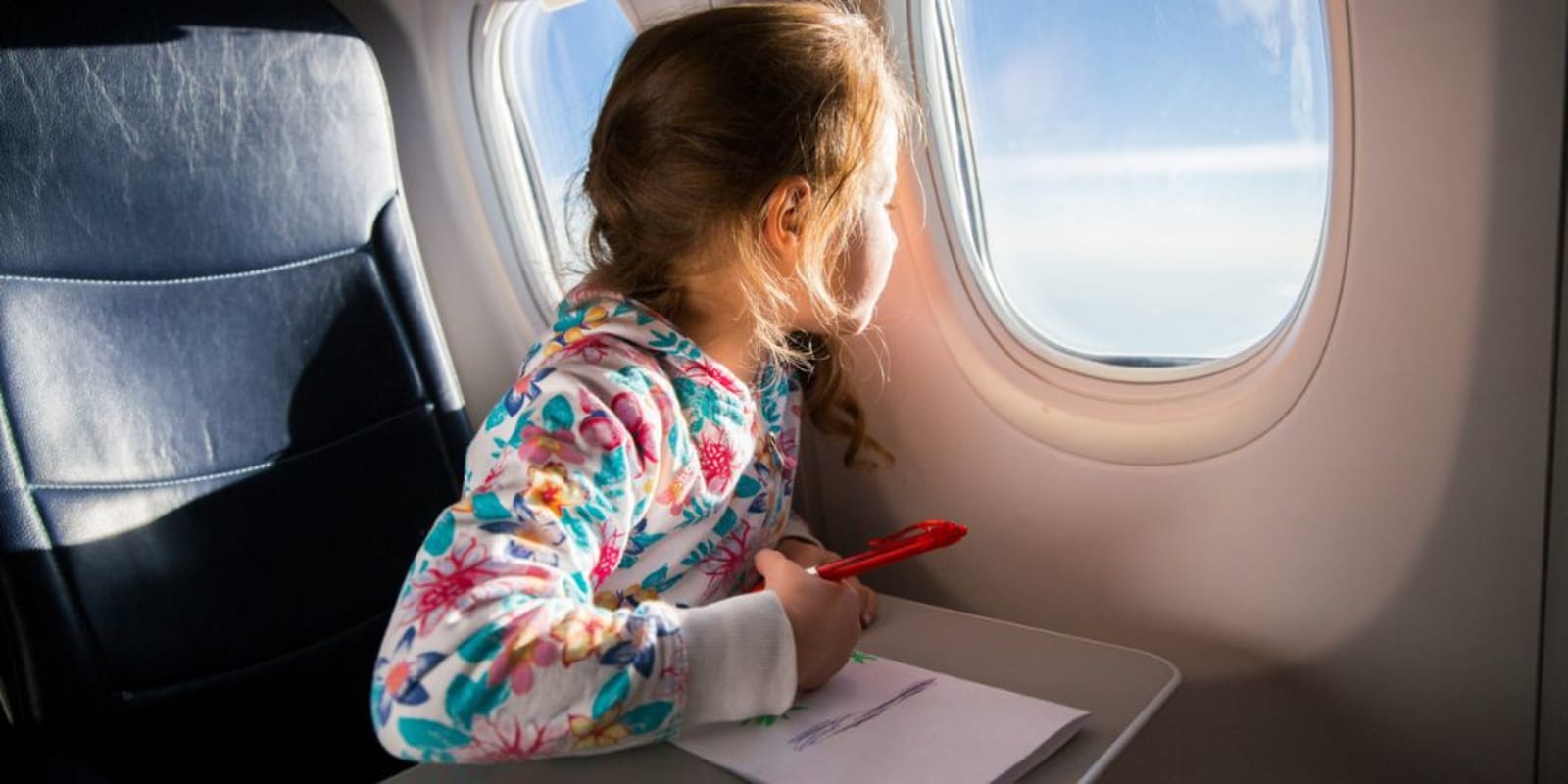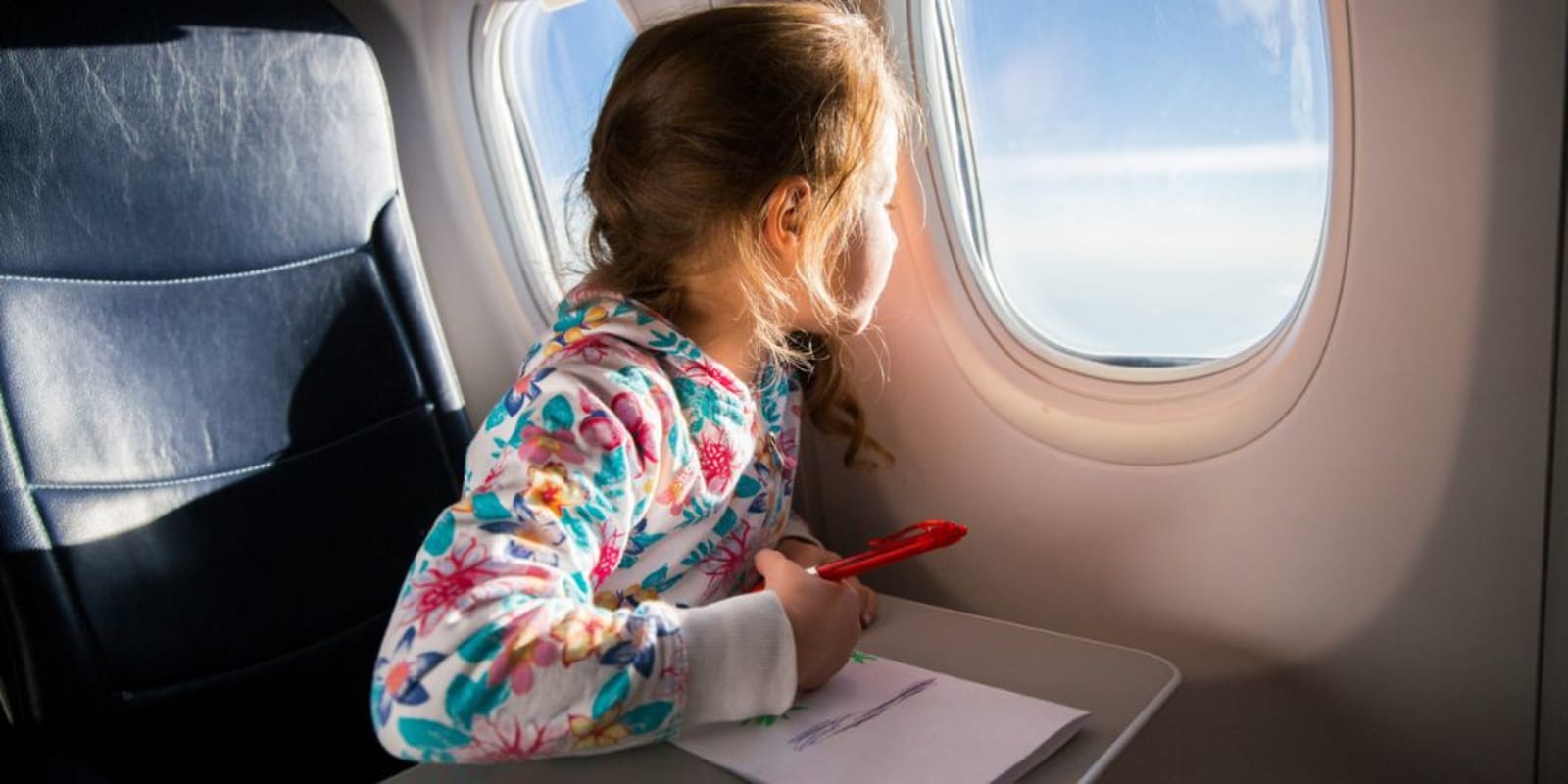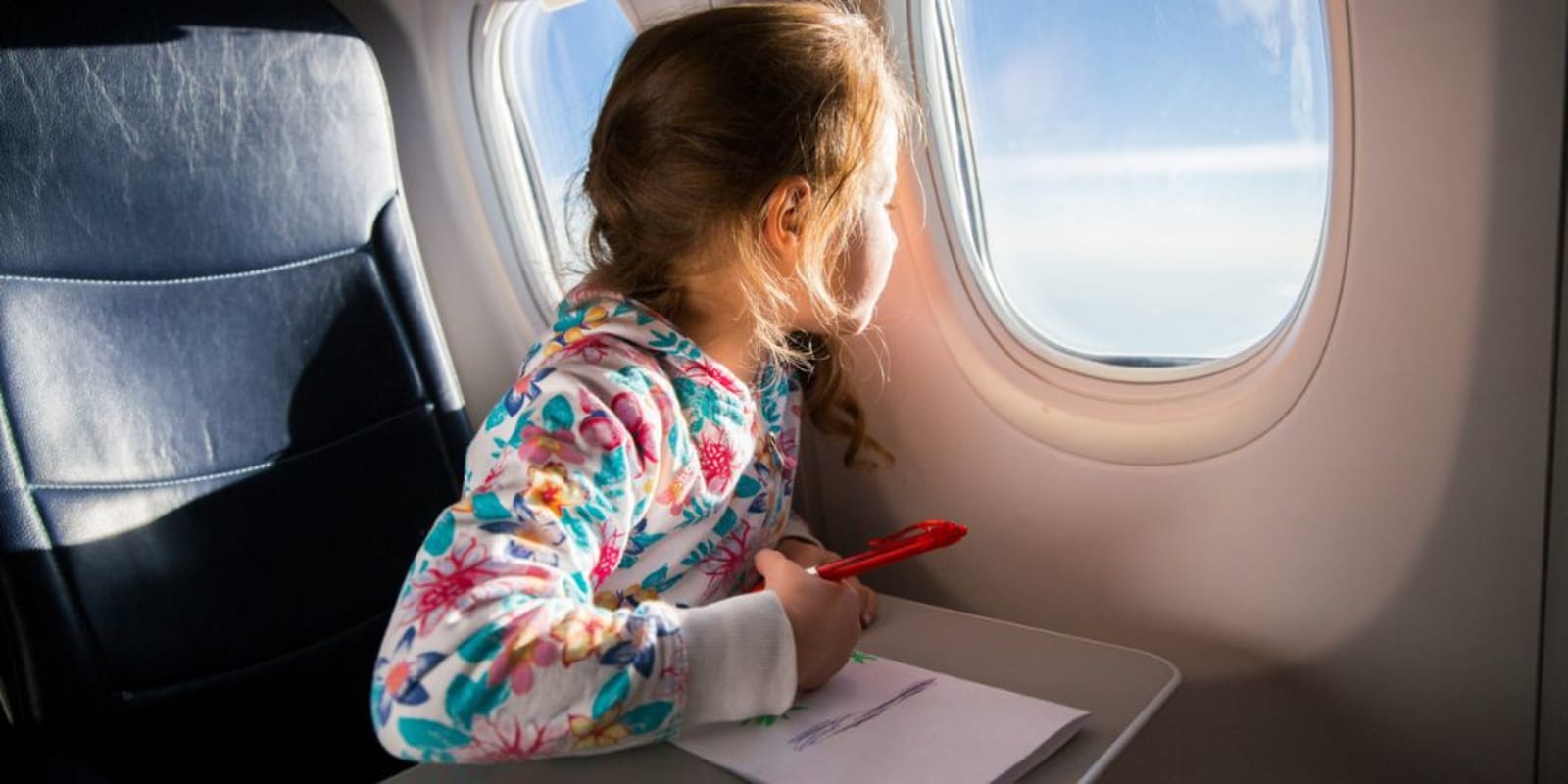 10. Pre-order meals
Make meal service something that everyone can look forward to by pre-selecting kids meals online before flying. If there are any dietary requirements, now is the time to say so!
11. Arm yourself with plenty of snacks
The importance of snacks can't be overstated. There's never enough snacks, tbh. A hangry child on long flights is akin to a ticking time bomb. Snacks = your sanity saviour. Another tip: pack lots of snacks you know your child will eat. The onboard crew will do their best to accommodate but options are limited.
Keep things contained by packing each child a lunch box for their bag. Just be sure all dairy, nuts and fruit are consumed by the time you arrive at your destination to avoid awkward customs conversations (and potential fines).
12. Strap your baby to you
Even an eight-kilo baby gets heavy after 14 hours. Navigating check-in, airport security and even in flight, a baby carrier will leave your hands free to help others while saving your back. It'll also make settling easier if you need to cut some sleep-time laps of the aisles.
13. Cue the devices
Remember: you are in this for the long haul. It's not the time to worry about screen-time limits. Pre-load those devices with all the favourite content and pack one for everybody.
Even teenagers are prone to a whinge or two when forced to go without what's familiar so don't forget to consult with them before you leave home.
Don't forget the USB charging cable either – most modern seatbacks have a slot for charging devices.
14. Pick your seats strategically
Aisle, middle seat or window? Bulkhead or exit? Picking the best seating arrangement for a long-haul flight with kids may seem a little daunting. Here are some tips to help:
Window seats are great for leaning on with a snoozy little one.

Take the aisle if your kid is busy and likes to go for walkies or needs regular bathroom breaks.

Middle seats are often the last to book out so you might be lucky enough to score a whole row of seats just by booking aisle/window or aisle/aisle.

If your active kids love to put seats up and down, choose the two rows at the back of the cabin with kids in front of you.

Families with babies often choose the bulkhead row, where the bassinet (for babies up to 11kgs) and lots of leg room comes into play. Reserve it early as there are only a few per plane. Check the maximum size of your airline's bassinet to make sure your baby will fit before booking and paying for it.

Have an anxious flyer or someone with motion sickness? Choose seats at the front of the plane and in over-wing rows where turbulence feels less intense.
15. Pack carry-on wisely
Pack light, but pack smart. If your kids are old enough to carry their own luggage, pack everyone a bag. Extra clothes (and pyjamas), a soft toy, water bottle, travel pillow, age-appropriate activities as well as snacks and devices can all be packed into individual backpacks. Avoid suitcases – they're annoying to open and can't go under the seat in front.
Just travelling with an infant? One bag will do but include an easy-access "nappy kit" stuffed with essentials like nappies, wipes and disposal bags to stop stressed-out rummaging.
Some airlines allow adults travelling with infants additional carry-on baggage allowance for things like baby and breast milk, baby food (as gel, liquid or paste), sterilised water, juice and wipes.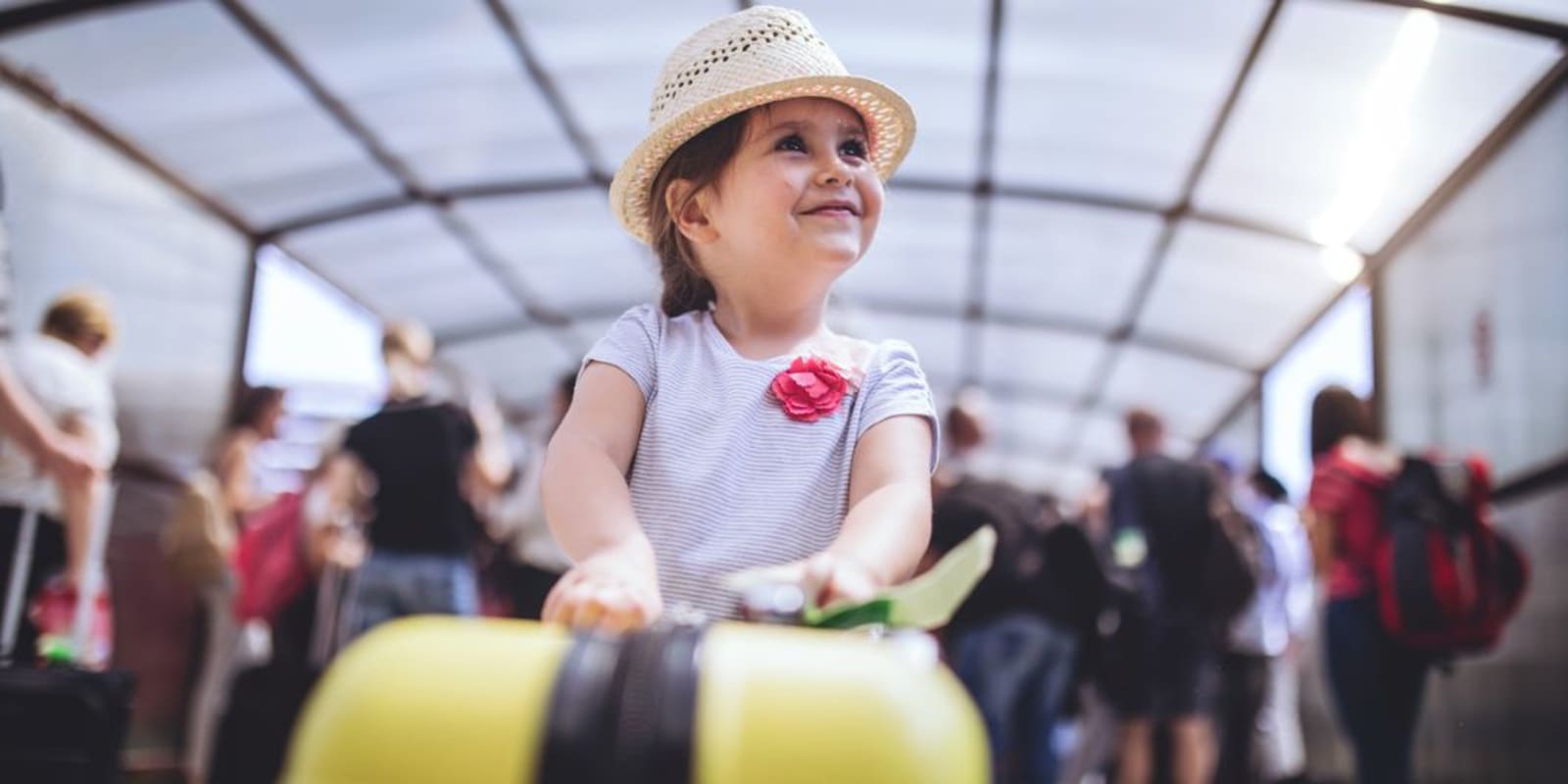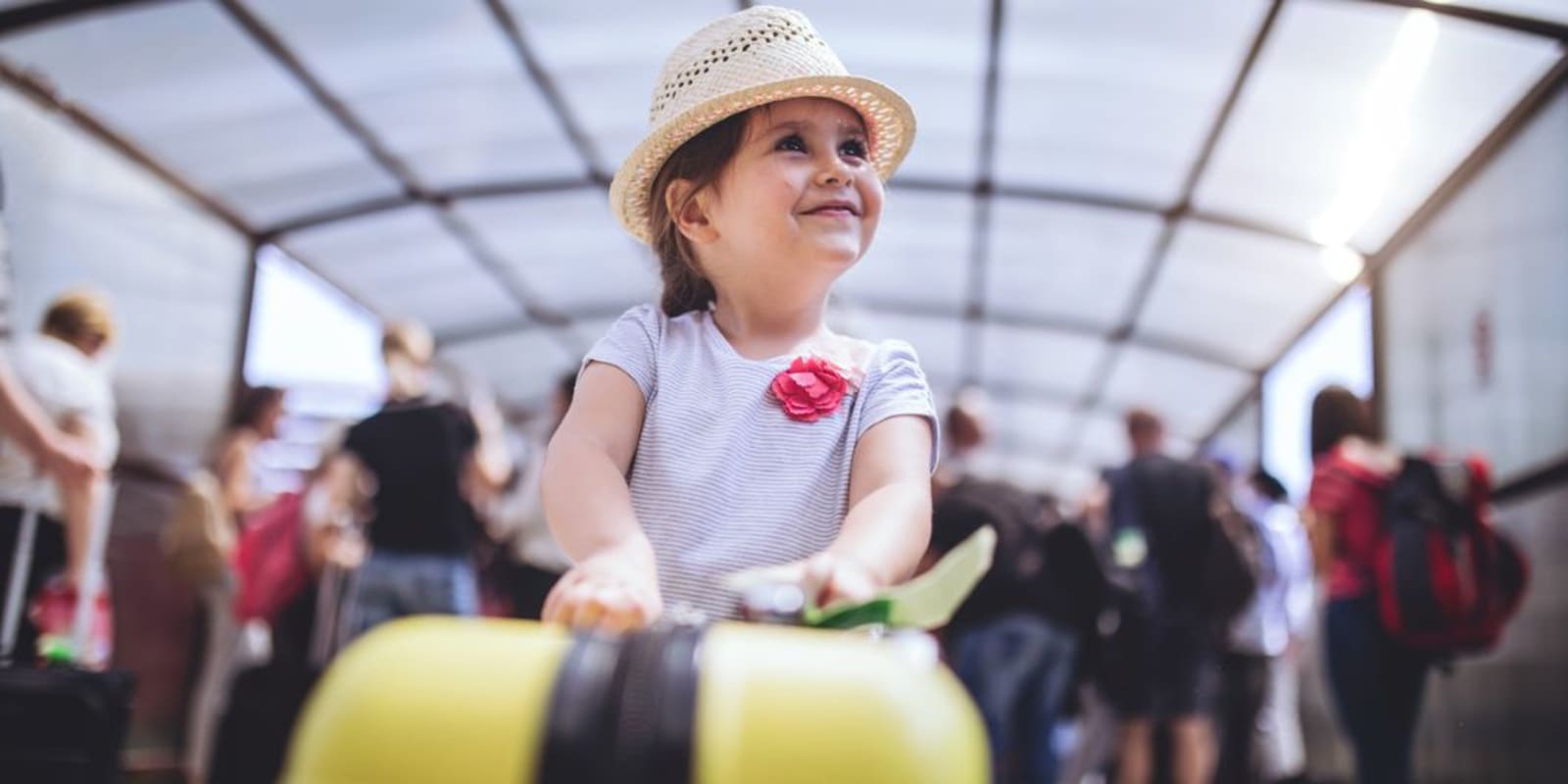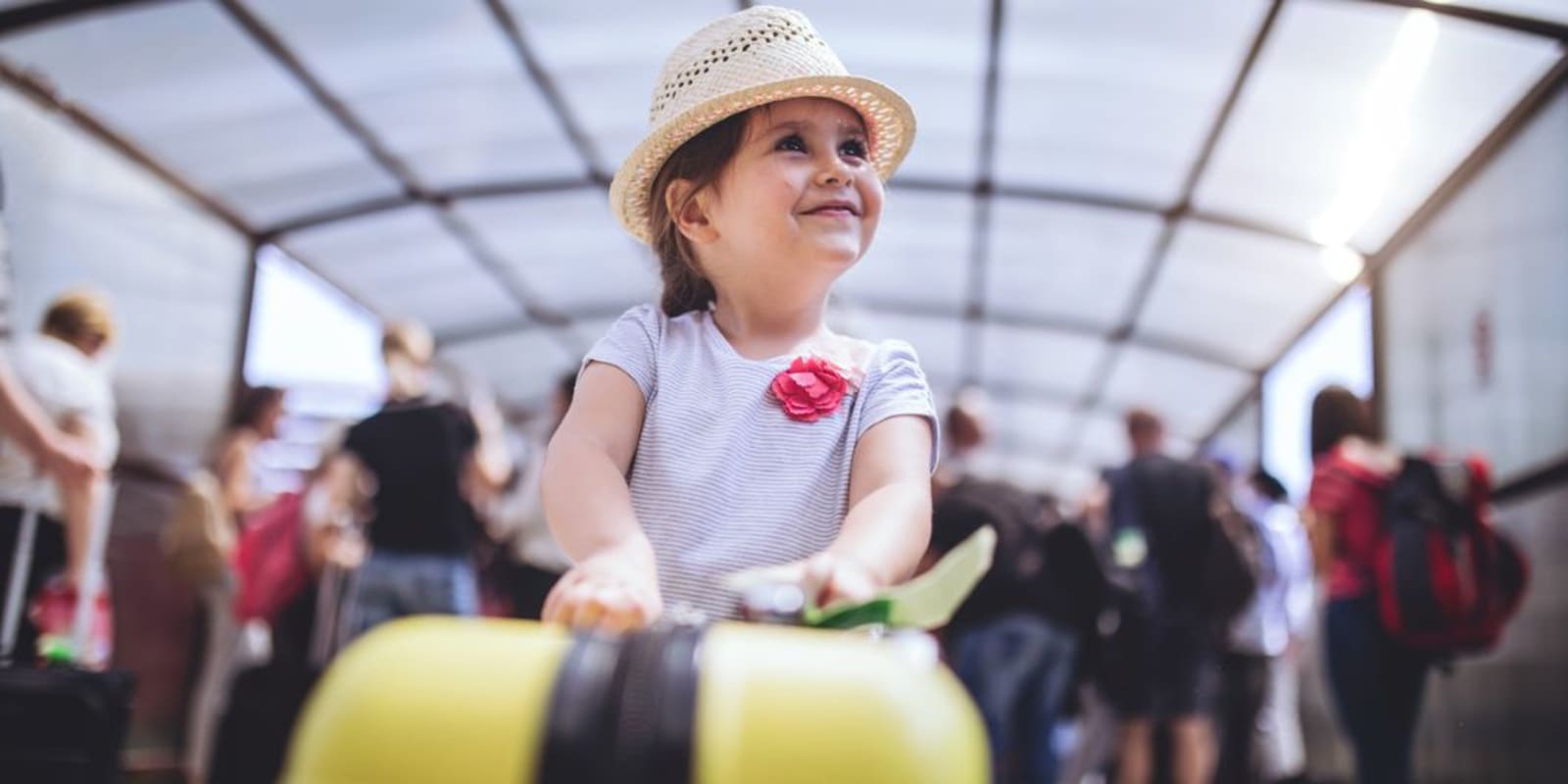 16. Spare clothes for everyone
Spills, toilet emergencies and general discomfort – extra clothes are a must for all ages. For babies, arm yourself with a couple of extra onesies, a couple of warm layers, plenty of nappies and wipes.
Pack a spare outfit for each traveller and light layers like a singlet, a light jumper, a pair of socks and fresh underwear. If luggage goes missing, you'll be glad you did.
Expert tip: Pack their fave PJs to change into for bedtime so you can simulate the usual bedtime routine.
17. Take a walk
No amount of entertainment or snacks is going to help kids stay seated for the entire long-haul flight. Change the scenery and stretch those little (and big) legs with a quick lap or two around the cabin. Playing a roving game of eye spy won't hurt the boredom either.
18. Book night flights
Leave jet lag grounded by flying at night for international flights. By timing departure with usual bedtime, you may help preserve sleep routines just a little bit longer. After the dinner service, everyone can get changed, brush their teeth and snuggle down as the lights are dimmed.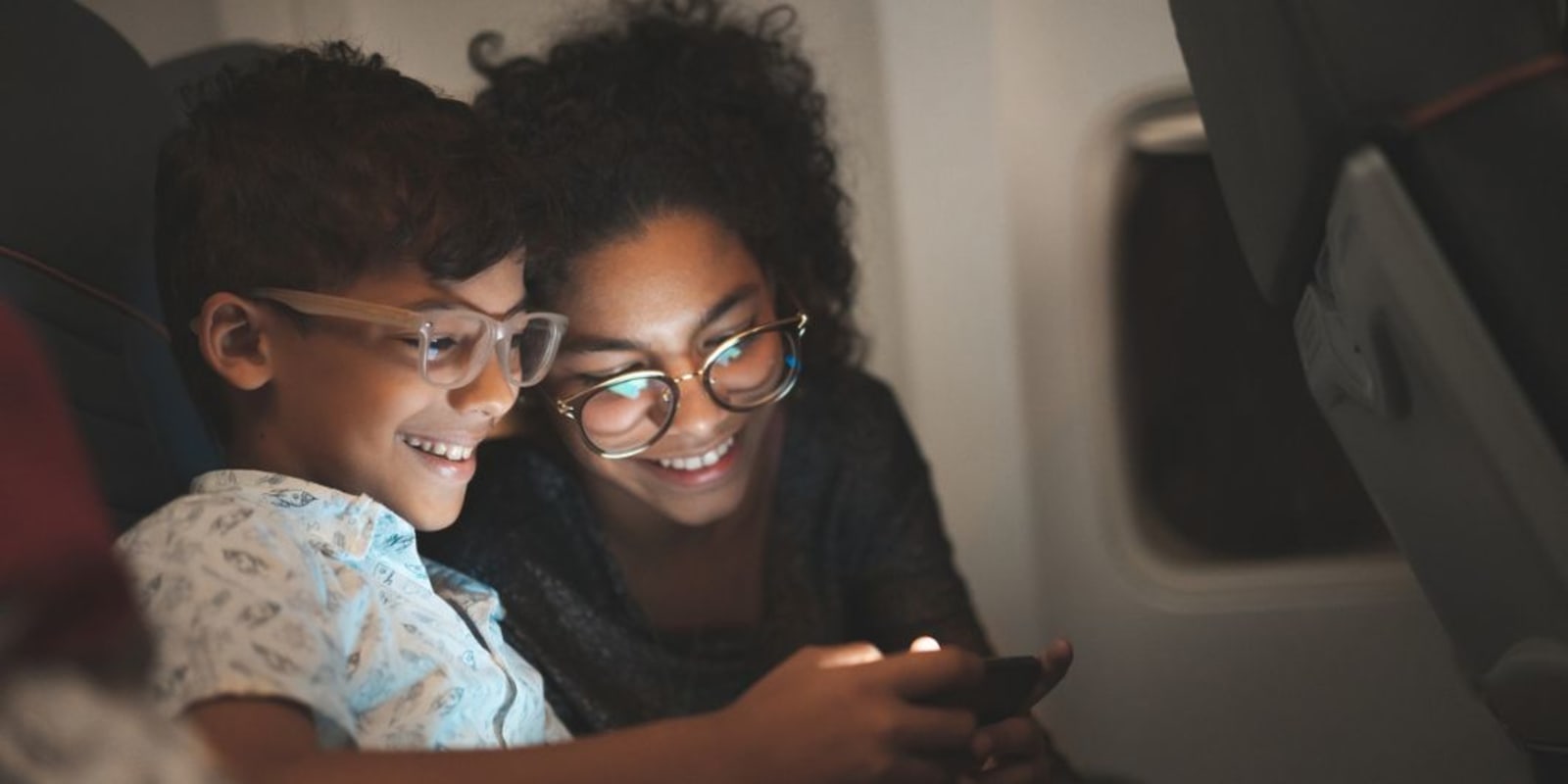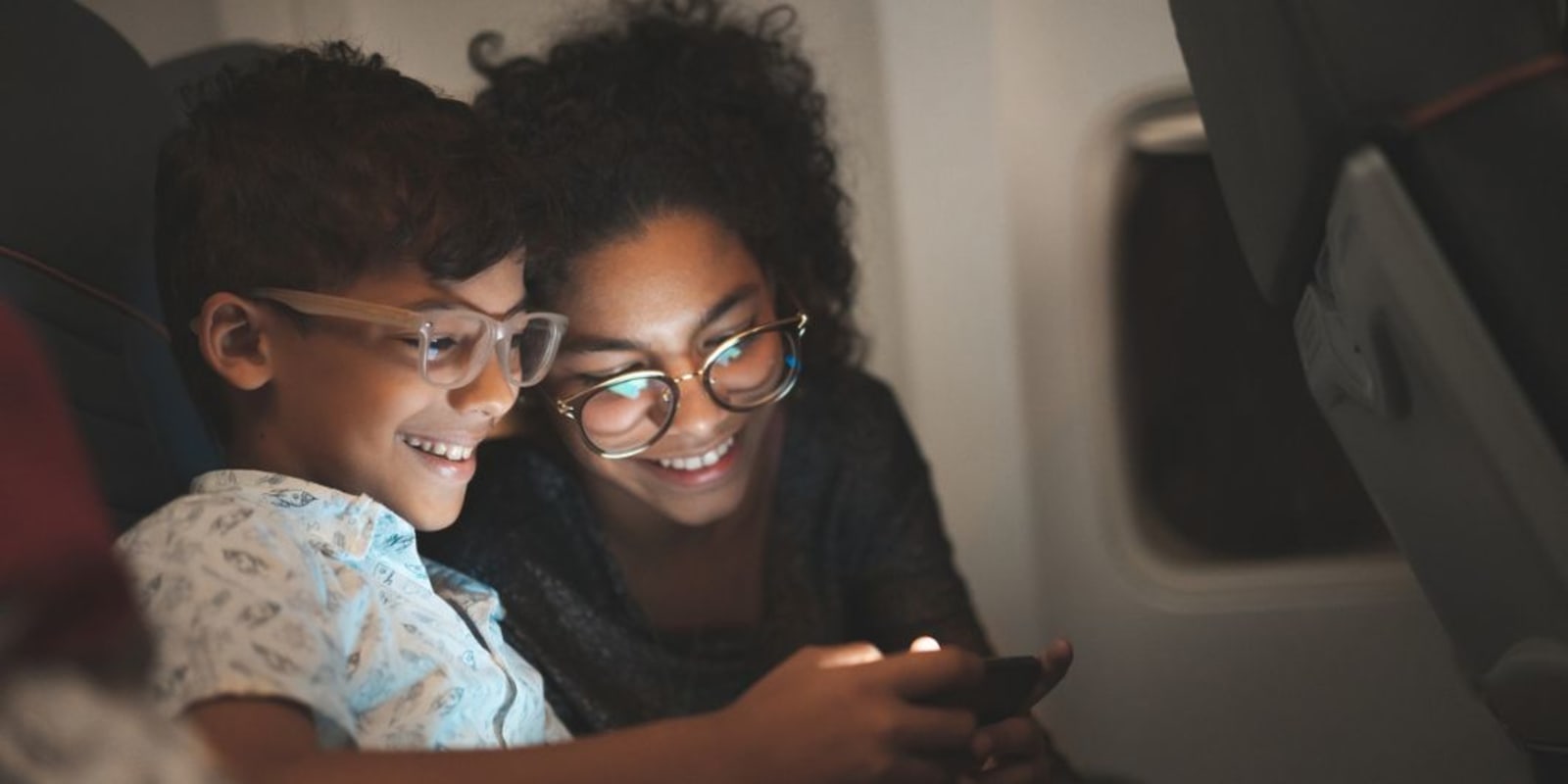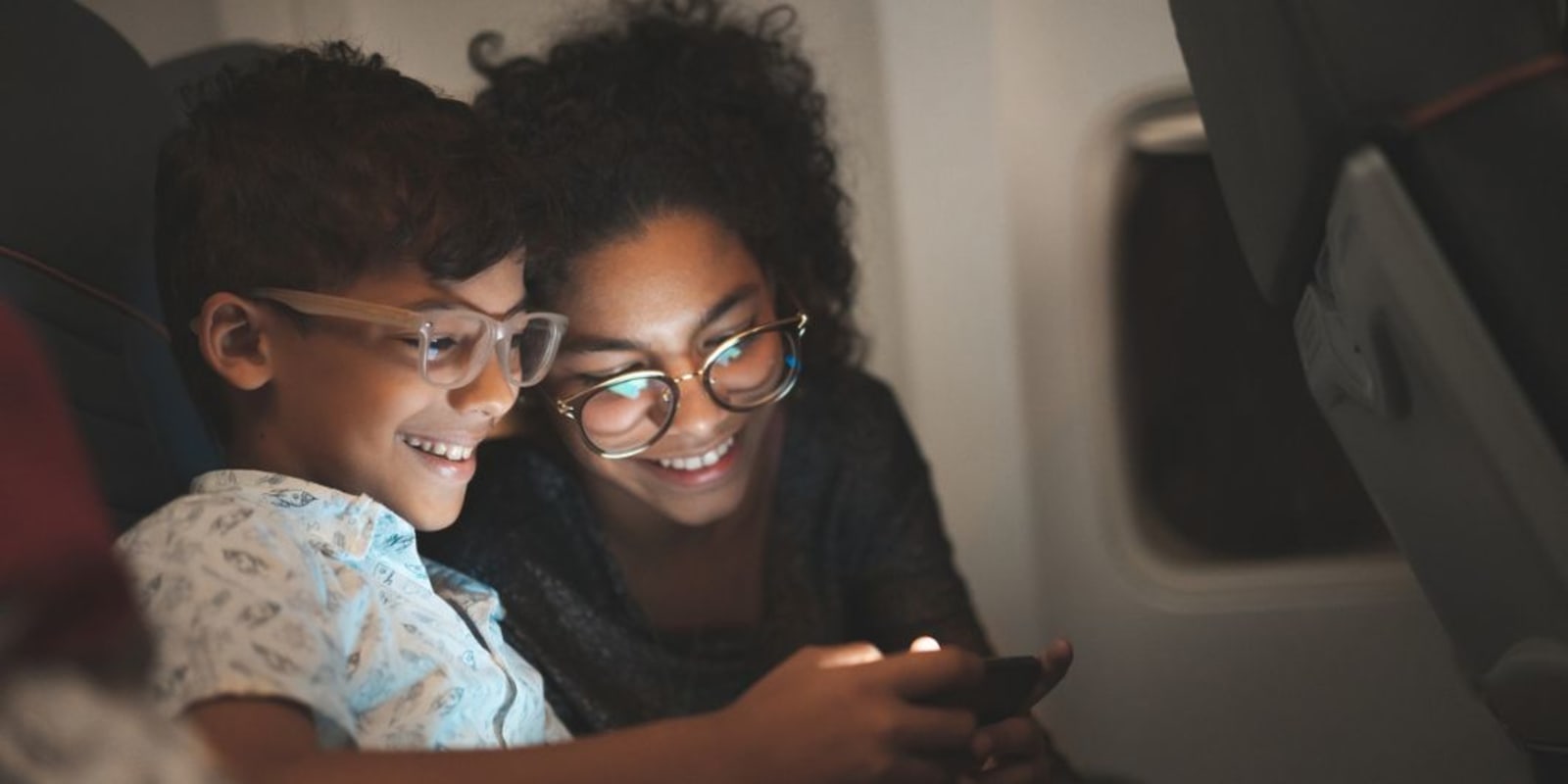 19. If the shoe fits
While wiggly-toed freedom in your seat is fine, walking around barefoot is no good. Board the flight in slip-ons or sandals that can be worn with socks and stop the endless arguments about shoes (IYKYK).
20. Stay hydrated
Make everyone a mobile hydration station. Tuck a reusable water bottle into bags for filling on the flight. Electrolyte tablets or powder make for a good alternative for fussy drinkers.
21. Make it an adventure
Travel is F–U–N so don't forget to have some! Try to see things through a child's eyes and make the journey just as memorable as the destination. You'll enjoy it more too!
---
Flight Centre acknowledges the Traditional Custodians of Country throughout Australia.