Vancouver is one of the youngest major cities in Canada with the first settlers building a sawmill in the 1860's, whereby establishing logging is the region's primary industry. However it was the construction of the transcontinental railway and the strategic seaside location that heralded Vancouver's prosperity. Today Vancouver is the largest city in western Canada and prides itself on its quality of living.
There are two ports servicing Vancouver. The centrally located Canada Place Terminal is only a couple of minutes to the heart of the city. The Ballantyne Pier Terminal is situated two kilometres east of Canada Place.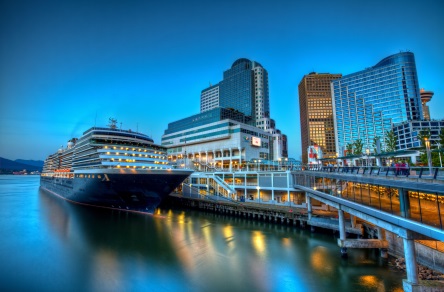 Sights to See
Vancouver's commercial heart is located in the north of the city, overlooking the beautiful Vancouver Harbour. Have a stroll through the downtown area to admire the impressive modern architecture such as the buildings around Robson Square and the Harbour Centre. In the northwest is the expansive Stanley Park, which offers an escape from the city's hustle with dozens of forested trails. Located in the Park is the impressive Vancouver Aquarium and a putt putt golf course.
What's for Lunch
Try poutine – a Canadian treat where French fries are covered in gravy and cheese.
If you see only one thing...
Check out the unique architecture of Canada Place, originally constructed for the 1986 Expo.
Local speak
If someone wants a Timmie's, they're after a cup of coffee. The name derives from the Canadian coffee chain, Tim Hortons.
Memento
Have a meander through gastown and select a piece of designer fashion from the boutique stores.