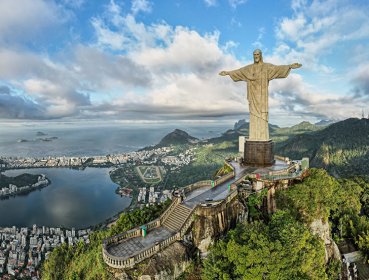 Rio De Janeiro
Travel Guide
Olá from Rio de Janeiro! Set between coastal mountains and the Atlantic Ocean and voted one of the most beautiful cities in the world, Rio attracts more visitors than any other city in South America. Probably most famous for the biggest carnival in the world, with spectacular parades, dancing, over-the-top costumes, and celebrations, Rio is also known for iconic beaches, like Copacabana and Ipanema, and landmarks like Sugarloaf Mountain. But it's not just natural beauty that sets Rio apart; it's also the unique fusion of cultures – indigenous, African and European. This comes through in the city's energy, music, dance and world-class cuisine, while Portuguese is the national language. From lively samba street parties, epic nightlife, and warm and welcoming locals to spectacular soccer matches and exciting festivals, Rio is special and unforgettable. Ready to get into the rhythm of the city? Our Rio de Janeiro Travel Guide will fill you in!
Rio De Janeiro quick facts
Language
National language
Portuguese
Beverages
Bottle of Coke/Pepsi (330ml)
AUD $1.86
Currency
Brazilian real
AUD $1.00 = BRL R$3.24
Eating out
Restaurant meal (casual dining)
AUD $10.78
Electricity
Plug type: C
2 or 3 pins • 127V / 220V
Where to stay in Rio De Janeiro?
 Rio's South Zone is the best place to stay if you're a first-time visitor or you want to make the most of the beach. It includes the famous neighbourhoods of Copacabana and Ipanema and many of the best hotels, bars and restaurants. Also recommended is Centro, the historic city centre with its museums and monuments, and the quieter, more upmarket beach neighbourhood of Barra da Tijuca in the West Zone. Fortunately, there's accommodation to suit every traveller and every pocket in Rio, from seaside resorts and boutique hotels to apartments, B&Bs and budget-friendly hostels. We've picked a few to help you out. 
For the ultimate splurge, book a room at the famous five-star Copacabana Palace. This magnificent art deco luxury hotel overlooking Copacabana Beach, with its glamourous history of movies and film stars, will make you feel like a celebrity too! Enjoy sundowners on your private terrace with a view of the ocean, get pampered at the botanical spa, and enjoy fine dining at the Michelin-star restaurant.

 
---
For an arty, romantic vibe, check into Hotel Santa Teresa RJ-MGallery. Located in the charming hillside neighbourhood of Santa Teresa but still close to the city's main attractions, this boutique hotel features upscale dining, a spa and a pool with stunning views over Guanabara Bay.
---
Want to chill out with the family? The Grand Hyatt in Barra da Tijuca offers the perfect place with the bells and whistles plus the laid-back Pepe Beach on your doorstep. We also like Casa Gerario for its home-away-from-home feeling.
---
Prefer accommodation that's modern and edgy? Then the four-star Hotel Arpoador in Ipanema is a winner, plus it's the only hotel in Rio where you get to walk directly onto the beach. Tip: Ask for a sea-facing room with a hammock for lazy afternoon naps. Active travellers don't fret – the hotel offers rooftop yoga classes, a swimming pool and a gym.
---
Watching your wallet? Ibis Rio De Janeiro Botafogo Hotel is a more affordable three-star hotel in the trendy neighbourhood of Botafogo. Features that get the thumbs up include Wi-Fi, breakfast buffet and easy access to the metro. Prefer self-catering? Then the stylish Sugar Loft Apartments in the Centro district make a good base. There are also several hostels to choose from, including the Hostel Maresias do Leme in Copacabana, known for its friendly hosts, fun atmosphere and resident pets!
---
Things to do in Rio De Janeiro
Rio has many attractions to keep you busy and entertained. Spend your days sightseeing and your nights dancing the samba!
Synonymous with Rio, the giant statue of Christ the Redeemer stands on top of Corcovado Mountain in the Tijuca National Park and is visible from almost anywhere in the city. You'll have to brave the crowds to get close to this 30m-high creation, one of the New7Wonders of the World, but it'll be worth it. While there are several ways to reach the summit, we recommend taking the funicular. Make sure you go on a clear day for a jaw-dropping view of the city and buy tickets online so you don't have to queue. Sugarloaf Mountain is a striking natural landmark towering above Guanabara Bay. It's part of a World Heritage Site and one of Rio's most-visited attractions after Christ the Redeemer. Buy tickets to ride the historical cableway at the base of the mountain, then hold on tight as the glass-panelled cable car makes its breath-taking journey up to the peak with a stopover at Urca Hill, a smaller peak along the way. Head up in the early evening to watch the sunset and Rio become a sea of lights.
---
No travel guide about Rio de Janeiro would be complete without mentioning its famous nightlife. And the district of Lapa in central Rio is THE hotspot! From bars and pubs and street parties, where vendors, performers and party people dance the night away, to samba clubs where you can join the locals on the dancefloor and sip caipirinhas (Brazil's national cocktail), the celebrations never end in Lapa.
---
For any sports lover, a visit to Maracanã Stadium is a no-brainer. Having hosted two Fifa World Cup finals and the 2016 Olympic Games, it's one of the most famous stadiums in the world and home to two of Brazil's soccer teams. Watch a soccer match here or book a unique behind-the-scenes tour, for the ultimate bragging rights.  You can even take a one-in-three shot on the pitch where Pelé scored his 1 000th goal. If you're more about art and culture, you'll love the bohemian hilltop neighbourhood of Santa Teresa with its gorgeous views of Rio. Stroll along the cobblestone streets lined with art studios, colourful houses and cafés. Brazilian art is showcased at the Museu da Chácara do Céu, while vibrant street art is everywhere!
---
Flights to Rio De Janeiro
Rio De Janeiro food and drink
Cuisine in Rio is influenced by its Portuguese history, tossed with the flavours of many other nations who are at home there. The menu features succulent steaks, feijoada (a hearty black bean and pork stew), seafood delicacies and sushi! Then there's satisfying street food like empadas (little pies filled with cheese, shrimp or chicken), burgers (yes, they're popular here too), the sausage sandwich (like a hot dog with bread slices instead of a roll) and churros, those deep-fried crispy on the outside, chewy on the inside donut-like pastries. Now that we've whet your appetite, let's get down to our dining recommendations!
If you go big for only one meal in Rio, make sure it's at Lasai. Located in Botafogo, prepare to be blown away by an award-winning, Michelin-star farm-to-table experience. The 14-course tasting menu changes daily, so expect unusual dishes with an emphasis on organic vegetables from the chef's garden. Celebrating a special occasion? Aprazivel offers the perfect romantic setting in Santa Teresa. Here traditional dishes from Brazil's regions are given a French twist and paired with fruity cocktails or house beer. Try the grilled palm heart with cashew pesto paired with the tangmahall, a mint-and-tangerine caipirinha.
---
Street food and beach nibbles
Of course, there's no need to spend lots of money for a real taste of Rio de Janeiro – street food can be found all over the city and you don't even have to leave the beach, as vendors walk along the shoreline. There are also many kiosks along the main beaches. Look out for Quiosque da Globo serving local snacks and classic caipirinhas, and Espetto Carioca, specialising in – you guessed it – espettos (meat skewers/kebabs).
---
For a fun night out, Marius Degustare in Leme is highly rated as an all-you-can-eat meat and seafood restaurant. But when in Rio, you just have to experience a churrascaria, a Brazilian barbeque steakhouse. There are many dotted across the city, but Churrascaria Palace is a classic with a string of awards under its belt. Don't miss out on the legendary prime rib!
---
Rio De Janeiro through your eyes
Where to shop in Rio De Janeiro?
From beachside kiosks and outdoor markets to quirky boutiques and luxury shopping malls, there's plenty to choose from when shopping in Rio de Janeiro.
Tread the shopping streets
Upmarket Ipanema is the most fashionable district in Rio, so it boasts some of the best shopping spots. Hang out with the city's elite along Visconde da Piraja Road for the latest in beach chic or swing into Garcia Davila Road, where you'll find top fashion and jewellery brands like Louis Vuitton, Lenny Niemeyer and H. Stern.
---
Plenty of markets are scattered throughout the city but the colourful and eclectic Hippie Market in Ipanema is the most popular with visitors. Stroll to General Ostario Square on a Sunday and find all sorts of goodies, from semi-precious Brazilian gemstones, wooden dolls, sarongs and flip flops, to embalmed piranhas! What a souvenir to take home!
---
Rio Sul in Botafogo is a short walk (or drive) from Copacabana Beach, a favourite among the city's shopping malls since it was built in the 1980s. From electronics and household goods to fashion and jewellery, it's rated the most convenient, one-stop shop in the South Zone. Zara, adidas and Forever 21 are some fashion brands to splurge on. For luxury shopping, head to Leblon Mall or Fashion Mall in São Conrado. But the winner, hands down, is VillageMall in Barra da Tijuca. With more than 100 high-end stores including Tiffany and Co, Gucci, and Prada, you can easily spend a day here – if your credit card allows!
---
When is the best time to travel to Rio De Janeiro?
 Rio de Janeiro has a tropical climate which means high temperatures. January, February, and March are especially hot and humid, soaring to an average 31°C (88°F). There's also plenty of rain. On the flipside, July, August, and September are the coolest and driest months, but the average lows rarely dip below 19°C. The summer months (December – February) are peak season in Rio de Janeiro. This is when many Brazilians take vacations and international visitors come to enjoy the sun and sea. Tip: If you're planning on visiting Rio for Réveillon (New Year's Eve), or the famous carnival (February/March), book flights and accommodation a year in advance! The best time to visit Rio to avoid crowds – and enjoy milder temperatures – is in low season (May, October and November). Prices are better, and accommodation rates are more affordable than during peak season. 
How to get around Rio De Janeiro
It's easy getting around in Rio de Janeiro using the city's public transportation. And even easier to use the Moovit app to do so! The subway system has three lines and is a safe and convenient way to travel. Many city attractions are close to the metro stations too. You can buy single rides, but it's worthwhile getting a rechargeable metro card. From the metro stations, you can hop on the Bus Rapid Transport network that takes you further or if you need to get to the Rio de Janeiro/Galeão International Airport. It's important to note that the public buses can be challenging to use if you don't speak Portuguese and are not as well organised or as safe as the subway. But travelling on the historic tram, the Santa Teresa Tramway, is highly recommended. Running between the Santa Teresa neighbourhood and the city centre, it's been in service since 1877 making it one of the oldest electric railways in Latin America! A modern tram also operates from the city centre – the VLT – and it's safe and reliable. For faster transport in the traffic, metered taxis are plentiful and easy to spot – yellow with blue stripes. Flag one down on the road or use a free app like 99Taxis or Easy Taxi. Uber is also popular and generally less expensive. Rio has a wonderful bike rental system with orange bicycles (regular or electric) parked at stations all over the city. Simply download the Bike Itaú app, choose your payment option, head to your nearest station, unlock your bike, and start pedalling!  Easy as 1-2-3-4 and 5!
What are the best beaches in Rio De Janeiro?
If your idea of a holiday is to laze in the sun with the sand between your toes, this is the perfect destination for you. Because of its long coastline, there are many gorgeous beaches in Rio de Janeiro, so your biggest challenge will be trying to fit them all in! Let's help you out with some of the best:
A magnificent beach stretching over 4km, the world-renowned Copacabana Beach is easily the best in Rio. This is where most visitors go to soak up the sun, play beach soccer and volleyball, and party after dark. Because of its popularity, the beach tends to get crowded and in peak season, you'll have to jostle for space. It's a must-visit if you want to be part of the action.
---
Found at the foot of Sugarloaf Mountain, this palm-fringed beach in Urca is the smallest and prettiest beach in Rio. Also known as the Red Beach because of its volcanic origins, it's ideal for kids to splash around and for stand-up paddling or canoeing.
---
Ipanema Beach, called The World's Sexiest Beach, is also visually stunning, set against the backdrop of the Two Brothers (Morro Dois Irmãos) mountain. Extending along Rio's most affluent neighbourhoods, this is where the young and trendy hang out in the smallest of swimming costumes. To scoop the best spot, arrive early, rent a lounger, and enjoy the energy and fun of this lively beach.
---
While not as famous as Copacabana and Ipanema beaches, the Barra da Tijuca Beach holds the title for the longest in Rio – at 17km. This means no crowds, making it ideal for family fun. Enjoy fishing, water sports or keen to take surfing lessons? Then this is the beach for you. 
---
The current requirements for travelling to Rio De Janeiro
Talk to a Rio De Janeiro Travel Expert
Our dedicated team of experts know all the ins and outs of travel and love sharing their knowledge. If you're looking for help planning specific sections of your trip or full itinerary planning, our team is ready and waiting to help create your perfect holiday.
Enquire now