Fiji's allure is as much about what's going on below the water, as above. Snorkellers and divers are drawn to these 300-plus islands, for their magical coral reefs and crystal clear waters. Fiji also promises that quintessential South Pacific dream: swaying palm trees, wonderfully warm climate, perfect sandy beaches and welcoming, friendly people. There is much to discover here, and away from the beaches you'll find lush hiking tracks as well as a fascinating local culture. If you're planning a visit, explore our Fiji travel guide and find out how to make the most of your time amongst these beautiful islands. We've collected the best tips from our travel experts, and have all sorts of suggestions for things to do, the best time to travel, where to stay, how to get around Fiji and more. We even have a handy guide to Fiji's international airport.
Fiji quick facts
Beverages
Bottle of Coke/Pepsi (330ml)
AUD $1.63
Currency
Fiji dollar
AUD $1.00 = FJD $1.47
Eating out
Restaurant meal (casual dining)
AUD $6.78
Electricity
Plug type: I
3 pins • 240V
Where to stay in Fiji?
Each island, village and city has its own unique charm and way of going about things – so you've got a tough choice to make when deciding where to stay in Fiji! Whether you're in search of pure unadulterated luxury or a more stripped-back approach, you're certain to find what you're looking for on one of the 332 tropical islands. Popular tourist spots on the two main islands are perfect if you're after resort living, boutique shopping, and beachside bars and clubs. In the surrounding villages, life is much simpler, and things run at a local pace. Some smaller islands are like a world all of their own, with no shops and resorts to be found.
The private resort island of Denarau is a tiny dot of tropical splendour just west of Viti Levu. World-class hotel chains like Hilton, Sheraton, and Sofitel are just some of your options for luxury accommodation. The marina is a hive of activity by the ocean, and the 18-hole golf course is a sight to behold – even if you haven't played a game in your life!
---
The volcanic archipelago of Mamanuca is a barefoot paradise with 20 palm-fringed islands home to some of Fiji's most exclusive resorts. The waters are clear, and the secluded atmosphere is rather romantic. Weigh anchor just outside the untouched reefs and enjoy the serenity, or sail from island to island. Your days are sure to be filled with adventure here.
---
Towering out from the waters of the South Pacific, the Yasawa Islands are a splash of marvellous green against the waves of blue. On these islands you can escape from the trappings of modern life. There are no shops or banks, and the accommodation is back to basics. With gorgeous beaches and perfect weather, who needs five-star luxury when there's a hammock strung between two palm trees?
---
This 80km stretch of splendid beaches and bays is an oasis of fine-dining and majestic coral reefs. Just a short paddle from the white sands, the gigantic reef is a wonderland of colour and life. This is a great spot for snorkellers and divers of all skill levels, and you're guaranteed to see something exotic and unforgettable.
---
Known locally as the garden island, Taveuni is a nursery of native plants and wildlife. Hiking trails plunge deep into the dense rainforests that cloak the island. Explore a world of breathtaking beauty and majestic wonder. While hotels and accommodation are available, beachside camping is the perfect way to get among the natural majesty that Taveuni possesses.
---
Home to only one town and a few dirt roads, Kadavu is a great place to experience true Fijian culture. Eat as the locals do, with fresh seafood and tropical fruit and vegetables in plentiful supply. Cast a line at all the best native haunts and reel in something delicious. Only accessible by boat, Kadavu is a great place to escape to true tropical bliss.
---
Things to do in Fiji
With so many things to do in Fiji, you'll have to schedule time in your itinerary to take a break! Enjoy all things local. Suva's coast is dotted with restaurants serving traditional Fijian cuisine that is brimming with fresh seafood and tropical colour. Local markets, such as the Curio and Handicraft Market in Suva, offer handcrafted art and one-of-a-kind keepsakes. Stunning beaches circling the island are a place for both relaxation and adventure. Wherever you find yourself, Fiji offers up something unique and exciting.
Sri Siva Subramaniya Temple and Diving in Fiji
Snorkelling and diving in Fiji is a must. The soft-coral capital of the world is home to a huge network of picture-perfect reefs. Spread across hundreds of islands, over 4,000 square metres of beautiful coral and tropical marine life await you. The calm waters are perfect for everyone, whether you're a novice or seasoned professional. Diving and snorkelling in Fiji is an incomparable experience.
---
Experience absolute relaxation in one of Fiji's spas and wellness centres. Be pampered like never before with a traditional Fijian Bobo massage. Rich exotic oils relax your muscles and help to increase circulation. Fijian medicinal herbs are utilised in order to draw out toxins and treat aches and pains. Leave feeling a sense of absolute rejuvenation.
---
With so much on offer right outside your hotel, Fiji sightseeing is simple. Whether you're exploring the natural wonders of the ancient islands or getting acquainted with the cultural and culinary elements of the country, visiting Fiji is deeply rewarding. It doesn't matter if you're seeing the islands as a solo traveller or travelling with a tour guide – prepare to be awestruck.
---
Mariamma Temple is a sight to behold. A truly resplendent homage to the Hindu goddess of rain, the wonderfully colourful temple is a must-visit destination in Suva. In July, the temple is home to the South Indian Fire Walking Festival. This extraordinary art-form is awe-inspiring but certainly not for the faint of heart.
---
Located on the beautiful Coral Coast, the Pacific Harbour Arts Village is one of Fiji's most unique destinations. Thousands of years of Fijian culture is alive and well inside the picturesque village. Sample the lifestyle, hospitality, and customs of the native people. Sip on freshly squeezed tropical juice and explore magical art and performances. Shop for something exotic in an authentic village shop, so you can take a bit of Fiji home with you.
---
Sailing Fiji isn't just a great way to enjoy the serene ocean waters – it's also your best method of transport from one island to another. Within minutes of casting off from the mainland of Viti Levu, you could find yourself enjoying a totally uninhabited island paradise. Let the sea breeze carry you away to tropical bliss.
---
Immerse yourself among Fiji's stunning natural wonders. Take a hike deep into dense rainforests and breathe in the freshest tropical air. Journey from high mountain peaks to the crisp white sands of picturesque beaches. Discover magnificent waterfalls and a wide array of native wildlife deep within each lush green haven. Impressive doesn't even begin to describe it.
---
Located in the capital city of Suva, the Fiji Museum is home to a truly remarkable collection. Surrounded by beautiful botanic gardens, the museum houses archaeological materials dating back almost 4,000 years and cultural objects that represent Fijian foreign settlement over the past two centuries. Celebrate and discover a fascinatingly rich heritage.
---
Sri Siva Subramaniya Temple
The Sri Siva Subramaniya Temple is a massive monument to the popular Hindu religion. Located on the western side of Viti Levu, the temple is one of the few places outside of India where you can see traditional Dravidian architecture. The wood-carved deities were all painstakingly hand-carved and shipped from India. Inside, the smell of incense and offerings of fresh fruit hang sweetly in the air.
---
Fiji travel tips
While only about a four-hour flight from the east coast of Australia, this destination can feel like a completely different world – so you may need some Fiji travel tips to help you feel prepared. The locals aren't as time-sensitive as people back home, so be prepared to go with the flow. Fijian people are also known for their warmth and generosity. If you're courteous and friendly, they'll most likely be more than happy to help you with any queries and assist with directions. If you find yourself visiting a native village, always make sure you're dressed modestly and remove your shoes when entering a home.
As an Australian citizen, you're exempt from needing a visa to enter Fiji as a visitor. However, you'll need a valid passport, proof that you can afford to look after yourself during your holiday, and evidence of your plans to leave again (e.g. a return airfare).
---
Fijian cuisine is abundant with seafood, fresh fruit, and root vegetables. If you have any special dietary requirements, it's always best to let a waiter or member of staff know. If you're not dining in a restaurant setting, then it's advisable to carefully check your meals and ingredients before eating.
---
Fiji Electrical Plugs and Voltage
The electrical plugs and voltage in Fiji are identical to those we use in Australia. So generally you will have no need to purchase an adapter for your travels. This means charging your phone, laptop, camera, and other gadgets won't be a problem.
---
Nadi International Airport (NAN) is the primary airport servicing Fiji. Located on the western coast of the main island, Viti Levu, the airport is also an important hub for the greater South Pacific area. Fiji is very protective of its beautiful borders. Any items deemed to be a threat to the health of the islands' precious ecosystems will be checked and quarantined.
---
amount of Fijian cash you can bring with you on your travels. Just ensure that the amount you have when you are leaving does not exceed the amount you brought in. Australian dollars can be exchanged for Fijian dollars at most hotels, while major bank and credit cards are widely accepted.
---
In Fiji, tripping isn't customary. If you do feel a need or desire to tip, then do so at your own discretion. Workers here may either be delighted or embarrassed by the gesture. Fiji is a communal society, which means any tips received in restaurants and hotels will most likely go towards a staff fund to be shared equally.
---
Almost everyone in Fiji speaks English and this is the official language. Native Fijian is also widely spoken – it's a good idea to brush up on key terms, as many are integrated into the everyday vernacular. Hindi Fijian is also spoken across the territory but to a lesser extent. Hopefully you'll enjoy Fiji so much that you won't want to say Moce Ni sa moce (goodbye)!
---
Fiji food and drink
Get a taste of paradise with Fiji food and drink. Traditional flavours and ingredients entice and delight, while cultural influences from China, India, and Europe add another dimension to the dining landscape. Wander the bay of Suva and you're sure to find something that entices you among the large collection of restaurants.The smell of Fijian cuisine alone is enough to leave your mouth watering. Fresh seafood and tropical fruits make for an unforgettable dining experience. Whether you're indulging in fine-dining or eating with the locals over a roaring fire, make sure you take some cooking tips home with you!
Fresh, delicious, and cheap – Fiji's food markets are unmissable. Open from early morning until the late evening, the must-see Suva Municipal Markets are plentiful with fresh produce and friendly faces. Tropical fruits, root vegetables, and seafood are market specialties. The market vendors are happy to chat and the prices will barely make a dint in your wallet.
---
Whether you're after a barefoot beach party or a sophisticated drink as the sun goes down, Fiji bars and nightlife are spirited and unique. Music and dancing are high on the priority list for many locals, and the atmosphere is infectious. Sampling some kava is a must while you're in Fiji. Each island is home to its own nightlife and bar scene, but the main hot-spots after sundown are found in Viti Levu, in Suva and Nadi. The nightlife on smaller islands can mostly be found in the bars of hotels and resorts.
---
Fiji is a culinary adventure. Dine on freshly caught seafood right on the beach. Feast on traditional barbecue and be treated to famous local hospitality and entertainment. Fijian cuisine can always be enjoyed in the most picturesque surroundings, particularly in the dining precinct along the coastline of Suva. Rich indigenous cooking, coupled with the cultural influences of Asia and Europe, make Fiji restaurants as eclectic as they are delicious.
---
Where to shop in Fiji?
Fiji shopping is an adventure all of its own. Wander through bustling marketplaces filled to the brim with all sorts of handmade curios and traditional wood-carved goods. Traditional baskets, purses, and pottery items are charming representations of the native culture. Fiji's markets are the perfect places to treat yourself and grab something for friends back home. Don't miss the Suva Flea Market for some truly unique finds.Less traditional boutiques offer the finest in locally made jewellery. Hand-designed garments and eye-catching ensembles will have you instantly reaching for your wallet. Remember to support local designers and businesses by looking out for the 'Fijian Made' stamp of approval.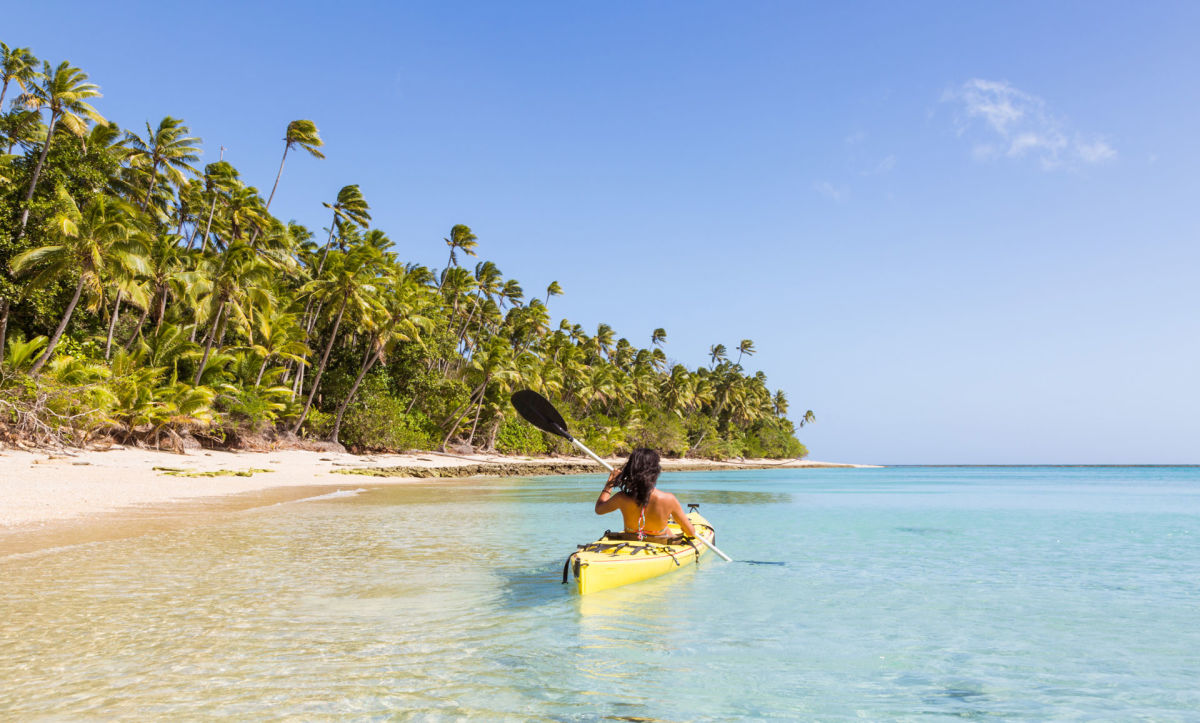 Expert tip
Visit Fiji's best-kept secret in Taveuni, also known as the "Garden Island" for its rainforest, waterfalls and excellent diving.
When is the best time to travel to Fiji?
The weather in Fiji creates a tropical climate year-round. The mild trade winds of the South Pacific will keep you comfortable and cool you down. Most months the temperature will get up to around 30°C, making for warm days and pleasant nights. The ocean waters are the perfect temperature to be enjoyed no matter what time of year – swimming, snorkelling, and surfing aren't just seasonal activities in Fiji. The wet seasons are torrential, but from the comfort of a hotel room, restaurant or bar, it really doesn't matter. Fiji is a place for fun no matter what the weather.
What is Summer like in Fiji?
Summer in Fiji is all about the beach! With temperatures known to spike around the mid-30s, the water is the place to be. With ocean temperatures sitting around 27°C, taking a dip is always going to be a pleasant experience. The average rainfall is also at its peak in summer, however, so watch the forecasts closely. Appropriate Clothing: Shorts, t-shirt, and a hat. Don't Forget: Your umbrella.
---
What is Winter like in Fiji?
A winter in Fiji is not what you might consider typical. With a maximum average still pushing the high 20s, the days are not at all a chilly affair. At nights, the south-easterly winds can cool proceedings down slightly, so enjoying the finest in warm Fijian cuisine is a favourable activity. Also, if there's ever a perfect time to enjoy a spicy kava, it's during a Fijian winter. Appropriate Clothing: Light and comfortable outfits. Don't Forget: Something warm to combat the cool evening breeze.
---
What is Autumn like in Fiji?
With the vacation season waning and rainfall on the decline, autumn is the perfect time to pack your bags. With the drop in rainfall, ocean visibility is perfect for snorkelling and diving. Explore vibrant coral reefs teeming with marine life of all shapes and sizes. Autumn is a great time to be outdoors. Appropriate Clothing: Swimwear. Don't Forget: An underwater camera if you have one.
---
What is Spring like in Fiji?
The tropical wonderlands of Fiji are truly resplendent in spring. Exotic flora is in full bloom and the dry season is approaching. Warmer temperatures are best combated by getting off the beaten track. Spring is the best time of year to trek through the myriad Fijian rainforests. Hiring a bike is also a great way to get around as the weather warms up – just make sure you're heading towards the markets for a fresh juice. Appropriate Clothing: Something comfortable and breezy. Don't Forget: Hiking shoes.
---
How to get around Fiji
Despite having over 300 islands to explore, getting around and navigating Fiji transport is surprisingly easy and affordable. A reliable network of buses and ferries service both Viti Levu and Vanua Levu. Taxis are also common on the two main islands, and hiring a car is you best chance to travel further afield. Chartering a boat or light plane not only provides the best transport out to the smaller, uninhabited islands, but it also presents you with magnificent views. Explore a country brimming with natural beauty on every island.
You will find taxis on Viti Levu, Vanua Levu, Tavenui, and Oval. Taxi depots are usually located alongside bus stations in each town. In more built-up areas, taxis are in over-supply, competing for the business brought by Fiji's tourists. In rural areas, most taxi drivers don't keep meters. Make sure to consult your hotel on what prices you should expect.
---
Discover the most beautiful Fiji beaches, forests, and villages all on foot. Walking trails and spectacular treks will take you all over the islands. Explore deep into lush rainforests, teeming with magnificent native wildlife. Walk the pristine sand beaches and secluded coves without a care in the world. Join a guided tour to find those places only the locals known.
---
In Fiji, public transport is abundant and cheap. Express coach services are excellent for getting from one side of the main islands to the other. Air-conditioned and comfortable, coaches are the most relaxing way to travel long haul. Local buses are a little bit different. Stopping wherever and whenever they please, and lacking glass in the window frames, they're an adventure all of their own (but you might want to give them a miss).
---
What are the best beaches in Fiji?
A vast collection of Fiji beaches and tropical islands are yours to explore and enjoy when you holiday here. Simply take your pick. From Castaway Island to the Coral Coast, Fiji makes it easy to find a slice of serenity. Experience complete tranquillity from sunrise to sunset on your very own secluded stretch of sand. Pristine ocean waters, warm white sands, and swaying coconut trees make Fiji the ultimate island getaway. When you're not relaxing in or by the water, soak in the rich village atmosphere of the main islands and discover why the locals are always smiling.
Well-established as a must-visit tourist destination, the Coral Coast is an 80km stretch of beach and bay on the main island of Viti Levu. The region is named for the large coral reef that fringes the shoreline – a great spot for a bit of snorkelling. The coast offers the full resort experience, complete with a golf course, day spas, and fresh local cuisine.
---
Malolo Island is the idyllic Fijian destination for all things sand and surf. Get out on the pristine waters of the South Pacific for an adventure. Stand-up paddle boarding, kayaking, sailing, and wind surfing are all amazing ways to enjoy the island's waterways and surrounding ocean. Back on land, tour the lush island forests, or simply relax with your feet in the sand.
---
The Yasawa Islands are your spot for back-to-basics Pacific living. The remote grass-covered islands will refresh your palette with their almost untouched beauty. You won't find any shops and private restaurants here. Join the locals and enjoy native cuisine and beachside accommodation. Whether you're shacking up in a timber hut or relaxing in a seaside hammock, enjoy an affordable paradise retreat.
---
The name sums it up – Castaway Island is the ideal place to get away from it all. A traditional wooden beach hut, locally known as a bure, can be your comfortable home right on the beachfront. The genuine warmth and hospitality of the locals will always make you feel welcome. Enjoy a tropical getaway with all the amenities of stylish and comfortable hotel living.
---
Vomo Island offers contemporary style and sophistication in a tropical paradise. Escape from reality in five-star luxury on the magnificent private islands. Take your pick from resort villas or luxurious holiday residences. Enjoy fresh and innovative dining, with home-grown herbs and spices making for an experience that is deliciously organic and authentic.
---
Located on the main island of Viti Levu, Denarau Island is the largest resort precinct in the South Pacific. Serving visitors to Fiji since the late 1960s, the resort island is all about relaxation. Restaurants, cafes, and bars offer specialty cuisine and drinks. Also strikingly picturesque, Denarau is a hot-spot for weddings and honeymoons. Love is in the air!
---
Fiji Frequently asked questions
what to take on holiday to Fiji?
When you're packing for a trip to Fiji, don't forget the essentials like your visa, passport, camera, chargers, some FJD and the correct power adaptor. Aside from that, think tropical thoughts and pack a few swimwear options, some flip-flops, a hat, sunscreen, a towel and a good book. Leave the watch at home though, you're on Fiji time now.
---
Where to go on holiday in Fiji?
It's hard to go wrong with Fiji, but you can cater your itinerary to be more aligned with your travel goals. If you're heading over for a family vacation, consider Viti Levu and the resorts along the Coral Coast. Surfers and beach bums will thrive in the Mamanucas and Yasawa Islands, while those seeing cultural visits and off-the-beaten-track adventures should head to Vanua Levu and Kadavu.
---
How do I go about cancelling my Fiji holiday package?
---
When is the best time to visit Fiji?
Fiji's sublime tropical climate means you can enjoy warmth and perfect snorkelling and sunbaking conditions year-round. If you're hoping to avoid rain at all costs, consider visiting between May and September, before the wet seasons kicks off from October until April.
---
What is there to do in Fiji?
Swim, snorkel, surf, snooze, eat and embrace the very best aspects of Fijian culture. Step into the slow lane and live your best tropical life, enjoying the spoils of nature and warm Fijian hospitality.
---
How to find the best holiday package to Fiji?
Flight Centre's team of Travel Experts are firm believers in the value of Fiji time and have jumped at every opportunity to try everything Fiji has on offer. We've worked hard to curate the best Fijian holiday packages on the market. From luxury resorts to family-friendly holidays and diving expeditions, check out our range of Fiji holiday packages in-store or online today.
---
The current requirements for travelling to Fiji
Talk to a Fiji Travel Expert
Our dedicated team of experts know all the ins and outs of travel and love sharing their knowledge. If you're looking for help planning specific sections of your trip or full itinerary planning, our team is ready and waiting to help create your perfect holiday.
Enquire now