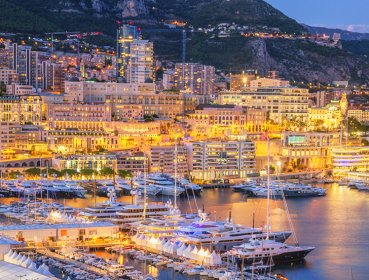 Far from its description as a "Billionaire's Playground" or one of the world's wealthiest and most expensive places – the principality of Monaco is fast becoming an 'it' destination for sunny getaways and adventure holidays.
Situated on the French Riviera, midway between the Italian border and Nice in France, Monaco is known for culture, casinos, high-end shopping, glamourous events, Formula 1 racing and other sports events.
Made up of eight neighbourhoods: La Condamine, Fontvieille, Larvotto, The Exotic Garden, The Old Town (Monaco-Ville), Moneghetti, Monte Carlo and La Rousse, each has its own particular atmosphere and appeal.
There's always something happening in Monaco, and let's not forget the opportunity to rub shoulders with the rich and famous. So why not channel your inner Grace Kelly, don a sun hat and big dark glasses and head to Monaco, darling?
Monaco quick facts
Beverages
Bottle of Coke/Pepsi (330ml)
AUD $7.80
Currency
Euro
AUD $1.00 = EUR €0.61
Eating out
Restaurant meal (casual dining)
AUD $45.00
Electricity
Plug type: C
2 or 3 pins • 230V
Where to stay in Monaco?
Budget-friendly stays are not really the Monaco way, so when in Monaco – do as the Monégasques do! There's no shortage of opulent stays and luxury hotels in this diminutive, sunny principality so all you have to decide is: sea view or mountain view?
Looking for an exclusive hotel in Monte Carlo? The modern, sea-facing Monte-Carlo Beach Monaco, from the esteemed Relais & Châteaux hotel portfolio, could be your ideal hideaway. While it incorporates every possible luxury – including elegant rooms, chandeliers, private beach with a beach spa, and an Olympic-sized pool – this stunning hotel is also Green Globe-certified, which shows its commitment to luxury without sacrificing sustainability.
---
Monte-Carlo Bay Hotel & Resort
Families and couples in search of a contemporary-chic, utterly timeless hotel in Monaco may favour the Monte-Carlo Bay Hotel & Resort. This exclusive resort offers stylishly appointed rooms, expansive sea views, a trio of restaurants including Michelin-starred Blue Bay, a spa and its own sandy lagoon.
---
For something a little less pricey, Le Méridien Beach Plaza is a great option. It factors in some excellent attractions, including a private beach on the Mediterranean, easy access to Monte Carlo's shopping centre, as well as every possible creature comfort. The 397 rooms and suites offer a choice between private balconies with either city or sea views.
---
This four-star boutique hotel overlooks Port Hercule from the centre of Monaco's Grand Prix circuit. A vintage car from the original Formula Grand Prix welcomes guests at the entrance. The best room for watching the Grand Prix is the Corner Suite, which faces the exit of the tunnel. Besides its prime location, the hotel's rooftop restaurant and bar make for picturesque photos of the Quayside, while the spa with its sauna and hammam is the ideal place to unwind after a busy day of exploring the principality. The hotel is only a few steps away from a number of restaurants, luxury stores and a short stroll from the Monte Carlo casino.
---
Things to do in Monaco
Yes, Monaco is a destination of beaches overflowing with sun worshippers and narrow streets bustling with passionate Grand Prix fans, and while it may be small – the second-smallest country in the world, actually –there is no shortage of things to do in Monaco.
One of Monaco's most popular attractions in the historic Old Town is Palace du Prince or Prince's Palace. This beautiful building gives visitors a history lesson going all the way back to the 13th century. During the summer, travellers can visit the Prince's Palace state apartments for a brief glimpse into what royal life must be like.

Another royal experience is browsing the Prince of Monaco's private car collection of close to 100 models, next to the Rainier III Water Sports Stadium. Since the late 1960s, Prince Rainier III has been accumulating some incredible cars, from a 1903 De Dion Bouton to the Lexus that was used for the royal wedding in 2011.
---
Arts, culture and casinos
Other unmissable things to do in Monaco include a visit to the Fontvieille Park, also known as the Fontvieille Sculpture Park, with almost 100 contemporary works by Blake, Calder, Arman and others – or the heart-shaped rose garden dedicated to Princess Grace showcasing some 4,000 roses.

If casinos are your thing, channel your inner high roller at the Monte Carlo casino built in 1863, and an architectural masterpiece of note set in beautiful gardens.

Next to the casino is the opulent Salle Garnier, a red and gold Italian theatre which is home to the Opéra de Monte-Carlo. Cash in your chips and catch some culture by booking a concert of show while you're here.
---
Monaco food and drink
Just like everything else in Monaco, there's no such thing as 'shortcuts' and only the best of the best when it comes to the culinary experiences on offer. An array of experiences include Michelin-starred restaurants to local market delicacies.
Michelin-starred restaurants
One of Monaco's finest restaurants is Elsa at the Monte-Carlo Beach. This eatery was the first to ever earn a Michelin star for organic food and wild-caught fish, so diners can expect an unforgettable experience and food of the highest, freshest quality.

Le Louis XV - Alain Ducasse at the Hôtel de Paris Monte-Carlo is a Riviera-style flagship restaurant by Chef Alain Ducasse, famed for being the first hotel-based restaurant to win three Michelin Stars within four years, while another notable Michelin-starred hotel restaurant is Le Blue Bay. You can find it at the Monte-Carlo Bay Hotel & Resort, where Chef Marcel Ravin creates pure gastronomic magic by combining Caribbean and Mediterranean flavours. This sea-facing eatery is highly recommended for foodies looking for a memorable dining experience.
---
Other great places to eat include Les Perles de Monte-Carlo − a seafood and oyster haven at the end of the pier beneath the Prince's Palace − and COYA Monte-Carlo, a Latin American favourite serving Peruvian cuisine prepared using an interesting combination of Spanish, Japanese and Chinese cooking techniques.
---
If you're one for imbibing culture, Monaco's beating heart, La Condamine, is the place to go. You can explore the streets on foot, navigate the port, browse the La Condamine market which sells fresh produce and market fare daily, including exquisite delicacies and local dishes. The little ones will love the market square play areas.
---
Where to shop in Monaco?
Shopping in Monaco is the epitome of high-end shopping – don't miss out, even if you have to save, save, save to immerse yourself in this pursuit. The best names in haute couture, perfume and jewellery can all be found in Monaco.
Metropole Shopping Monte-Carlo
One of the best retail destinations is the Metropole Shopping Monte-Carlo, just opposite the Casino Gardens. Opulent décor includes Italian marble flooring and two massive crystal chandeliers suspended above the main square. There are around 80 shops alongside several restaurants for when you need to refuel. Here, you can shop for everything luxe from jewellery and fashion to stylish homewares and antiques.
---
For a more bespoke shopping experience, head to the Yacht Club de Monaco, in Port Hercules. The YCM Gallery, found on Quai Louis II, offers picturesque shopping by the sea. Here you can find the YCM Boutique, Rolex, Only Yacht, Brooks Brothers and the Wine Palace Monte-Carlo. Wine lovers take note that this is one of Europe's largest cellars with 2,300 different wines and spectacular views over the marina, too.
---
For high-end fashion, the newer One Monte-Carlo is a booming district that is home to some 24 boutiques, featuring everything from Chanel to Yves Saint Laurent and Alexander McQueen. This shopping complex is perfectly situated too, near the famous Place du Casino, in what is known as Monaco's Golden Triangle – three streets of exclusive shops, expensive residential apartments and top eateries.
---
When is the best time to travel to Monaco?
Unlike much of Europe, Monaco enjoys mild weather all year round. Its coastal location gives it a Mediterranean climate with dry, warm summers and mild, humid winters.
Summer temperatures are usually no higher than 30°C (86°F) with an average maximum temperature of 24-26 °C (75-78°F). Winter temperatures can drop below 0°C (32°F) but during the daytime, the average temperature in January and February is generally about 8°C (46°F). In December, historically Monaco's darkest and coldest winter month, there is still an average of 136 hours of sunshine.
If you're after beach-holiday weather, then the best time to visit Monaco is June to September. Spring (April and May) is also beautiful, with plenty of sunshine and very little rain. Just don't expect to enjoy a refreshing dip in the sea at this time of the year because sea temperatures only become bearable in June.
Because of heavy rainfall, October and November are the quietest months and if you don't mind getting a little wet, you can still live it up in Monaco and you're likely to find more affordable deals.
How to get around Monaco
Being such a small country, you can walk Monaco from east to west in roughly 45 minutes. On foot, it's easy to soak up the local culture and tranquil way of life. If you get tired, Monaco has 79 lifts, 35 escalators and eight travelators (a moving walkway such as those you get in airports), as well as electric bicycles and public buses. For a handy guide to public transport, download the Monaco Malin for free.
The Monaco Bus Company (C.A.M) operates from 7am to 9.30pm, before the night bus takes over. There are six bus routes, each of which is serviced daily, and riders can buy multi-trip passes or single bus tickets as needed.
---
Whether you're looking for a fancy limo transfer or a regular taxi cab, the Monaco Taxi Association operates 12 stations, 24 hours a day, and has 10 calling terminals throughout the principality in case you don't have a local SIM card. While you won't find Uber or Lyft in Monaco, try using Mobee instead – a 24/7 electric vehicle letting service that makes use of 55 vehicles, has 450-odd charging stations and 35 free-to-use parking lots.
---
Monaco's electric bicycle scheme is known as MonaBike. With some 390 bicycles and 43 stations, an electric bike is the perfect way to navigate Monaco, especially as this service is open to both regular subscribers and occasional users like tourists (older than 16). Simply create an online account, choose your package and collect your bike using the contactless CAM card or your smartphone's QR code (accessible via the app). Once you're done, you dock your bike at the nearest station and wait for the green light to confirm your journey has been successfully completed.
---
What are the best beaches in Monaco?
No Monaco travel guide is complete without mentioning its alluring world-class beaches. If laying about suntanning is not your thing and you like to be active, there are many water sports to enjoy such as kitesurfing, snorkelling, scuba diving and yachting.
Larvotto Beach on Avenue Princesse Grace is a popular spot for families. This all-day, public (and paid-for) beach is not too far from the casino, and you can rent loungers and umbrellas in the paidfor section. The seaside complex here includes trendy cafés, sea-facing bars and gourmet restaurants along a shaded promenade.
If you want to escape the masses, head to Crique des Pêcheurs. This secluded beach is only accessible via steps, so there are not too many visitors, even in the busier summer months. The gravelly beach is narrow and a little rough around the edges compared to some of the others but it offers tranquillity and great snorkelling. Note that access is prohibited during bad weather.
Monaco also has four private beaches to choose from including La Rose des Vents, La Note Bleue, Le Neptune or Le Miami.
The current requirements for travelling to Monaco
Talk to a Monaco Travel Expert
Our dedicated team of experts know all the ins and outs of travel and love sharing their knowledge. If you're looking for help planning specific sections of your trip or full itinerary planning, our team is ready and waiting to help create your perfect holiday.
Enquire now