Mauritius is the place for you if you're looking for the perfect Indian Ocean destination to kick back and relax. Mauritius offers everything you could hope for in a tropical holiday destination with its powdery sand beaches, the azure waters, and palm trees swaying gently in the breeze.
Mauritius isn't only known for its beaches but also its fabulous food! From world-renowned chefs in great restaurants to talented vendors at street stalls, there's something for every taste and budget. Whether you want to maroon yourself at a luxury beach hotel where cocktails and spas are on tap or enjoy some family-friendly R&R at an all-inclusive resort, enjoy water sports and explore the island, there's plenty to choose from on this beautiful 2,040km² slice of paradise.
Mauritius quick facts
Beverages
Bottle of Coke/Pepsi (330ml)
AUD $1.57
Currency
Mauritian rupee
AUD $1.00 = MUR ₨29.11
Eating out
Restaurant meal (casual dining)
AUD $10.30
Electricity
Plug type: C
2 or 3 pins • 230V
Where to stay in Mauritius?
The easiest way to choose accommodation in Mauritius is to divide the island into four areas and match your interests and expectations with the best stretch of coastline. What they have in common is a wide choice of excellent hotels (all with swimming pools) that will satisfy every need – whether you want to pamper yourself or are looking for budget-friendly options.
The beaches in the north of the island are located around the popular town of Grand Baie, which is a good choice if you're visiting Mauritius for the first time. You can choose to stay in Grand Baie itself or La Cuvette, Pereybere, Bain Boeuf or Mont Choisy (Mont Choisy beach is gorgeous), all within a few minutes' drive of each other.
---
The southern coast is for people who want to escape the crowds and enjoy true tranquillity. The towering cliffs make for a wonderfully dramatic backdrop − but they also help to create some great waves, making it ideal for surfing.
---
The east coast of Mauritius is known for its luxurious hotels and stunning Belle Mare region. If you're looking for a golfing getaway, the Post de Flacq peninsula at the northern end of Belle Mare is the perfect spot thanks to Ile Aux Cerfs Golf Club. To the peninsula's south is Beau Champ, where you can enjoy water sports.
---
Things to do in Mauritius
Mauritius may be small, but it packs a punch in the beauty stakes. If you rent a car for the day, you can explore everything the island offers, from charming towns and lively streets to pretty gardens and nature reserves. Here are some of the best things to put on your to-do list for your holiday:
To get a real taste of the tropics, visit the Sir Seewoosagur Ramgoolam Botanical Gardens in Pamplemousses. Highlights include the giant water lilies and the soulful giant tortoises, but there's so much to see and explore that you'll need a few hours to really do it all justice.
---
Explore the outer islands
One of the best things to do in Mauritius is to go on a catamaran trip to explore the surrounding islands. Depending on the cat operator, you can also fish or even swim with dolphins (keeping a safe distance of course).
---
Energetic? Tamarind Falls is one of the most popular hiking destinations on the island. The threehour hike takes you along the Rivière Tamarin to some of the most impressive waterfalls on the island. Book a guide, learn about the local flora and fauna, and cool off with regular dips in natural pools.
---
Check out a natural wonder
You can experience the beauty of Mauritius' coloured earth geopark at Chamarel. This rare and impressive geological phenomenon offers a stunning display of rainbow-hued sand dunes set against lush green vegetation.
---
Mauritius is a diver's paradise, with abundant dive sites to explore. From colourful reefs full of tropical fish to rare species and spectacular caves, there is something for everyone. You can book a diving course and become a pro during your holiday, or you can snorkel at your leisure, take a gorgeous undersea walk (you'll feel like you're walking on the moon), or swim with dolphins in Black River.
---
Mauritius food and drink
Thanks to the melting pot of French, Indian and Chinese cultures that make up the Mauritian heritage, the island serves deliciously diverse cuisine shaped by them, with uniquely local twists.
Some of the best restaurants in Mauritius are located in the luxury hotels that hug the beaches, many of which accept non-guest reservations. Try Safran at Shangri-La's Le Touessrok Resort & Spa for Indian-Mauritian delights.
Have an adventurous or discerning palate? There's plenty on offer. From upscale, romantic dining experiences (try La Table du Château restaurant, located on the Château de Labourdonnais estate) to buzzy beach bars (the sublime Kelly Hoppen-designed Beach Rouge beach restaurant and lounge at Hotel LUX * Belle Mare) and, of course, street food, of which Mauritius has some of the best in the world.
Got your taste buds interested? Here's what else is on offer:
Traditional Creole curry is made with a tomato base, and menus often include duck and octopus options. At Escale Créole in Moka, you will find authentic Creole curry dishes.

Unofficially called the national dish, Dholl Puri is a dish not to be missed. It consists of thin wheat bread stuffed with ground split peas and served with curries, pickles and chutney. Snack your way through the food courts and markets in Mauritius with mouthfuls of gateaux piments (deep-fried chilli cakes), gato arouille (taro root fritters) and anana confit (pineapple salted with chilli). Some of the best markets for street food are the Mahébourg market, the Flacq market, and the Quatre Bornes market.
---
Seafood, of course, is a must in Mauritius. With crab curry, coriander chilli fish and fried squid, you'll be spoilt for choice. For the best seafood, head along the beachfront streets and to the beachfront stalls. Les Canisses Resto et Plage in Grand Baie, Le Pescatore in Trou-aux-Biches, and Amigos in Cap Malheureux are all national treasures. So head out and enjoy the fresh catch!
---
Authentic Chinese cuisine (dim sum, anyone?) is best enjoyed at one of the food stalls in China Town in Port Louis. Mine Frites is a popular street food with Chinese influence. These are fried noodles topped with fried onions and chilli. Hunt it down.
---
Must-try traditional treats
Mauritian falooda will be your new favourite refreshment on hot days. This traditional drink is made with milk, syrup, spices and other ingredients such as cashews, sweet basil seeds and ground nuts. Crushed ice makes it extra refreshing − perfect for a sunny day at the market!

Want a foodie experience? Book a food tour for easy access to the Port Louis market and sample its diverse fare.
---
Mauritius through your eyes
Where to shop in Mauritius?
From high-end to brilliant bargains, shopping in Mauritius is part of the holiday experience. The currency in Mauritius is the Mauritian rupee.
For curios and bargain hunting
The Marché Central in Port Louis and the Bazaar de Grand Baie are ideal for those who want to find great deals on everything from bags to sarongs. If you are looking for a more relaxed atmosphere and craft markets, check out Le Caudan Waterfront Craft Market, where you'll find beautiful wickerwork and glass art.
---
Quartier Des Serres is a shopping experience on the island built around leafy open-air courtyards. This is a great place to find gifts or souvenirs, as it features unique items made in Mauritius. At Helios Sunglasses, you'll find sunglasses made from coconut fibre; at Agathe Besse, you can find locally-crafted contemporary jewellery, scented candles, and chic bags.

If it's a traditional shopping mall you're after, the new Mahogany Shopping Centre in the north is worth checking out. With its scenic views of a lake and an excellent playground for kids, it's a perfect place to spend a day with the family.
---
For luxury and designer gear
Bagatelle Mall is a great place to shop for international brands. It is located near Moka and right off the M1 highway, making it easy to get to from the airport or Port Louis.
---
Can't stand being away from the ocean? Sunset Boulevard in Grand Baie is right on the water. You'll find various stores with international luxury brands and great local designers here. The textile industry is an integral part of the economy of Mauritius, so you can snag some awesome deals on branded items here.
---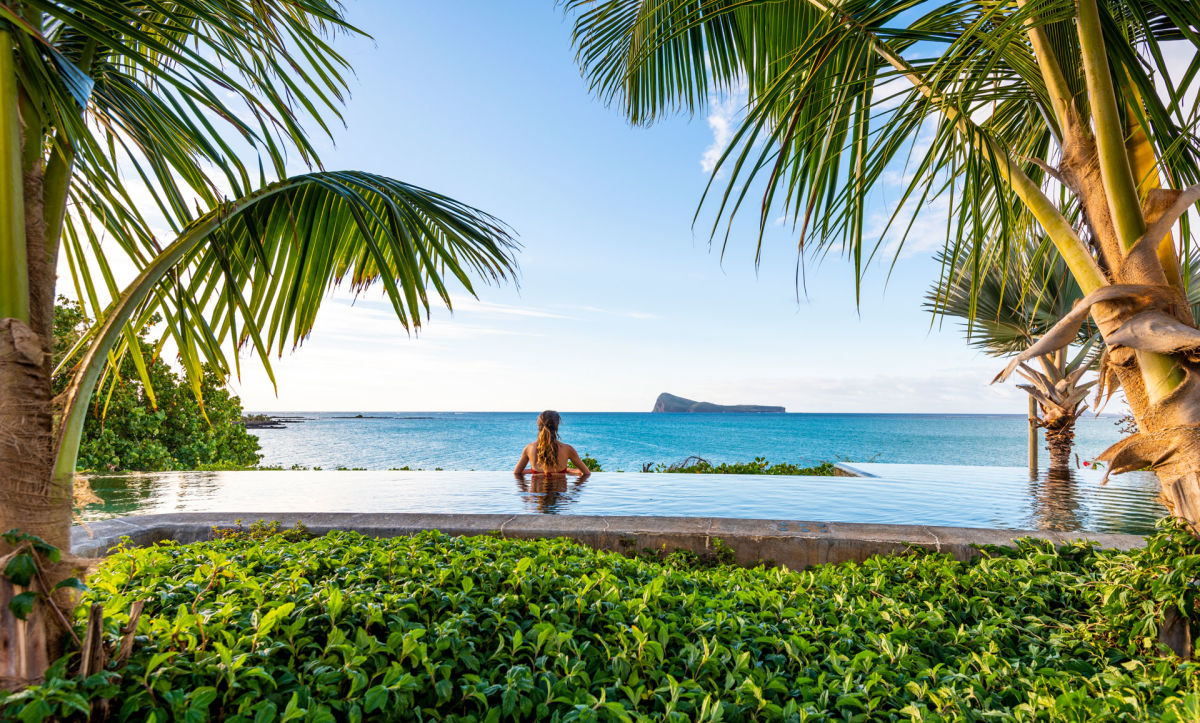 Expert tip
If you are in the Grand Baie area, take a break from your hotel/resort & check out the nightlife which is constantly buzzing.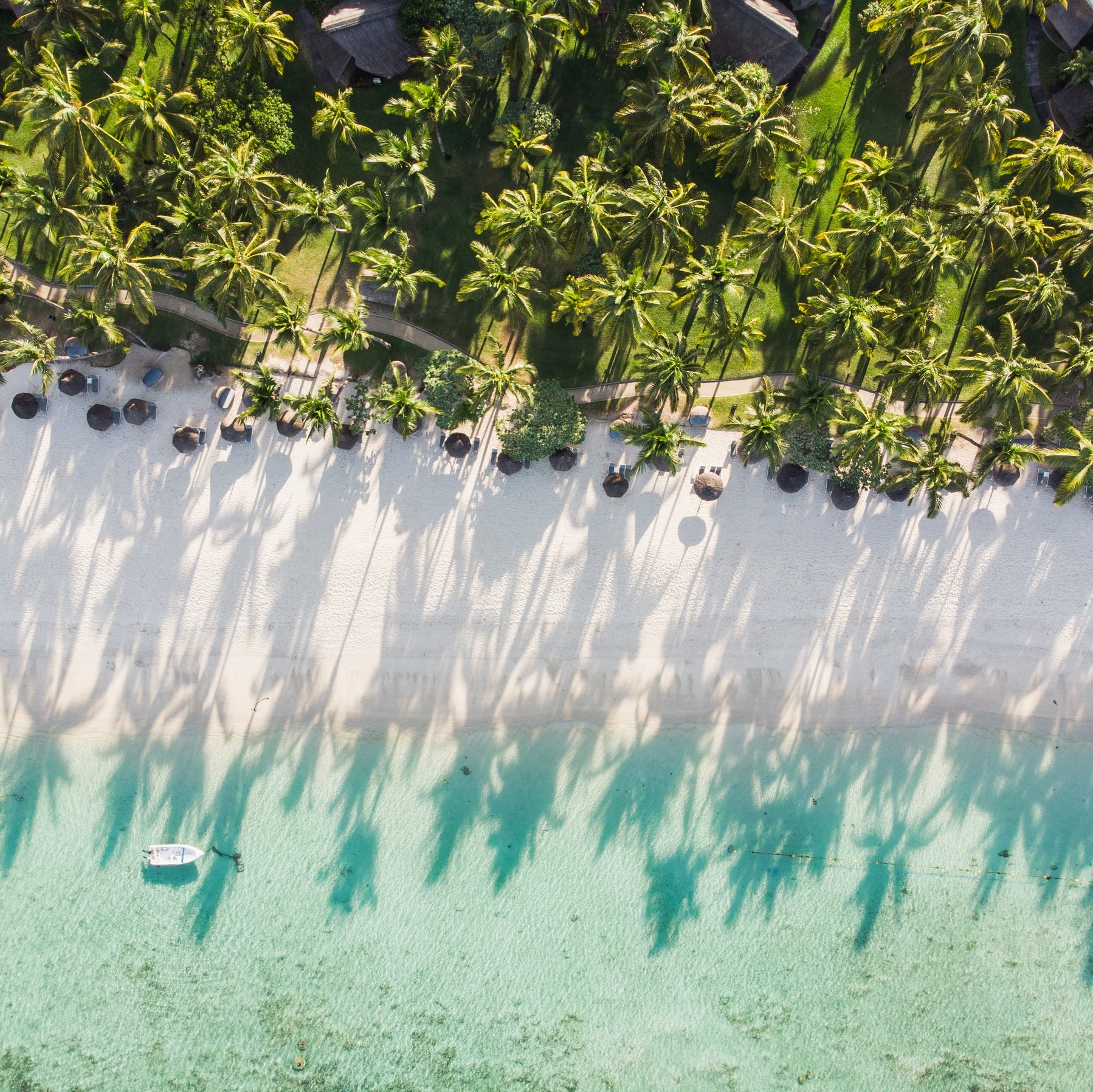 When is the best time to travel to Mauritius?
The best time to visit Mauritius is the shoulder seasons of May, June and September to October. The weather is dry and warm and not very crowded with visitors, which is the perfect time to get away from it all. However, due to the subtropical climate, Mauritius is a popular destination for vacationers all year round, as temperatures rarely drop below 20°C (68°F).
Temperatures are hottest from October to December, while significant rainfall can occur in January and February when cyclones move in from the Indian Ocean.
Average temperatures: The average temperature over Mauritius is 24.7°C (76°F) during summer and 21°C (69.8°F) during winter.
Peak season: The peak season in Mauritius is in the summer period in December and January.
Low season: Low season is in the winter, which is from April to October.
How to get around Mauritius
Tourist taxis are an option for those not keen to self-drive, as left-hand traffic applies in the country, and you may not be familiar with it. These taxis are available at hotels, shopping malls and bus stations and are not too pricey. Upfront bargaining about the fare is a thing in Mauritius – you can safely try it.
There's no e-hailer like Uber in Mauritius, but a quick cab-booking app called Yugo can solve that. It quickly calculates the fare and allows customers to pay by credit card. The driver partners are registered taxi drivers, so safe rides are always guaranteed.
Locals like to use shared taxis – ask your hotel where to track them down. They travel on popular routes and are cost-effective.
If you prefer getting around Mauritius via public transport, you'll find several bus stops on every street on the island. The schedule generally varies depending on the bus route, but in most cases, you can expect a bus about every 10 to 30 minutes.
What are the best beaches in Mauritius?
The warm waters of the Indian Ocean, white sands and shores dripping coconut palms have earned Mauritius bragging rights as one of the best beach vacations around. If you are staying in a hotel, you can have your every whim attended to on a private beach. Luxury, right?
However, if you are up to dipping your toes into other beaches, the west coast of Mauritius is the place for you. With its fine white sand and coral reefs of Trou aux Biches in the north and the isolated Le Morne peninsula in the southwest, you'll be spoilt for choice. Le Morne beaches are particularly impressive with long stretches of sand and a reef-protected lagoon against the backdrop of an imposing mountain. Love to surf? Head to Tamarin Beach on the west coast near the village of Black River.
The east coast is a beautiful and unspoiled area, home to some of the island's most luxurious hotels. The Belle Mare beach is stunning, with its powdery white sandy beaches, emerald waters of the lagoon and lush green vegetation. It is no wonder that Belle Mare is considered one of the most picturesque areas of Mauritius.
On the north side of the island, near Grand Baie, there are many fishing boats, so the beaches of La Cuvette and Grand Baie Public Beach are not ideal for swimming. A short drive away, however, is the Pointe aux Canonniers peninsula, which marks the beginning of a long stretch of beautiful beaches running down the west coast.
In summer, the winds usually blow from the south and east, so the beaches on the north and west coasts are more sheltered and, therefore, better choices at this time.
Mauritius Frequently asked questions
What to take on holiday to Mauritius?
When packing for a trip to Mauritius, remember the essentials like your passport, visa, phone, chargers, camera, sunblock, some MUR and the correct power adaptor. From there, we recommend packing a towel, plenty of bathing suits, a hat, flip-flops, some walking shoes and a great book to enjoy as you relax in your bungalow. 
---
Where to go on holiday in Mauritius?
They say the west is best, and Mauritius' west coast certainly delivers with picturesque beaches and perfect white sand. However, the whole island is a treasure trove of natural wonder and holiday havens. Whether you head inland to enjoy the Black River Gorges National Park or meander around the coast past palm trees and snorkel hotspots, Mauritius serves beauty and adventure on every corner. 
---
 How do I go about cancelling my Mauritius holiday package?
---
 When is the best time to visit Mauritius?
 Mauritius serves up delicious weather all year round, though it does tend to be wetter between December and April. If you consider yourself solar-powered and prefer nothing but sun, we recommend heading over between April and June to enjoy pristine days without the crowds.
---
 What is there to do in Mauritius?
While in Mauritius you can choose your own adventure, either stepping into the slow lane and soaking up island life or filling your days with action and new experiences. Be sure to visit a bazaar and Chinatown in Port Louis before experiencing the local culture by exploring the undeveloped villages in the south. Enjoy the spoils of the ocean with deep-sea fishing, scuba diving, snorkelling and water sports before checking out the island's two UNESCO World Heritage Sites.
---
 How to find the best holiday package to Mauritius?
With years of experience under our belts, and a decent tan to show from our time spent relaxing on tropical beaches, the Flight Centre Travel Experts are the perfect people to ask about your holiday package to Mauritius. From family holidays to adventure trips and romantic stays, we can easily curate a Mauritius holiday package to suit your travel style.  
---
The current requirements for travelling to Mauritius
Talk to a Mauritius Travel Expert
Our dedicated team of experts know all the ins and outs of travel and love sharing their knowledge. If you're looking for help planning specific sections of your trip or full itinerary planning, our team is ready and waiting to help create your perfect holiday.
Enquire now