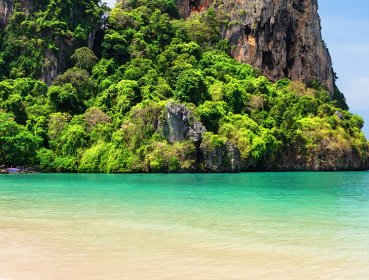 Thailand's largest island, Phuket, is known for its dazzling white beaches, thriving dive scene (thanks to the surrounding underwater wonders), fresh and fabulously tasty local cuisine, party culture and its deluxe resorts. For the curious traveller, there's also a world of Phuketican cultural heritage to discover, with museums, historic Sino-Thai mansions, shrines, temples and more. Did we mention the food? Crabmeat curry… spicy Phuket prawns… you'll never want to leave. If you're planning a visit, explore our Phuket travel guide and find out how to make the most of your time in this Thai island paradise. We've collected the best tips from our travel experts, and have all sorts of suggestions for things to do, the best time to travel, where to stay, getting around and more. We even have a handy guide to Suvarnabhumi Airport (aka Bangkok Airport).
Phuket quick facts
Beverages
Bottle of Coke/Pepsi (330ml)
AUD $1.08
Currency
Thai baht
AUD $1.00 = THB ฿23.30
Eating out
Restaurant meal (casual dining)
AUD $6.43
Electricity
Plug type: A
2 or 3 pins • 220V
Where to stay in Phuket?
Knowing where to stay in Phuket is essential to shaping your holiday experience. Stay in Phuket Town itself and enjoy close access to the cultural highlights of the region. Alternatively, you can get away from it all by relaxing at an exclusive hotel on one of the smaller islands. Your vacation can even change depending on which beach you stay at. After all, there are places where people party until dawn and places that are more secluded and romantic.
The attraction of Patong Beach is its vibrant social scene, so you can expect to find lots of hotel options. The price points can vary, so it's worth shopping around. More opulent hotels can be found along Beach Road; otherwise, many accommodation options have positioned themselves closer to all the action near Bangla Road.
---
If you love the beach but want a bit of distance from the high tide, try Karon Beach. This place strikes a good balance between lively and tranquil, as Patong and its nightlife are close by. There's a good snorkelling spot towards the southern end of the beach, too. Be sure to visit Wat Karon where a market is held twice a week.
---
When you want to immerse yourself in history and culture, stay in Phuket Town. The hotels here are small but full of character. Many are budget-friendly and close to the town centre or the historic Old Town district. Be sure to check out the museums, shop in the small boutiques, and eat at the bustling restaurants during your stay.
---
Soak up the Phuket nightlife without having to stay up until the sun rises by booking your time at Kata Beach. The long stretch of sand is separated by a headland into Kata Yai and Kata Noi, so people are more spread out for a less-crowded feel. Many hotels and nearby businesses also offer different activities like surfing and paddle boarding.
---
If you're seeking total relaxation then Kamala Beach is one of the best places to stay when holidaying in Phuket. This location has a lot of affordable hotels, meaning you can spend more of your holiday budget at one of the many day spas. Be sure to indulge in a traditional Thai massage after swimming in the sea and give yourself time to refresh your mind, body, and spirit.
---
If you want luxury, Surin Beach is the best area to stay at in Phuket. Millionaire mansions and exclusive hotels tastefully line this beautiful beach. Spend your days swimming or snorkelling in the clear waters, and when the sun goes down enjoy a relaxing massage and delicious dinner at your hotel.
---
Things to do in Phuket
From sunrise until well past sunset, there's plenty to do in Phuket. Unwind with some sunbathing and lazy walks on one of the white-sand beaches, or hop on a boat to explore the different islands in the region. Give yourself time to explore the culture too – both the beautiful temples and the vibrant nightlife.
Towering at over 45m tall, the Big Buddha is an unmissable Phuket landmark. Sitting on top of the Nakkerd Hills, it's possible to walk up there to get a closer view of the Buddha, but you'll also be afforded a magnificent panoramic view of the island. Entry is free, but you can get a blessing from the monks for a small donation.
---
Snorkelling and Diving Phuket
Some of the must-see places in Phuket are not on land but are underneath the Andaman Sea. You can check them out by snorkelling straight off Ao Sane or Paradise Beach. You can also dive off a tour boat while on a day trip to the Similan Islands. If you want to learn to scuba dive, there are several schools in Phuket.
---
As the most important Buddhist temple in Phuket, Wat Chalong is an impressive example of Thailand's different architectural styles. Many locals visit the temple to pay their respects to several famed Buddhist monks, which you can learn about through an exhibit found inside the temple compound. This is also home to a bone fragment of the Buddha housed in the Grand Pagoda.
---
Located in the Thalang district, Wat Phra Thong is one of the oldest temples of Phuket. Inside you'll discover a half-buried golden statue of Buddha. Legend has it that anyone who tries to dig it out becomes cursed. The Wat Phra Thong buildings also house a small exhibit about the tin mining era with items donated by the locals.
---
Nagas (dragon-like snakes) and yaks (blue monsters) guard the Wat Karon, which is a popular attraction for visitors staying in Karon Beach. On Tuesdays and Fridays, a market is held inside the compound and here you'll find clothes, souvenirs, and street food – perfect for rounding off your visit to the temple.
---
When it's time for a celebration, the locals of Phuket will drop by the Jui Tui Shrine. This colourful compound houses Chinese deities like Tean Hu Huan Soy, the god of artists and performers. At Jui Tui, it's traditional to throw firecrackers into a pot and light fortune sticks. It also hosts the annual Vegetarian Festival with its intimidating facial piercing tradition.
---
One of the best ways to see many of the beautiful places in Phuket is to take a boat and go on a day trip around the islands. You'll soon see why this location has been used in several Hollywood movies, and during the tour you'll learn more about Phuket and its brushes with fame. Take a yacht or a smaller fisherman's boast to get to areas such as Phi Phi.
---
There's nothing better to soothe your mind, body, and spirit than booking in for a treatment at a Phuket spa and retreat. Treat yourself to a traditional Thai massage, during which the therapist will not use oils. Instead, she will ask you to change into loose pyjamas before stretching and kneading your muscles.
---
The Thalang National Museum will start to give you an insight into Thai culture from the moment you see it, because it has been designed in the style of traditional houses in the area. Step inside to enjoy exhibits that represent the region's story, from early settlements to the devastating 2004 tsunami.
---
Housed in a beautiful Sino-Portuguese-style building, Phuket's Thai Hua Museum is a must-visit for anyone wanting to learn more about the Chinese settlers of Phuket. Spanning across two floors and the courtyard, see exhibits that represent their history, culture, and influence. Don't leave this one off your itinerary if you're interested in Asian history.
---
If you want to see how the rich inhabitants of Phuket used to live, visit the Chyn Pracha House. Although privately owned, many of its beautifully preserved rooms are accessible to the public. You can tour the mansion and see the kitchen with its clay pots and brass pans as well as the bedrooms with lace-covered steel beds and wooden furniture.
---
A small island connected by bridge to mainland Phuket, Koh Sirey is an attraction because it's home to the sea gypsies and a beautiful hillside temple. Visit Wat Sirey and you'll find many golden Buddha statues inside elevated rooms. The largest of these is a reclining Buddha. When you step outside, take a moment to enjoy great views of Koh Sirey and Phuket.
---
Phuket travel tips
Before starting your holiday adventure, take some time to brush up on some Phuket travel tips. Knowing little things like how to avoid an upset stomach (buy bottled water and don't drink the tap water) will help you enjoy a smoother travel experience when on your Phuket holiday. It's also important to note that Thailand has left-hand driving and the locals are less likely to slow down for amber lights. Instead, they speed up to beat the red light. So be careful if driving a rental car or motorbike. Here's some key advice for your Phuket holiday that you should bear in mind before departing.
Australian passport holders can enter Thailand without a visa for 30 days, as a tourist. If you wish to extend your visit, or work while you travel, you'll need to apply for a visa. This information is only a guide. For the most accurate and current information, contact your local Thai embassy.
---
Phuket's food reflects its Eastern multicultural history. You can get dim sum and curry alongside noodles and rice dishes. As Thai food is often spicy, speak up and request that your food be milder if you'd prefer to avoid chili heat. Don't forget to try the delicious street food as well. Just look for a clean stall with lots of local customers and make sure the food is prepared in front of you.
---
Thai Electrical Plugs and Voltage
Thailand runs on 220v AC electricity, which is less than Australia's 230v. You will need an adapter for your devices as most Thai outlets have two-prong round or flats sockets.
---
With two terminals, Phuket International Airport is the third-busiest airport in Thailand. Terminal 1 services international flights, while Terminal 2 is for domestic trips. You can find buses, taxis and car rentals to transport you to and from the airport. As a result of it being so busy, expect long queues and some delays.
---
Thailand has its own currency called the Thai Baht (THB). One baht is equal to 100 satang. Be sure to check out the latest exchange rates before you travel and change your Australian dollars into bahts. Credit cards are accepted at major restaurants, hotels, and shopping centres, but most businesses only accept cash. If using card, check with your bank about any overseas charges this may incur.
---
While tipping in Phuket is not mandatory, it's often appreciated. Let street food vendors and small eatery servers keep loose change. If you're eating at a high-end restaurant, leave around 10% of the bill for the wait staff. Be sure to give your masseuse 100 THB in cash after your massage.
---
In Phuket, the locals use the official Thai language. However, some also speak a Southern Thai dialect. In the more tourist-focused areas, many can communicate in English. Speak clearly and be patient if you're asked to repeat yourself, or if you need to ask others to say something one more time. Make a good impression by learning a few phrases in Thai.
---
Phuket food and drink
As a popular holiday destination, you'll be spoiled for choice when looking for something to eat among Phuket's food and drink offerings. Pick from street food stalls in the markets to high-end restaurants inside resorts, depending on your tastes and budget. Generally, you'll get to enjoy fresh local ingredients – especially seafood – when picking your dish. Thai food is famed for balancing salty, sweet, and sour tastes. They also like to cook with a lot of chilies, so if you're not keen on spicy food, politely ask for a milder option.
Love your food? Then a trip to Phuket food markets are a must. Patong market is a great example of a vibrant, colourful Phuket food market. Here, you'll be able to enjoy everything from sliced fresh fruits to grilled meat skewers. Make sure you try the dim sum, fishcakes and flat breads too. For those with a sweet tooth, there's ice-cream as well.
---
Phuket Bars and Nightlife
Bangla Road is one of the most famous areas for experiencing the nightlife and bars Phuket has to offer. Small lanes (known as soi) lead you to an array of lively watering holes. There will be plenty of exotic cocktails on offer, or if you prefer a more local taste try some of the area's beers like Chang and Phuket lager.
---
Phuket Restaurant Precincts
There's no shortage of dining options among the Phuket restaurant precincts, so you'll be able to satisfy all your food cravings. Add a sea breeze to your seafood experience when dining at the floating restaurants just off Learn Hin Pier. In a noodle mood? Then enjoy slurping noodle soups from one of many Phuket Old Town eateries.
---
When you need a coffee in Phuket, your best bet is to head towards a popular tourist site. Here, you can expect to find both familiar chains and indie cafes. As well as coffee, expect to find desserts on offer. Top tip: try the local mango with sticky rice, or on a hot day pick up a flavoured ice treat to cool you down.
---
Where to shop in Phuket?
If part of your holiday budget's set aside for Phuket shopping, start your retail adventure in one of the shopping centres. Here you'll find local labels and more recognisable international brands – perfect for picking up any last minute holiday items. Go beyond the malls and into the Old Town district and you'll discover small antique shops and those all-important souvenirs, as well as clothing and crafts. Open-air markets are also a big deal in Phuket, especially in the cooler evenings when streets become vibrant Phuket shopping destinations. Finally, for an extra holiday treat, why not opt for a bespoke experience by visiting a tailor and having some well-fitted, custom-made clothes to take home?
To beat the heat, many Phuket markets open after sunset. When they do, you'll find the best bargains on clothing and accessories. If you're looking for souvenirs, check out the Walking Street Market in Phuket's Old Town, or for trendy fashion and a bohemian vibe take a trip to Chillva Market. At any night market, you'll find street food vendors, so grab a bite to eat before indulging in retail therapy.
---
Tailor-made Clothing in Phuket
You should definitely add tailor-made clothing to your Phuket shopping list. You'll find tailors who specialise in suits, shirts, coats and formal attire for both men and women around the Patong and Kata beach areas. Expect reasonable prices for good-quality material, but just make sure you have your outfit measured and ordered in enough time for you to take the finished article home.
---
Looking for the latest fashion pieces in Phuket? Discover local and international brands inside the Jungceylon and Central Festival centres. They're a shopper's paradise, especially since they're air-conditioned. Be sure to drop into a Jim Thompson store for some high-quality Thai silk clothing.
---
When is the best time to travel to Phuket?
The weather in Phuket is warm year-round, with temperatures ranging from 22°C to 34°C. Unlike Australia with its four seasons, Thailand only has three distinct seasons: wet, cool, and hot. Despite its tropical location, Phuket doesn't experience a lot of monsoons. Downpours will generally pass and be followed by more sunshine soon after. While the best time to travel to Phuket is from December until March, you can still enjoy visiting these islands during the low season. Some surfers prefer going around September, as the waves are higher. Whenever you decide to travel to Phuket, the weather will tend to be reliably warm.
What is Summer like in Phuket?
Coinciding with the Australian summer, the Phuket high season is from November until February. There are cool breezes that make these tropical islands feel a little less humid. While it's rare for monsoons to happen during this time, a rain shower or two might occur during your visit. Appropriate clothing: Swimwear on the beach, a shirt and shorts while going around town. Don't forget: An umbrella can be used as shelter under the sun, as well as from rain.
---
What is Winter like in Phuket?
Phuket's low season starts in June and ends around October. During this time, the beaches will be less crowded and the seas themselves are a bit rougher. As in Australia, avoid swimming when red flags are flying. Appropriate clothing: Carry a light jacket to layer up should you be caught in a sudden downpour. Don't forget: Waterproof cases for your devices.
---
What is Autumn like in Phuket?
From March until May, the islands slow down as the Phuket temperature warms up to highs of 34°C. Visit now and you can still enjoy some snorkelling until April, while the sea is more placid and before the thundery, rainy season arrives. Appropriate clothing: Loose but conservative clothing is best when visiting temples. Don't forget: Buy cold bottled water from convenience stores to keep hydrated.
---
What is Spring like in Phuket?
September and October are still part of the low season, as monsoons can blow through the region. Undeterred, surfers often hold competitions at Kata Beach around mid-September. By November, Phuket's high season starts up again. Appropriate clothing: Waterproof footwear and jackets to help keep out the rain. Don't forget: Sunscreen and hats, as September and October are often the hottest months.
---
How to get around Phuket
From the traditional Thai tuk-tuks to the multipurpose minibus, there's a wide selection of Phuket transport options. Getting around the main island of Phuket is simple, too. It doesn't take much to arrange a visit to Patong Beach in the west before going to Chalong Bay in the east by jumping on a bus or hailing a taxi. Alternatively, hire a car or motorbike to get around Phuket at your own speed. Walking the island is also an option. Some tourist attractions are within strolling distance of one another and other locations on the surrounding islands are only accessible by foot. Just make sure you bring some comfortable, sturdy shoes!
From the airport, you can take a Phuket taxi with fixed fares depending on your destination. To get the fairest price, make sure your driver has the meter turned on. Some taxis are un-metered. In this case be prepared to bargain for the cost of your ride and make sure both parties agree to the price before setting off.
---
Phuket Car and Scooter Hire
Phuket car and scooter hire companies will ask for your passport, Australian driver's licence, and an International Driving Permit. Make sure you bring these documents as well as photocopies. You can rent a car straight from the airport or your hotel. Scooters are favoured by the locals, but if you prefer your bikes to be bigger you can hire 500cc motorbikes and dirt bikes for longer or off-road adventures. Always make sure your travel insurance covers you riding a motor bike or scooter.
---
If you visit Thailand, you have to ride in a traditional tuk-tuk at least once! There are always plenty available, but make sure you agree on a price with the driver before you leave. Other Phuket public transport options include the air-conditioned minibus and the open-air song taew (local bus). These buses have specific destinations, but you can ask to be dropped off anywhere along the route.
---
Walking around Phuket is a great way to see what this beautiful island has to offer at your own pace. There are organised walking tours will give you an overview of the history and highlight any interesting locations, especially in the Old Town district. You can also opt to walk on your own and explore the path less taken. Be sure to wear a hat, sunscreen, and comfortable footwear.
---
What are the best beaches in Phuket?
There are more than 30 Phuket beaches to choose from, so you should be able to discover more than one paradise that suits your holiday beach needs. Some are perfect locations for people-watching, while others are more secluded. It's easy to spend several days of your holiday swimming in the sea, lounging in the sun and getting massages. There are also smaller islands close to Phuket that are prime for exploration. Either head over to them on a day tour, or take a little more time by staying in a resort for a night or two. Either way, this playground of exotic islands is best seen by kayak so you can easily explore the many sea caves.
As the most famous Phuket beach, expect plenty to see and do in and around Patong Beach. By day, you can enjoy the 3 kilometres of white-sand beaches and clear blue water. Once the sun goes down, revellers will start to fill the bars and clubs in nearby Bangla Road. Expect a lively social scene that illustrates why Phuket is such a popular travel destination.
---
Blend excitement and relaxation by heading to Karon Beach. Take a cooling dip in the sea and make sure you grab your snorkelling kit to enjoy the area's exotic marine life. Back on land, you'll be well-catered for in terms of dining and shopping, plus the area's nightlife offers plenty of bars and lounges that have a more relaxed feel compared to Patong.
---
Nai Harn Beach lies at the southern end of Phuket Island. A nearby yacht club means no shortage of white sailboats on the horizon while you swim in the blue waters. Want something more from your time in the sea? Then nearby Ao Sane and Ya Nui offer great snorkelling. This is also the place to come if you're craving the tastes of home – Western-style restaurants provide familiar dishes.
---
Around 90 minutes from Phuket by boat are the Phi Phi Islands. Book an excursion and discover the limestone cliff faces, green jungles, and clear waters that provide some of the most beautiful beach landscapes in the world. It was even the backdrop for film The Beach starring Leonardo DiCaprio. Spend time exploring all that Phi Phi has to offer by staying in the Koh Phi Phi Don area.
---
Head to Surin Beach if five-star luxury is the only way you travel. High-end accommodation options provide comfort and style that puts you close to the beach. Indulge in a beachside spa treatment, especially the famous Thai massage, while you relax on golden sands. When it comes to eating out, expect fine-dining that offers seafood and traditional Thai dishes.
---
The current requirements for travelling to Phuket
Talk to a Phuket Travel Expert
Our dedicated team of experts know all the ins and outs of travel and love sharing their knowledge. If you're looking for help planning specific sections of your trip or full itinerary planning, our team is ready and waiting to help create your perfect holiday.
Enquire now