Alaska, lovingly dubbed "The Last Frontier", is a firm favourite for a family snow holiday – but it delivers so much more than just skiing, snowboarding and other exciting winter activities. Whether you're hopping aboard a train on the Alaska Railway, hiking in the shadow of the majestic Chugach Mountains, or attempting dog sledding, there are countless unique experiences to be had. This picturesque destination truly deserves a place on your travel bucket list.  
Need ideas for planning your Alaskan escape? Dive into our Alaska travel guide for tips on making your visit unforgettable.  
Alaska quick facts
Beverages
Bottle of Coke/Pepsi (330ml)
AUD $3.51
Currency
United States dollar
AUD $1.00 = USD $0.65
Eating out
Restaurant meal (casual dining)
AUD $30.30
Electricity
Plug type: A
2 or 3 pins • 120V
Where to stay in Alaska?
Alaska is split into five regions, each with its own unique appeal: the Inside Passage, Southcentral, Interior, Arctic and Southwest. Got your sights set on glaciers, fjords and views of the Pacific Ocean? Then the Inside Passage (also known as the Southeast) is for you. Southcentral is home to the city of Anchorage, one of the main tourist hubs with an array of options when it comes to daytime activities, along with excellent nightlife and entertainment. Keen to steer clear of crowds? Aim for the Arctic region (also known as the Far North) and its sprawling tundra vegetation. The Interior is the literal heart of this state and home to its tallest peak, Denali, as well as a rich diversity of wildlife. Finally, the Southwest is a great base for both history buffs and nature lovers.
On a budget? Get comfortable at the Best Western Country Lane Inn. It's a no-frills accommodation option but promises world-class service and hospitality. The Landing Hotel is another budget-friendly choice, right across the road from the Inter-Island Ferry and the Alaska Marine Highway Ferry Terminal. But the best way to see the Inside Passage? On a cruise ship!
---
Rustic resort, Chena Hot Springs Resort offers access to plenty of natural hot springs and an enthralling Aurora Ice Museum. Along with a lodge, suites and cabins, there's also a camping ground for tents and RVs, and a number of Mongolian-style yurt tents for rent. Aurora Villa is a 4.5-star luxury guesthouse and a prime Northern Lights viewing spot. The floor-to-ceiling windows make it possible to witness the magical spectacle from the comfort of your bed or sofa!
---
Anvik River Lodge is a remote, full-service fishing lodge, ideal if you're looking for a tranquil escape and beautiful river views. Or head over to the Beaver Creek B&B for warm hospitality in Dillingham in the Bristol Bay area.
---
Brooks Camp is a go-to for eco-focused tourists, located on the North Slope in Prudhoe Bay. Then there's Waldo Arms Hotel, drawing in travellers from far and wide thanks to its once-in-a-lifetime polar bear viewing opportunities and affordable rates.  
---
Things to do in Alaska
Not sure what things to do in Alaska because there seem to be so many? Who can blame you! We've done our best to round up some favourites to add to your itinerary.
Witness the Northern Lights
Alaska is THE go-to place to see this shimmering spectacle in the sky. Visible from late August right up until late April, the Aurora Borealis the result of particles from the sun's atmosphere colliding with gaseous particles in the Earth's atmosphere. While there are plenty of places to go to if you're keen to catch a glimpse (of course you are!), most experts agree that the best possible location is Fairbanks, just under 200 miles (almost 322km) south of the Arctic Circle. Prefer to observe this natural phenomenon away from the crowds? You'll likely have a quieter time viewing the Northern Lights if you head for a remote village, such as Utqiaġvik or Prudhoe Bay.
---
Appreciate nature at Denali National Park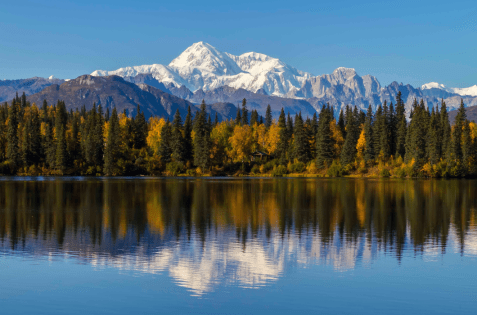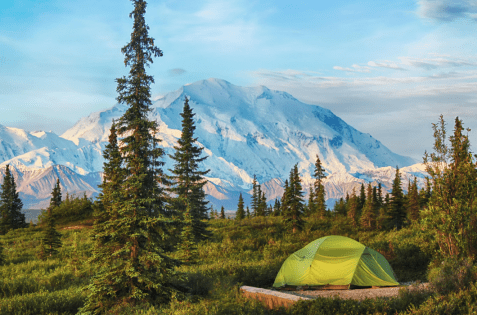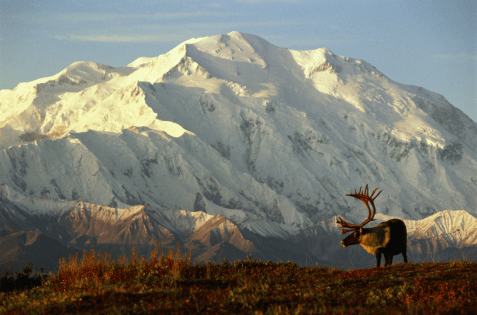 The national parks are just one of the reasons to get to the USA as soon as possible – and Alaska happens to be home to some of the largest and most populated (with wildlife!) in the country. Denali National Park is a must-visit in The Last Frontier. It spans six million acres (2,428,113.853 hectares) and is home to a variety of wildlife like caribou, moose, wolves, black bears and grizzly bears. Make the most of the park by cycling along the Denali Park Road or camping to really immerse yourself in this incredible landscape. Be sure to spend time at some of the other beautiful national parks, such as Katmai National Park and Preserve and Wrangell-St. Elias National Park and Preserve (the biggest in the USA).
---
Stroll through the University of Alaska Museum of the North
You can't complete a trip without exploring a bit of local art, right? Well, make sure to stop-off at the University of Alaska Museum of the North. It's one of the state's best-known art galleries, featuring a permanent collection of over 4,000 artworks, and it's also where you'll find Rose Berry Alaska Art Gallery, home to a variety of Alaskan art spanning 2,000 years.
---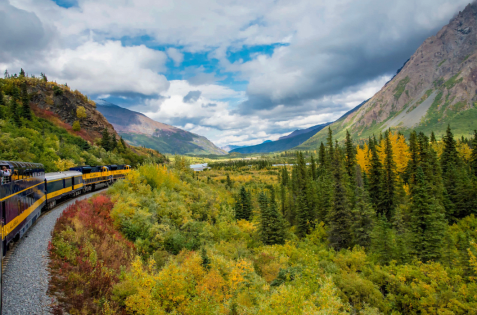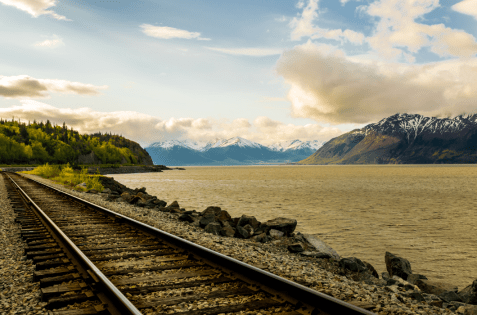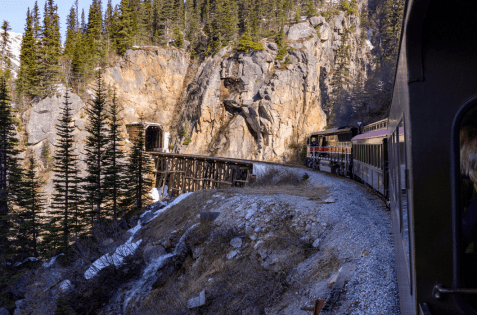 There are many ways to appreciate the untamed beauty of Alaska, and on a train chugging along the famous Alaska Railroad is among the best! There are five trains and five respective routes to choose from depending on your preferred final destination, including downtown Anchorage, Fairbanks and Denali National Park, to name just a few. Take in views of breath-taking landscape of glistening glaciers and towering mountains, keeping your eyes peeled for wildlife as you pass, all while revelling in five-star comfort.
---
Marvel at the Chugach Mountains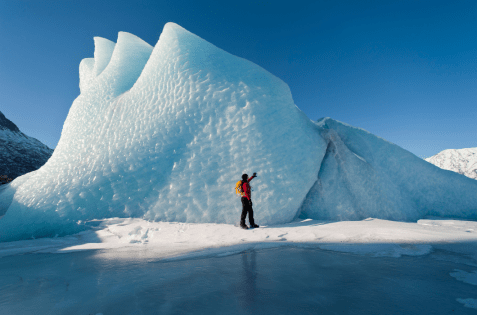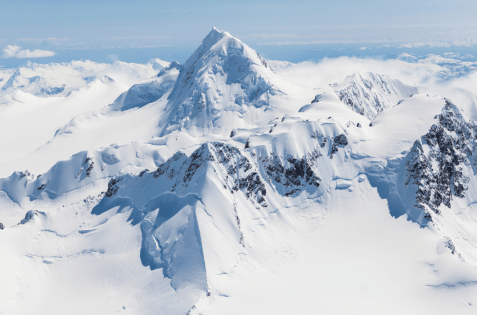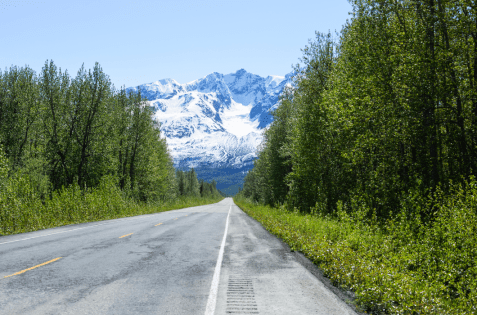 While there are certainly heaps of natural wonders throughout Alaska, the Chugach Mountains are right at the top of the list. This beautiful mountain range is found inside the Chugach State Park, which is a hub for winter activities, including hiking and snowmobiling. Take holiday photos here to make everyone back home envious!
---
Alaska food and drink
Thanks to its expansive lakes and coastline, Alaska is known for its fresh seafood. Of course, there are loads of other lip-smacking delicacies to try, from juicy reindeer sausage found at practically every streetside stall to tart wild berries foraged by a chef and generously sprinkled atop your creamy dessert at a five-star restaurant.  
Alaska is crammed with world-class restaurants, but it's those restaurants with a spectacular view that really stand out. On top of Mount Alyeska, Seven Glaciers at the Alyeska Resort is just one of these restaurants promising a feast for both the taste buds and the eyes. Aptly named, it's possible to marvel at a total of seven glaciers from your table, all while savouring the three- to four-course prix fixe chef's tasting menu (prix fixe meaning set price, many courses). Looking for something a little less fancy and more affordable? Watch the fishermen hard at work at Ship Creek in downtown Anchorage while munching on a reindeer hotdog courtesy of Red Umbrella Reindeer.  
---
The street-food trend is booming throughout the whole of the USA. In Alaska, it's easy to find vendors stationed on most busy streets, but it's also a good idea to stop by a market, especially if you're visiting during the summertime. Anchorage Market is the largest open-air market in Alaska and home to its most sought-after street food, including mouth-watering fudge and oven rolls. And keep your eyes peeled for the "Big Mac" of street food – the reindeer hotdog. There's a reason it's mentioned twice in this list – it's an absolute must-try!
---
You can't visit Alaska without diving into a classic baked Alaska (a moreish sponge cake with ice cream, covered in meringue). While most restaurants serve it as dessert, you'll likely find baked Alaska the tastiest when bought from a bakery. The Bake Shop in Girdwood is a long-standing go-to for sweet and savoury treats, including Alyeska sourdough bread and sourdough pancakes. Then there's artisan bakery, Lulu's Bread and Bagels in Fairbanks, chockful of decadent doughy delights and delicious desserts.
---
Where to shop in Alaska?
From expansive shopping centres to open-air markets, it might not be Paris or Milan, but it's still easy to find ways to spend money on special holiday souvenirs when travelling through Alaska!
Get those steps in and shop 'til you drop at the five-level Anchorage 5th Avenue Mall. No matter what you're looking for, you're bound to find it here from high-end fashion to cosmetics, sports goods to jewellery. If you're in Fairbanks, Bentley Mall, with a solid 27 stores will do the trick.  
---
Speciality souvenir stores
Get your hands on special gifts and souvenirs for a loved one back home when you pop in at the Great Alaskan Bowl Company. It's a family-owned business specialising in the creation of beautiful, handmade wooden bowls using the wood from Alaskan birch trees. Then there's the Oomingmak Anchorage Cooperative, where you'll find original Alaskan qiviut handknits.  
---
The locals love scoping out bargains at open-air markets in Alaska, and there's no doubt that you'll have a blast doing the same. Visit Anchorage Market to explore more than 100 stalls selling a variety of goods from clothing to fresh produce and everything in between. Visiting during the festive season and keen to dive into the Alaskan art scene? Shop for an original gift created by local artists at the Christmas Arts & Crafts Emporium. 
---
When is the best time to travel to Alaska?
The best time to visit Alaska depends on your itinerary. If you're keen to explore the sights, stroll through art galleries and mingle with the locals, then summertime will be a great time. Aim to book your flights between mid-June and mid-September. 
On the other hand, if you're looking forward to winter activities like skiing and snowboarding, then you'll need to plan a winter or spring getaway. Between November and April is ideal (also perfect for catching a glimpse of the Northern Lights!)  
In terms of the "best" month to visit Alaska, many locals will agree that it's July. This is a time when the weather is at its finest, wildlife is active and there are plenty of hours of daylight to squeeze in as much tourist-y stuff as you can. Be warned, though: this is peak season, so accommodation is likely to be slightly pricier.  
How to get around Alaska
There are so many unique approaches to getting around in Alaska, from ferry to "bush" plane, and of course iconic ocean cruises. It all depends where you're going and how you'd prefer to get there.
As mentioned, the Alaska Railroad is a fantastic option for travelling through the state, and there are loads of destinations to choose from. The trains will take you there in style, while serving up some stunning scenery along the way.
---
There are ferries across Alaska that operate along the Alaska Marine Highway. This ferry system covers a total of 3,500 miles (5632,704km) of coastline and stops at 35 ports. Check online for up-to-date schedules and to make bookings.
---
Want total freedom when getting around in Alaska? Car rental is a fantastic idea. Keep a look-out for great deals leading up to your trip.
---
Since at least three-quarters of the state is inaccessible by road, "bush" planes are key to intrastate travel. If you're planning to visit a remote area, you've got the choice of chartering a plane or hopping aboard a scheduled flight (the latter is obviously more gentle on the wallet). 
---
Cruising is huge in Alaska – and it's easy to understand why! It's the perfect way to enjoy views of the glaciers and admire the unique beauty of the landscape. You can also get off during your journey to do some sightseeing. There are various cruise lines and vessels to choose from when considering an Alaskan cruise, many of which offer round trips and tours.
---
Ski and snow in Alaska
Jaw-dropping views? Check! Heaps of snow? Check! A variety of luxurious ski resorts? Triple check! Although it's known for snow, you'd be forgiven for thinking of Alaska as a wildlife mecca over a ski slope one, as it often takes a backseat to other popular North American ski resorts. The good news is skiing is undoubtedly the most popular winter activity on offer within the state, and you don't have to be an expert to enjoy it. Here's what you need to know.
Ski season in Alaska varies from resort to resort, but typically takes place from late November until the end of April. Remember that hours of daylight are significantly less in the middle of winter, so the ideal time for a skiing holiday is between February and April.
---
You'll need some ski-friendly attire and gear to ensure a proper experience and a great time on the slopes. Luckily, there's no need to splurge on the latter before you're even sure whether you'll enjoy skiing! You can hire gear at most ski resorts such as Alyeska including skis and snowboards.
---
 Alyeska Resort is probably the "ultimate" ski resort in Alaska. It's the biggest, receives over 40 feet (around 12 metres) of snow per year and is conveniently located less than an hour away from downtown Anchorage. Looking for a ski spot even closer to Anchorage? The Arctic Valley ski area is just 10 minutes away, boasting 25 runs over more than 500 acres (202,343 hectares) of land. Eaglecrest Ski Resort is another go-to, especially for family holidays due to the majority of its runs falling into the beginner or intermediate categories.
---
The current requirements for travelling to Alaska
Talk to an Alaska Travel Expert
Our dedicated team of experts know all the ins and outs of travel and love sharing their knowledge. If you're looking for help planning specific sections of your trip or full itinerary planning, our team is ready and waiting to help create your perfect holiday.
Enquire now