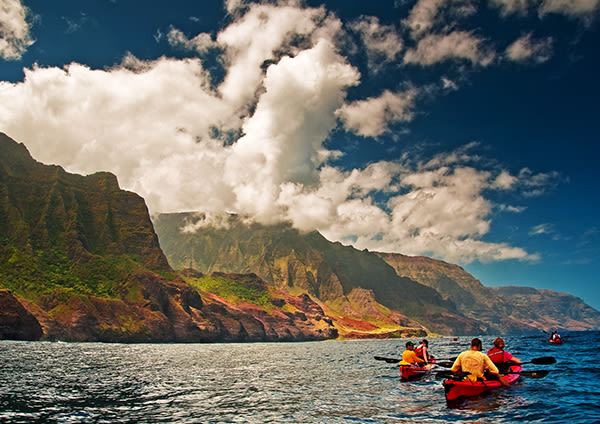 Kauai is the compact Hawaiian island that packs a mighty punch. Also known as the Garden Isle, Kauai is blessed with some seriously swoon-worthy mountain scenery, beautiful beaches and wild waterfalls that beg to be explored. Once you've settled in to your digs, lace up your hiking boots and head to Waimea Canyon, one of the must-see attractions on the island. Also known as the Grand Canyon of the Pacific, this incredible natural wonder boasts breathtaking views and hiking trails that will take you on an adventure through Kauai's rugged terrain. For a truly memorable holiday experience, the kind you tell your kids about for years to come, take a boat – or better yet, helicopter – to get a glimpse of the Napali Coast, where jagged cliffs meet turquoise waters. Photos rarely do the Napali Coast justice so you'll just have to trust us on this one. Those who can't resist a waterfall have come to the right place. Kauai is home to some of the most spectacular waterfalls in the world, including Wailua Falls and Opaekaa Falls. Take a dip or simply marvel at their beauty from afar. When it comes to accommodation, Kauai has no shortage of options, from budget friendly to luxury resorts offering world-class amenities and services. Whether you're booking a romantic getaway for you and bae or a family vacation for the whole tribe, you'll find the perfect retreat to make your stay unforgettable. Talk to our team of travel experts today about our Kauai holiday packages and deals to get started.
Deals with your name on them...
Explore holidays by interest
Frequently asked questions
How many days in Kauai do you need?
Kauai is a pretty compact island, so if you're really willing to pack it all in, you could see the bulk of Kauai's sights in four days, but what's the hurry? You're on island time now. If you could stretch it to a week, that would give you more than enough time to chase waterfalls, explore Waimea Canyon and lay by the pool with a cocktail in hand.
---
What to take on holiday to Kauai?
What to pack depends largely on your itinerary, however, as a general guide pack your sense of adventure, some comfortable shoes or hiking boots, a rain jacket, lightweight clothing and a swimsuit.
---
Where to go on holiday in Kauai?
Kauai is a tropical island paradise that is teaming with incredible adventures and wildlife. For breathtaking views, Waimea Canyon is a must, as are Na Pali Coast, Uluwehi Falls (also known as Secret Falls), Limahuli Garden and Preserve, Fern Grotto and sunset at Kekaha Beach. 
---
How to find the best holiday package to Kuai?
Sign up to get the hottest deals sent straight to your phone & emails here. You can also check out our deals online, or speak to one of our Travel Experts.
---
What is the prettiest part of Kauai?
You know what they say, beauty is in the eye of the beholder. That said, Kauai is home to some undeniably breath-taking sights including Waimea Canyon, Na Pali Coast, Wailua Falls and Hanalei Bay, to name just a few.
---
When is the best time to visit Kauai?
The great news is that Kauai is pretty magical all year-round, however if you're keen to avoid jam-packed beaches, the off-peak or shoulder season between September and December and between April and June are ideal.
---
How do I go about cancelling my Kuai holiday package?
---
...loading
Popular holiday destinations
---
Flight Centre acknowledges the Traditional Custodians of Country throughout Australia.