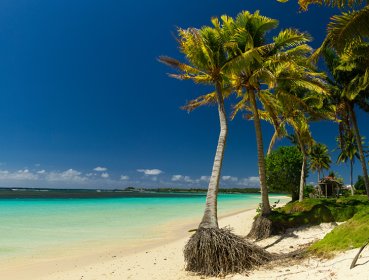 Vanuatu is that perfect mix of wild, untouched paradise and welcoming South Pacific haven. It's known for its breathtaking geological features such as the world's most accessible active volcano, Mt Yasur, and the mesmerising natural blue holes. Vanuatu is also famous for having one of the friendliest populations in the world. Whether you're island hopping via yacht, staying in a luxury resort or travelling on a budget, Vanuatu has myriad wonders that will steal your heart. If you're planning a visit, explore our Vanuatu travel guide and find out how to make the most of your time amongst these beautiful islands. We've collected the best tips from our travel experts, and have all sorts of suggestions for things to do, the best time to travel, where to stay, getting around and more.
Vanuatu quick facts
Beverages
Bottle of Coke/Pepsi (330ml)
AUD $3.21
Currency
Vanuatu vatu
AUD $1.00 = VUV VT78.15
Eating out
Restaurant meal (casual dining)
AUD $17.19
Electricity
Plug type: C
2 or 3 pins • 220V
Where to stay in Vanuatu?
Deciding where to stay in Vanuatu is all about the experience you're keen to enjoy. Most islands offer at least basic accommodation like village stays and family-run bungalows. If you're seeking high-end resorts and the creature comforts of home, the best areas to stay in Vanuatu are probably Port Vila on Efate, and Luganville on Espiritu Santo. These precincts have long drawn the tourist crowd and offer a polished accommodation product. Head a little farther off the beaten track and you'll find options like beachside bungalows and bures, along with private luxury islands like Bokissa and Erakor.
Port Vila offers the greatest range of places to stay in Vanuatu, with resorts lining the township's foreshore. Accommodation ranges from budget to high-end, and is popular due to its proximity to the nation's major airport. There are also a host of boutique and eco-friendly options just outside the township, with further major resorts located on the nearby islands of Iririki and Erakor.
---
The majority of Espiritu Santo's hotels and resorts are clustered around the main township of Luganville, but there are more authentic options to explore. These include village-style bungalows, beachside retreats, and easily accessible resorts on the nearby islands. Whatever your accommodation choice, Espiritu Santo is the opportunity to discover sensational diving, swimming and snorkelling set in stunning natural surrounds.
---
Tanna features a selection of accommodation that varies from rustic beachside bungalows, and upmarket but small-scale resorts to treetop accommodation overlooking Mt Yasur. Although there is a variety of accommodation facilities, services can be basic and this just adds to the charm. Tanna is a spectacular destination where the accommodation provides further experience of the natural, volcanic surrounds.
---
Pentecost Island encourages visitors to get back to basics and explore an authentic island way of life. The accommodation here is limited but welcoming, comprising mainly family-run bungalows made of traditional materials. If you're intending to stay, it's a good idea to bring a few supplies, including drinking water, enough cash, and a gift for your accommodating hosts.
---
Things to do in Vanuatu
Palm-fringed islands, rainforests, remote villages, and rumbling volcanoes make for a lengthy list of enticing things to do in Vanuatu. It's the ultimate destination to sightsee, bask on beautiful beaches, and discover ancient traditions. From culture and arts to snorkelling, shopping and dining out, the activities in Vanuatu share the common thread of warm hospitality against a backdrop of sublime beauty.
Snorkelling and Diving in Vanuatu
The clear, calm waters make diving and snorkelling in Vanuatu one of the major reasons many people are drawn to this island nation. The region features natural coral reefs, temperate seas, and a bounty of wrecks waiting to be explored. Best of all, most are easily accessible from popular destinations like Efate, and Espiritu Santo.
---
Be sure to pack your walking shoes, because Vanuatu hiking offers access to some of the region's hidden gems. Adventures to consider include exploring Mt Yasur volcano on Tanna and hiking into the jungle to experience traditional tribal life in Malekula. Alternatively, the less-visited Vanuatu volcano of Mt Marum also has guided tours.
---
Established in 1955, the Vanuatu Cultural Centre documents the traditions, histories and lifestyle of the ni-Vanuatu people. The centre provides a fascinating insight into the village life, and tribal culture of the regions, with artefacts, hands-on displays, and images. From sand drawing to music, dance, and contemporary arts, this is the place to explore Vanuatu's indigenous culture and heritage, and is located in Port Vila.
---
The bright and colourful Lakatoro Cultural Centre is located in Malekula Island's administrative centre. Although small, the centre offers an introduction to the mysterious culture of this island. In Malekula's rugged jungles, cannibalism lasted longer than anywhere else, and tribal living is still practiced. The Malekulans now proudly share their heritage, and you can gain an insight via the artefacts, cultural objects, and stories on display.
---
Whether it's via a luxury vessel, charter yacht or one-day cruise, sailing Vanuatu is the opportunity to take in all the beauty of the islands from the vantage point of the sea. Discover remote beaches, hidden coves, and uninhabited islands. Vanuatu boasts a thriving sailing industry, with charter and cruise vessels available at Port Vila and Espiritu Santo.
---
Vanuatu sightseeing is simply a feast for the eyes. This is a nation famed for its beauty, and that beauty is everywhere you go. From the milky blue waters of the Mele Cascades on Efate to remote beaches, jungle mists, and cultural highlights such as Ekasup Cultural Village and the National Museum of Vanuatu, there's no end of things to see here.
---
National Museum of Vanuatu
Housed within the Cultural Centre in Port Vila is the National Museum of Vanuatu. Featuring ancient items used by the first people to arrive in the region 3000 years ago, the museum's exhibits also encompass the more contemporary history of Vanuatu. New displays include a World War II exhibition, information on the struggle for independence, and historical and modern art.
---
Vanuatu travel tips
By and large this pacific paradise is a safe and friendly destination, but there are a few Vanuatu travel tips that every visitor should know. As it's located on the Pacific Rim of Fire, the region can be subject to extreme weather conditions. Health services can also be limited, especially on the remote islands, and you should take out travel insurance that covers emergency evacuation. Meanwhile vaccination against Hepatitis A and B, along with typhoid fever, is recommended. In general, the Vanuatu travel advice is to exercise common sense and general caution when it comes to personal safety and securing your valuables.
Vanuatu visas can be obtained on arrival, providing your stay is less than 30 days and you have evidence of a return or onward ticket. You will also need to ensure your passport is valid for at least six months after your planned exit date. Meanwhile it's worth checking any updated visa, currency and customs conditions, as they can be subject to change.
---
Traditional Vanuatuan food uses readily available ingredients like root vegetables such as yams and potatoes, served with fish. The national dish is a baked delicacy called laplap that resembles a smoky potato-like cake, made from breadfruit, taro or yam, cooked in an underground oven with coconut cream, meat and spinach leaves, all wrapped in banana leaves. That may sound simple but it's a true artistic endeavour to create, and is must-try at local markets.
---
Vanuatu Electrical Plugs and Voltage
Like Australia, Vanuatu's electrical plugs and voltage are the three-pin, 220-240 volt variety, so there's no need to buy an adaptor. While in theory that makes charging your camera and iPad a simple affair, some destinations like the more remote islands and villages may have a limited electricity supply that relies on generators or solar power.
---
Vanuatu has three international airports, with the largest being Bauerfield near Port Vila on the island of Efate. This is by no means a flashy international airport, but is the point of arrival for most inbound flights from Australia. It's also where you can catch a domestic flight to the region's other islands, with daily connections to Tanna and Santo.
---
The Vatu is the official Vanuatu currency, but in Port Vila, Australian dollars are also accepted at some hotels, restaurants, and resorts. Credit cards can be used in the major tourism precincts, but you are best to carry local currency for use at market stalls and islands beyond Efate.
---
Tipping is not expected in Vanuatu, nor is it customary. Instead a simple thank you and smile are the best way to express your appreciation. You could also consider offering an appropriate gift, as this fits well with custom and tradition. It's worth noting bargaining is not standard practice, even at the market stalls.
---
Vanuatu boasts an incredible language range, with over 100 native languages spoken throughout the archipelago. Saying that, the official languages of Vanuatu are English, French and Bislama. Most ni-Vanuatu can speak English reasonably well as it's taught in schools. However, remember to speak clearly, as these polite people may too embarrassed to admit if they don't understand.
---
Vanuatu food and drink
Vanuatu food and drink is an integral element of the culture and island way of life. Using plentiful, locally grown fare, traditional cuisine features ingredients like root vegetables, banana and coconuts, and a bounty of freshly caught fish. Local dishes are readily available at markets and in villages, and a must-try is the national dish, laplap. This unique dish is made of breadfruit, taro or yam pound into a dough and baked in an underground oven with coconut cream, meat and spinach leaves. If you're feeling daring, you can also sample the customary drink kava. Meanwhile, mainstream restaurants in the popular tourist precincts cater to western tastes, with a variety of options including Australian and French-influenced cuisine.
Vanuatu food markets are as much a social occasion as the opportunity to select from a bevy of tropical fruit and fresh vegetables. Port Vila Market is particularly popular, and this is a great destination to try local delights like laplap and tuluk. Tuluk is made of a tapioca dough filled with pork and steamed in banana leaves. This traditional Vanuatu food is baked fresh on the premises, with the tantalising aroma wafting through the open-air venue.
---
Port Vila is the major destination to enjoy Vanuatu bars and nightlife, with a selection of options for enjoying the tropical after-dark ambience. Choices include waterfront bars to kick back and relax long after the sunset, and more lively venues that offer live music long into the night. The larger resorts also feature night-time entertainment including Melanesian fire shows.
---
Vanuatu restaurants offer a range of cuisine, destined to satisfy almost every taste. The French influence is evident at numerous upscale eateries, but eastern eats like Korean, Chinese and sushi are also available. Many restaurants cater to the western palate, and there's a host of picturesque waterfront restaurants and courtyards to enjoy the island ambience.
---
Vanuatu through your eyes
Where to shop in Vanuatu?
Vanuatu shopping is an opportunity to discover authentic and handmade wares. This isn't a destination renowned for its boutiques or flashy shopping strips, although resorts are starting to embrace the retail trend. The best place to enjoy shopping is at local arts and crafts markets, but the centre of Port Vila also offers all the necessities you may seek including duty-free items, and supermarkets along with more boutique handicraft stores. If you're looking to buy fresh fruit or sample the local produce, the main market by the waterfront in Port Vila is a must-visit destination.
A variety of Vanuatu markets offer an insight into the culture and creativity of the Vanuatu people. Souvenirs are readily available at arts and crafts markets, which can be found along the shoreline of Port Vila. The busiest days (and higher prices) often coincide with the arrival of cruise ships, so if you're looking to bag a bargain, this is not the time to shop.
---
If you're pondering what to buy in Vanuatu, then popular local items include bead and shell jewellery, woven baskets and mats, woodwork, sculptures, and bright beachwear like sarongs. Just remember bargaining is not a customary practice. It's also worth being mindful of Australian quarantine restrictions as you select any souvenirs. Woven mats and wooden items need to be clean and free from bore holes.
---
When is the best time to travel to Vanuatu?
Renowned for its clear skies and beach-loving lifestyle, the weather in Vanuatu is warm all year round. It's characterised by the drier, temperate months of April to November, and the hot, wet, and humid months of December to March. As the temperature rarely drops below the mid-20s even in the coldest months of the year, Vanuatu is a popular destination in winter and spring for those seeking a sunny island escape. Crowd numbers can swell as a result, with the Australian school holidays considered peak periods. If possible, the best time to travel to Vanuatu is outside these holiday times.
What is Summer like in Vanuatu?
Summer is the height of the wet season, with monthly rainfall averaging over 300mm in January. Like many tropical zones, summer is also cyclone season, and humidity is high at this time. Appropriate clothing : Modest summer beachwear. Don't forget: A sarong to cover up.
---
What is Winter like in Vanuatu?
In winter, the days are generally clear and dry, with pleasant temperatures in the mid-20s. This is arguably the best time to enjoy all the archipelago has to offer as the seas are warm enough for swimming and the days are almost always fine. Appropriate clothing: Knee-length dresses, or light pants and shirts. Don't forget: A light jumper in case the evenings are cool.
---
What is Autumn like in Vanuatu?
Autumn sees temperatures begin to cool off, dropping by a few degrees to average daily highs of 26 degrees in May. In early autumn the chance of a rain shower is still high but decreases throughout April and May. Appropriate clothing: Casual attire like shorts and shirts, or a skirt below the knees for women. Don't forget: Insect repellent to ward off the mosquitoes.
---
What is Spring like in Vanuatu?
Spring continues to offer some of the best weather conditions to enjoy all Vanuatu has to offer. The average daily temperatures reach a pleasant 25 degrees, and the rainfall is at its lowest for the year. Appropriate clothing: Short sleeves for the day, and a long-sleeved shirt at night. Don't forget: A torch if you're travelling to areas where electricity supply might be limited.
---
How to get around Vanuatu
Vanuatu transport is diverse, to say the least. It takes all means of transport to get around this island nation. Most islands feature one or two airstrips, with Air Vanuatu servicing major destinations. There are also ferries and cargo boats to get between some of the islands, but with frequent stops and large distances to cover, this can take a while. If you're sticking to the major islands then mini-bus or taxi is the best way of getting around Vanuatu, and you can also hire your own car on Efate and Espiritu Santo.
There is no official Vanuatu public transport system, with services instead provided by privately owned mini-bus. These buses also don't travel specific routes. Instead, passengers flag one down and tell them where they're going. If you're looking to use local transport, keep an eye out for a red B on the number plate.
---
When you're covering small distances or accessing remote areas in Vanuatu, walking is the best way to get around. Most day trips and tours incorporate at least an element of walking, while exploring and more remote regions may require a decent hike. Walking is also the opportunity to meet the friendly ni-Vanuatu and take in local sights.
---
Vanuatu taxis are marked by a red T on the number plate. At Luganville and Port Vila, they're usually standard sedans. Once you leave the major townships, taxis take the form of rugged 4WDs, with open trays at the back. The taxi trip from Bauerfield airport to Port Vila has a set price, but elsewhere fares need to be negotiated before you set off.
---
What are the best beaches in Vanuatu?
Vanuatu beaches are famous the world over, captured in endless postcards of palm-fringed white beaches and crystal-clear seas. These idyllic beachfronts are easy to find no matter where you venture, but some are more well-known than others. Espiritu Santo is perhaps home to the most spectacular beaches, but truth be told it's hard to pick the best of a highly renowned bunch. Efate and almost every island have their fair share of stunning surrounds.If you're looking to "escape" the crisp white sands, volcanic islands like Tanna offer a striking variation with almost-black shorelines – still framed by endless palms, of course.
Located on Espiritu Santo, Golden Beach is regarded as one of the prettiest on the island. It features creamy sands and clear, calm waters to tempt swimmers and snorkellers alike. It's almost (but not quite) a well-kept secret with no signage at the turn-off, so ask directions before you go. A small fee may be charged for entry as the surrounding area is privately owned.
---
Heralded as one of the best beaches in the South Pacific, Champagne Beach is Espiritu Santo's not-so-secret gem. It takes its name from the effervescent waters that bubble at low-tide like sparkling wine. These are not just any waters either, but tantalising and turquoise against the powdery white sands that lie beneath.
---
Just when you think you couldn't take in anymore waterside beauty, Nanda Blue Hole offers an alternative to endless white sand. Formed by fresh waters rising through limestone, this natural swimming hole is located on Espiritu Santo. It boasts deep blue, almost magical waters, reached through lush green rainforest. A swing, refreshment bar, and picnic facilities are also available.
---
Easily accessible from Port Vila, Paradise Cove is just as the name suggests. This is a beach that offers more manicured beauty than rugged surrounds, with creature comforts like beachside dining available courtesy of a nearby resort. Meanwhile its calm waters provide ample opportunity for snorkelling and swimming, or lazing on the sun-kissed sands.
---
Located on Erakor Island, Coconut Beach is yet another destination that begs to be explored. Erakor is easily accessible by boat from Efate, and provides a welcoming destination to swim, snorkel and relax. The island is also home to Erakor Island Resort, so a chilled drink, long lunch or evening fire show are the natural addition to complete a perfect day at the beach.
---
Lonnoc Beach is on the lengthy list of Espiritu Santo's spectacular destinations. Fine white sands, leaning palms and azure blue seas are the defining features, so be sure to have your camera in hand. Lonnoc is also free to enter and offers the convenience of cold drinks, a waterside restaurant, and kayak hire at the nearby bungalow accommodation.
---
Vanuatu Frequently asked questions
What to take on holiday to Vanuatu?
When you're packing for a trip to Vanuatu, don't forget the essentials like your passport, visa, phone, chargers, camera, sunblock, some Vatu (currency) and the correct power adaptor. From there, we recommend packing a towel, plenty of bathing suits, insect repellent, a hat, flip flops, some walking shoes and a great book to enjoy as you relax by the water. 
---
 Where to go on holiday in Vanuatu?
Wherever you go in Vanuatu, you're bound to be blessed with rugged, isolated beaches, balmy nights with orange sunsets, rich cultural customs, friendly locals, lush vegetation and the chance to slow down and relax. With more than 80 islands, you can take your pick from quaint village visits, volcanic mountain ranges, cascading waterfalls, cerulean blue holes and picture-perfect beaches. Simply chat with a Flight Centre Travel Expert who can recommend the perfect Vanuatu holiday itinerary for you.
---
 How do I go about cancelling my Vanuatu holiday package?
---
 When is the best time to visit Vanuatu?
Vanuatu's tropical climate is a haven for sun-seeking travellers all year round. If you're seeking out the best time to enjoy comfortably warm temperatures, blue skies, crystal clear waters and limited crowds, we recommend heading over anytime between April and October. 
---
What is there to do in Vanuatu?
Spend your days in Vanuatu swimming, snorkelling with colourful marine life and diving to ship wrecks, hiking through lush green rainforests, and snapping pictures in front of active volcanoes. History lovers can learn more about the rich Melanesian heritage and culture, while those needing some RnR can step into the slow lane with relaxing beach days and nights fueled by salty air and midday naps. 
---
 How to find the best holiday package to Vanuatu?
At Flight Centre, we're well accustomed on how to reach maxo relaxo status and make the most of a trip to Vanuatu. Whether you are planning a diving expedition, a relaxing beachside stay with your fam, a romantic escape with your love or a chance to explore the volcanoes, the Travel Experts at Flight Centre can easily curate a Vanuatu holiday package to suit your needs.  
---
The current requirements for travelling to Vanuatu
Talk to a Vanuatu Travel Expert
Our dedicated team of experts know all the ins and outs of travel and love sharing their knowledge. If you're looking for help planning specific sections of your trip or full itinerary planning, our team is ready and waiting to help create your perfect holiday.
Enquire now