6 May 2019
While Hong Kong was recently revealed to be one of the most expensive cities in Asia for fine dining, when it comes to amazing eats in this town there really isn't a need to break the bank. Whether you're on a budget, or just want to get down and dirty with locals and try some authentic street food, anyone can eat like a culinary king in this city on the salary of a pauper - you just need to know what to eat, and where to go. From street snacks and bargain noodles, to delicious dim sum and Michelin-starred (yes, really!) food for next to nix; the dizzyingly diverse food scene here is guaranteed to leave you salivating, and with a whopping 10,000-plus eateries to be found, you won't go hungry.
Eat On The Streets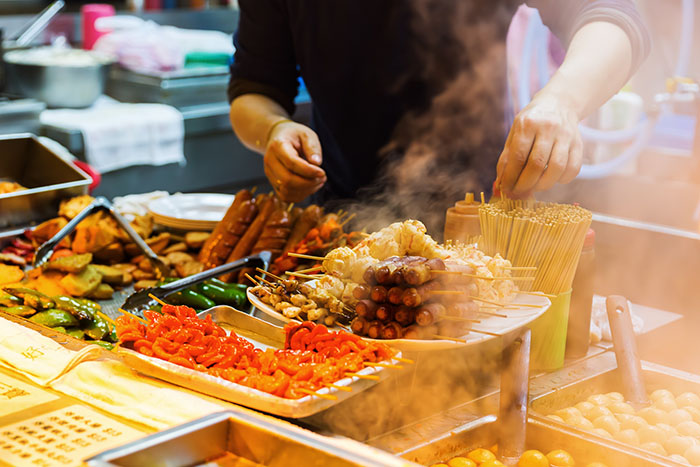 The first port of call for hungry penny-pinchers anywhere in Asia should be street food, and it's the same in Hongkers. Pockets of snack vendors pepper the city, but one of the best is Mong Kok's Dundas Street. The city's most congested shopping and residential district - which makes it the prime location for a truly local dining experience - is a world away from the slick high-end shops and restaurants of commercial Hong Kong. Multiple wet markets  jostle for space alongside speciality streets devoted to everything from goldfish and flowers, to footwear and kitchenware, but it's the food that should be on your radar.  
Here, tiny stalls serve up an A to Z of local favourites. And given their ridiculously low price tag, you can try them all. Curry fishballs are probably Hong Kong's most iconic street snack – nearly every savoury street stall sells these. Springy in texture, the bite-sized spheres bob about in a strong curry sauce before they're skewered on a bamboo stick or ladled into a takeaway bowl for on-the-pavement enjoyment. Other snack staples include steamed siu mai (steamed pork and shrimp dumplings); stinky tofu (fermented beancurd deep fried and usually served with chilli sauce); cheung fun (steamed rice noodles served al dent and smothered with sauce); and for dessert, gai daan zai (also called 'eggettes', essentially egg batter cooked in a griddle until crispy on the outside, while remaining soft on the inside). 
Brave The Bizarre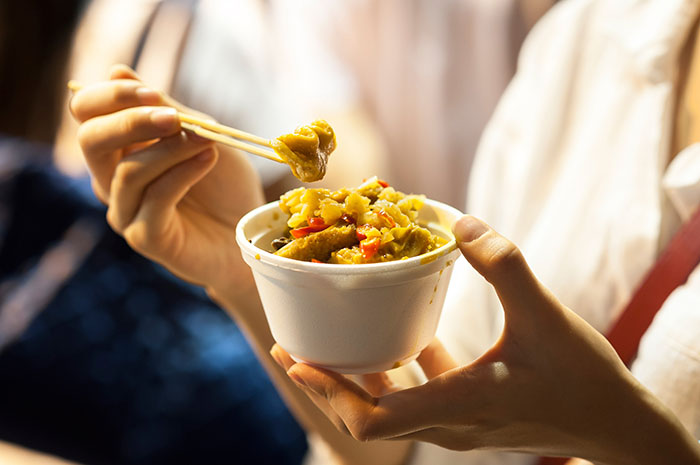 Whilst street snack hopping, gourmands equipped with strong stomachs may want to give some of the more acquired taste local 'delicacies' a try. The Chinese were well ahead of the current paddock-to-plate trend for utilising all parts of the animal that has hit the west. As such, the likes of cow offal (braised in soy until tender) and pig intestine (fried until crisp on the outside and skewered with a dollop of sweet sauce on top). Chicken feet is another snack beloved by Hongkongers. Also called 'phoenix talons' this wallet-friendly dish is fried and then smothered in sauce. 
But perhaps the most unusual culinary adventure is snake soup. Believed to help ward off colds and other maladies, snake meat is medicinal as well as tasty. Head to Shai Wong Hip (shiawonghip.com) in Sham Shui Po to try it. If you're lucky the resident snake catcher will be in residence to hand you one of the (still living) snakes for a photo op before or after you've eaten its kin. 
Slurp Noodles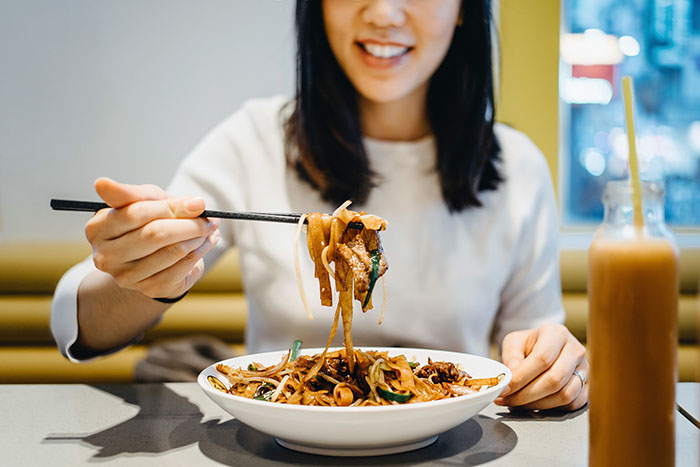 You could eat a different noodle dish every day for weeks in this town and still won't have worked through through all the options. However, the rarest in the city are traditional bamboo pole noodles (called 'jock-sing'). A cooking art form that's becoming increasingly endangered, watching chefs prepare fresh noodles using the age-old bamboo technique is an experience in itself. 
You can still get the real deal at Kwan Kee Bamboo Noodle (kknoodle.com) in Sha Wan. As well as making the yummy noodles the old fashioned way, the owner also uses original recipes from his chefs grandfather. Best of all, you can slurp down a bowl for less than $5.
Munch Michelin Star Food For Next To Nothing
Hong Kong has more than 80 one, two and three Michelin-starred restaurants, however, a few of them are a far cry from what you might expect. In fact, some of the lauded eateries are rustic hole-in-the-wall type joints where you'll get change form $10 after a meal. With one star, Kam's Roast Goose serves one of the city's favourite meats in the best way possible: tender, topped with crisp skin, and accompanied with a sweet plum sauce. Despite having only opened its doors five years ago work has quickly spread and these days there are queues stretching down the street before it even opens. If you're savvy, you can beat the crowds by opting for a takeaway box instead. 
Another winner is the 90-plus-year-old, Kau Kee, which scored a coveted nod for its beef brisket noodles. Rammed at all hours, the tiny noodle shop is admittedly run-down inside, but then it's not a venue for lingering. Given its no-frills aesthetic traffic moves in and out at a frenetic pace, so you shouldn't be waiting too long.
Load Up On Dim Sum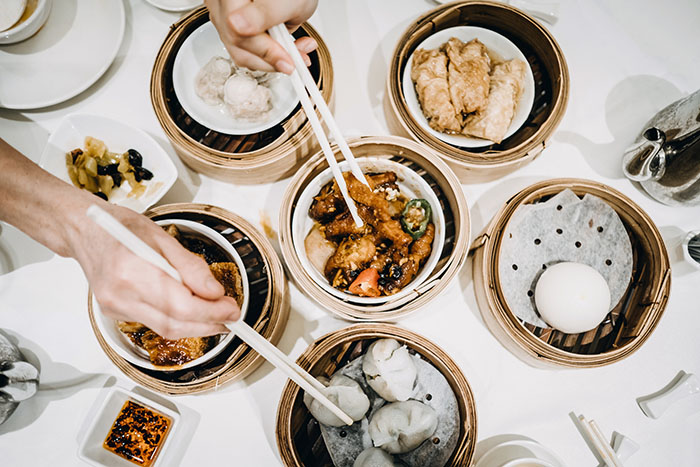 Speaking of Michelin, the Sham Shui Po branch of dim sum chain, Tim Ho Wan (timhowan.com), also holds one star. And while it has been given the nod by the highest food authority on the planet, the interior is decidedly inexpensive and un-fussy.  Skyrocketed to local stardom in 2005 after its barbecued pork buns (char siu bao) were named the cheapest Michelin-starred dish on the planet, the local hotspot doesn't take reservations, so queues start early, but it's definitely worth the wait. Especially given the wealth of lip-smacking, bite-size dim sum morsels or 'yum cha' on offer, from prawn dumplings, to spring rolls. 
For old school authenticity, join locals at City Hall Maxim's Palace (maxims.com.hk) and Luk You Tea House (lukyouteahouse.com), the latter of which has been serving up steaming trolleys of dim sum since 1933.
Breakfast Like A Local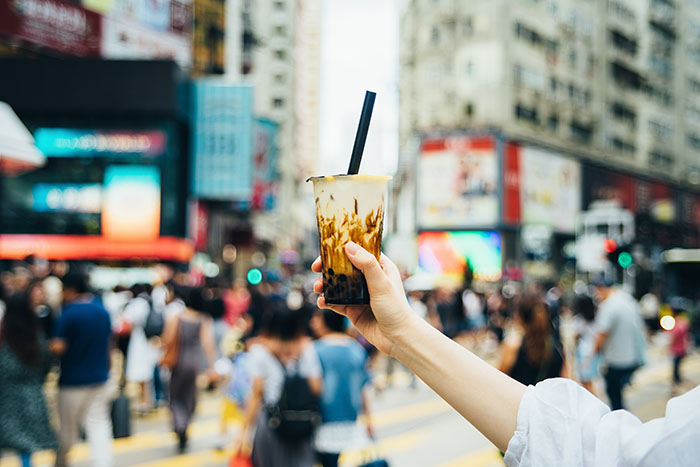 Skip the morning buffet at your hotel and instead do as the locals do and hit up the Hong Kong equivalent of a greasy spoon - a cha chaan teng (literally translated to 'tea restaurant'). A type of common eatery known for an eclectic and affordable menu that's heavy on Hong Kong western-style cuisine, these basic restaurants are far from glamorous, but they are super-cheap, super-authentic, and super-tasty.A typical menu includes scrambled eggs with spam - in fact, spam with everything - white toast and macaroni. 
Lan Fong Yuen is one of the oldest cha chaan teng chains in the city and their original outlet in Central on Gage Street is the most authentic. Pop in for breakfast and you'll see grandmas and grandpas lingering over their newspapers, while cranky old servers take orders. Whatever you eat, make sure to pair it with a glass of Hong Kong-style milky tea - made with condensed milk it's sweeter and creamier than your average cuppa. 
Finish With An Egg Tart Egg-stravaganza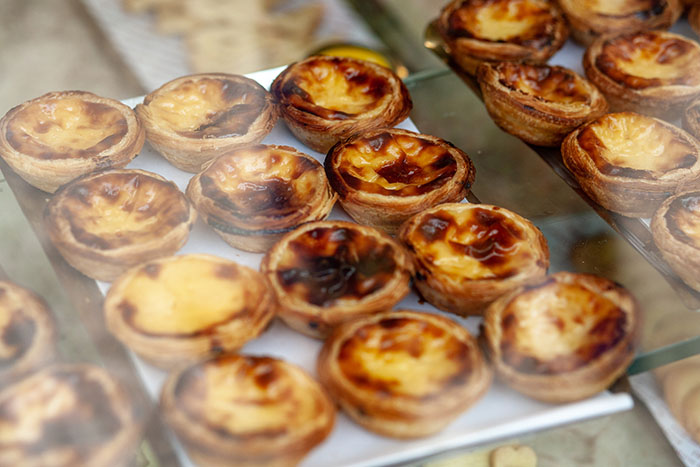 Synonymous with the city, the Hong Kong Portuguese egg tart (also known as 'dan tat') has been a staple dessert here since the 1940s. The classic flaky pastry uses shui pei (pastry made with egg yolks and ice) layered with yau pei (butter pastry) which has been folded over many times and left in the fridge overnight. Tai Cheong Bakery (taicheong.com.sg) is usually hailed as the innovator of this delectable pastry, and has perfected it over the last six decades. Now boasting 14 branches across the city - each attracting masses of customers - it's typical for the bakeries to sell out early, so get in quick. 
---
---
Other Travel Articles You Might Like...