3 December 2018
In Australia's extreme northwest, an area so vast and isolated that large tracts remain untouched, expect the unexpected.
With gushing waterfalls, breaching humpbacks, an inshore reef and some of the world's largest tides, technically, the Kimberley Coast is the outback – just not as you know it.
For six months of the year, during the wet season roiled by thunderstorms that stain the red sandstone gorges and create swollen rivers that spider inland, the Kimberley Coast is inaccessible. But the dry season (April to September) affords the pleasant conditions (read: no mosquitoes) perfect for cruising.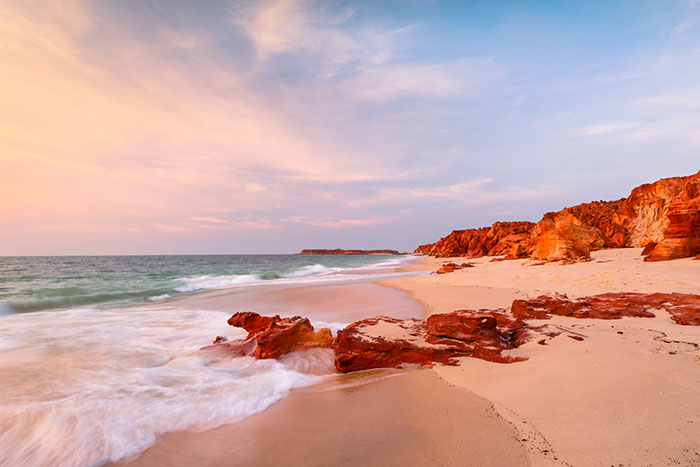 For an 11-day APT Kimberley Coast Expedition cruise from Darwin to Broome, or vice versa, the itinerary weaves in and out of the rugged West Australia coastline like a needle, stitching disparate threads of World War II wrecks, ancient rock art, unique wildlife and awe-inspiring scenery, creating a dynamic and fluid environment.
APT expedition leader Craig Ward
has spent 14 consecutive seasons on the Kimberley Coast, which covers about 13,000km with vast stretches of shoreline only accessible by boat or plane. APT expedition ships carry a maximum of
110 passengers and 10 Zodiac vessels so guests can disembark at the same time.
"We just explore – that's the nature
of expedition cruising," Craig says. "We get out there and go with the ow as it presents itself and Zodiacs are the perfect boat for that."
After an initial day at sea, mornings might be spent Zodiac cruising in the mangroves, spying saltwater crocodiles and bird life; while the afternoon could be spent hiking to a World War II aircraft crash site swallowed whole by the bush or comparing the nuances of ancient Wandjina rock art on Bigge Island.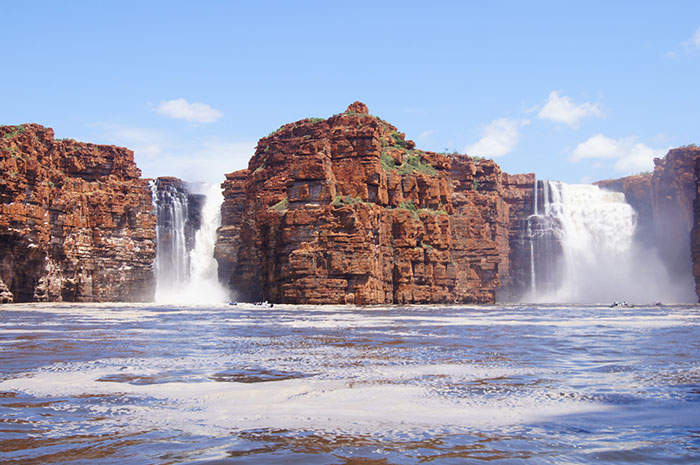 The sight most synonymous with the Kimberley Coast is the impressive 80m twin cascades of King George Falls that have cleaved a path down red sandstone cli s to frothing whitewater.
An optional helicopter flight over the spectacular Mitchell Falls reveals cascades that pool into opalescent waterholes surrounded by ochre cli s.
This freshwater spot is a rare opportunity for a refreshing dip – sans crocodiles.
At Montgomery Reef, the enticing blue waters are populated by turtles, sharks, rays and from mid to late July to the
end of the dry season, you may even spot whales.
"We had an encounter with three humpback whales in the gulf last year
and had to stop the ship, we couldn't go anywhere," Craig remembers. "They came and lobbed around the ship for an hour and a half – it was just magical."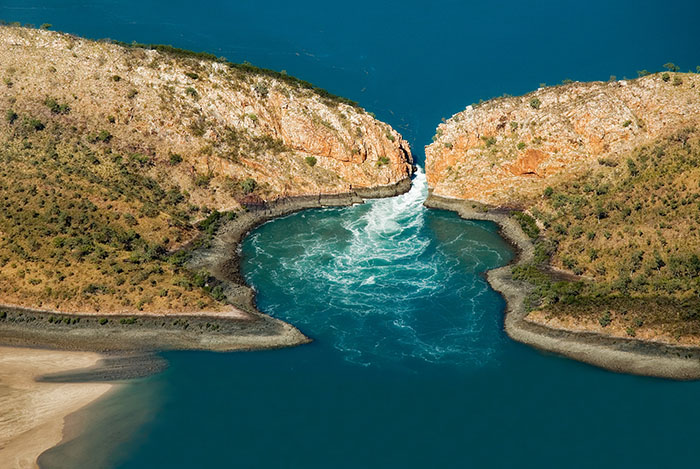 The waters of the Kimberley are sheltered, but 12m tides create the phenomenon of the Horizontal Waterfalls where you can traverse the churning narrow passage on a fast-paced boat ride.
"The Horizontal Waterfalls literally takes people's breath away," Craig says.
Balmy nights spent on the ship's top deck under a canopy of stars provide inner chills and thrills. With zero light pollution on shore, you can trace an illuminated path across the inky sky or wonder at the dancing phosphorescence in the water
as you're enveloped by the darkness and silence of your surrounds.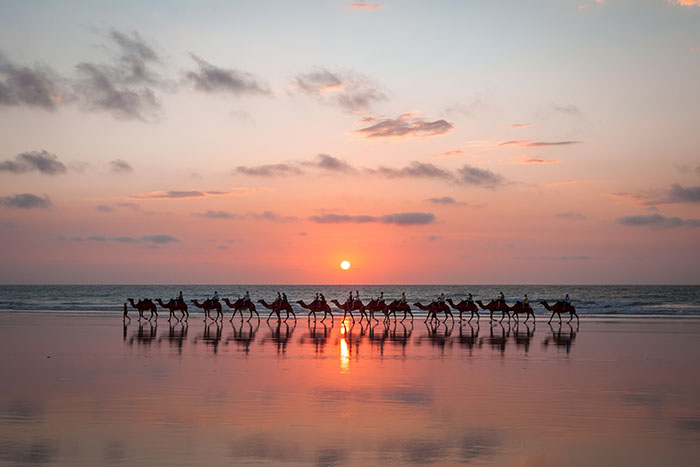 A zoologist who has also authored
a recent book about rare wildlife in the Kimberley, Craig says this region is one of the last true tropical wildernesses.
"It's an absolute haven for wildlife and it's not just beautiful, it's a stunningly visual and textured place," he says. "Guests walk away knowing they've been very fortunate to spend a bit of time here."
This article originally appeared in Flight Centre's Travel ideas: Australia magazine.
---
Explore our Australian holidays here.
---
Other Travel Articles You Might Like...