26 November 2015
Words by Ben Stower
In the third part of our Domestic Airport Transport series it's time to focus on two very distinct capital cities: Adelaide and Darwin.
Both of these domestic airports receive a considerable amount of business travellers, and if you're one of those, this guide can help you navigate your way to the airport.
Refer to part one of the series if you're in Brisbane or Sydney, or part two if you're in Melbourne or Perth.
Adelaide Airport (ADL)
JetExpress & JetBus
Run by Adelaide Metro, JetExpress and JetBus are two dedicated city-to-airport bus services. The former is the fastest service, running express from the city to Adelaide Airport, covering more than 20 hotels and apartments.
JetBus is slightly slower, but it stops at more areas including Glenelg, West Beach and the city. The express bus only operates Monday-Friday, while JetBus can be caught any day of the week.
The city-wide Metrocard or Metroticket can be used on both services, with a single-trip ticket costing no more than $5.20. If you're in Adelaide for a few days, you can purchase a three-day Metrocard Visitor Pass, which grants the use of all public transport along with additional discounts for $25.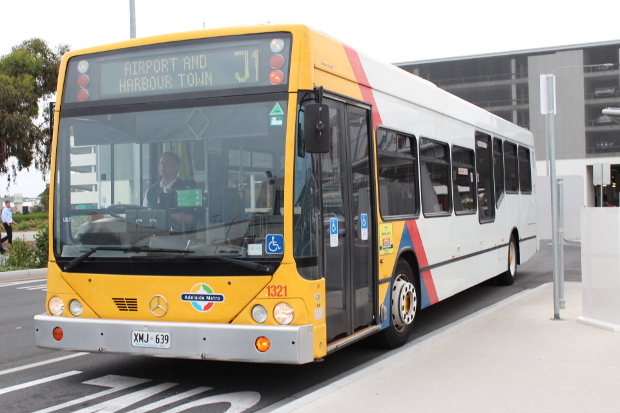 Catch the airport link from Adelaide's city centre (Image: Wikipedia)
Shuttle Bus
The Airport City Shuttle is a cost-effective and convenient transport option, providing a true door-to-door service for most travellers when organised pre-flight.
Bookings are essential and you'll need to pay $10 for a one-way ticket. Group discounts are available.
Taxi/Uber
Catching a cab to the airport in Adelaide is a lot cheaper than in most Australian cities, thanks to the airport being so close to the city centre. A typical ride costs between $20 and $30 depending on exact location.
The drive can often be as short as 15 minutes, but leave yourself an extra 10 or 15 in case of unexpected traffic.
Travellers in Adelaide can also take an uber to the airport for about $50 from the city centre.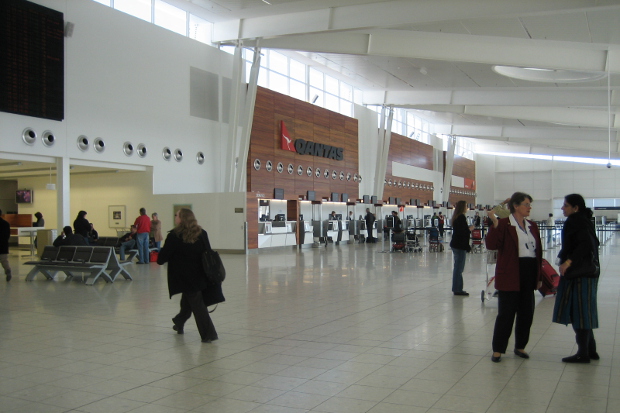 Don't let the wrong transport make you miss your flight (Image: Wikipedia)
Car
Business travellers who wish to drive their own vehicle can take advantage of numerous parking options.
The Terminal Car Park provides the closest proximity at only a few minutes' walk from the terminal. However, it's intended primarily for short-term parking, so costs a lot for multi-day stays: $41 for one day, $74 for two days and $37 for every additional day.
The Long Term Car Park is slightly further away (seven-minute walk), but is also serviced by a free shuttle bus that runs every 20 minutes between 4.30am and 11.20pm. It's more affordable for long stays with parking at $50 for two days, increasing by $10 for every extra day.
Parking can be paid for at the gate or online; the latter being best for securing a spot.
---
Bad at packing? 8 Practical Things You Should Be Packing
Need to save? 10 Ways To Save Money While Travelling For Work
---
Darwin International Airport (DRW)
Darwin Airport Shuttle
Offering reliable, on-time transport to Darwin Airport from almost every city-centre accommodation, the Darwin Airport Shuttle is a popular choice for many business travellers.
The shuttle operates every day of the year and has scheduled services to suit all departing flights. One-way tickets start at $18 for one person, dropping to as low as $12 for bookings of eight or more travellers. Return tickets are also available.
Bookings must be made at least 24 hours in advance, either online or from your phone. Most hotel reception desks are happy to make the reservation for you.
Private transfers are also available in a range of sedans and coaches.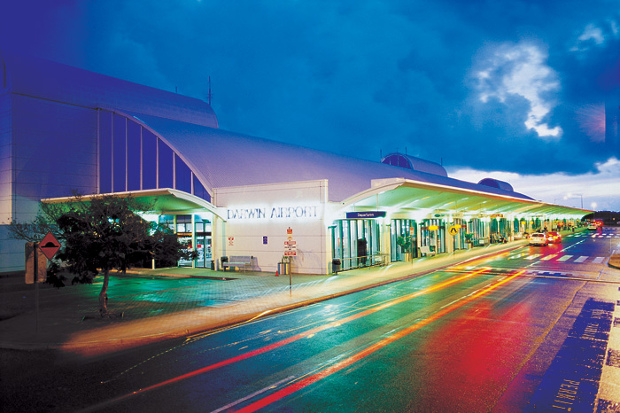 Outside Darwin International Airport (Image: Tourism NT)
Taxi/Uber
Darwin Airport has a covered taxi rank right in front of the terminal, placing you as close as possible to check-in without driving through the front doors. You should pay between $25 and $35 for a cab from the city, which usually takes close to 20 minutes (leave an additional 20 minutes for congestion).
An UberBLACK service costs between $37 and $46, and takes approximately the same amount of time as a cab.
Public Bus
A local bus service runs out of Casuarina Interchange and takes about eight minutes to reach the airport (some walking is required). A single ticket costs $3 and grants unlimited travel for three hours.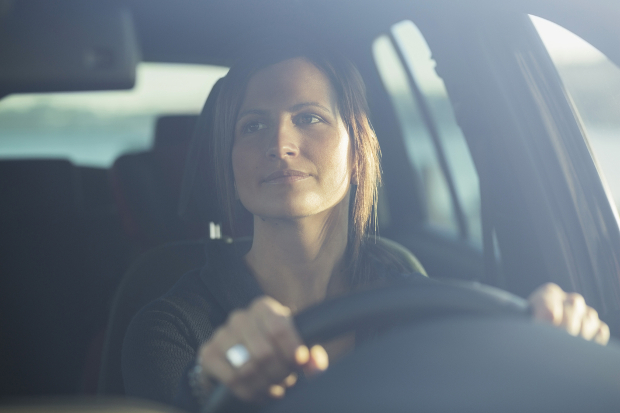 Driving is always an option for locals (Image: Getty)
Car
There are three dedicated parking areas at Darwin Airport, open every day of the year at any time. The Short Stay park places you right in front of the terminal, but costs the most ($65 for a three-day trip).
The Long Stay Plus option is a two-minute walk (200 metres) from the terminal and costs $60 for a three-day trip, while the Long Stay Saver is about 450 metres from the terminal and costs $45 for a three-day trip ($65 for seven days).
A free shuttle bus can also be used to reach the terminal from Long Stay Saver parking.
Other Travel Articles You Might Like...
Request an appointment with a Business Travel expert