13 April 2015
Words by Carlie Tucker
Perfectly packing a bag for a business trip is an art form. It's a coveted skill that many aspire to and it all starts with the right bag. If you've never put much thought into your luggage, you could be missing a vital piece of the business travel puzzle.
Finding the right bag not only ensures a sleek suitcase to suit your style, but also a functional piece that will assist in the quest to pack like a pro.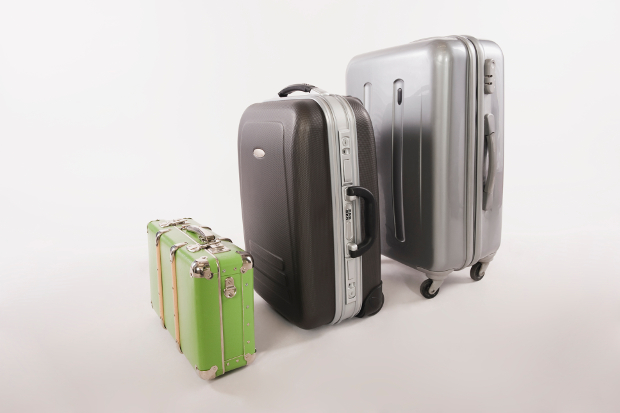 One Size Doesn't Fit All
The first consideration when looking for carry-on luggage is the size. Not only do you want something that is fairly compact, but it must meet specific airline size restrictions. This is especially important as airlines around the world are cracking down on oversized bags making their way onto planes under the guise of carry-ons.
The International Air Transport Association (IATA) dictates that carry-on luggage be a maximum of 56 centimetres (22 inches) long, 45 centimetres (18 inches) wide and 25 centimetres (10 inches) deep. Keep in mind that these are the recommended measurements set by the IATA and can vary from airline to airline, so be sure to check with your airline before each flight. Weight restrictions will also apply:
Airline

Length

Width

Depth

Weight

Jetstar

56cm

36cm

24cm

up to 10kgs

Virgin
2 bags measuring


48cm


34cm


23cm

up to 7kgs total

Qantas
2 bags measuring:
Or 1 measuring:


48cm
56cm


34cm
36cm


23cm
23cm

up to 7kgs per piece

Tiger

54cm

38cm

23cm

up to 10kgs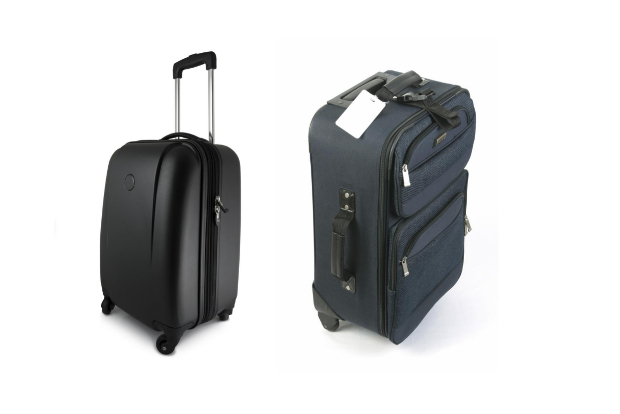 Hard Side or Soft Side?
After considering the size of the bag that you're after, it's on to the type of bag you're after: hard- or soft-side.
Soft bags are definitely more popular with passengers. They're pretty flexible, fitting into tight spaces, and they can be expanded to fit more items when packing. On the other hand, soft-side bags are susceptible to liquids. They're not waterproof, which means they won't protect your items against spills or rain, and they can absorb smells. 
With sleeker bag designs hitting the market these days, hard-side bags are becoming increasingly popular. Often made of composite materials, they are lighter than ever yet still protect your items with a rigid shell. They're also waterproof and can take a bit of a beating if you're ever forced to check them. The hard-sides can make it difficult to fit the bag into smaller spaces and they don't offer outer pockets for electronic devices and travelling paperwork.
Verdict: Soft-side takes this category for us. We've got to have those external pockets.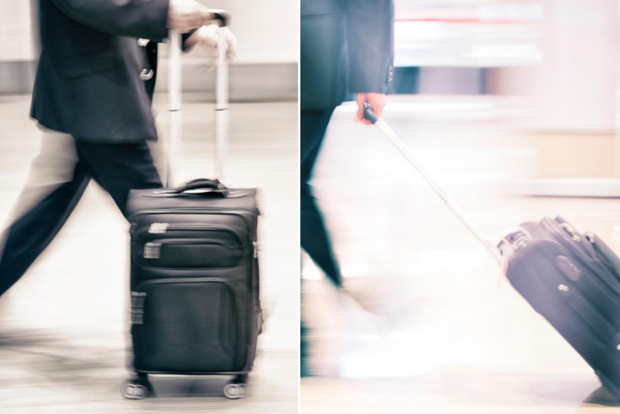 Cruisin' on Four Wheels or Two?
Surprisingly there are a few things to consider when it comes to the wheels on a bag. Firstly, do you even want wheels on your bag? Some travellers find it easier to sling their bag over their shoulder rather than roll it. If you're a light packer or only on the road for a single night, it can often pay to grab a small duffel-style bag that you can easily carry.
If rolling is more your style, the next question is: two wheels or four? Two wheel bags are quicker to get around on rougher surfaces. Stairs and curbs aren't much of an obstacle either. They are only designed to be pulled though, which can slow you down in busy airport terminals. Plus, internal wheel designs can be a disaster if a rock gets sucked up into the wheel.
Four wheeled bags can easily go every which way. Push, pull or slide, you can navigate through crowds without much trouble. Their weight is evenly distributed over four wheels, which means they don't tip over if they're over packed. On the other hand, the external wheels can be a bit tricky when trying to stuff them into an overhead locker, especially if they haven't been included in the overall dimensions of the bag. Four wheeled bags are also more difficult to maneuver up stairs or over rough surfaces.
Verdict: There are travellers that swear by each, but it really depends on your own personal style as to which is better. The best thing to do is try both out in-store. Push and pull until you've found the right fit.
Baggage That Goes The Extra Mile
Travel technology has improved across the board, so why wouldn't baggage now include a sweep of tech savvy benefits that are designed to make travelling that much easier. There are a few additions worth looking into before you purchase:
Charging bags: Companies like Powerbag are now making carry-ons with built-in chargers to top up your mobile devices while you travel. Capable of charging smartphones up to four times, they also come with adapters.
Compression bags: Briggs & Riley's CX has created a bag that will allow you to fit more while packing by compressing your items and extracting air. Gone are the days of trying to stuff over packed carry-ons into overhead compartments.
Scooter cases: If you've ever had to make a mad rush to your gate, you'll certainly appreciate this unique case. It converts into a foot powered scooter so you can hop on and scoot your way to your gate in time for your flight.
Bluetooth bags: Bluesmart bags come rigged up with Bluetooth technology, allowing you to weigh, lock, unlock and track your bag with your smartphone. It also features a built-in battery to charge your phone if need be. 
Images courtesy of Getty
Other Travel Articles You Might Like...