18 March 2015
Words by Carlie Tucker
It's not often that you'll find 'lounging' and 'airport' in the same sentence. While historically portrayed as a stressful rush to get to your gate, airports are now making strides to shed this preconception and become an enjoyable part of the travel experience. 
As these ports are often the first and last impression that travellers have of any given location around the globe, increasingly savvy design is putting an end to the days of uncomfortable seats under the glare of harsh fluorescent lighting. This includes the introduction of top notch lounges. Rounding up the best of the best, this is what it looks like to lounge in style: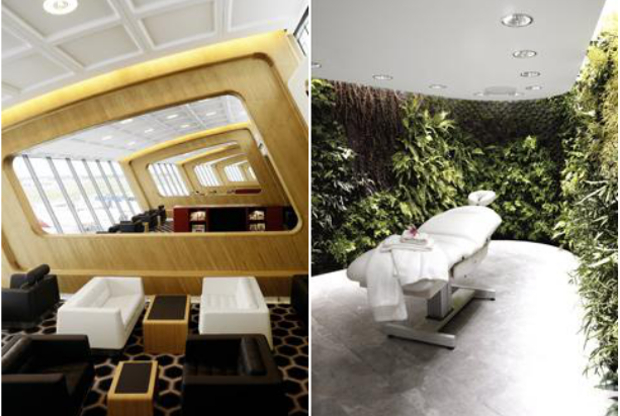 Qantas First Class Lounge – Sydney Airport
Location: Airside, Level 4 (enter on level 3 via escalator)
Hours: 5am to 10pm
Eligible Members: Platinum Frequent Flyers, Emirates Platinum Skyward Members and Emerald oneworld customers with an onward flight operated by Qantas or partnering airline.
Guests: Each eligible member can be accompanied by one guest
Voted Best Airport Lounge for 2015 by The DesignAir, the Qantas First Class Lounge in Sydney is a superb example of forward thinking when it comes to airport lounges.  Even the standard amenities have that special touch. Wooden veneers, lush vertical gardens and plush seating emphasise timeless sophistication, while a sweep of panoramic views over the airport provide a suitably impressive backdrop.
Aside from stellar facilities, Apple computers and WiFi access for business travellers to make the most of their time on the ground, this lounge takes things to the next level with a library, spa, private suites and restaurant dining with a Neil Perry-designed menu.

Image courtesy of British Airways
British Airways The Concorde Room – London Heathrow
Location: Terminal 5
Hours: Daily until final departure
Eligible Members: First class passengers and Silver and Gold Executive Club Members holding a Concorde Room Card
Guests: Each cardholder can be accompanied by one guest
The Concorde Room at London Heathrow serves up a heaping dose of classic elegance. Plush sofas and cushy chairs mix with parquetry panelling, warm chandelier lighting and the occasional fireplace to emphasise a soothing ambience that welcomes weary travellers. If that's not enough to convince you, fantastic dining with waiter service and complimentary Champaign and wine are all enticing additions.
Business travellers are well catered for with state-of-the-art facilities, or you spend any extra moments between flights in one of the private cabanas. Complete with comfy day beds and ensuites, it's a perfect chance to rest up in absolute comfort. Even better, make a few last minute plans with the Concorde Concierge or sip cocktails on the terrace overlooking the runway.
Premium Finnair Lounge – Helsinki Airport
Location: Terminal T2, between Gates 36 and 37
Hours: 6am to Midnight
Eligible Members: Finnair Platinum members, Finnair Gold Members, oneworld Emerald members and oneworld Sapphire members
Guests: Each eligible member can be accompanied by one guest
Finnair offers three different lounges in the Helsinki Airport and all are worthy of mention; though, it's the Premium Lounge that really stands out. Encompassing 400 square metres of space, this area is well-appointed with tranquil mood lighting and felt covered walls that assist in maintaining the quiet calm throughout.
For those that prefer a little indulgence, sample the impressive spread at the buffet, or take a time out in a traditional Finnish sauna. Get busy answering emails and staying on top of work with an entire wall of Apple computers at your disposal. Or, simply pull up a seat in one of the iconic Tulip or Womb chairs designed by Eero Saarinen.

Image courtesy of Virgin Atlantic
Virgin Atlantic Clubhouse – John F Kennedy International Airport
Location: A Concourse, above Gates A4 and A5
Hours: 24 hour service
Eligible Members: Virgin Atlantic Upper Class ticket holders, Virgin Atlantic Gold members, Virgin Australia Gold or Platinum members and Virgin America First Class or Main Cabin Select ticket holders (surcharges apply)
Guests: Eligible members can be accompanied by one guest
Living up to its reputation for glitz, this Virgin Clubhouse incorporates all the glamour of Uptown New York. Decadent interiors combine striking gold lighting features with a curving bar and ultra modern furniture. Designed to suit the needs of all travellers, each space allows you to relax, work or play without restriction.
Business travellers will appreciate the concierge service that allows you to finalise travel plans, print documents or charge your devices. If you'd rather spend a little time unwinding, shoot a game of pool with travel companions or retire to one of the intimate relaxation areas complete with complimentary PJs. 

Image courtesy of Cathay Pacific
Cathay Pacific's The Pier – Hong Kong International Airport
Location: Level 5, near Gates 62-66
Hours: 6am to 11:30pm
Eligible Members: First and Business Class ticketholders, Silver The Marco Polo Club, Gold The Marco Polo Club, Diamond Marco Polo Club, Sapphire oneworld members and Emerald oneworld members
Guests: Eligible members can be accompanied by one guest.
Sleek and sophisticated, the newly constructed Pier at Hong Kong International Airport is the latest offering for Cathay Pacific first class guests. Rich wood paneling is complimented by warm tones and comfortable furniture, which assists in achieving the desired 'home away from home' feel throughout the lounge. Private suites with showers are available as are private 'nap nooks' that overlook the runway.
You'll find a day spa and plenty of business-friendly amenities, but what really sets this lounge apart is the food. Home to The Noodle Bar, this airport eatery maintains the sleek and modern feel of the lounge while providing stellar service and freshly made Japanese noodles to hungry guests.  
Other Travel Articles You Might Like...