18 June 2019
Singapore Airlines are one of the industry's leading carriers, covering Australasia, the Americas, Europe, Africa, India and the Middle East. There is almost nowhere they don't fly! They are a part of the Star Alliance group and have a vast footprint, touching down in over 130 cities annually, so it is highly likely that your next destination will be on their map. 
I recently took that long and tedious trip from Australia's East Coast to the UK via Singapore, and with a solid 26+ hours of travel each way I thought 'heck, treat yourself' and swiftly upgraded myself to business class before I could think twice. And boy, was I glad I did! Here are a few of the reasons you should take the plunge and turn left next time you board a Singapore Airlines flight.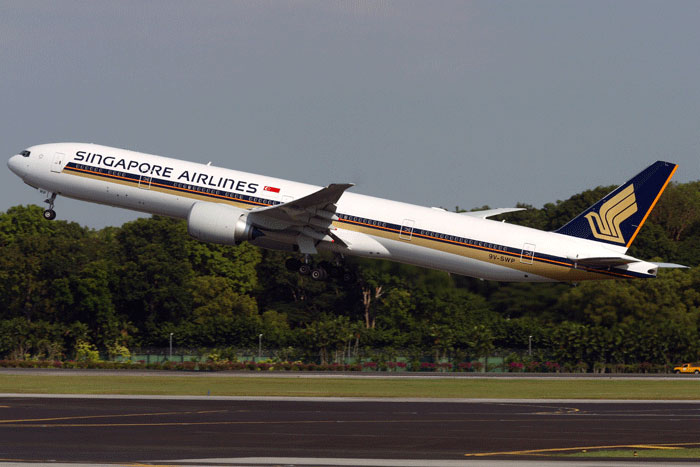 Quick Overview:
Route: Brisbane to Singapore & Singapore to London
Aircraft: Airbus 350-900 (Brisbane to Singapore); Boeing 777-300ER (Singapore to London)
Class: Business Class
Seat Number: Business Class pods, both flights
Duration: Brisbane to Singapore: 8 hours; Singapore to London: 14 hours
Baggage Allowance: 40 kgs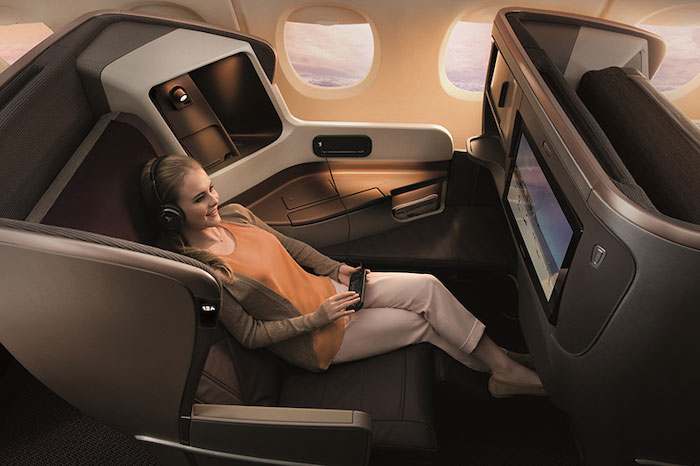 Check-in
The Singapore Airlines zone at Brisbane International Airport had a spacious check-in area, and a specific Business Class section which I found easy to navigate, though there was Singapore Airlines staff on hand to assist if needed. After a short wait I was greeted at the Business Class check in desk by a warm smile and enjoyed a smooth and friendly check in. I was eased through the usual ticket process, and within minutes I was watching my luggage get whisked away as I was provided with my tickets, an express security card and lounge details. 
Note: Singapore Airlines recommends arriving at the airport 2.5 hours prior to the flight's scheduled departure time, while check-in and baggage drop closes 60 minutes before your flight.
Lounge
My ticket provided me with access to Singapore Airlines' SilverKris Lounge in Brisbane International and anyone who flies often certainly appreciates the value of a good lounge. Located on the first floor, just right of the duty free shopping, the cosy and well equipped private space was the ideal spot to relax and tidy up last minute emails prior to departure. The lounge has strong Wi-Fi, desk and lounge seating options, an assortment of hot dishes, finger food, fresh fruit and snacks, T2 tea selections, a coffee machine, a well-stocked bar and my favourite: Tim Tams. I had some vegetarian noodles, corn fritters and prawn crackers, before treating myself to a Tim Tam (or three) and a glass of sparkling and I was on my way.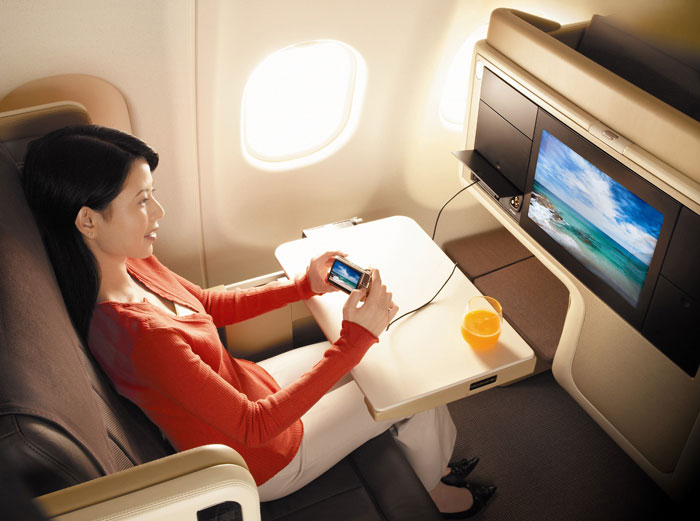 Seat
As an adult on the smaller side of the scale, I am quite comfortable fitting into most airplane seats, or so I used to think. This spacious pod opened up a whole new world of flying comfort and that was before the hostess even opened up the flatbed… Compartments for all my bits and pieces, charging ports and direct aisle access thanks to the cabin's 1-2-1 seating layout were ideal features for this frequent flyer, especially one who enjoys strolling the aisles, stretching and makes frequent bathroom trips (you simply must stay hydrated!)
The 34-inch wide, leather upholstered seat felt like my own mini cabin, providing me with the perfect space to wine, dine and relax while I tried to stay awake. The experience wouldn't be complete without utilising the flatbed, fitted with linen, a plush duvet and pillow, so I tried it out while I watched a movie. Needless to say, I didn't convert it back; lounging around on a flatbed really is the ultimate way to fly!
Entertainment
The entertainment set up in my private little pod felt like a mini home theatre, I could watch whatever I wanted on my large screen, without anyone or anything obstructing my view or space at any time. Genuine binge time.  I made the most of being off the grid and carefully browsed the selection of in-demand entertainment. It ranged from new releases and international blockbusters, to arthouse and Chinese movies, full TV seasons, documentaries and more. I didn't know where to start, but I gave it a good crack, and was easily able to fill the time by ticking a few bucket list movies off my list.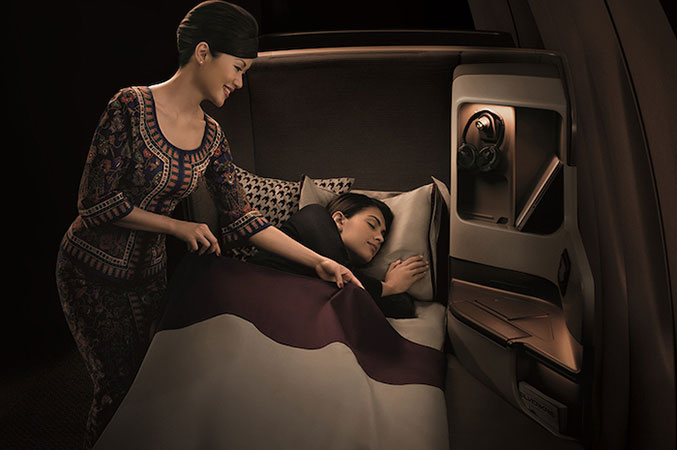 Service
The team in the business class cabin made me feel completely welcome and at home and throughout my flight, I couldn't have asked for better service. Whether it was a glass of water, a hot lemongrass towel, or a full meal from the 'Book the Cook' service that the business cabin offers, I was greeted with a warm smile, soft voice and positive response. Nothing was too much trouble. I didn't want to disembark (and that's saying a lot since it had been a while since my last shower). They bid me farewell by name, and I left feeling all warm and fuzzy.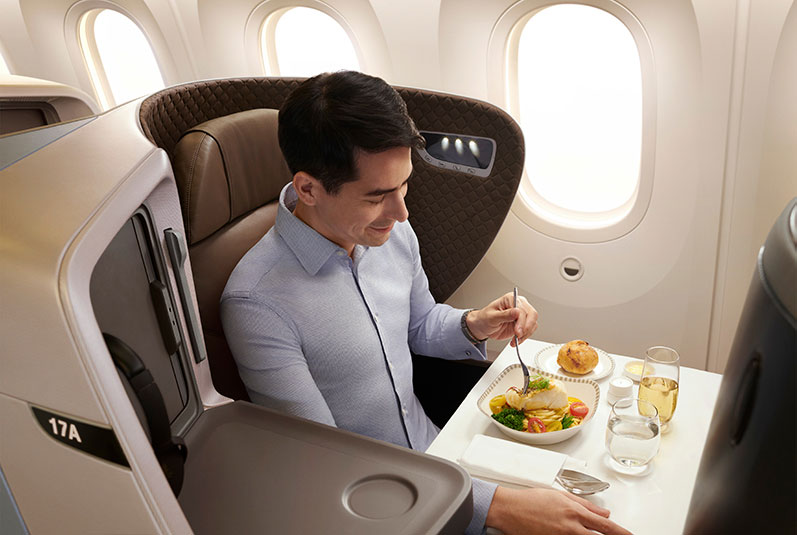 Food and Beverage
When you're embarking on an eight hour flight that you're not planning on sleeping through, the real highlight immediately becomes the food, and highlight it was. The hosts kick things off immediately upon boarding, when my travel companion and I were offered French champagne, to which, we did not refuse. 
Warm toasted cashews and almonds were presented in a ceramic bowl not long after take-off, accompanied with my choice of beverage from the airline's 'cabin pressure tested' wine list. I choose a glass of Bordeaux red, which went down a treat. From then on, it was as if I had been transported to a fine restaurant, even the smells and service were more in line with that of a renowned dining space than a plane.
Note: When flying in Singapore Airlines business or first class cabins, guests can pre-select their in-flight meals. A particularly handy option if you are trying to stick to a certain eating plan or have dietary requirements.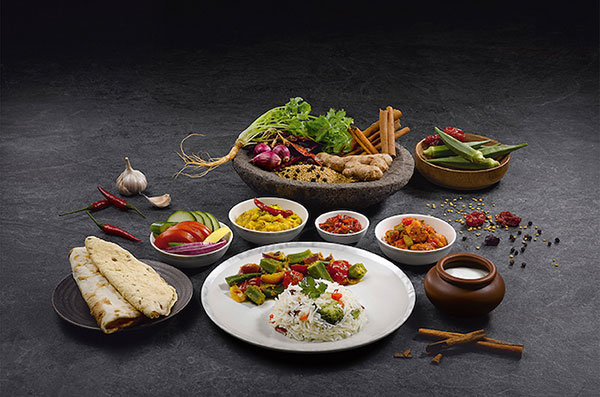 Last Word
From the moment I approached the Singapore Airlines 'Business Class' check-in counter, luggage in tow, grin quickly spreading across my earnest face, I felt like some kind of travel royalty. It was my first Business Class trip with Singapore Airlines and I couldn't help but find every element of the experience super exciting and even more enjoyable than the last. I would do it again in a heartbeat, especially with such a long haul ahead of me. Having had the joy of the experience, I can also see why it is the only option when you're travelling for work. I landed feeling and looking fresher than before I left! 
All image credit: Singapore Airlines
---
---
Other Travel Articles You Might Like...