27 March 2015
Words by Carlie Tucker
If you've always wanted to fly first or business class for work but haven't quite managed to squeeze it into the budget, the new upgrade bidding systems may just be your ticket toward the front of the plane.
Qantas is the latest Australian carrier to jump onboard with their new bidding system, allowing passengers to experience premium economy, first or business class for less. Passengers are invited to choose a price they're comfortable paying and cross their fingers in hopes of placing the winning bid. Some also allow the opportunity to use Frequent Flyer points and/or money. 
Many airlines offer their own bidding system versions, so the exact procedure may vary from airline to airline, but generally speaking, here's how it works:
Qualifying passengers will be invited to participate in the auction via email a few days before departure.
A  minimum number of points and/or cash will be required, depending on the flight. Simply choose the value you're comfortable with and place your bid. 
Customers will be notified via email approximately one day before departure if their offer has been successful or not.
If a customer is not successful, they won't pay anything and keep their original seat.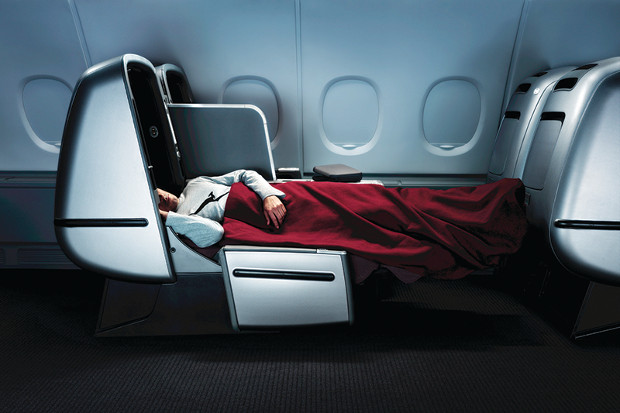 With providers such as Air New Zealand, Virgin, Etihad and more providing their own versions of these systems, it's easy to participate but there are a few things to keep in mind when devising your bidding strategy:
Make sure your flight is eligible for the bidding upgrade system and be prepared to pay full price for your seat. Discount fares or seats purchased with points generally don't win upgrades.  
Buy a seat in the class immediately behind the class you ultimately want to sit in. Airlines won't let you jump from economy to first class on the upgrade system. Usually, you can only move up one class, so if you want to sit in business, buy premium economy.
Choose a flight with plenty of empty seats. Paying customers will always have priority over bidders, so the least amount of sold seats will increase your chances.  
Bid just over the minimum amount. Most people will put in the minimum bid, so ace out the crowd by going slightly over (ie, if the minimum is $500, bid $520).
Book single tickets. If you're travelling in a group, make sure you book your ticket separately if you want a chance to upgrade.
Other Travel Articles You Might Like...