4 September 2018
---
Top do's and don'ts when travelling on a plane internationally:
Don't take more than 100ml of liquid in a container in your carry on baggage

Don't take more than 350 grams of powders (makeup, talcum powder etc) in your carry on baggage

Do check limits on baby formula and certain medications

Do check your customs limits, Australia in particular is quite strict

Do know what you need to declare at customs before filling out your form

Don't be alarmed if you beep at security, there's metal in everything! (Shoes)

Do check you carry on size and weight - or you might get stung with a charge

Do allow plenty of time at the airport

Don't leave your luggage unattended

Do socially distance where possible
---
Travelling internationally can be daunting, whether it's your first or fiftieth time. New countries have different rules to our own, and airports vary in size, procedures and ease of access. So we've compiled the golden rules to live by when flying abroad.
Do Leave the Liquid, And Mind The Powders
On international flights you can only take 100ml of any liquid in your hand luggage. That includes lip balm, hand cream and other beauty products. The 100ml limit applies to the container size, so you can't take a small amount of liquid in a larger container, the container itself cannot hold more than 100ml. Any liquids or gels that you do take onboard will need to be sealed in a small zip lock bag. Some airports have these on hand, but not all, so it's best to come prepared. Travelling domestically in Australia you're allowed to take liquids, however.
More recently, powders have come under similar restrictions to liquids. Powders that are restricted in hand luggage include cosmetics, powdered deodorant, talcum powder, salt scrubs and powdered detergents. The restriction limits individual items to 350 grams (12 ounces) – note the average weight of a loose cosmetic powder is around 30g. There are exceptions to this, which include prescriptions baby formula or certain other medications.
Do Know Your Customs Limits
Australia is one of the strictest countries when it comes to customs regulations. That means you're not allowed to bring most food items, natural fibres and untreated timber items, amongst other things, into Australia. Not to mention flammable items like explosives and firearms (with exceptions). Other countries customs regulations vary, however many are just as strict as Australia, so research each country before you fly.
Do Know What to Declare
Even if you are allowed to bring certain items into the country, you may be required to declare them. Some medications, food items, valuable items and foreign currency, just to name a few, need to be declared. If you're unsure, it's always better to declare than not, as you could face a hefty fine if you don't.
Don't Be Rude to Customs or Immigration
If you're worried about having your medications or equipment go through the x-ray, ask nicely. Customs staff aren't obliged to do anything you say, so being rude won't help your chances of leniency. If you're running late and you're rude, they're definitely not going to speed up the process to help you out, so play nice.
Don't Be Alarmed if You Beep
When walking through the x-ray machine, there are many things that might cause the alarm to sound. Shoes with metal sole stability, belt buckles, spare change or a mobile phone in your pocket can set it off. You might not immediately think of it, but if you've had a hip or knee replacement, have a pace maker or artificial limb, these will also likely cause the machine to beep. If you can, carry a medical certificate from your doctor; and you can always request a private screening if you would prefer.
Do Check Carry On Size
The size of carry on luggage allowed varies from airline to airline. Some allow 7kg and one small bag, some allow 10kg and you can take a handbag or laptop bag as an extra item. Always check on the airline website before you travel. If you're travelling on multiple different airlines, be sure to check all of them so you know if you need to rearrange carry on items for each new destination.
Do Allow Plenty of Time at the Airport
Each airline and airport is different, and security wait times can vary greatly between countries and airports. Check on your ticket how long before departure it says to arrive at the airport, but it's also worth checking the airport website to see if they have a live wait time feature.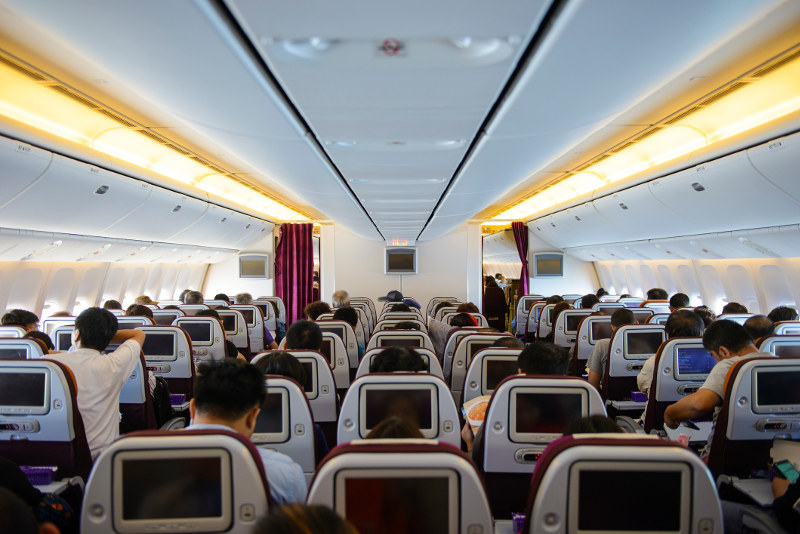 Don't Be Impatient
This goes for checking in, going through security, boarding the plane, inflight meal service and waiting to disembark at the other end. There are often hundreds of others doing the exact same thing, so be patient, be nice and you'll all get there in the end.
Don't Leave Your Luggage Unattended
Don't ask someone to watch your luggage and don't watch someone else's for them either. This can be a huge security risk, not only could you lose your belongings, you could breach airport security and find yourself in serious trouble.
Do Mind Personal Space
There's always that one passenger who takes up both arm rests, sits with legs spread and feet in your personal space. Don't be that passenger. Be considerate of your fellow travellers and wary of both your own and their personal space. This rule also goes for loud conversations, using headphones for inflight entertainment and eating food. Remember you're in a confined space, to be friendly but respectful.
---
Talk to a Business Travel Expert today. 
---
Other Travel Articles You Might Like...