26 March 2018
In a first for Australian aviation, Qantas has flown direct from Australia to the UK with one of its Boeing 787-9 Dreamliners. The inaugural QF9 flight took off on March 24th from Perth International Airport at around 7:00 pm on Saturday and landed on time at Heathrow Airport on Sunday at 5:10am (local time) lasting 17-hours and 20-minutes.
Onboard was a selection of media, politicians and regular flyers wanting to be part of new flying experience. The new direct daily route shaves off several hours which holidaymakers previously had to resign to an inevitable stopover in the likes of Singapore, Hong Kong, Dubai or Kuala Lumpur.
But how did they do it? The flight actually follows different flight paths depending on the best winds, helping the aircraft fly faster and more efficiently - the result of analysis of a decade's seasonal wind patterns by Qantas.
In addition to providing the third longest long-haul flight offered by any airline, the newest member of the Qantas fleet also provides a roomier economy, premium economy and business class, designed specifically for the lengthier flight time.
The aircraft has 236 seats though other similar planes hold 300. First class has been scrapped to make way for 42 Business Class Suites, 28 Premium Economy, and 166 Economy seats.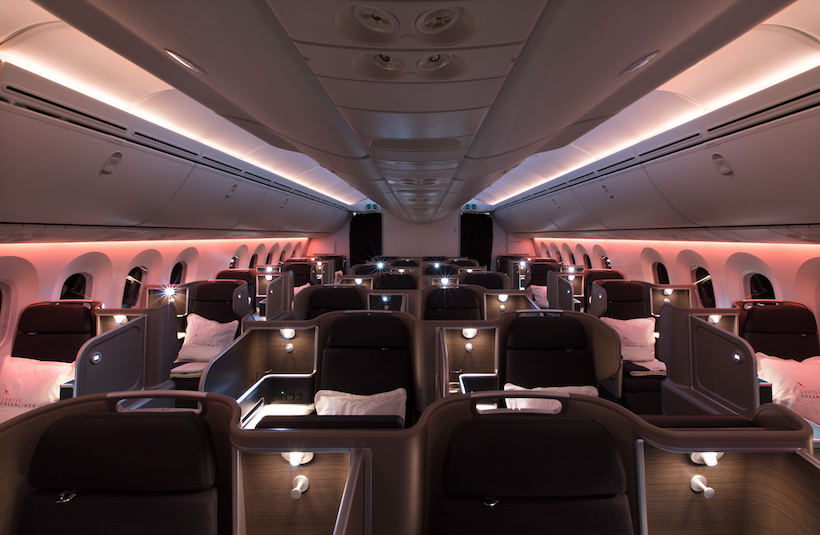 Qantas 787-9 Dreamliner Interior Business Cabin. Photo: Qantas.
Qantas chief executive Alan Joyce said it was a "truly historic flight that opens up a new era of travel".
"For the first time, Australia and Europe have a direct air link," Mr Joyce said.
Qantas customers can now choose from three routes between Australia and London – the direct Perth-London service on the Dreamliner; a reinstated Sydney-Singapore-London service on the A380; and via Brisbane, Sydney, Melbourne, Adelaide and Perth to London via Dubai with partner Emirates on mix of A380 and 777 aircraft.
Qantas also has the rights to do the same daily direct flight to Paris, a recent win for the airline according to Mr Joyce.
"When we last did Paris it was from Singapore to Paris and it was three a week, and it was hard to make it economically work. So we are keen on it (adding the new route), we are interested in it, but we need to bed this one down first," Mr Joyce said. "It's off to a great start it's only the first flight but we need to show that economically it's going to work out."
Almost 600,000 Aussies travel to the UK each year and Qantas' new flight option looks set to disrupt how we think about long haul travel from down under as the proximity between Europe and our island continent gets closer once more.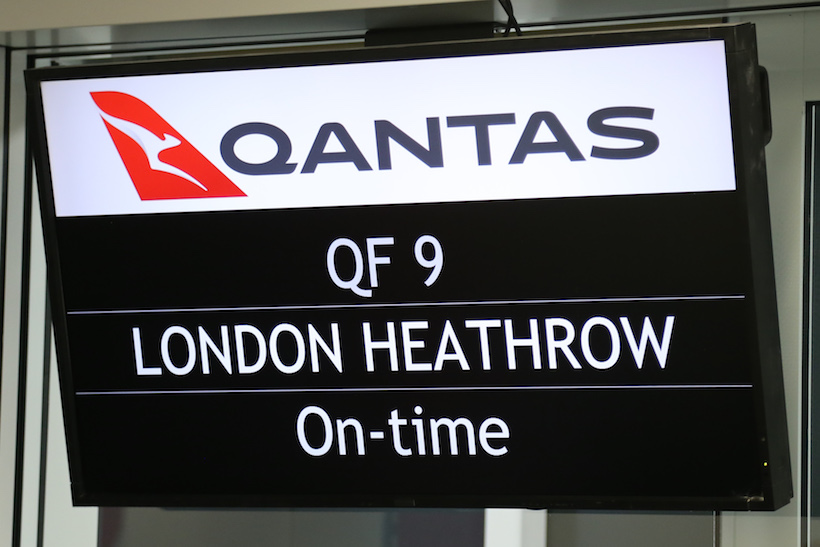 QF9 Ready for departure. Photo: Qantas.
Read on for some more fast facts about the new service:
1. QF9 is operated by four pilots across the 17-hour journey, with one or two pilots resting at any one time.
2. The flight will follow different flight paths depending on the best winds, helping the aircraft fly faster and more efficiently. Qantas analysed a decade of seasonal wind patterns in preparation for the new service.
3. At 14,498km, QF9 is the third longest commercial flight currently in operation. It is the world's longest Dreamliner flight.
4. QF9 will carry around 92 tonnes or 110,000 litres of fuel with the Dreamliner burning approximately 20 per cent less than traditional aircraft its size.
5. With a total seat count of 236 passengers, the Qantas Dreamliner has significantly fewer seats than many other airlines who have configured the same aircraft to carry more than 300 passengers.
6. Currently, most aircraft have cabin air pressure equivalent to that of an altitude of 8,000 ft. For the Dreamliner, Boeing cut that down to 6,000 ft, meaning it's closer to conditions on the ground.
7. Menus for the flights between Perth and London have been designed to maintain hydration, aid sleep and reduce jetlag and include poke bowls as well as home style comfort food.
8. There are more than 21,000 individual items loaded onto the aircraft for each flight between Perth and London including 330 peppermint tea bags and hundreds of chocolate biscuits.
---
Call our Business Travel Experts  today on 1300 797 826
---
Other Travel Articles You Might Like...
Request an appointment with a Business Travel expert