19 April 2018
San Francisco is a booming destination for business travellers with the obvious tech hub of Silicon Valley just 60 kilometers away from the city centre. Add onto this the fact that more airline carriers are flying direct to the golden city from Sydney than ever before and it is the perfect destination to add on a couple extra days to explore with so much to see and do.
But what is it really like to fly with United Airlines and is Economy Plus worth the upgrade from United Economy on a 13-and-half hour non-stop flight? Please fasten your seatbelt, adjust your seat into an upright position, and read on for our Sydney to San Francisco flight review.
Quick Overview:
Route: Sydney to San Francisco
Aircraft: Boeing 787-9 Dreamliner
Class: Economy Plus
Seat number: 20C
Duration: 13 hours, 23 minutes
Baggage allowance: 2 bags at 32kg per bag
Frequency: Daily
Check-in
Hands down, this flight had to have the most laid back (yet 100 percent professional) and calm boarding of any airline I've ever flown with. Seriously. Now let me tell you why, beginning with the United Airlines check in gate at Sydney International Airport.
After arriving at the gate with 30 minutes to spare I was surprised to find that boarding had been opened earlier for anyone who wished to take their time getting settled. Being one who endeavours to always be the last onboard I was pleased to see that most people took the opportunity to hop on early and thus by the time I had settled into my seat we were still well ahead of the scheduled departure time.
Once properly buckled in with my seatbelt I was strangely feeling relaxed and not my usual antsy 'lets get this show on the road' self. I put this feeling down to a few things, one being that those boarding later weren't being quickly rushed to their seat, the second was the purple mood lighting onboard the Dreamliner 787-9 which seemed to legitimately have a soothing effect, and third was how calm the flight attendants appeared to be.
Seating
I was seated in the United Airlines International Economy Plus seats on the Dreamliner which are nice and roomy, the main difference being the extra seven centimetres  of legroom which I will tell you, go a long way on a 13-plus hour long flight.
The 3-3-3 configuration of the aircraft's seating allows for more space and wider seats. I was seated in a row pretty smack bang in the middle of the plane (four rows from the toilets and galley) with just one other woman in my row on the window seat so we were each able to stake out some space to sleep, albeit in an pretty upright position.
Seat pitch in United Airlines' Economy Plus is a super 88cm (81cm in Economy) with a width of 43.9cm and 10cm recline. All Economy Plus seats are equipped with adjustable headrests, and passengers are issued with a pillow, blanket and headphones, if required.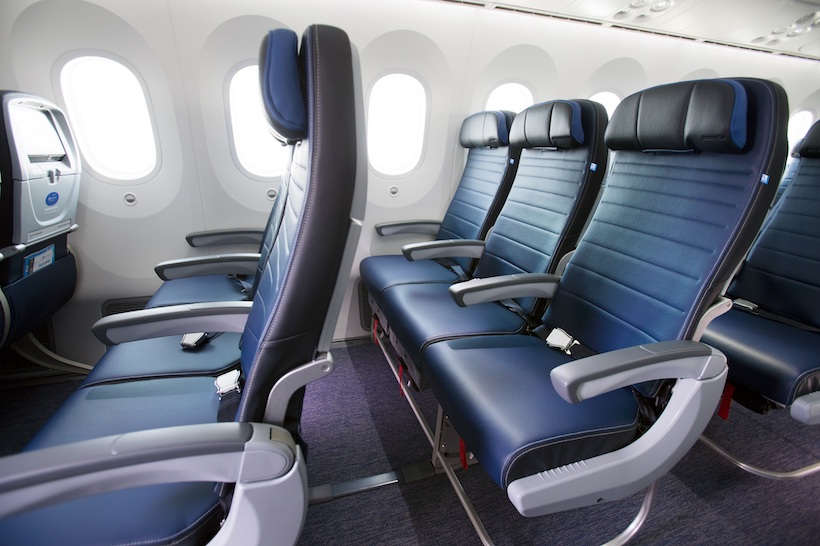 Economy Plus seating onboard the Dreamliner 787-9. Image: Courtesy.
Dining
Rarely is the food experience on any flight something to write home about yet I was pretty chuffed to be among the first served, another one of the perks of Economy Plus. The chicken and mushroom pasta that I opted for was washed down nicely with a red wine (or two) while breakfast was a choice of a fruit plate or frittata, the latter of which is what I opted for.
RELATED: Dos and Don'ts For Working On The Plane
Entertainment
As soon as I had sorted my reading options and laptop into the seat pocket in front of me (which mind you was a decent distance from my knees) it was time to plug in the noise cancelling headphones and scope out the in-flight entertainment. The 22.8cm touch screen had over 30 new release movies plus an expansive library of popular TV series, audio books and a kids section thankfully to keep any kids on board (either there were none or the entertainment did its job because I thankfully didn't hear them) well entertained for the whole flight.
Another bonus - when travelling one of my biggest concerns is running out of phone battery, especially after using my phone to do work or kill time in the airport prior to boarding, only to land somewhere I'm not familiar with and needing to use google maps or uber on a dying battery. So it was sweet relief to see a USB charging port beside the screen plus an international power outlet in between the seats.
RELATED: 8 Business Travel Gadgets You'll Love This Year
Conclusion
Of all the long haul flights I've experienced (having lived in New York for several years, it's safe to say there have been quite a few), this had to be one of the more enjoyable, yes enjoyable. Whenever I asked for another glass of wine (okay maybe there was more than two, as I was having trouble sleeping) the flight attendants were especially accommodating and seemingly non-judgemental. Then when it came to disembarking the plane, being just that little bit closer to the pointy end made a real difference (to me at least) in getting to my hotel quickly and beating the customs queue.
Other Travel Articles You Might Like...
Request an appointment with a Business Travel expert