3 November 2017
Qantas Business Rewards is a program that offers a myriad of benefits, aimed at small to medium sized business (SME).  Qantas has created the program with both the business and their frequent flying employees in mind for points earned in the air and on the ground. 
It offers opportunities for business owners to earn Qantas Points, gain access to exclusive member deals and streamline their corporate travel management, while employees can also reap the rewards of Qantas travel. 
Joining is easy, and right now during November, it's also free. A one-off joining fee of $89.50 usually applies however this will be waived for any business that joins by November 30th 2017, by simply booking through our expert Flight Centre Business Travel Managers.
Earning Qantas Points on Flights
When it comes to point accumulation, the Qantas Business Rewards program has it sorted, with duel benefits going to both the flyer and the business, a real win-win situation.  Points earned by the business are in additional to both Qantas points and Status credits. AND have we mentioned the 10% discount on Qantas Club Membership yet?
Structured across three levels of membership, the program ensures all members benefit no matter how frequently they fly.  For every 100 Qantas points earned by the individual traveller, the business will earn additional points, based on this tiered approach.  This is best described using the below info-graphic: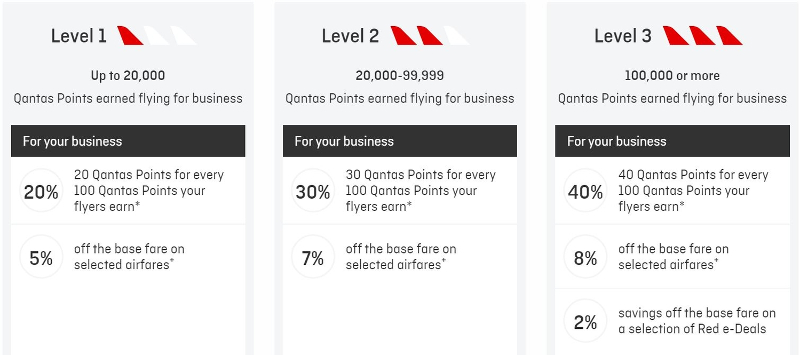 Earning Points on Business Expenses
Additionally, over 50 program partners across banking & finance, telecommunications, office suppliers, car hire and fuel means member companies can also earn points across a range of business expenses. 
Here are a few mention-worthy rewards for example:
Car hire companies Budget and Avis offer generous benefits: QBR members can earn 4 points per $1 spent  
Caltex rewards means 1 Qantas point for every 2 litres of fuel purchased, and 1 point per $1 spent on most in-store purchases. 
Every $1 spent with Dell will result in 3 Qantas points. 
Each $1 spent on a Secure-a-Spot online booking through Secure Parking will earn 3 Qantas points
Samsung also has come to the party, offering 3 Qantas points for each $1 spent on Samsung Electronics Australia products

Fare Savings
Members can start saving immediately, with instant access to a 5% discount on eligible fares, without a minimum spend required.  When booking through your Flight Centre Business Travel Manager, or directly through the program, a star icon will alert users to fares where member savings have been applied. 
As members clock up more flights under the program, the discounts build, increasing to 8% on eligible airfares, and 2% on selected Qantas Red e-Deals. As long as flights are booked seven days out from the travel date, member savings will apply.  However even if savings don't apply to a particular fare, duel points will still be earned. 
For more information about Qantas Business Rewards, contact one of our Flight Centre Business Travel Managers, or read check out the detail available online here.
Other Travel Articles You Might Like...