11 February 2019
A river cruise is one of the best ways to see the highlights and off-the-beaten-track sights of Europe from the vantage point of the Continent's grand waterways. There's many benefits of a river cruise journey: unpack once, stop and explore a different port every day and enjoy personalised service and a more intimate cruise experience with fewer passengers aboard your floating hotel.
Meandering down a river on a cruise ship is a relaxing, slow travel experience and the smaller size of these boutique vessels means you can often stop at smaller ports that larger ships can't access, allowing cruise passengers to enjoy one-of-a-kind shore excursions.
If this style of holiday appeals, you might be surprised to discover the daily costs of an all-inclusive, luxury river cruise are comparable to a DIY Europe road trip but minus the time and hassle of organising all the little details. And that includes changing hotels, transport and transfers between destinations and all those daily incidentals that definitely add up.
For example, APT specialises in all-inclusive cruising where most meals, drinks, sightseeing and onboard activities are included in your fare. On an APT river cruise, you can expect complimentary sightseeing options such as local winery tours, visits to quirky museums, guided gourmet walking tours and biking along the riverbank as well as some money-can't-buy exclusive experiences such as private classical concerts.
Chat to your Flight Centre Cruise Expert about fly-cruise deals – APT offers 'fly free' or 'companion fly free' fares on selected trips that can save you the cost of purchasing a separate return flight. This is also a fantastic option if your cruise starts and ends in different ports and you want to stay longer in either city pre- or post-cruise.
Here is a breakdown of the approximate costs of a DIY Europe holiday versus an APT Magnificent Europe river cruise for comparison. (Note: Prices are approximate only and flights, accommodation and car hire prices are subject to change as are cruise prices depending on departure dates, cabins and itineraries).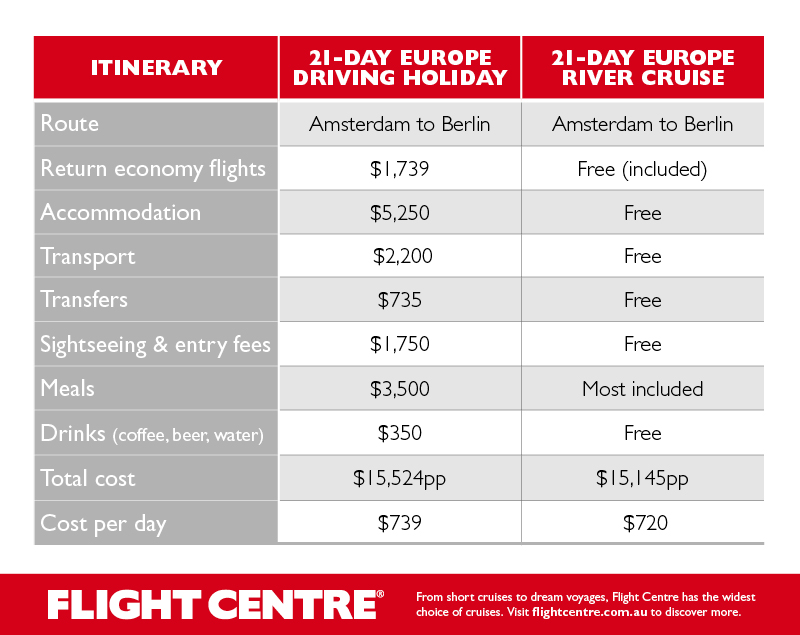 ---
Ready to get cruisey? Check out our latest cruise deals now!
Other Travel Articles You Might Like...