10 January 2020
A cruise is considered a ship-shape holiday for families, and for good reason. There's family- friendly cruise lines and ships with activities for all ages as well as kids clubs or adults-only spaces to retreat to. Many of the mega ocean liners are equipped with a mind-boggling array of entertainment options from Broadway-style shows to waterslides at sea, ice- skating rinks and even dodgem cars and half courts plus a plethora of dining options that include perks such as 24/7 pizza and soft-serve ice-cream.
But a family cruise doesn't always mean resorting to
a mega ship – there's a raft of options for all types of families and travel styles that will float everyone's boat.
Family-Centric Ships
For the best family cruise experience, Flight Centre Cruise Expert (and parent) Mathew Ditchburn suggests sailing with P&O Australia, Carnival Cruise Line, Norwegian Cruise Line, Royal Caribbean International or Disney Cruise Line.
"Picking the perfect cruise line and ship for your family is important," he says. "When you choose the right cruise ship for a family holiday, it's amazing how much more enjoyable the holiday is."
Family travel writer Aleney de Winter has cruised on several Royal Caribbean International (RCI) cruises with her two children and says the cruise line's ships have plenty to offer from family-friendly entertainment to the Adventure Ocean kids clubs.
"We've cruised on several of [RCI's] giant floating playgrounds with everything from pools, slides, rock- climbing walls and mini golf ranges to a FlowRider surf simulator, ice-skating and dodgem cars."
"[My children] love to get involved in the organised activities and it can be hard to tear them away from the swimming pools and water parks. But I'd say eating their own bodyweight in ice-cream from the soft- serve machines would have to be pretty close to their favourite onboard pastime," she says.
Kid-Friendly Destinations
Thanks to its proximity and the lure of interesting cultures and picture-perfect islands, the South Pacific is a popular destination, accounting for 35 per cent of Australian cruisers in 2017 according to a Cruise Lines International Association (CLIA) report.
Cruising to the Caribbean is another great option for families with cruise companies such as Disney Cruise Line, Carnival Cruise Line, Norwegian Cruise Line and Royal Caribbean International all dropping anchor in these idyllic waters. While not all ports are the same, Aleney says most of the stops she's encountered on a cruise itinerary have a selection of child-friendly shore excursions.
"It is definitely worth booking with your ship's tour desk if you are travelling with kids, rather than in port, as they can advise what's right for your kids and you can explore safe in the knowledge that the ship will wait for your excursion to return," she adds.
RCI has even launched its own island – Perfect Day at CocoCay – in the Bahamas, a private playground for the exclusive use of cruise guests. CocoCay is chock-full of attractions and amenities such as water parks, a zip-line, beaches, lagoon pools and five dining options on the island. Most of the features are complimentary for RCI guests, while some attractions are available for a fee.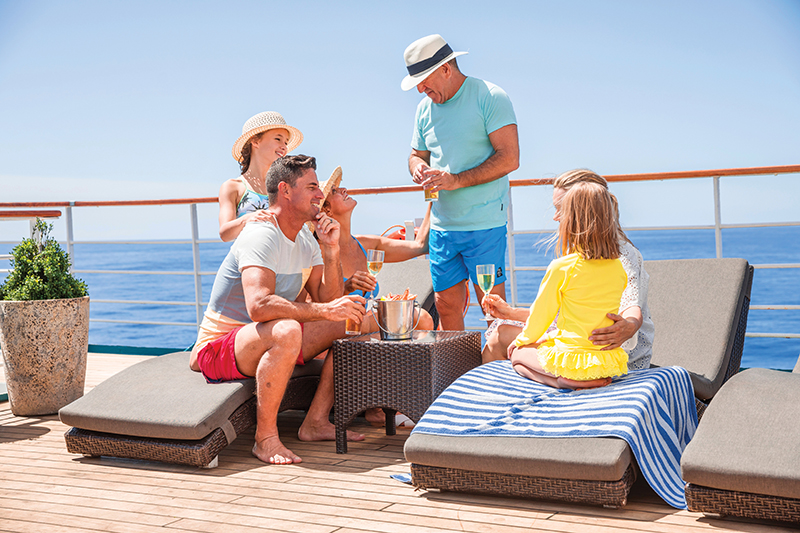 Multi-Generational Cruises
With activities geared for all ages available on board, a cruise holiday really does offer something for everyone. Flight Centre's Head of Creative & Content Luke Wheatley sailed on a 10-day P&O cruise to Papua New Guinea with his son, Finn; partner, Beckie; her parents and her nephew – three generations in all.
"What's great about a cruise with different age groups is the ship has enough activities for everyone to be happy," Luke says. "Children can play at the kids club or swim in the pool and the adults can relax and read a book. We spent many hours as a family playing board games and also saw some shows."
Each ship has age-specific activities as well, and, as Flight Centre Cruise Expert Jo McIlvena notes, sometimes in unlikely spots. "A nightclub may become a laser-tag battleground or a silent disco during the day, and at night, you might find a lower deck cafe hosting a teen party," she says.
To make the most of your family time together, Luke recommends booking inter-connecting rooms. "It makes the cruise much more fun and makes it easier to plan your time together," he says.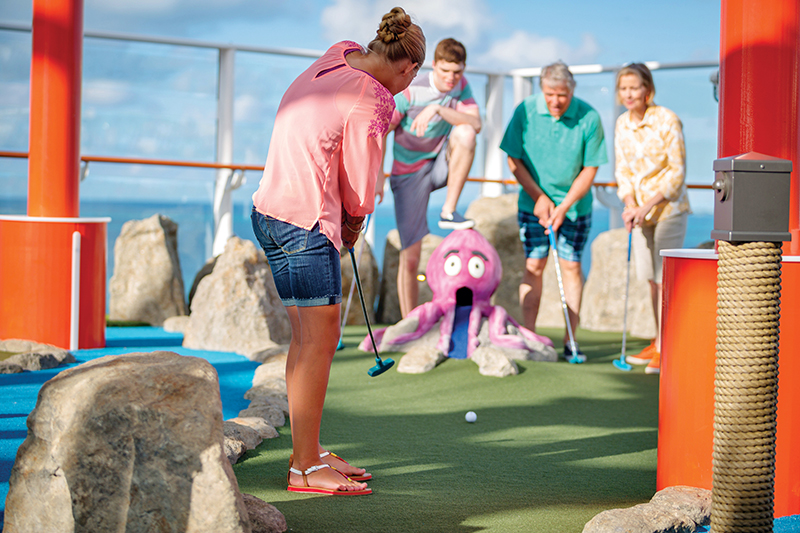 Skip-Gen Trips
'Skip-gen' travel – grandparents taking the grandkids away minus the parents for amazing wildlife and learning experiences – is an emerging trend in the expedition cruise space, says Lindblad Expeditions industry account manager Dan Coleman.
Daily active and academic activities on Lindblad Expeditions cruises to Alaska and the Galapagos include the National Geographic Global Explorers program, where kids and teens can go hiking and kayaking and hop aboard Zodiac vessels to see wildlife up close, whether that's snorkelling with sea lions in the Galapagos or spying whales and bears in Alaska.
"Skip-gen travel is an amazing way for grandparents, godparents or aunts and uncles to bond with the kids away from their parents and allows both generations to experience a destination and the activities through the perspectives of different ages," Dan says.
"On small expedition ships, there's an average of 80 passengers on board so grandparents won't lose their young companions, but enough people to encourage camaraderie with all age groups – especially when sharing amazing encounters with wildlife in pristine wilderness areas."
---
---
Other Travel Articles You Might Like...