13 November 2015
American Airlines this morning flew its state-of-the-art flagship aircraft, the Boeing 777-300ER, into Sydney ahead of the carrier's return to Australia in December.
The airline arrived with a spectacular early-morning flyover of Sydney Harbour before the carrier was officially welcomed by joint business partner Qantas at Hangar 96 at Mascot Airport for a media and travel industry event.
American Chairman and CEO Doug Parker joined Qantas CEO Alan Joyce with a group press conference, followed by a tour of the stylish new aircraft, which was delivered to American just two weeks ago.
Sporting four cabins, the brand-new aircraft has First Class, Business Class, Main Cabin Extra and Economy. Main Cabin Extra is a separate economy section, which has one less seat per row than economy and an extra six inches (15 centimetres) of legroom.
American Airlines commences daily service on December 19 between Sydney and Los Angeles, with code-share and alliance partner Qantas.
This marks a return for American Airlines on the Trans-Pacific route after an almost two-decade absence.
---
California dreaming: New Routes For Qantas And American Airlines
Dressed for success: Barbie & Ken Model 95 Years of Qantas Uniforms
Primed for a visit: How To Spend A Weekend In Western Sydney
---
Mr Parker said: "Bringing our 777-300ER to Sydney demonstrates our commitment to Australia. American is making a $2 billion investment in our onboard products and airport facilities by upgrading our cabins, offering more inflight entertainment options, refreshing our Admirals Club lounges world-wide and upgrading our food and beverage options.
"This visit is an important opportunity to showcase to Australian customers American's world-class product. It was an incredible thrill to witness our Sydney Harbour flyover this morning and it is a proud day for the 100,000 employees at American to see our aircraft with the iconic Sydney Harbour."
Mr Joyce said: "We are delighted to welcome our friends at American Airlines and their flagship B777-300ER on this visit to Sydney, to celebrate the next chapter in the 25-year partnership between our two great airlines. It really highlights to the Australian market what we can jointly offer across the Pacific."
He added: "This is a boom time for American tourism in Australia – more than half a million Americans visited Australia last financial year, spending over $3 billion in the process. Together we will be championing Australia in the US to unlock the potential of the Trans-Pacific market, providing customers with more destinations, a more co-ordinated network and world-class travel experiences."
American Airlines earlier this week announced in Wellington, New Zealand, a new service between Auckland and Los Angeles on the carrier's latest aircraft type, the Boeing Dreamliner 787, commencing June 25, 2016. The flight will be operated as part of American's joint venture with Qantas.
Qantas recently announced an additional 40 code-share routes throughout North America, with American Airlines offering more destinations able to be booked on the one ticket.
American's cabins offer direct aisle access in both First and Business Class to every passenger, with a fully lie-flat bed, a walk-up bar and mood-lighting throughout.
First Class Features
Features of the First Class cabin include a lie-flat 6'2" bed, a 17-inch flat-screen TV and direct aisle access for every passenger. Premium food and beverages are served seat-side on-demand, with a fully stocked walk-up bar with snacks available throughout the flight.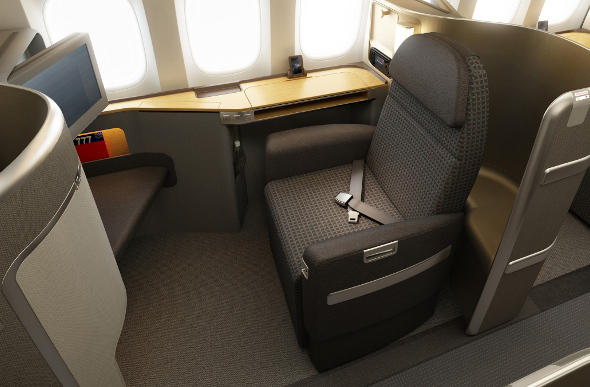 One of the unique features of the cabin, and an industry first, is the swivel seat, which turns inwards to transform the suite into a work station with power outlets. Each passenger has Bose noise-cancelling headphones and in-flight Wi-Fi. Surprisingly the Wi-Fi has a charge for all cabins to access, including First Class passengers.
Business Class Features
Similar to First Class, each Business Class seat has direct aisle access and a full lie-flat bed available. Each pod has AC and USB power outlets and the seat design has thoughtful compartments for shoes, headphones and other accessories.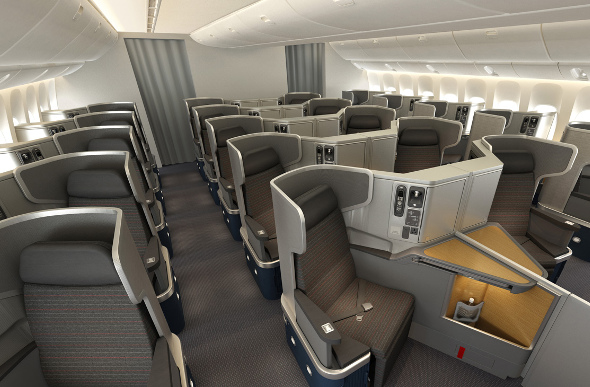 Wi-Fi is also available for a charge and the large folded tray tables can be used as a work station. Each passenger also has a pair of Bose noise-cancelling headphones to watch on a 15.4-inch personal TV screen. Premium meals, a walk-up bar and amenities kit are also offered.
Main Cabin Extra
While not sold as a premium economy cabin, this separate space offers one less seat in each row compared to the economy cabin and offers an extra 6-inches of legroom. The seats in the cabin are sold as a regular economy fare with an additional fee payable at time of booking.
Top-tiered frequent flyers can reserve seats in this cabin for a discounted fee, with highest-level frequent flyers able to reserve complimentary. AC power outlets and USB charges are at every seat, which has adjustable headrests and personal TV screens. Wi-Fi is available for a fee.
Economy Features
In comparison to Virgin Australia's 3x3x3 seating layout on the same aircraft type and route, American has opted for the squeezed 3x4x3 version, reducing the shoulder space. Leg room is the industry standard 32-inches and each seat has a personal TV screen with hours of entertainment available.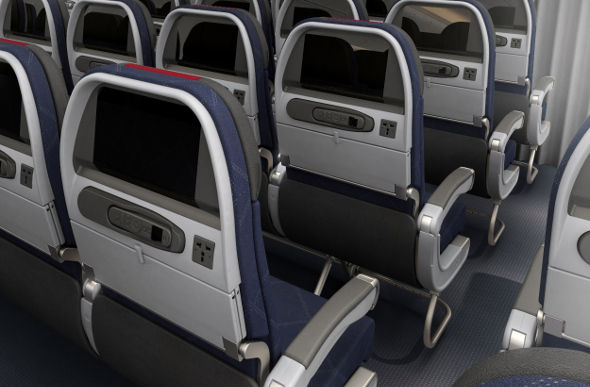 A new food and beverage menu has been designed in consultation with Qantas to help standardise the offerings between carriers. A choice of three menu options will be available in the main cabin, with a larger main meal served.
Other Travel Articles You Might Like...