17 June 2013
The meandering River Thames flows through the heart of central London. Not surprisingly, bridges have spanned this urban stretch of waterway since the Romans first marched into town two millennia ago. Today more than 30 bridges criss-cross the Thames – symbolising the river's importance to London's daily life – so we here at Flight Centre thought it was time to familiarise you with London's Top 5 bridges to cross on your London holiday.
Tower Bridge
Taking its name from the nearby Tower of London, the Tower Bridge is one of London's most iconic sights. Looming over the Thames from a strategic location close to the East End, the Tower Bridge's imposing towers are connected by a dizzying pedestrian walkway at its apex and a central span designed to open and let river traffic pass through underneath. Tower Bridge's connecting side-spans are both 82-metre long suspension bridges and when illuminated at night, the entire structure remains a staggeringly spectacular reminder of human ingenuity and Victorian Gothic style.
London Bridge
One of London's most nondescript bridges is also one of its most important. In 1973, an unremarkable box girder bridge was opened to traffic between the City of London and Southwark. Unassuming to the eye, it is actually the latest incarnation of London Bridge, which for over a thousand years was the only inner-city crossing of the Thames. More famous predecessors include the medieval 'Old' London Bridge – a narrow, inn-lined construction in use for more than 600 years – and John Rennie's classic 19th Century stone-arch 'New' London Bridge.
Richmond Bridge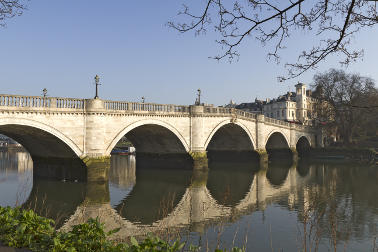 Located some 16 kilometres from Charing Cross on the south-western fringe of the city, Richmond-upon-Thames is one of London's prettiest and most affluent boroughs. Dotted with picturesque gardens, lush green parkland and old-money manors, Richmond seems a million miles away from the hustle and bustle of inner-city London. It's only fitting that its famous 18th Century stone-arch bridge still stands as a testament to this unique corner of London, with its five elliptical arches jutting artfully from the Thames since 1777 - making it the oldest extant bridge in the city.
The Hungerford and Golden Jubilee Bridges
Combining the old and the new, the Hungerford Bridge and Golden Jubilee Bridges are essentially three unique bridges in one. The original Hungerford Bridge was designed by eminent engineer Isambard Kingdom Brunel, although his structure was quickly superseded. A second steel truss railway bridge soon connected Charing Cross and Waterloo stations but these days it is obscured by the twin Golden Jubilee footbridges which straddle it on either side. Opened in 2002, these eye-catching footbridges aid pedestrians and help protect the Hungerford Bridge from river traffic.
The Millennium Bridge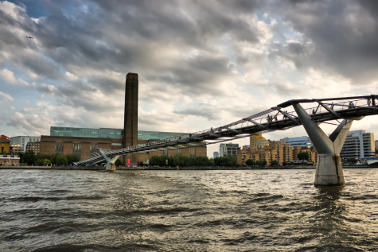 Conceived as part of London's bold third millennium celebrations, The Millennium Bridge soon became one of London's most controversial river crossings. Opening behind schedule in June 2000, it quickly became apparent there were major problems when the bridge swayed disconcertingly under the weight of thousands of pedestrians. Such was the unnerving resonance of this multimillion pound structure, the bridge was closed for two years in an attempt to rectify the problem. This led to its unofficial nickname as "The Wobbly Bridge," although it's now a popular thoroughfare between St Paul's Cathedral and Southwark.
Other Travel Articles You Might Like...