12 November 2017
Darwin: it's the gateway to the Northern Territory, but you don't have to travel too far afield from the city to get a taste of this sunburnt country's top end. Sweeping plains, swampy billabongs and their wild inhabitants are only a stone's throw from the capital and are waiting to be explored. 
As a local who welcomes his guests by throwing them deep into the heart and soul of his colourful city, Itimai took Greer out for a morning with Outback Floatplane Adventures.  He figured that their 'ultimate tour' was the perfect way to kick off 48 Hours in this enigmatic city. Luckily, Greer is no stranger to adrenaline, as this is not your average outback tour, especially for folk from beyond the black stump.
Not long after touching down in Darwin, Greer was whipped up and away via private seaplane to head south west of the city.  The pair flew over open flood plains and rich wetlands before the pilot skilfully touched down on a narrow stretch of water named Sweets Lagoon. 
Fun Fact: This stretch off the Finniss River was aptly named after the Territory's famous five metre crocodile 'Sweetheart' who resided there. He is now preserved and displayed in the Northern Territory Museum & Gallery.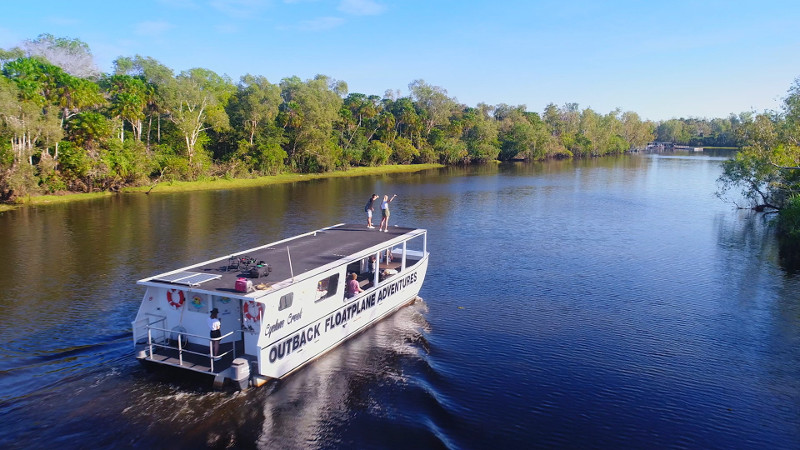 Check out the vista! Greer & Iti cruising down the river...
Greer and Iti kept in mind the dangers below the surface of these wild waterways, while cruising down the smooth lagoon, eyes wide open.  Croc spotting over a hot BBQ breakfast cooked by none other than Matt Wright, the Territory's celebrated Outback Wrangler, is a pretty authentic way to kick off a Darwin adventure. And adventure they did...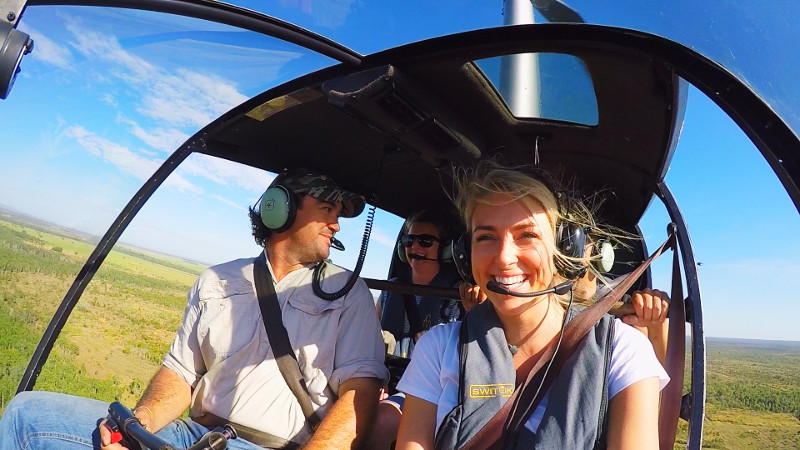 Matt Wright knows these skies like the back of his hand..
Next up, Matt whipped the pair to soar over the rivers once again, this time aboard his Robinson R44, a small four-seater helicopter that he dipped and hovered just millimetres over the water. There really is no better way to digest your bacon and eggs than swooping through the skies in a lightweight chopper, checking out anthills, wildlife, and swamps.  After a seemingly long white-knuckle ride for Greer, Matt threw the aircraft in for landing on the small pontoon, making it by the skin of his teeth…the way only a born and bred Territory lad could.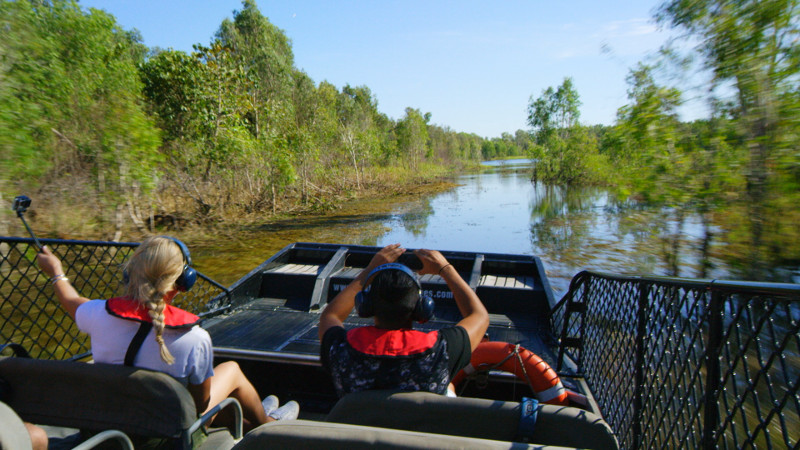 Croc spotting on board a hovercraft boat - something to tick off Greer's Darwin list!
After spotting kangaroos, eagles and creatures of the friendlier kind, the two adventurers jumped onto a hovercraft (yes, their fourth mode of transportation!) for a few hot laps of Sweets Lagoon, before seeking out resident crocs.  Popping their heads up for a look were Nitro, a 12-foot male who lost his front left leg in a heated territory battle; and Otis, an impressive 15-foot prehistoric creature.  Matt explained the territory boundaries the male crocs own, noting how common it is for them to lose a foot or dislocate their jaws in battle.
After a whirlwind of an adventure, Greer and Iti grabbed Matt for a quick chat on his top tips on the top end before the pair boarded their seaplane to head back to the big smoke. 
Matt Wright's Top End Tips:
Litchfield National Park
Kakadu
The wet season at its peak for its flowing waterfalls
Outback Floatplane Adventures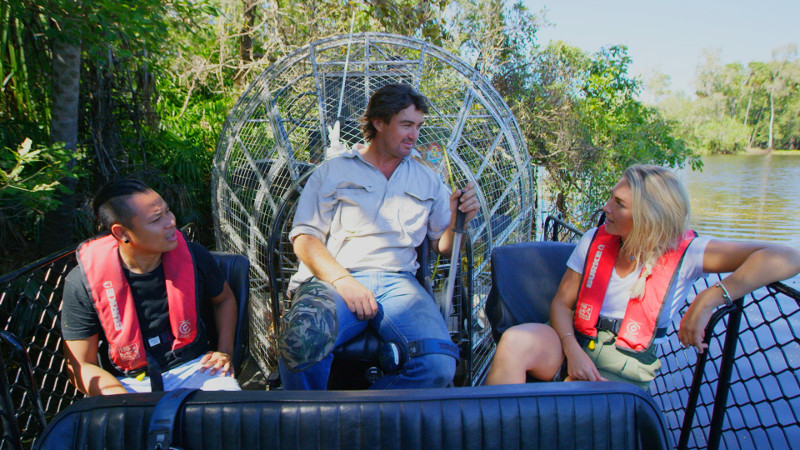 Q & A with Matt Wright, The Outback Wrangler
Whether you're an enthusiastic fan of the great outdoors or more of a comfortable observer, the Ultimate Tour is guaranteed to create some amazing experiences. These types of experiences tend to come from pushing yourself just that little bit outside your comfort zone, and they are the stuff of lifetime memories… so take that step, you'll be happy that you did.
Watch the full episode of 48 Hours in Darwin on Sunday at 3:30pm on Channel Ten or stream on tenplay.com.au. For more information, visit www.flightcentre.com.au/48hour
Other Travel Articles You Might Like...