Is Travelling Now All About Instagram? The World's Most Photographable Destinations
11 June 2018
You may not know the location, but you've seen that street art background before – all sharp symmetric chevrons and a patchwork of bold hues. The Wynwood Walls, an outdoor art park of 40-plus murals in Miami's former warehouse-turned-art district of Wynwood, has become the selfie destination of choice for fashion types, celebrities, influencers and social media-savvy travellers in the Magic City.
The specific Wynwood wall in question by visual artist Maya Hayuk is just one of a veritable contact sheet of what Alyssa Bereznak dubbed 'Instagram playgrounds' on pop culture website The Ringer. Scroll through your feed and you'll find plenty more Instagram-worthy backdrops and pop-up spaces that have been deliberately created to be snapped in a perfect square frame.
One such spot is the Museum of Ice Cream (MoIC), which whipped the public into a frenzy last year when it launched in New York City's Meatpacking District – New York Magazine reported 30,000 tickets sold out in under a week. With two more pop-up MoIC locations now in Los Angeles and San Francisco, it's clear the public's appetite for the visual confection that is the multicoloured Sprinkle Pool filled with (plastic) rainbow sprinkles and the Instagram-optimised pink room of whipped cream cans, complete with a pink swing for posing, is far from sated.
Following the trend for all things millennnial pink is the bubblegum-hued wall outside the Paul Smith store on Melrose Avenue in Los Angeles, a mecca for Insta ingenues and a regular on LA's most Instagrammed spots lists. With its celeb cachet and sunny vistas, LA is a social media fan favourite – other popular spots for pics include modern art museum The Broad, the Hollywood sign and the 'Venice' sign, and even LAX airport has a trending geotag.
Over in the UK, London's most Instagrammed wall of 2017 was at Sugarhouse Studios on Stratford High Street in East London. Cascading handmade concrete tiles in pretty pastel hues made this façade a social media star, not least for its scaly mermaid effect. When Sugarhouse Studios moved to its new location in Bermondsey, the wall was dismantled and fans continue to stalk its Facebook page to find out when it will be rebuilt.
The Avo-lution pop-up in London is another example of a 'crafted concept' that flagrantly bedded down with that most millennial of cost indexes: avocado toast. Due to the popularity of 2016's Avo-Popup, a temporary all-avocado restaurant, Avo-lution took the avo-loving one step further, enticing Londoners to jump into a pool of avocado balls, make guacamole (i.e. wrestle their mates while dressed as a giant avocado) and sample avocado macarons when the ballot-only event opened in November 2017.
While this type of celebration probably wouldn't raise eyebrows in California, Australia or the fruit's native Mexico, the UK isn't exactly known for its avocado cultivation (British grocers source theirs offshore), but this event clearly knows that's not the point. It's about creating an experience.
Australia is also not above a curated Insta moment. Melbourne, as the unofficial cultural capital, dominates the social media landscape with its approved graffitied alleys and legal street art-strewn laneways in the CBD that attract international artists and global attention. At the opposite end of the spectrum, Halcyon House in Cabarita Beach on the New South Wales north coast is a boutique hotel beloved for its designer suites and endless summer vibes. The intricately patterned soft furnishings and interiors are the stuff of hashtag heaven.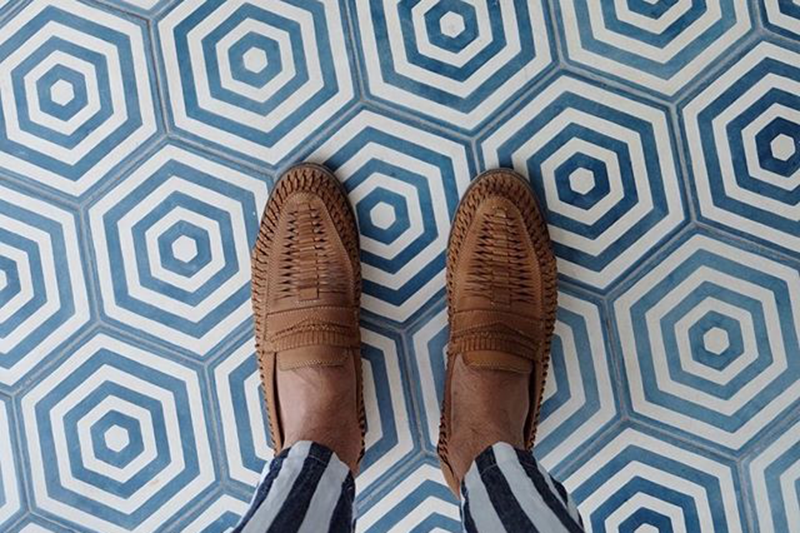 Design meets design at the ever-so Instagrammable Halcyon House on NSW's North Coast. (Image: Alastair Emmett)
But it's not just art and buildings that make for Instagram-specific locations. Flight Centre social media expert Bec Livingstone says sites known for their animal encounters are also popular with Insta-photographers. There's the photobombing herd of Rothschild giraffes at Giraffe Manor in Nairobi, Kenya, who poke their head into the windows as visitors take afternoon tea, and Sri Lanka's Pinnawala Elephant Orphanage where interactive and ever-so Instagrammable activities range from fruit feeding to elephant bathing at the river.
Love or abhor the trend of Instagram playgrounds as the inspiration for travel, there's no denying that experiences are at the core of travel – actively seeking to be in the picture, so to speak.

---
Ready to go travelling? Check out our deals on sale now!
---
Other Travel Articles You Might Like...