Japan Airlines Flight Attendant Tomoko Kaburagi Talks Receiving Thank You Notes, Holidaying in Hokkaido and Seeing Uluru at Sunset
2 April 2013
On one particular long haul journey, Japan Airlines Flight Attendant, Tomoko Kaburagi received a wonderful surprise from her guests travelling in business class.
"On a recent long flight, I was in charge of a couple from the United States who were sitting in business class. Before landing, they wrote a comment card to the company saying that our service was great and that they had a wonderful flight. It was the first time I had ever received such beautiful written words from a passenger who had taken the time to pass on the complement to my bosses," said Tomoko.
"I believe that it's important to create a sociable atmosphere on board the plane so that all our passengers feel comfortable during the flight. In order to create this positive vibe, all flight attendants work together in a cooperative manner for the benefit of our guests. I feel very happy that I work with my colleagues towards a common goal; I'm proud to ensure our passengers have a pleasant journey."
Tomoko, who's been with Japan Airlines for six years, boarded her first plane as a child when she was five years old. She remembers being so impressed by the kindness of the attendant that she hoped one day, she could be in that position. During University, Tomoko's attention turned towards the national carrier of Japan.
"I enjoy working for Japan Airlines because I have wonderful friends. I belong to the company's cheer dance club which consists of only flight attendants. We dance to promote Japan Airlines and we also participate in the cheer dance contest. Sometimes we hear that high school and university students think our troupe is great and it encourages them to join JAL. I'm always thrilled to hear that."
It was following World War 2 that the Japanese Government recognised the need for a state owned domestic air service to offer reliable transportation around Japan; the first scheduled flight took off in October 1951. An international service soon followed in 1954 with a scheduled service from Tokyo to Honolulu and onto San Francisco. Flights to Europe began in 1961. Today the airline serves 40 International destinations and flies to 58 domestic destinations. When including the codeshare arrangements JAL has in the place, Japan Airlines reach includes 194 international destinations.
Australian passengers can enjoy the Japanese hospitality on board the daily flight from Sydney direct to Tokyo. From the Japanese capital, guests have the opportunity of transferring to the extensive JAL domestic network. JAL also has a codeshare agreement with Cathay Pacific, which offers passengers a daily option to fly from Brisbane to Hong Kong and then connect to JAL for the onward flight to Narita International Airport in Tokyo. Alternatively, passengers flying from Adelaide, Melbourne, Brisbane or Perth can use a codeshare with Qantas to Singapore and then connect to JAL and onto Narita.
In addition to being a member of the oneworld alliance, JAL passengers also benefit from the joint business agreements that the airline negotiated with British Airways in 2012 and with American Airlines in 2011. In doing so, customers enjoy more coordinated flight schedules, expanded codesharing, an access to a wider variety of fares and enhanced frequent flyer benefits.
When asked about her favourite airport, Tomoko speaks glowingly of New York's JFK.
"I lived in New York for a couple of years when I was a child. When I go there now, I always remember my good memories. Also, I love going to see a musical on Broadway; that is another reason why I love flying to NY," said Tomoko.
"My favourite destination for a holiday is Hokkaido, in the north of the country, because the food is delicious especially the sushi. JAL serves six airports in Hokkaido so you can easily explore this fantastic region. It doesn't matter which season you visit, there is always something to see. In summer, you can admire the vast lavender fields and in autumn the coloured leaves are just beautiful. Visitors can enjoy the winter sports during the cooler months and Sapporo hosts a terrific snow festival with ice carved into amazing sculptures. I recommend visitors to give themselves enough time to appreciate this terrific prefecture.
There are many places around the world that Tomoko would still like to visit.
"One of the places I would like to explore more is Australia. I have been to Cairns and Sydney but I wish I could go to Perth and Ayers Rock. I love places that have a rich natural environment. The photos of Uluru, especially at sunrise and sunset, are so amazing and beautiful. I hope to feel the energy from the earth. Someday, I hope I could visit there."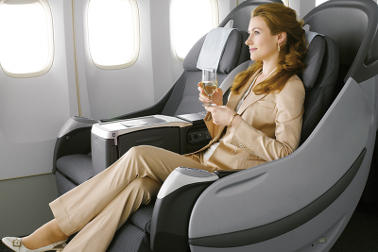 Other Travel Articles You Might Like...