21 March 2017
South Australia is well known for its world class wine regions. However in the midst of one of Australia's most prolific wine producing states, a number of craft distillers are making spirits and liqueurs.  Three distillers beginning to gain a reputation include, Kangaroo Island Spirits, McLaren Vale Distilling and Encounter Coast Spirits.  So now in addition to touring the wineries of South Australia, you can visit the local distilleries as well.  
Kangaroo Island Spirits
Cross the water to visit Kangaroo Island Spirits (KIS) and try some award winning gin.  With a focus on quality over quantity, KIS is a craft distillery using local ingredients from Kangaroo Island. 
Their award winning Wild Gin is made with native juniper.  Gourmet Traveller recently recognised KIS O'Gin as Australia's Best Botanical Gin.  O'Gin starts with local juniper then adds the coastal daisy bush, (Olearia axillaris), commonly known as wild rosemary, balancing the flavours with fresh South Australian oranges, and seasoning with two exotic peppers. 
The latest product release is Whisky Barrel Gin which is Wild Gin aged for two months in Australian whisky barrels. And you can join the waiting list for KIS Old Tom Gin.  After winning the Champion's Trophy in April 2016, at the Australian Distilled Spirits Awards it is in high demand.  Old Tom's botanical flavours of lemon myrtle and aniseed myrtle are aged in French oak barrels.
KIS also makes a range of liqueurs and vodka, all of which you can taste at the cellar door of the Cygnet River distillery near Kingscote 11-5 pm Wednesday-Monday.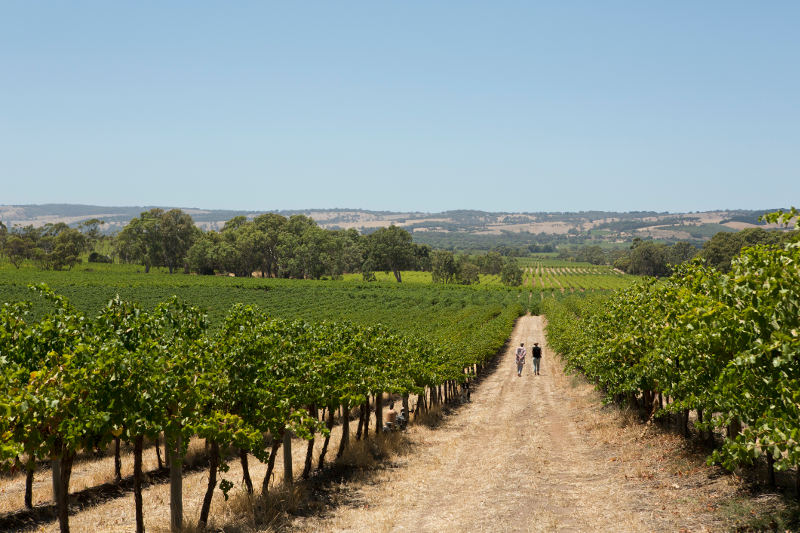 McLaren Vale hides many tasty treasures beyond its famed vineyards. (Image: Getty)
McLaren Vale Distilling Co.
Under the label Settlers Artisan Spirits, Rowland and Shelley Short, the owners of Maximus Wines, have quietly begun making small batch artisan gin by hand from grapes grown on the property.
Most gin is made from grains not grapes, but Rowland, an avid gin enthusiast, believes gin made from grapes is more floral and soft in your mouth. And since they grow grapes; it is a perfect match.
Making varieties of gin, moonshine, vodka and various liqueurs, you can taste them all at the cellar door at Maximus Wines. (Open 11am- 4pm weekends and public holidays)  Gin is the specialty and Settlers Old Tom Gin's botanicals combine licorice root, star anise, cinnamon, cloves, nutmeg and native pepper berries. They also make a sloe gin from the fruit of the sloe tree. 
If you are looking for a traditional London dry style gin, try Settlers Rare Dry Gin with orange and lemon myrtle aromatics finished with native pepper berry.  The Settlers Oak Aged Gin is, as the name implies, aged in oak barrels.
Moving beyond gin, try Settlers Single Malt Moonshine, made from Australian malted barley and then matured in restored port barrels.  (It is called moonshine until it has been aging in the barrels for two years and can be called whisky.)  
Encounter Coast Spirits
A small, farm-based distillery located on the outskirts of Victor Harbor on South Australia's beautiful Fleurieu Peninsula, Encounter Coast Spirits make a range of handcrafted spirits and liqueurs with a focus on Australian botanicals and fruits.
The Fortune Teller Gin is based on the citrus flavours of the cumquat while the Thymus Gin uses lemon thyme as a botanical combined with subtle notes of lavender. Perfect straight up, on ice or combined with tonic.
Encounter Coast Spirits also makes vodka and a range of liqueurs. Some liqueurs feature local ingredients. For something unusual try the Apricot & Wattleseed Brandy Liqueur or the Spiced Honey & Wattleseed Liqueur. You can visit the cellar door 7 days a week between 11am-5pm.
---
Visit your local Flight Centre store or call 131 600 for more advice and the latest deals.
---
Other Travel Articles You Might Like...