6 March 2015
Words by Jason Dutton-Smith
The Middle East has fast become a popular connection point for Australian travellers to Europe, Africa, as well as parts of Asia. With increasing global competition, airlines are enhancing their product and services and taking the in-flight experience to new heights, and all in order to attract the lucrative premium market and all important corporate and business dollar.
Competition has never been this fierce, but it's the passengers who are reaping the rewards. This was evident on my recent Etihad flight when I travelled in the airline's Pearl Business Class from Singapore to Brisbane, Australia.
Quick Overview
Route: Singapore to Brisbane, Australia
Aircraft: A330-200
Class: Pearl Business Class
Seat Number: 8G (centre aisle)
Duration: 8 hours
Check-in
On arrival to Singapore Changi Terminal 2, we were escorted to the First and Business Class Check-In Lounge – a separate lounge area with desks and agents waiting to deliver a personalised check-in experience. This included a dedicated porter to carry our bags.
Comfortable seats, one-on-one service, a private location away from the main terminal next to immigration were all nice touches adding to the business class experience.
Lounge
After check-in we were given our documents before we made our way through to immigration and into the lounge. In Singapore, Etihad uses the shared SATS Premier Club which is located in Terminal 2 next to the departure immigration.
The lounge itself is reasonably modern and pleasant with a large amount of space. As our flight didn't depart until close to midnight it was quiet in the lounge area with only a handful of passengers. There was ample working space, a small self-serve bar with light refreshments and beverages.
Staff were friendly with announcements made at boarding time. Several airlines use the SATS Premier Club including Air India, All Nippon Airways and Korean Air.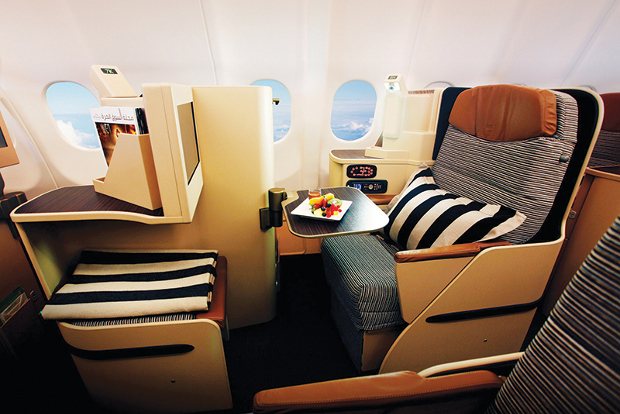 Seat
My business flat-bed seat was comfortable and clean. The cushion was ample with various seating positions available. The cabin layout is 1x2x1 with seats on a slight angle and full aisle access for every seat. Total of 22 flat-bed seats.
The seat pitch, including the length of the bed, is 73inches - certainly adequate for my 6-foot frame. While the seat width is 20 inches, once the bed was in full flat mode, the foot area narrows and there is no barrier against the aisle meaning your foot is prone to slipping off if you're a wriggler. The window seats are enclosed so this is not an issue for the window passengers.
There is plenty of space available with ample room to store magazines, headphones and other small bits of hand luggage. Each seat has an individual AC power port and USB socket.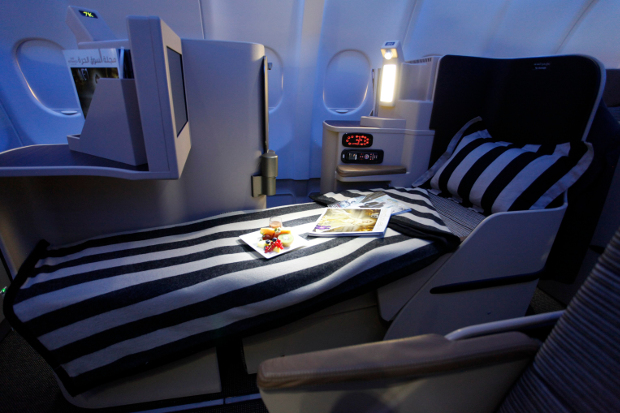 Entertainment
Over 750 hours of movie entertainment is available with a personal on-demand 15.4 inch TV screen. Four Hundred music albums and 14 onboard radio channels provide a mix of Arabic and English options. Noise cancelling headsets were also provided although I did not test these out as I had my own Bose set.
Wi-Fi connectivity was available on our flight with a fee. My partner paid for the service but the Wi-Fi was very sketchy, slow and dropped out often.
Service
Service onboard was very attentive and fast. Nothing was an issue with the crew, who despite the time of night, consistently smiled. My needs were anticipated by the friendly crew and meals and beverages were delivered fast and efficient.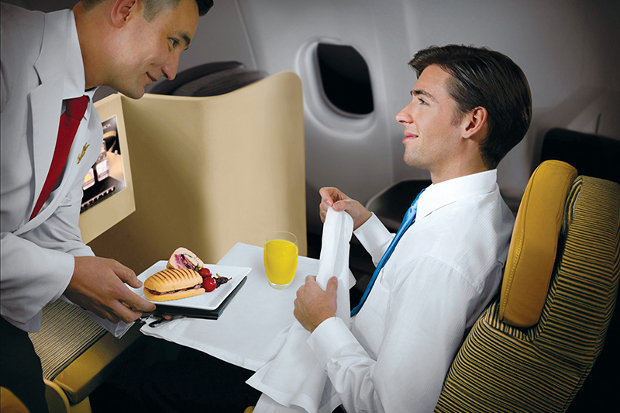 Food and beverage
Our menu options were extensive with a range of hot meals to choose from. The Etihad 'Kitchen Anytime' had a separate selection of small plates, sandwiches and snacks plus a range of desserts and cheese plates.
The wine list was impressive with a selection of champagne, red and white wine plus spirits, beer and liquors.
I made a mistake I will never do when flying Etihad in the future. I had met friends for dinner before our evening departure and I was simply so full that I was not able to partake in any of the menu options after take-off. I was devastated. My seat companion had a full meal service while I looked on with envy. I just could not fit another bite in after my huge meal before leaving for the airport in Singapore. 
I did enjoy a continental breakfast prior to our arrival in Brisbane, which included cereal, fresh breads and pastries and fruit. A selection of teas and coffee with a hot meal option for the larger appetite was available.
Overall the food service and selection was very impressive and one of the larger and more varied options I've seen in business class. I did enjoy that meals were on-demand and not to a set time which removed a lot of the cart service from the aisles.
Last word
This is truly a world class airline. Etihad has taken all aspects of the flying experience into consideration and has seemingly anticipated on ways to deliver a consistent service. The crew were very professional and friendly, menu options were extensive and the cabin was clean and well presented with its natural tones and soft colours reflecting the Arabian dessert.
This particular aircraft did not have a first class cabin but if the business class cabin is anything to base first class on, then it's no wonder Etihad has grown so rapidly in popularity with travellers.
Etihad provides a consistent experience that has me looking forward to my next flight.
If you're thinking of booking your next holiday through Etihad, Flight Centre First and Business is happy to help. Not only can our consultants assist with your flights, but they also have access to an exclusive Etihad offer. 
Other Travel Articles You Might Like...