14 June 2016
Words by Carlie Tucker
Thailand has long lured Australians with natural splendour and eclectic city centres where centuries-old traditions hide amidst a blend of modern rejuvenation, colourful culture and stunning beachscapes. From Bangkok to Phuket Town, Koh Samui to Krabi, in just under 10 hours, Thai Airways can not only get you there, but they can do it with the signature style found throughout their Royal Silk Business Class cabins.
The Royal Silk Experience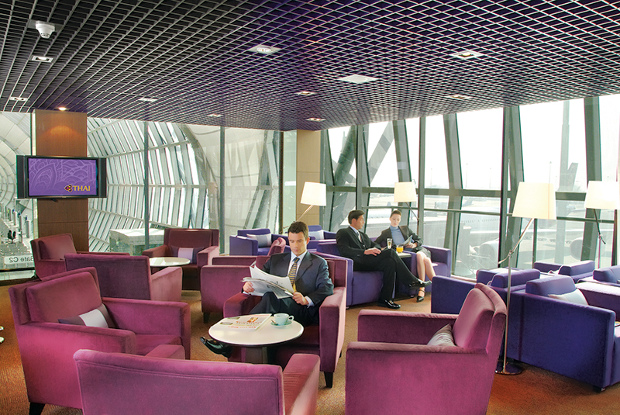 On the ground:
Royal Silk passengers are allowed exclusive access to Royal Silk Lounges or those of partner airlines. If you happen to by flying out of Bangkok, there are four different options available for international passengers as well as one domestic lounge. Your ticket also comes with priority check-in and immigration fast track service.
All lounges offer the use of private rooms with abundant comfortable seating, food and drink services and WiFi access. Depending on which lounge you choose, you may also have access to such extras as a Kid's Corner (Royal Silk Lounge at Concourse D), showers (Royal Silk Lounge at Concourse C - East), or Slumber Rooms (Royal Silk Lounge at Concourse C - West).
Lounges are open to Royal Silk Class passengers or Business Class passengers on any Star Alliance operating flight departing on the same day. Each passenger must have a valid ticket; there are no plus-ones allowed for Royal Silk lounge access.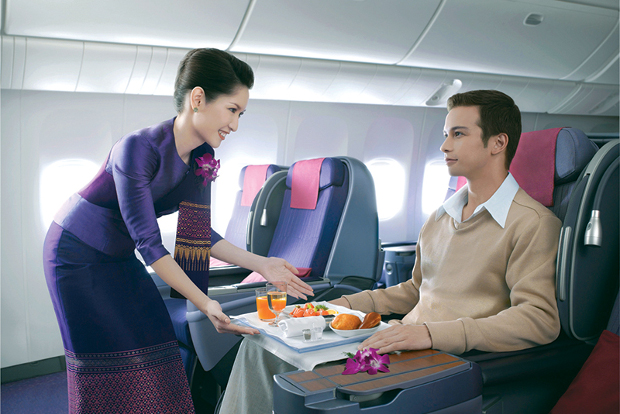 In the Skies:
If you'd like to up the luxury on your next flight to Thailand, Thai Airway's Royal Silk Business Class cabins could be just what you're looking for. Described as "smooth as silk", this business class experience is all about elegance "inspired by the rich culture and heritage of Thailand". 
Available on the B777-300ERs, B787s and A380 aircraft, the cabins offer a 1-2-1 configuration, providing all passengers the luxury of direct aisle access. Each seat  provides the comfort of a full 180 degree recline, transforming into a lie-flat bed. Integrating a number of high tech comfort features, they also offer the opportunity to customise the head, back, leg angle and lumbar support to your exact needs. There is also a sizable table available with power outlets and a personal light.
Each seat comes complete with a 15-inch touch-operated entertainment screen with  access to a range of entertainment. This includes up to 100 music CDs, movies and TV channels on demand. Choose from a range of new releases and old favourites.
Upon taking your seat, you'll be treated to a welcome beverage, an excellent indicator for the quality and service when it comes to in-flight dining. The Royal Silk cabin is serviced by a dedicated team, with menus that feature dishes to accommodate both Asian and western palates. Dining beings with a small appetizer, followed by a three course meal that finishes with dessert and a selection of cheeses. Departing Bangkok and select international destinations, meals can be pre-ordered to ensure your choice is available when you fly. As far as beverages go, passengers have a choice of handpicked wines, spirits, soft drinks and/or juices.   
Where To?
Thai Airways flies to 30 different countries with a network of 61 different locations. This includes all of your favourite Thailand hotspots:
Koh Samui
If luxury is what you seek, Koh Samui is well-versed in providing premium holidays where every want or need is well and truly satisfied. Take your pick from a sweep of 5-star stays, each one offering ocean views to rival the last. Pamper yourself to your heart's content with spa treatments and while the days away on white sand beaches as you perfect your holiday tan. Or, get out into the city for a diverse offering of cultural attractions (Big Buddha and Mummy Monk at Wat Khunaram), natural splendour (Namuang Waterfall and Hin Ta and Hin Yai) and shopping (Chaweng Walking Street and Lamai Night Plaza).
Phuket
Phuket may be one of Thailand's most popular tourism hotspots, but that doesn't make it any less inviting. Much like Koh Samui, there are plenty of beachfront resorts beckoning to those wanting nothing more than 5-star luxury. Of course, venturing beyond the hotel is highly recommended. Phuket Town offers up a laid back vibe where coffee houses and art galleries are popping up through a rejuvenated Old Town, and the likes of Bangla Road satiates any appetite for nightlife. For those that love the beauty of nature, Phang Nga Bay and Phi Phi Island serve up tropical splendour in spades.
Bangkok
This capital city is an epicentre of old and new, where the streets are always humming with activity and urban exploration is rewarded with a rich mix of unforgettable culture, food and fun. Your time will be well spent divided equally between delving into the modern marvels of the city and discovering 200-year old traditions. Relish the sacred beauty of highlights such as the Grand Palace and Wat Prakaew before perusing the offerings at the floating markets. Bask in the neon glow of Chinatown before speeding through the streets on a tuk tuk en route to Wat Pho and the gigantic reclining Buddha.    
Book your next Thailand Holiday:
Other Travel Articles You Might Like...
Talk to a First & Business Class Expert