17 May 2016
Words by Renae Spinks
If you dream of heading into the Outback or standing on a remote shore on the Australian coast, but the thought of camping leaves you cold, don't fret. Australia is home to dozens of luxury camping – or glamping – options that let you unplug from technology and plug in to Nature, but still have all the creature comforts you need. Here are some of the best.
Longitude 131, Northern Territory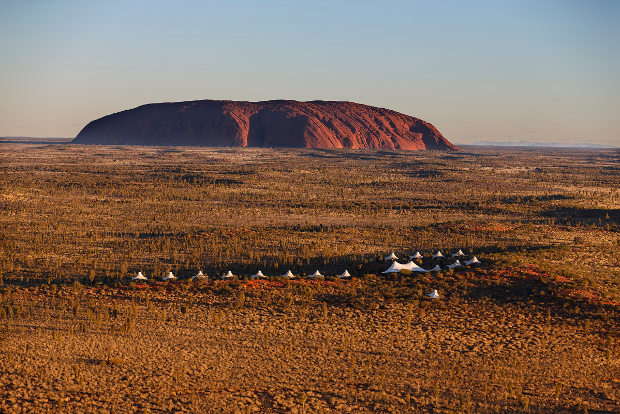 Picture: Longitude 131
Imagine waking up in sacred Anangu country, red earth all around and, before you, sunrise over the majestic Uluru. Longitude 131 has 15 luxury tents atop Outback dunes at the gateway to World Heritage-listed Uluru-Kata Tjuta National Park in the Northern Territory's Red Centre. Gaze at stars like you've never seen before, then head to your king bed with organic linen for a sumptuous night's sleep. The tents have cabin-like bases and a deck, with a sweeping canopy floating above. The central Dune House has a restaurant with views of Uluru, as well as lounging areas and Indigenous artworks. You can also dine under the stars with Table 131, complete with a resident astronomer to tell stories of the heavens.
Wildman Wilderness Lodge, Northern Territory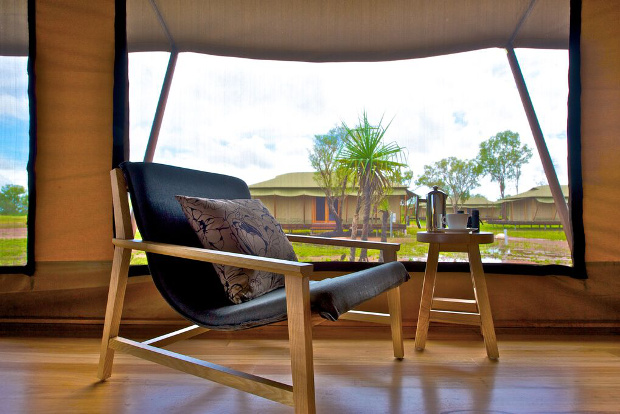 Picture: Wildman Wilderness Lodge
Safari tents are the order of the day when you stay at Wildman Wilderness Lodge in the Mary River Wetlands. Halfway between Darwin and Kakadu, the lodge also features an infinity tool – a boon in the Northern Territory heat. The 50-square-metre tents are fan-cooled, and have their own en suite bathrooms. They cater for families of up to five, including a double, bunk and trundle bed. Dine on barramundi, local beef, crocodile and buffalo, flavoured with bush spices. A range of tours are available, including a wetlands airboat safari, crocodile cruise, scenic flights, billabong cruise and culture walks.
Taronga Zoo's Roar & Snore, New South Wales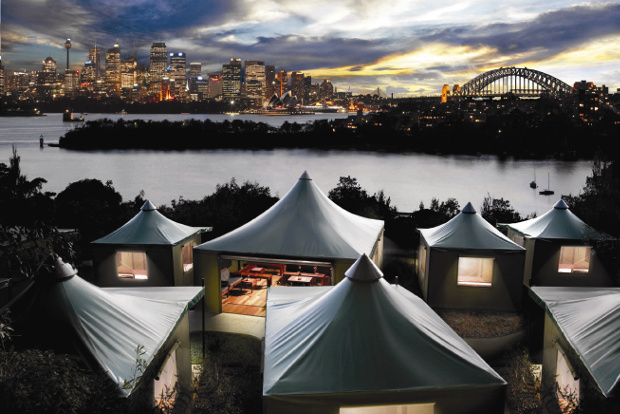 Picture: Taronga Zoo
For something a little different, try Taronga Zoo's overnight Roar & Snore experience, where you camp out in a tent in the middle of the famous Sydney zoo. Tents have electricity, a double bed and a trundle bed with extra blankets for winter. After the zoo closes to the general public, you are greeted with snacks and nibbles, and have photo opportunities with some of the zoo's friendliest creatures, before enjoying a buffet dinner. Then follows a night safari, with amazing views of the twinkling lights of Sydney Harbour. Dessert is at 10pm before lights out at 11pm. Awake to the roars and rumbles of the zoo's residents, grab some breakfast and take a behind-the-scenes tour before the general public arrive.
Paperbark Camp, New South Wales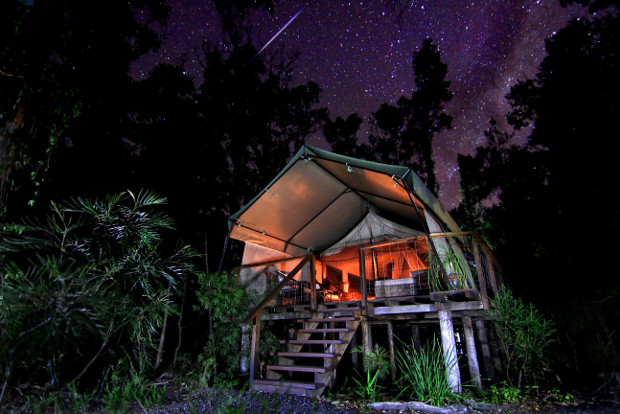 Picture: Paperbark Camp
They describe themselves as camping for grownups, and New South Wales' Jervis Bay is the perfect spot for it. The bush retreat Paperbark Camp comprises 12 canvas safari-style tents under the eucalypts, perfectly positioned to capture the sea breezes. They have private open-air ensuites, so you can shower with the birds and the deluxe tents have their own bath. To really get back to nature, the sustainable property has no airconditioning or heating, no TV, and no bar fridge, although there is Wi-Fi in the Gunyah dining room, reception and lounge. Take a walk along the easy walking trails, take advantage of the complimentary bikes and canoes, and book a massage or beauty treatment.
---
Wild beauty: The World's Best Luxury Lodges
Thrills and finery: 5 Unique Adventure Holidays for Luxury Travellers
---
Ikara Safari Camp, South Australia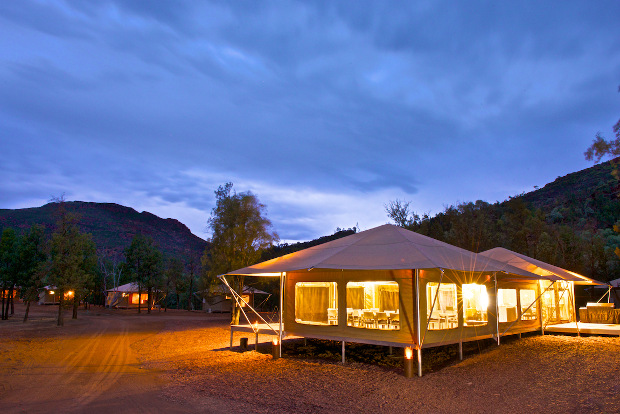 Picture: Ikara Safari Camp
Pink skies and a thousand stars await at Ikara Safari Camp at Wilpena Pound in South Australia. Here you'll find 15 safari tents with king beds, ensuite bathrooms, power, airconditioning – even a fridge – among river red gums, native pines and abundant wildlife (including emus and kangaroos) within Flinders Ranges National Park. Enjoy sundowners on your deck as the sky turns rosy red, or take a scenic flight over Lake Eyre, when the rains have come. In winter, each tent has a fire pit out the front to keep you toasty. The Pound itself is a natural amphitheatre in a landscape that has been home to the Adnyamathanha people for tens of thousands of years. Aboriginal cultural tours are available and there is a welcome to country every night.
Sal Salis, Western Australia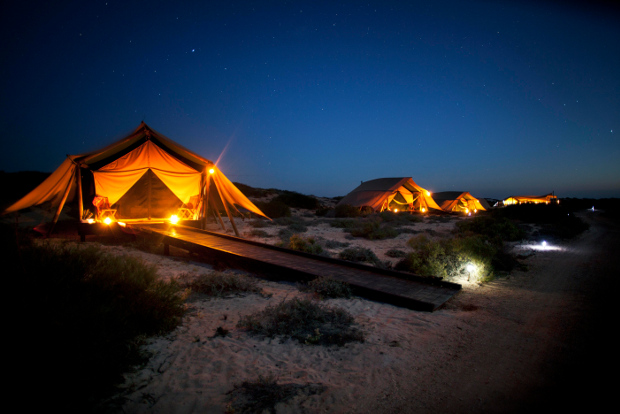 Picture: Sal Salis
In the dunes of Western Australia's Cape Range Natonal Park, on the shores of Ningaloo Reef, safari camp Sal Salis awaits. It has 16 eco-luxe wilderness tents that sit on raised platforms to offer views of the ocean, and contain handmade jarrah beds and an ensuite bathroom. Awake to the dawn chorus, watch whales breach over breakfast, and catch kangaroos grazing on the beach. Meals are served in the main lodge, which also has a library, board games and self-service bar. There is no mobile phone network or Wi-Fi, so be ready to unplug. This is one of the few places in the world where you can swim with whale sharks, which migrate past Ningaloo Reef between April and July.
Spicers Canopy, Queensland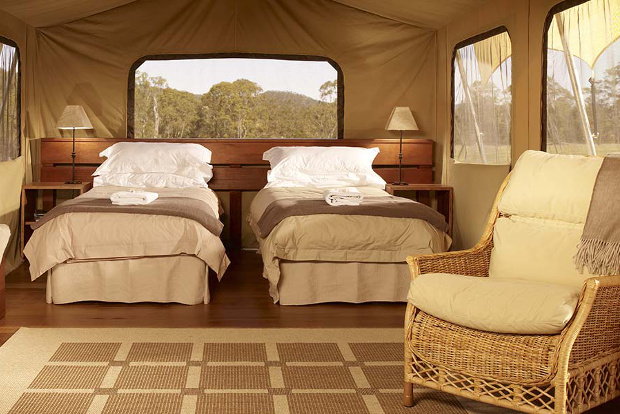 Picture: Spicers Canopy
Queensland's Scenic Rim, two hours' drive from Brisbane, plays host to complete comfort in a tent, in the form of Spicers Canopy. Each safari-style eco tent contains king or twin beds with feather pillows and fine linens, polished floors, armchairs, bedside tables, lamps and deckchairs on a covered deck. Oh, and there's complimentary Wi-Fi. Watch the shadows of clouds scud across the forest below or dine beside the fireplace in the cosy lodge. You are surrounded by 2,000 hectares of private refuge, and the sunsets over the escarpment will leave you breathless. You also have easy access to the four-day Scenic Rim Trail that traverses mountains, ridges, escarpments, forests and volcanic plateaus in the foothills of the Great Dividing Range.
Nightfall Wilderness Camp, Queensland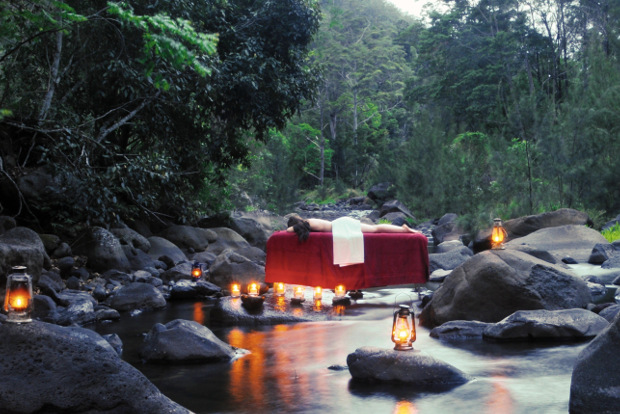 Picture: Tourism & Events Queensland
A fireplace, timber floors, a hand-carved stone basin, a vintage bath, a double bed with plush linens, and views in every direction. This is not just any tent. Nightfall Wilderness Camp's 62-square-metre safari tents sit beside Christmas Creek in the rainforest of Queensland's Lamington National Park. Enjoy sumptuous organic cuisine cooked over the fire and rejoice in stepping away from modern life. Only six guests are allowed at any one time. If you're one of the lucky ones, you'll find Champagne and a gourmet platter in your fridge. Try a wilderness massage by the creek or in the forest for the ultimate indulgence. Book well in advance.
Other Travel Articles You Might Like...