6 July 2016
Words by Renae Spinks
If you long to venture into the wild, but you're not so skilled at roughing it, Canada is peppered with remote and secluded lodges that lift the soul with a blend of luxury and staggering scenery. Whether you want a snow-covered wonderland, a forest trail beneath the pines, or a rocky North Atlantic shore, Canada delivers it all, along with hot tubs, saunas, gourmet cuisine and all manner of pampering ways. Here are some of Canada's finest luxury lodges.
Clayoquot Wilderness Resort, British Columbia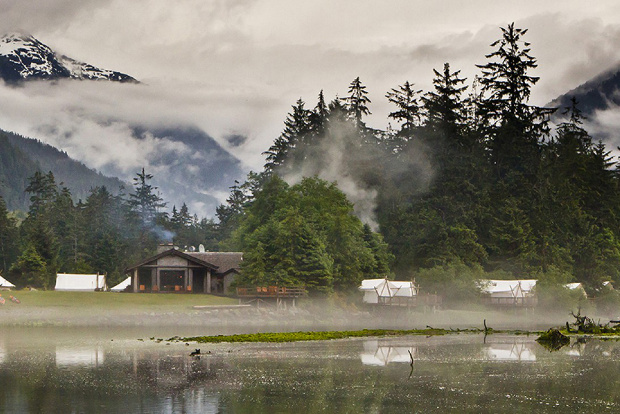 Picture: Relais & Chateaux
This is glamping, but not as you know it. Rest easy in great white tents with fluffy duvets and filled with antiques at Clayoquot Wilderness Resort, set in temperate rainforest near the village of Tofino on Vancouver Island. Get there by seaplane from Vancouver for a scenic, 45-minute flight over the Gulf Islands, or take the boat from Tofino for a breathtaking ride through Clayoquot Sound. There are daily wilderness activities – learn to surf at a secluded beach or take a hike with a First Nations guide. When the day is done, retire to the resort for some 'Cascadian' cuisine, such as grilled Clayoquot Sound oyster chowder. There are luxury ensuite bathroom tents and deluxe outpost tents with wood stoves, oil lamps and an abundance of candles. Open mid-May to end September.
Sonora Resort, British Columbia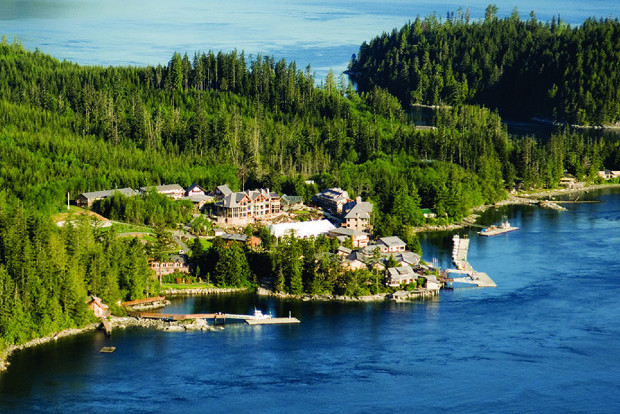 Picture: Relais & Chateaux
Do you want modern comforts like mouthwatering menus, a wine cellar, swimming pool, putting green, movie theatre and spa, all while 'roughing it' in the remote wilds of Canada? It's all possible at Sonora Resort, located at the northern end of Desolation Sound within British Columbia's Discovery Islands. When you do venture outside, you can go grizzly bear viewing, salmon fishing, river rafting, whale watching, ocean kayaking, hiking and more. Accommodation is a mix of luxurious rooms, suites and villas, and each lodge has large common lounges with vaulted ceilings, stone fireplaces, and roof-top balcony hot tubs. Get there by helicopter or seaplane from Vancouver, or water taxi from the city of Campbell River on Vancouver Island. Open early May to mid-October.
Emerald Lake Lodge, British Columbia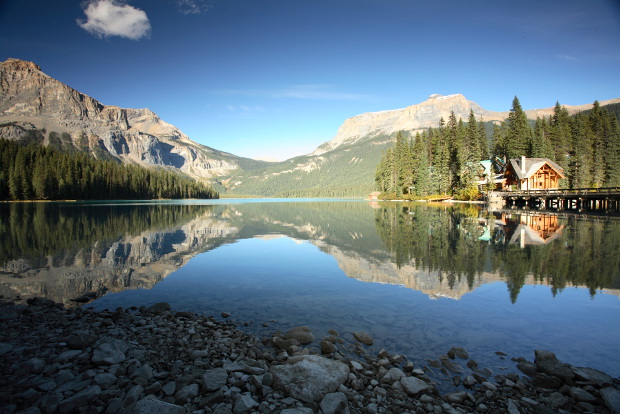 Picture: Canadian Rocky Mountain Resorts
Century-old fireplaces and an oak bar salvaged from an 1890s Yukon saloon lend an air of yesteryear to this outstanding wilderness lodge, built of hand-hewn timber. It features an elegant dining room, reading and sitting rooms, conference facilities, games room and lounge. There is also a dry sauna, outdoor hot tub and fitness room. But it is the vistas of the surrounding Rocky Mountains peaks, the exquisite Emerald Lake – yes, it really is emerald green – and the forests of Yoho National Park that will make your heart sing. Feast on Rocky Mountain Cuisine, such as air-dried buffalo or caribou. But don't eat too much, because there are still the Rockies to explore – with everything from skiing and dog-sledding in winter, to hiking and biking in summer. Accessible year-round.
Moraine Lake Lodge, Alberta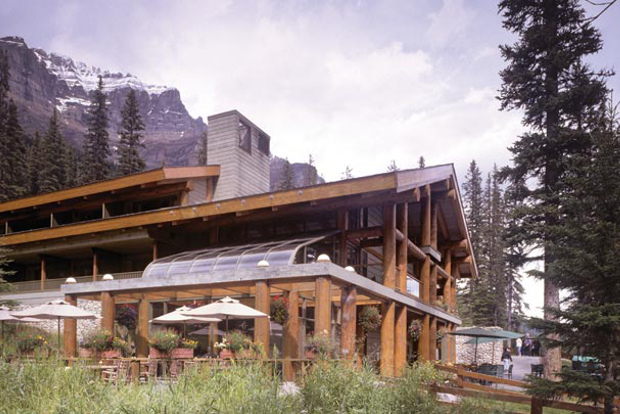 Picture: Moraine Lake Lodge
The Canadian Rockies know how to make a great lake, and Moraine Lake is no exception, with emerald-green water surrounded by even greener pines and white-tipped peaks. And this luxury lodge in Banff National Park is eco-sensitive, drawing water directly from an alpine mountain well. All cabins and rooms have views of the lake, the Valley of the Ten Peaks, and its glaciers. And breakfast, canoeing on the lake, afternoon tea in the library and guided hikes with a naturalist are all included. Nice touches such as hand-crafted log furniture help bring the wilderness indoors. The Walter Wilcox Dining Room within the mountain lodge features regional cuisine, such as buffalo carpacchio with roasted pine nuts and deer tenderloin with red currants and juniper berries.
Auberge du Lac Taureau, Quebec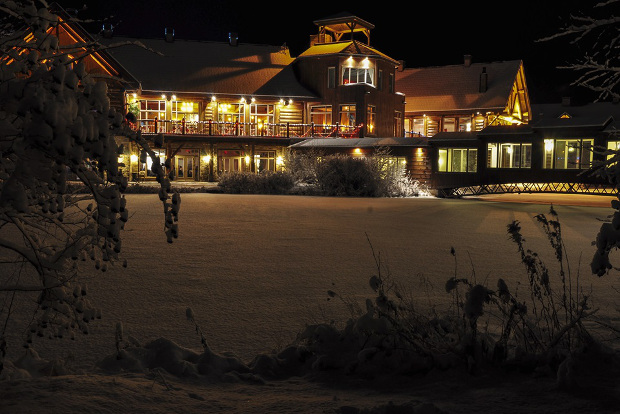 Picture: Jean-Francois Doucet/Auberge du Lac Taureau
In the heart of French Canada, Auberge du Lac Taureau sits on a 58-kilometre lake with a seven-kilometre sandy beach, surrounded by spruce forest. Built in a log-cabin style, the lodge features a pool, hot tubs, sauna, and spa. Gourmands will love the farm-fresh produce, as well as the herbs and edible flowers from the surrounding gardens. In summer, you can go boating on the lake, swimming, fishing or mountain biking. Play tennis or golf, take a scenic hydroplane ride, or hike with a trapper-guide. In winter, there's no place you'd rather be – go ice fishing on the lake, dog-sledding through the forest,  or try 'broomballing' – think ice hockey with brooms and balls. And nothing will warm the cockles of your heart more than spotting an adorable fox in the snow.
Fogo Island Inn, Newfoundland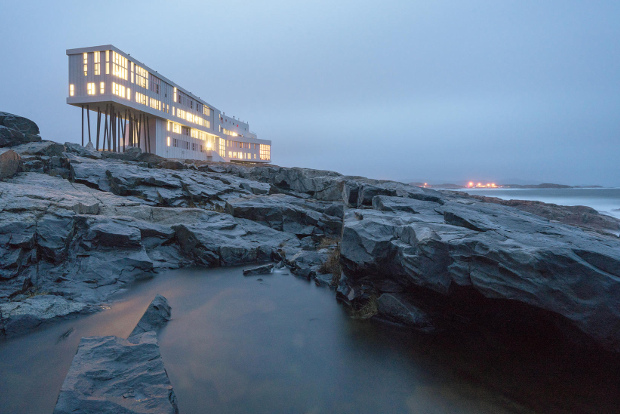 Picture: Fogo Island Inn
If you want to go to the ends of the earth, and stay in a place as dramatic as the coastline, you can literally go no further than Fogo Island Inn in Newfoundland. Sitting on the edge of the wild North Atlantic Ocean, the architecturally-designed inn rises from the rocky landscape like a light-filled structure from another world. From the suites-on-stilts, the floor-to-ceiling views of sea and sky feel like you're floating on water.  And the dining room is beyond words. The forests are filled with caribou, beavers, foxes, and wildflowers. Whales and icebergs pass by in the spring and in autumn the island is carpeted in berries.  The contemporary interior is focused on design as a way to fortify culture and place, and gathering places include a cinema, gallery, sauna and hot tub.
Other Travel Articles You Might Like...
Talk to a First & Business Class Expert