15 May 2015
Words by Carlie Tucker
Korean Air is the latest airline to jump on board with the luxury cabin improvements, announcing the addition of their new Kosmo Suite. Described as a "5-star hotel at 40,000 feet", it will be incorporated into the existing 777-300ER jets. There are also plans to incorporate them into the new 787-9 Dreamliners, Boeing 747-8i jumbos and the Airbus A330-300.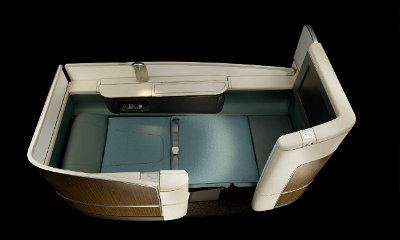 The Seats:
The new seats come with a host of extra comfort amenities, aiming to provide flyers with optimal comfort while they soar through the skies. Along with higher patricians and sliding doors for privacy, each seat is a 180-degree full flat seat. It runs at 26.5 inches (67.31cm) wide,  which happens to be nearly 6 inches (15.24cm) wider than standard first class seats.   
Seat controls allow you to readjust to your most comfortable position at the touch of a button. This includes back support and a fully-adjustable footrest.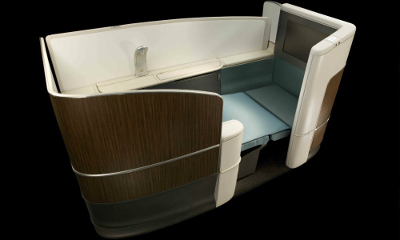 It wouldn't be a true first class experience without a few little extra features, which Korean Air has integrated into this new design. Each Kosmo Suite is equipped with an individual reading lamp. Not your standard light, it is designed to light only a selected area to reduce eye fatigue. It is fully adjustable, which means you can position it exactly as you need it.
The Entertainment:
Along with the lay-flat seat, these pods are equipped with an impressive in-flight entertainment system. This includes a 23-inch high-resolution LDC monitor with a handheld touchpad remote. With access to the on-board Sky Program, passengers have access to audio and video on demand, ranging from a huge selection of movies, short films, music albums and games. And, since each suite comes with a pair of noise cancelling Bose headphones, you can enjoy it all without interruption.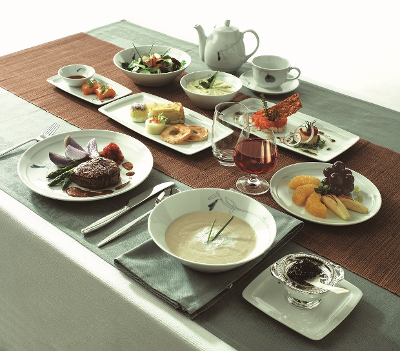 The Service:
All the standard services of Korean Air's first class are accounted for. From the DAVI amenity kit to the Wake-Up Service, passengers are treated to all the perks. Long-haul flights also offer a Duvet Service and In-Flight Comfort Clothing service, with Gianfranco Ferre clothing provided.
Kosmo Suite passengers are also treated to the Pure In-Flight Meal Service, "From Farm to Flight" with dishes such as rib eye steak, beef ribs and chicken all integrating top quality, organic ingredients. There is also a premium wine and champagne service with a selection of special labels to choose from.
On the ground, Korean Air provides first class passengers with a number of premium services, including an exclusive check-in counter, priority boarding and baggage handling, and access to the Korean Air premium lounge.
Korean Airlines flies out of Brisbane and Sydney with routes throughout Asia, North America and Europe. Call our Travel Experts on 1300 038 785 for more information or to book seats. 
Other Travel Articles You Might Like...