15 February 2016
Words by Renae Spinks
Great Southern Rail has amped up the luxury on its iconic trains The Indian Pacific and The Ghan, with an exclusive new carriage for Platinum travellers. The Platinum Club car features a deluxe bar, lounge and flexible dining area, furnished in tones of ash, moss and sepia, with brass fittings and quartzite tabletops. By day, the carriage is set up as a lounge with adaptable dining options, and by night a banquet layout allows for captain's dinners and larger group gatherings.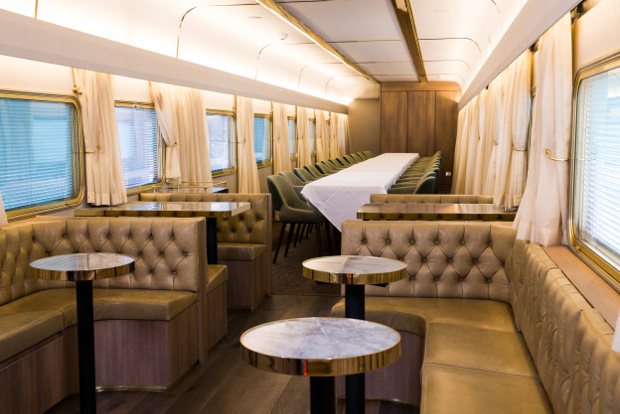 Picture: Great Southern Rail
"We have experienced a 24 per cent increase in demand for Platinum Service travel over the past two years so we are delighted to be able to enhance our premium offerings with this new social and dining space on The Ghan and Indian Pacific trains," Great Southern Rail spokesman Steve Kernaghan said. "It was essential for the Platinum Club to have a distinct connection to place, just as the incredible rail journeys themselves do. As a result, the Platinum Club reflects a sophisticated Australian design complementing the regional cuisine served on board and the diverse landscapes outside the windows."
Woods Bagot designer Jordan Schumacher, who partnered with Great Southern Rail on the refurbishment, said the concept was driven by allowing the Outback to take centre stage. The Outback does exactly that on the luxury train journeys, with The Ghan crossing the 2,979 kilometres from Darwin to Adelaide; and the Indian Pacific crossing the 4,352 kilometres from Perth to Sydney.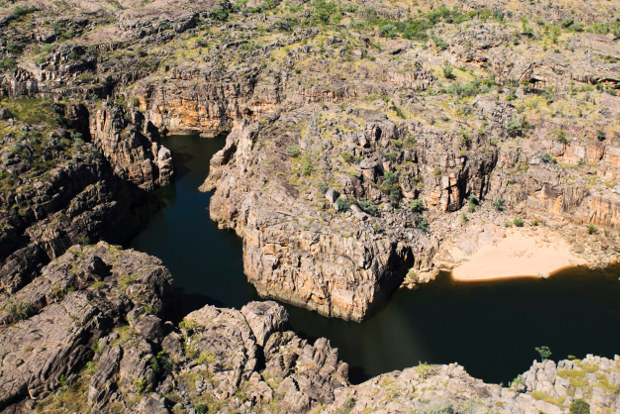 Picture: Getty Images
Passengers can see more of the Red Centre with such excursions as a helicopter flight over the stunning Nitmiluk Gorge in the Northern Territory from The Ghan; or a long-table roast lamb dinner under the Nullarbor skies at Rawlinna sheep station in Western Australia from the Indian Pacific.
---
Moveable Feasts: 5-Star Dining On Plains, Trains & Ships
Rail journeys: Luxury Trains Around The World
---
Regional flavours come to the fore on a Great Southern Rail journey, with menus featuring desserts flavoured with the likes of New South Wales native strawberry gum, or creamy brie from Margaret River in WA. Off-train excursions include a wine-tasting tour of the Barossa Valley and the chance to observe the preparation and cooking of Indigenous food in Katherine.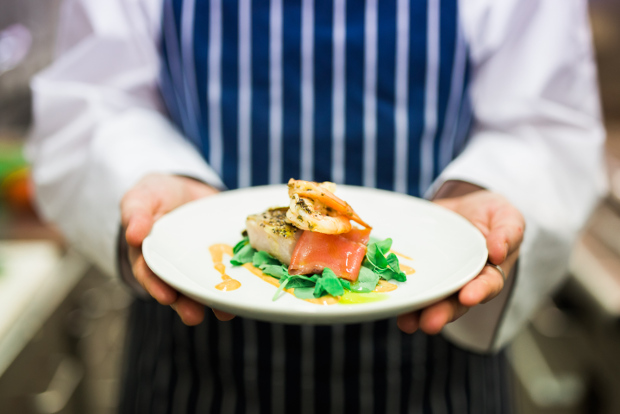 Picture: Great Southern Rail
In recent years,  Great Southern Rail launched all-inclusive journeys, with select off-train excursions, food and beverages included. And as of this month all services on the Indian Pacific and The Ghan will include live entertainment.
It's all part of the emphasis on luxury. Platinum Service features larger cabins with full-size ensuites, Platinum transfers, in-cabin breakfasts and access to the Platinum carriage, which will be available on all services from April 1. Gold Service features cosy, well-appointed cabins with private ensuites. Red Service, which catered more for the backpacker market, will be discontinued in June.
For the ultimate luxury experience, book Private Service, where you and your party can step into your own private carriage. The Chairman's Carriage, for instance, accommodates up to eight people in two twin cabins and two double cabins. It also includes a private dining room and kitchen, spacious living area and access to the Platinum car.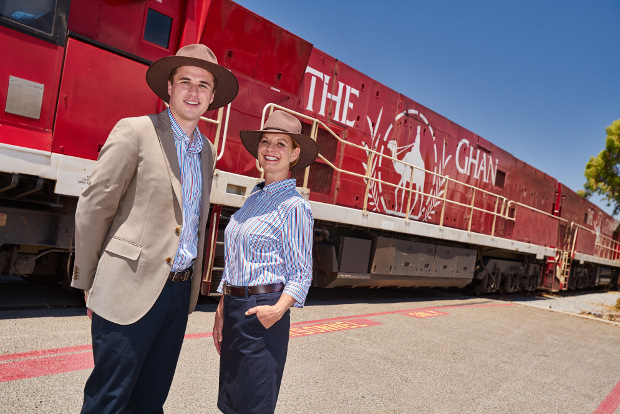 Picture: Great Southern Rail
Attentive staff will also now be sporting designer uniforms, launched recently in collaboration with iconic Australian outfitter R.M. Williams and designer Juli Grbac.
You may never want the experience to end but you can always take the train back again. Or consider adding on a cruise – Great Southern Rail is an executive partner of Cruise Lines International Association Australasia.
"With the growth of the Australian coastal cruising market in particular, our trains with their departure cities of Perth, Darwin, Melbourne (The Overlander) and Sydney, are ideal for pre- and post-cruise connection," Mr Kernaghan said.
Other Travel Articles You Might Like...