25 November 2015
Words by Renae Robinson
The gourmet fare on offer in today's transport options is a testament to the adage that the journey is more important than the destination. Created by some of the world's best chefs – from Michelin stars to TV stars – these meals will have you relishing the idea of a return trip. Boarding now ...
Planes
In the rarefied air of First Class, not only do tastebuds undergo a transformation – at 30,000 feet you lose 30 per cent of your taste – but so do the menus, under the watchful eyes of Michelin-starred chefs.
Qatar Airways, for example, has enlisted the expertise of Japanese chef Nobu Matsuhisa, known for his restaurants around the world, including Nobu Las Vegas, Nobu London and Nobu Berkeley Street London, which each have one star. Also on board is Mumbai-born Vineet Bhatia, who has a star each for his Rasoi restaurants in London and Geneva. In first class, you might find such dishes as Classic Arabic mezze for starters, Thyme-roasted chicken breast with potato gnocchi, for main, and Banana and caramel slice for dessert.
Singapore Airlines has pulled out all the stops, creating an International Culinary Panel with three-Michelin-starred chef Georges Blanc of France; two-Michelin-starred chef Carlo Cracco of Italy; Alfred Portale and Suzanne Goin of the US; Matt Moran of Australia; Sanjeev Kapoor of India; Yoshihiro Murata of Japan; and Zhu Jun of China. In First and Business class, the Book the Cook service allows offers such menu items as Lobster thermidor with buttered asparagus and saffron rice. A special Japanese Kyo-Kaiseki service – an artistic meal originating in the 1500s that balances visual elements and flavours – is available on Japan flights; while the Shahi Thali meal features a spread of traditional Indian delicacies and is available on flights to Mumbai and New Delhi.
Closer to home, Virgin Australia has renowned Australian chef Luke Mangan to thank for its Business class menu (think Barramundi, salmon and prawn pie); and Qantas has Neil Perry's Rockpool favourites, such as the Glacier 51 Toothfish – sourced from Australia's sub-Antarctic region and pan-fried with zucchini, chilli and tomato scapece – available in First and Business class.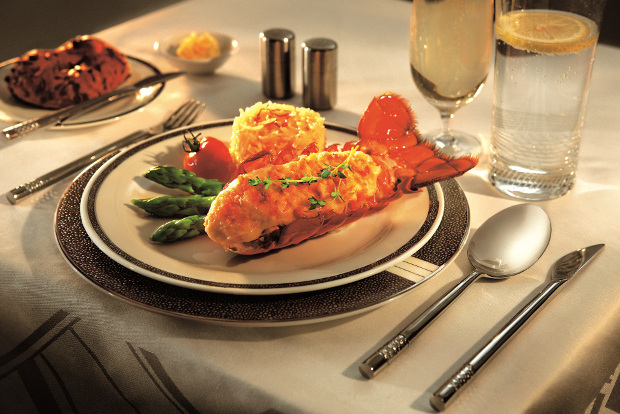 Image courtesy of Singapore Airlines
---
Changing seasons: London's Newest Michelin Star Restaurants
Classic rail routes: Luxury Trains Around The World
---
Trains
You can also savour your journey with ever-changing scenery and 5-star dining aboard the world's grand railways.
Canada's Rocky Mountaineer is the gold standard of dining on the rails, featuring the stunning scenery of the Pacific Northwest through to the Canadian Rockies. French-born executive chefs Jean Pierre Guerin (who also is corporate chef design and development for Lufthansa Sky Chefs) and Frederic Couton perform amazing culinary feats in a two-metre-wide kitchen that is constantly on the move – literally. They have two sittings for breakfast and two for lunch, feeding up to 70 guests at a time. Guests in GoldLeaf Service dine in a dining room with crisp white linens, silverware, and fresh flowers on the tables. The a la carte menus use local produce, and feature such meals as Wild BC salmon with fennel slaw and roasted potato salad; and Roasted Alberta pork tenderloin with whipped garlic mashed potatoes and parsnip chips. Meals can be paired with award-winning Okanagan wines.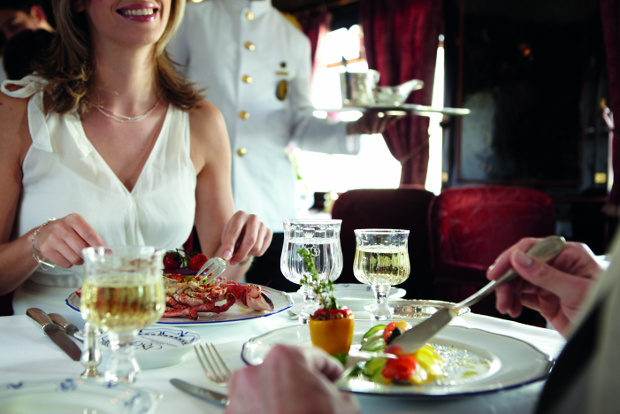 Image courtesy of Matt Hind/Belmond
The Belmond group has a series of sumptuous offerings on its luxury trains around the world. Europe's grand Venice Simplon Orient-Express features the creations of chef Christian Bodiguel, who has been with the VSOE team since 1984. The menu features ingredients from stops along the route, including lobsters from Brittany or saltmarsh lamb from Mont St Michel. Guests dine in one of three 1920s restaurant cars, featuring lalique glass panels, marquetry and black lacquer. The bar car even has a resident pianist.
The UK's Belmond British Pullman has a range of fine-dining options (expertly prepared in a cupboard-sized kitchen) to suit the luxury-seeking gastronome. Try a feast created by a celebrity chef at an exclusive event catering to just 100 guests, while you are treated to stunning views of the British countryside. Or book your Christmas lunch (selected dates in December) on a round-trip from London Victoria, featuring table-top magicians and a five-course meal created by executive chef Robbie Gleeson, plus Champagne and half a bottle of wine per person. Or put on your finery for The Dinner, a glamourous soiree on wheels.
Ships
There's no shortage of celebrity chefs on cruise ships, whether it's signature restaurants, themed voyages or culinary creations within a suite of eateries. Here is but a tasting plate.
British chef Marco Pierre White – he of the three Michelin stars – is a P&O Food Hero. In 2016, he is expected to be on board Britannia in July, Azura in August and Ventura in October. He has brought his skills to gala night menus in P&O's main restaurants, Cafe Jardin (Oceania) and Ocean Grill (Adonia and Arcadia). Specials at Ocean Grill include Laverstoke Park smoked wild boar burger and Bresse chicken coq au vin. James Martin is the face of The Cookery Club on Britannia, where you can even take a cookery class with one of the Food Heroes, who also include Atul Kochhar, Eric Lanlard and Olly Smith. P&O also partnered with Luke Mangan to create the first Australian celebrity chef restaurant at sea, Salt Grill by Luke Mangan, featuring dishes such as crab omelette, and enoki mushroom salad with miso broth. His restaurants can be found aboard Pacific Aria, Dawn, Eden, Jewel and Pearl.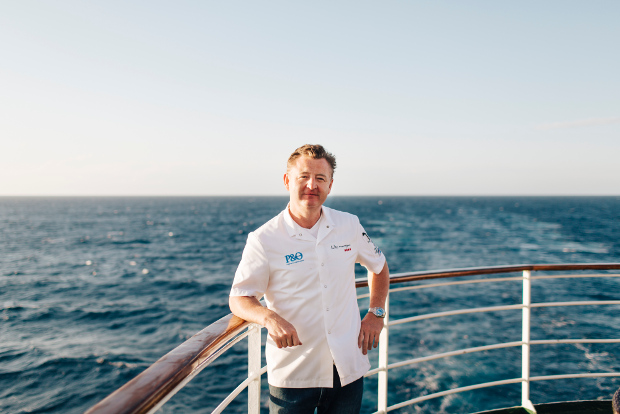 Seabourn, meanwhile, has partnered with US chef Thomas Keller, who is behind The French Laundry, Per Se and Bouchon, which have multiple Michelin stars, for a range of dishes across the Seabourn Sojourn, Odyssey and Quest. Next year, he will introduce a new signature restaurant on Quest, before it is rolled out to the entire fleet, including two new builds – Seabourn Encore in 2016 and Seabourn Ovation in 2018.
So take to the skies, seas or rails and make the meal an end in itself.
Other Travel Articles You Might Like...
Talk to a First & Business Class Expert